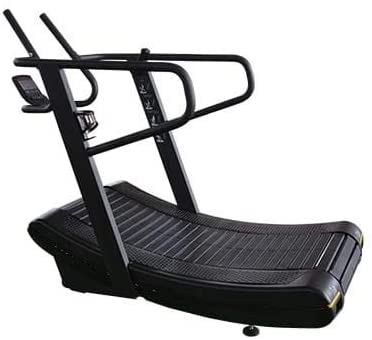 Introduction
Treadmills are a basic need for many fitness enthusiasts in the pursuit of developing great lower body strength.
But what if I told you there was equipment available that gave more intense workouts and burns more calories than a motorized treadmill?
Well, read on as curved treadmills are the new talk of the town which have taken indoor speed and fitness training to a different level.
Curved treadmills are also known as the human-powered treadmill as they require more human effort than a machine. They allow you to run with a more natural style on the balls of your feet as they're self-powered relying on you to push your body forward to create momentum.
In this article, we have reviewed the versatile CT digital display curve treadmill that is designed to promote a natural running style. The best part of this equipment utilising such a style is that it engages more muscle groups than a motorized treadmill making it ideal for HIIT. If you are more into natural running than 'assisted running' then this treadmill is the best choice for you!
Disclaimer – This website contains affiliate links. If you find the information useful and click on a product link and make a purchase, a small commission will be earned by GymFreakz and we appreciate your support.
---
Features
Self Powered
It is a manual treadmill that requires no electricity and is operated by the user's leg power. It does not create a motorized sound and is environmentally friendly. It promotes a natural running style that most people prefer.
It gives a more intensive workout compared to a motorized treadmill as the movement of the belt depends on your effort. The best part of the self-powered curved treadmill is that it is kind to the body with a lower impact on the joints and lower limbs. Also, it gives a safer workout where you can slow down easily when needed so there is less risk of falling.
Unlimited Top Speed
It features a maximum speed of 25mph which is the highest top speed in a treadmill; best for elite trainers. The speed varies according to the quality and purpose of the treadmill. The self-powered curved treadmill is designed to meet the needs of elite trainers along with beginners.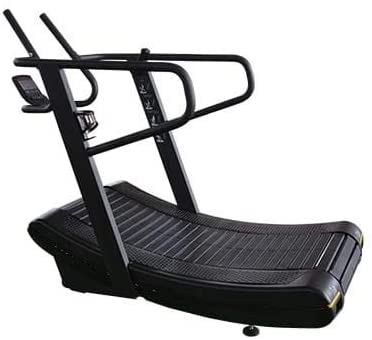 The maximum speed you get with most home treadmills is between 10-12 mph and 12-14 mph. Consider it an advantage where the Power house has unlimited top speed which you can make use of according to your fitness requirement.
Resistance system
While motorized treadmills offer a flat zero-degree incline, a manual treadmill offers a default setting of at least six degrees. This enables the user to walk slightly upwards throughout the workout session. The Power house curved treadmill features an incredible resistance system that is adjustable via magnetic tension on the treadmill belt and flywheel.
The mechanism also allows adjusting the angle of the handgrips. It can be adjusted to increase or lower the tension on the user's arm and upper body and can be adjusted to create less friction and lower impact on the body. This allows the user to have both challenging or less strenuous workouts accordingly and build their muscles effectively.
Curved Running Area
Its curved running area tends to give a strong grip with a long-running surface. It allows the user to use more natural effort where the motorized treadmill creates friction between the belt and deck.
The motion of the belt in the curved manual treadmills gets smoother as it follows the curve of the deck giving a good rolling stride. And it is also said to help in burning more calories, unlike a motorized treadmill because of the straight incline.
Unbeatable Build Quality
Reliability and durability are one of the most important factors for any home fitness equipment. You want them to last longer and help you achieve your fitness goals. That's because curved treadmills do not consist of heavy motors or a complex control panel which makes them easy to move.
Most manual treadmills are lighter in weight but the Power house curved treadmill weighs 200kg which offers added stability. It can still create noise while running but is less than a motorized treadmill without any vibration.
---
Overall Verdict:
If you want to challenge yourself with something different that is fun and easy to use then move to a curved running surface! This treadmill by Power house is exceptional equipment especially for elite trainers that look up to increasing the intensity of their workout.
A self-powered treadmill that does not require power makes it eco-friendly and your running cost will be lower as it saves electricity. It is better than conventional treadmills as it allows the user to excel in different areas of training like sprint intervals, indoor drills, and HIIT.
The Power house treadmill is best known for the less friction due to its hugely durable mechanism which makes it ideal for speed training and its curve design gives a lower impact than a traditional treadmill. The curved shape allows body weight to make use of gravity to pull the belt while adapting to your speed.
With a large running stride, it helps the foot to strike further up on the treadmill that helps in gaining more speed.
---
What I Like About Self Powered Curved Treadmill
Less Impact On The Joints
The rubber surface of the curved treadmills helps in absorbing the impact on joints and connective tissues. It helps in preventing the risk of injuries related to ground strikes. This is due to the treadmill's self-powered nature, which simulates outdoor walking. It is less harmful to the joints than a flat treadmill.
This allows the user to keep the hamstrings and glutes engaged to help the body in moving forward. It conveys less impact to the joints, knees, ankles, and back, etc. With less pounding, the ground provides the user with less shock and wear and tear over time. It reduces the effect on the joints, which eventually enhances running performance.
According to recent research, a curved treadmill burns more calories than a motorized treadmill. In fact, many people burn more calories on the first use of a manual treadmill than on that of a motorized. That's because they are drawn into exerting more energy to obtain the same speed/feeling and don't realise the enhanced calorie-burning effect. The experts also measured the physiologic intensity of both motorized and non-motorized treadmills which showed that the curved treadmill was stronger overall too.
The self-powered curved treadmill's system encourages the user to run on their balls of feet. Because of its ergonomic inclination, curved treadmills required higher activation of the core and trunk. The curve treadmills give the average calorie expenditure an additional 30-40% which could be the equivalent of walking an additional 3 miles on a motorized treadmill every session. Now isn't that appealing?
Ideal For HIIT And Sprint Training
Sprint workouts are ideal on curved treadmills as there is no motor. This allows the user to start their sprint training quickly without waiting for the motor to turn the belt to a particular rate. Curved treadmills allow accelerating super fast to reach the top speed instantly.
Anyone interested in Higher Intensity Interval Training, I'm sure, would love to have a self-powered curved treadmill as it is easy to jump on and off and as mentioned its curved surface increases the physiologic intensity of the workout. It helps in increasing the heart rate instantly and also increases the consumption of oxygen.
Furthermore, when the user stops running, the running deck quickly slows down. This feature aids in the quick and seamless transition from one workout to the next. Slowing down quickly is one of the criteria for sprint training and HIIT.
The process of slowing down on a curved treadmill is as natural as running outdoors, unlike a traditional heel strike. This aspect makes a curved treadmill a better option for aerobic exercises as it gives effective results.
More Muscle Groups Are Engaged
It is observed that curved treadmills are more effective when it comes to engaging muscle groups. The self-powered curved treadmill gives more strength to the legs from the beginning compared to motorized running machines.
Its curved nature is more likely to engage more muscles of the leg especially glutes and hamstrings. These muscles do not get enough attention while running on a flat treadmill because of its propelling action.
Curved treadmills help in engaging the muscles more actively because of the moving technique required to drive the running belt forward. It is similar to outdoor running keeping the hamstrings and glutes more active. Activation of these muscles is necessary as they help in moving the hip joint and stabilizing the pelvis.
It will also help in maintaining the balance and posture of the body effectively. Curved treadmills are best when it comes to doing hard workouts by increasing the pace.
The best part of the self-powered treadmills is that it does not use electricity and is completely powered by the user. It means that they won't contribute to your electricity bill or create a fuss of looking for an electrical outlet to place it. They rotate as the users move and take up the pace.
You can set them anywhere you want to. All you need to do is just jump on the running deck and start moving your body weight forward. This means that you don't have to wait for the machine to power up making it an eco-friendly running machine.
---
Things That Could Have Been Better
As much as I love this, the price of the curved non-motorized treadmill is perhaps a tad too expensive when it comes to its functionality. As there are no additional features like a fan, Bluetooth, a USB charger, or folding mechanism as per its huge size. In short, it is a very basic design that may not suit those who are fond of add-on features like many traditional treadmills now have as standard.
---
---
FAQ's
Are curved treadmills good for walking?
Yes, they are good for walking as their self-power nature is similar to walking outside. The only difference is that you will be propelling forward unlike a flat surface. This will increase the intensity of your workout and help in burning more calories, unlike traditional treadmills. Besides, if you are a leisurely runner then the curved treadmill may not be for you as you may deem the add on extras, such as 'video footage of mapped routes to follow, supported by motorized versions important features to have.
Who should buy a curved treadmill?
Curved treadmills are ideal for those who want to have an intense workout in less time and love a natural style of running. If you prefer to mentally relax while the legs are working then this is perhaps not the best choice for you. Curved treadmills involved more muscle groups than a motorized treadmill.
Are curved treadmills harder?
Curved treadmills are easy to operate as they barely have any buttons or add ons. Also, they are more efficient than a flat surface treadmill as they give intense workouts and are scientifically proven to be more effective than a motorized treadmill as they use the friction of your foot. This increases the intensity, gives better strength and less impact to your joints while burning 30-40% calories more during every workout.
---
Affiliate Disclosure
In compliance with the FTC guidelines, please assume the following about all links, posts, photos and other material on this website:
Any/all of the links on this website are affiliate links of which GymFreakz receives a small commission from sales of certain items, but the price is the same for you.
www.gymfreakz.com is a participant in the Amazon Services LLC Associates Program, an affiliate advertising program designed to provide a means for sites to earn advertising fees by advertising and linking to Amazon.com & Amazon.co.uk. Pages on this site may include links to Amazon and its affiliate sites on which the owner of this website will make a referral commission.