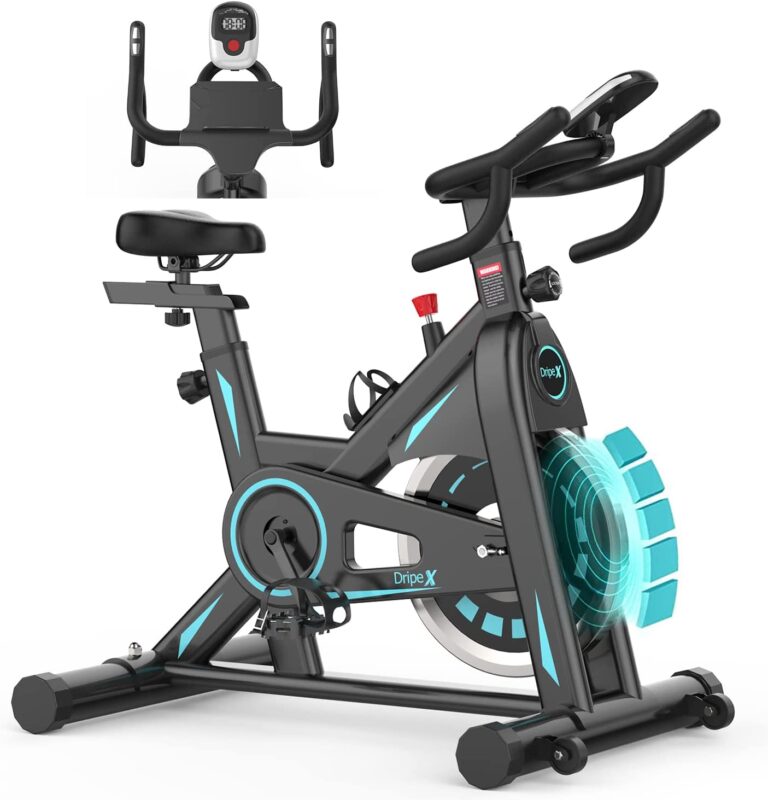 ---
---
Introduction to the Dripex Magnetic Resistance Exercise Bike for Home Gym Training (2022 New Version)
Over the years, Dripex has managed to consistently bring out the best fitness machines in various categories. Whether it's commercial exercise equipment or a home gym training machine, Dripex never disappoints. In this article, we will be reviewing an amazing Dripex exercise bike designed particularly for home gym training.
The Dripex magnetic resistance bike is loaded with fantastic features that you can drool over. Its sturdiness, comfort, manoeuvrability, and value for money make the bike perfect for home use.
Magnetic resistance indoor exercise bikes create tension against the flywheel using the magnets. The magnets move away from the flywheel when you decrease the pedal resistance allowing you to pedal easily. Magnetic resistance is better than strap resistance as it creates more tension which results in better performance. It helps in lowering blood pressure, stronger immune system, lower stress levels, and much more.
Let's jump to the review and check out if this indoor cycling bike is worth the investment.
Disclaimer – This website contains affiliate links. If you find the information useful and click on a product link and make a purchase, a small commission will be earned by GymFreakz and we appreciate your support.
---
Specifications
Item Dimensions: 107 x 86 x 21 cm
Maximum Weight Capacity: 150kgs
Material: Alloy steel
Transmission Mode: Belt Drive
Resistance Mode: Magnetic Resistance
Comfortable saddle and handlebar
Transportation wheels
Adjustable resistance knob
Heavy-duty frame
LCD monitor
Ipad and cup holder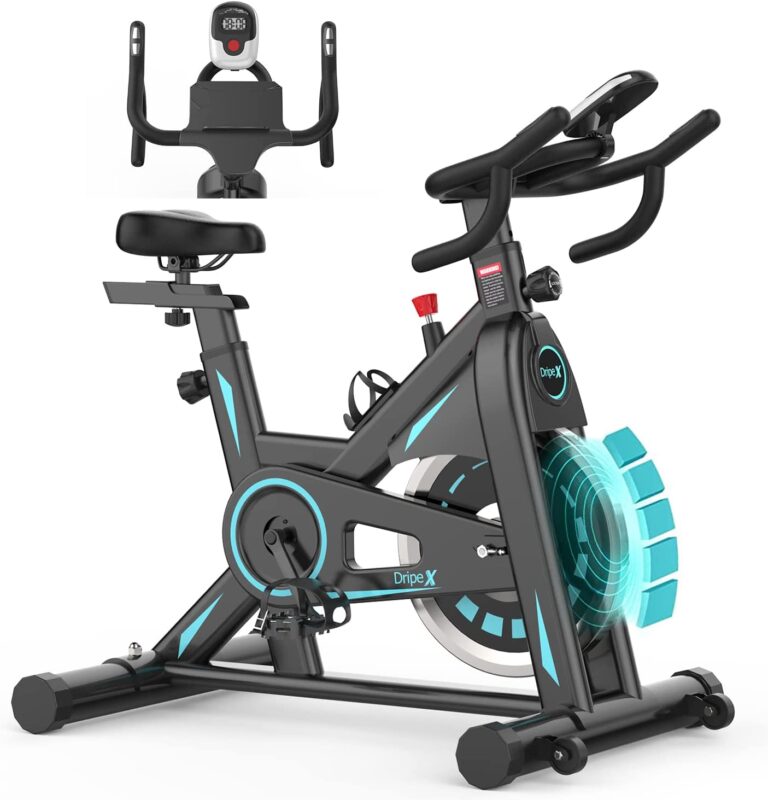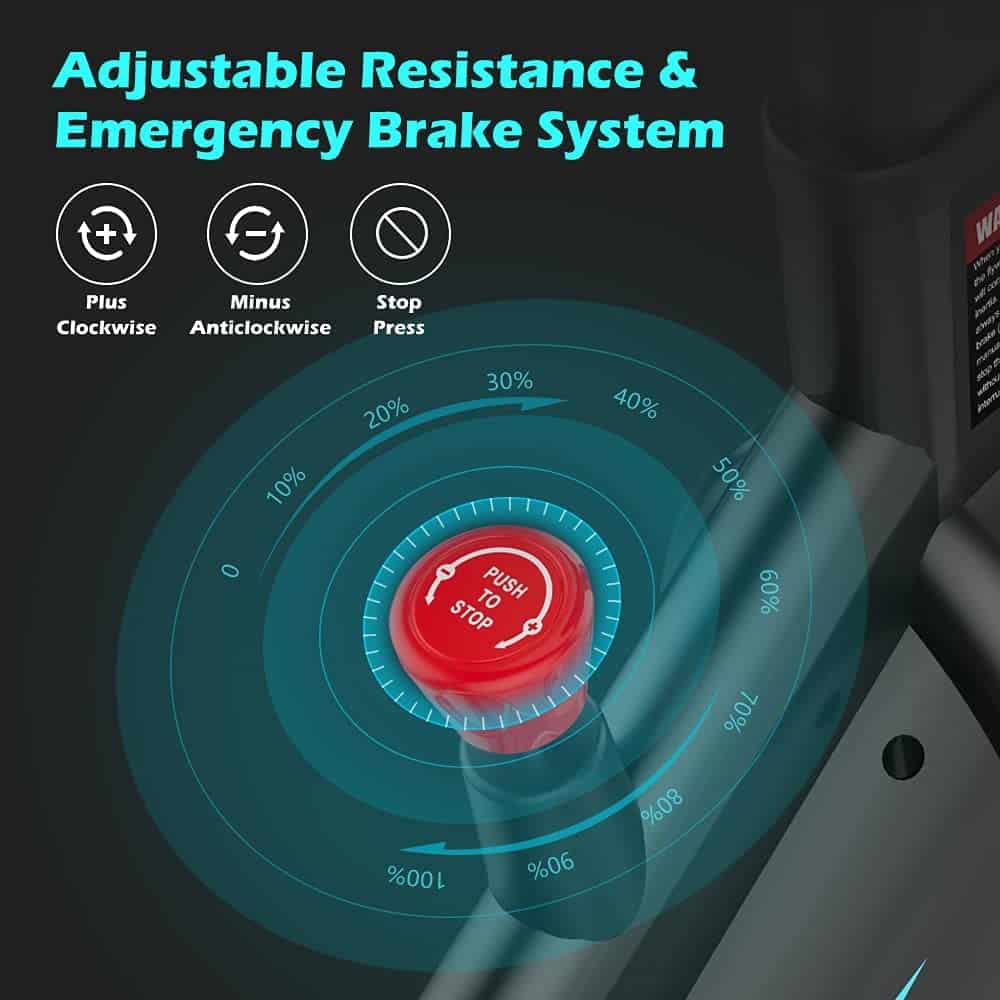 ---
KEY FEATURES
Heavy Duty Steel Frame
This Dripex exercise bike comes with a heavy-duty steel frame along with a 22lbs flywheel. It allows you to enjoy exercise without losing momentum and outstanding stability. The heavy-duty steel frame also provides the exercise bike with the ultimate durability. Hence, during a vigorous training session, you can expect optimal assistance from this exercise bike.
Moreover, it has a unique triangle design that guarantees stability and safety while cycling. The triangular weld steel structure is designed with an upgraded safety level so that you can fully focus on your workout.
Not just that, the maximum weight capacity of 330lbs(150kg) makes this bike suitable for multiple users. It will perfectly cater to different individual's physics demands. Whatever your fitness goals are, this Dripex exercise bike is a great way to achieve them.
Magnetic Resistance
The Dripex exercise bike comes with a magnetic resistance adjustment system that gives a smooth and quiet cycling experience. This means being an indoor cycling bike you don't have to hear that irritating noise of vigorous pedalling (it's always irritating when the fitness equipment is too loud and disturbs everyone around). The mechanism guarantees effortless and super silent cycling without losing stability while pedalling.
In addition, the bidirectional resistance adjustment bar allows you to simulate real road riding. This feature is perfect for a variety of workouts and offers increased exercise intensity. It will be particularly effective when performing full-body workouts, especially for the legs and lower body. This will help in strengthening your calves, hamstrings, and quadriceps.
The exercise bike also has an emergency brake to stop cycling immediately by pressing the resistance knob.
It is designed in a manner that needs no maintenance and serves you for a longer term productively.
Multi-Grip Handlebar
Exercise fatigue is a real damper to your routine and stops you from achieving fitness goals. The Dripex magnetic resistance exercise bike comes with a comfortable seat and multi-grip handlebar that makes exercise both comfortable and convenient and as such has an extremely comfortable and large breathable seat which can be moved back and forth easily. This allows the users to adjust the setting that suits their style of workout for maximum comfort.
It has 10 levels of the adjustable saddle and 8-level handlebars to meet different individuals' physics demands. These adjustable features will come in handy if there are multiple users using the exercise bike. They can easily make the exercise bike fit their height, weight and fitness levels.
Besides, the manufacturer's description suggests that this exercise bike is best suitable for users with heights varying between 4'9-6'3 ft. This affirms that the bike is versatile and can be easily adjusted as per one's own comfort.
LCD Monitor
The LCD monitor is a great way to track your overall progress and avoid overtraining which can be dangerous for your muscles. The multifunctional LCD monitor on this exercise bike displays time, distance, pulse data, calories burned, and speed. This will allow you to perform goal-oriented workouts which will also keep you motivated to work out regularly.
The pulse sensor helps in keeping your heart rate minimal and ensures the right exercise intensity. Measuring the heart rate is necessary as it will help in meeting your fitness goals, especially for cardiovascular health and weight loss. It is very important to know your heart rate zone to get the most out of your workout.
Moreover, it also has an iPad holder that allows watching your favourite videos or music. With this amazing functionality, you can enjoy exercise and entertainment simultaneously.
Set yourself small achievable targets and work out to achieve them while listening to your favourite music – this will also give your dopamine a boost!
---
Warranty
Dripex backs this magnetic resistance exercise bike with a 12-month parts replacement warranty.
*Warranty may be subject to change without notice and may differ between retailers – please check carefully before making a purchase.
---
Pros and Cons
---
Overall Verdict:
If you're looking for a well-built, stationary, indoor cycling bike with a heavy-duty steel frame, then this is exactly what you need! The Dripex magnetic resistance spin bike is designed with every convenience a user needs at home and is one of the most suitable home gym equipment purchases that help in getting the most out of your workout.
The mechanism of the bike is based on a humanization design that gives the best comfort to all and it comes with an adjustable magnetic resistance system that provides smoother and quieter cycling. This feature is helpful as it allows you to enjoy different intensity workouts.
An emergency brake makes sure that you don't have to face any uncertainty. In a nutshell, this bike is versatile enough to meet the needs of the whole family easily.
Moreover, with a multifunctional LCD display, your progress is under good supervision. It also has a phone holder and a water bottle holder so that you can stay hydrated and enjoy music. Pulse sensors are also there to track your heart rate and keep it minimal and with a heavy flywheel, you can enjoy smooth biking without losing momentum…and it's also worth noting, that it has an exceptional belt drive system that gives easy functioning, unlike many other bikes.
The bike also has a bidirectional resistance adjustment bar that caters to the needs of a wide range of users and also gives the simulation of real road riding and a comfortable seat that can be moved forward and backward. Its large and breathable seat makes it an ideal indoor cycling machine for home use. As well as all this, its triangle design guarantees stability and safety while cycling. It has 8 levels of handlebar height and 10 levels for adjustable saddle making it convenient to adjust accordingly.
The best part of this bike is that it needs no maintenance and it doesn't lose its productivity. It is cost-effective equipment with a versatile design and an effective workout without leaving the comfort of your own home.
In short, I can honestly say that you won't regret this purchase that has everything at-home fitness devotees look for.
---
---
What I Liked About This Exercise Bike
Cycling can cause injuries if you keep on losing the flow or grip of your foot. However, the Dripex magnetic bike comes with an anti-slip caged pedal that prevents slipping and gives a firm grip. I like how its aluminium alloy-based pedals give more support to the foot while cycling.
It is easy to maintain the flow with this feature of the bike along with an adjustable belt that prevents foot slip. It helps in maintaining balance and getting a firm foot grip. The anti-caged pedals are designed to ensure an upgraded safety level and enable cycling with relaxation.
Comfortable Seat And MultiGrip Handlebar
Most of the bikes don't have the adjustment convenience which easily irritates the users. I love how Dripex has taken this into consideration and understands the value of comfort. Its large and air-permeable seat is ideal to meet the different physics demands of the users. They can adjust accordingly as it allows up to 10 levels of saddle height adjustment. This will help the user to enjoy cycling comfortably without being mad over the uncomfortable position.
The 8 levels of handlebar height are perfect to satisfy the needs of different individuals. The seat can also be adjusted back and forth easily so that you don't have to lose pace while cycling. This feature is my favourite because comfort is my prior requirement when buying something like this. It not only allows relaxed cycling but prevents the risks of sudden injuries. This is also helpful in keeping the right posture and maintaining balance easily.
Assembly for some gym equipment can be one hell of a task to do before you start enjoying their long-term convenience and benefits. However, I love Dripex for being user-friendly and being super-easy to assemble…and this magnetic resistance exercise bike is no expectation as it takes less than an hour to have it up and running.
Other than comfort, assembly is another important consideration for me and this bike amazed me by giving both. All you need to do is start putting the parts together correctly by following the instructions and you're good to go. A durable sturdy design with easy installation at an affordable price is must-have exercise equipment.
Smooth And Quiet Operation
Equipment sound can be really irritating which not only disturbs you but potentially your neighbours too. It's very important for me when buying a machine that it is quiet in operation and thanks to the magnetic resistance system of the bike, which is quieter than friction resistance, it allows super silent cycling making it an ideal pick for home use.
Humanized Stationary Bike
I like how this bike is built with everything that brings comfort to the user. It comes with built-in wheels that allow you to move the bike from one place to another. Often it can be a real headache to move equipment especially if they're heavy items but with the wheels, you can do it easily.
And with a bottle holder, you can have your favourite energy drinks, keeping you hydrated during your exercise, but not just that, there's also a mobile holder that lets you enjoy entertainment and workout simultaneously.
And finally the resistance…with an exceptional magnetic brake and resistance system, you don't have to worry about uncertainties. This feature is perfect for cardiovascular training and building muscle endurance effectively. It can be a fun and exciting way to enjoy exercise while putting your body into motion.
Things That Could Have Been Better
Some quality complaints popped up when one user had issues with the handlebars. The user mentioned them being slightly movable from side to side, but this has now been resolved via customer services.
---
FAQ's
Is magnetic resistance better for exercise bikes?
Yes, magnetic resistance is better for exercise bikes. It provides a better user experience because it is easier to adjust for a more consistent workout. Many of the new manufacturers use resistance as it's significantly quieter and easy to operate.
Which exercise bike is better: flywheel or magnetic?
Magnetic bikes are better than a flywheel but they are relatively more expensive. A flywheel exercise bike might be a better option if you are low on budget and need to perform resistance training.
Can a magnetic exercise bike help you lose weight?
Definitely, magnetic exercise bikes are a great option for losing weight as they help burn more calories. They also assist in creating a caloric loss which is important for losing weight. So if you are on a weight loss journey, a magnetic resistance exercise bike can be an effective piece of equipment.
Which brand exercise cycle is best for home?
In addition to Dripex, there are several other brands you can check out for some versatile exercise bikes for home gym training. Some of them are as follows:
Branx
Horizon
JLL
JTX
Lifefitness
NordicTrack
Proform
Reebok
Sole
Spirit
---
Affiliate Disclosure
In compliance with the FTC guidelines, please assume the following about all links, posts, photos and other material on this website:
Any/all of the links on this website are affiliate links of which GymFreakz receives a small commission from sales of certain items, but the price is the same for you.
www.gymfreakz.com is a participant in the Amazon Services LLC Associates Program, an affiliate advertising program designed to provide a means for sites to earn advertising fees by advertising and linking to Amazon.com & Amazon.co.uk. Pages on this site may include links to Amazon and its affiliate sites on which the owner of this website will make a referral commission.