---
---
Introduction to the Xterra TRX 4500 Folding Treadmill
Xterra Fitness designs fitness solutions for people with all fitness levels and the Xterra Fitness TRX4500 Treadmill is one such solution, designed to facilitate the fitness needs of multiple people without consuming a vast space. This folding treadmill is a deadly combination of style, innovation, and durability.
This premium gym equipment has a quality build, modern console, heart rate monitors, and many advanced features like a safe drop. This is built keeping in mind the athletes' point of view. With all those and other advanced features like handlebar speed controls, handlebar incline controls, and multiple profile configurations this Xterra Fitness TRX4500 Treadmill is any runner's must-have.
Moreover, this is a folding treadmill that can save a lot of space. It is safe to say that it does exceptionally well in flats and apartments with lesser workout space due to its easy folding and storage features. The treadmill also has a powerful motor and padded deck that provides efficient functionality and safety.
If you are struggling to find something that has an appealing design and is yet very compact, the TRX4500 is the treadmill just for you. We have explored the treadmill for you in depth and we can say its features and design are more than competitive against other treadmills on the market claiming similar features.
Disclaimer – This website contains affiliate links. If you find the information useful and click on a product link and make a purchase, a small commission will be earned by GymFreakz and we appreciate your support.
---
Specifications
Brand: Xterra Fitness
Model: TRX 4500
Folding: Yes
Motor: 3.25 HP Motor
Maximum Speed: 12mph
Minimum Speed: 0mph
Incline Range: 1-15%
Speed Range: 0mph-12mph
Dimensions (Open): 77.2″ x 35.5″ x 56.1″ (lxwxh)
Dimensions (Folded): 51.2″ x 35.5″ x 65.8″ (lxwxh)
Running Surface: 20″ x 60″ (wxl)
Equipment Weight: 98kgs
Programs: 30 Preset Programs
Weight Capacity: 150kg
Chest Strap Included: Yes
Cooling Fan: Yes
Audio Jack: Yes
Cushioning: XtraSoft Cushioning on Deck and Side Rails
Bluetooth Connectivity: Yes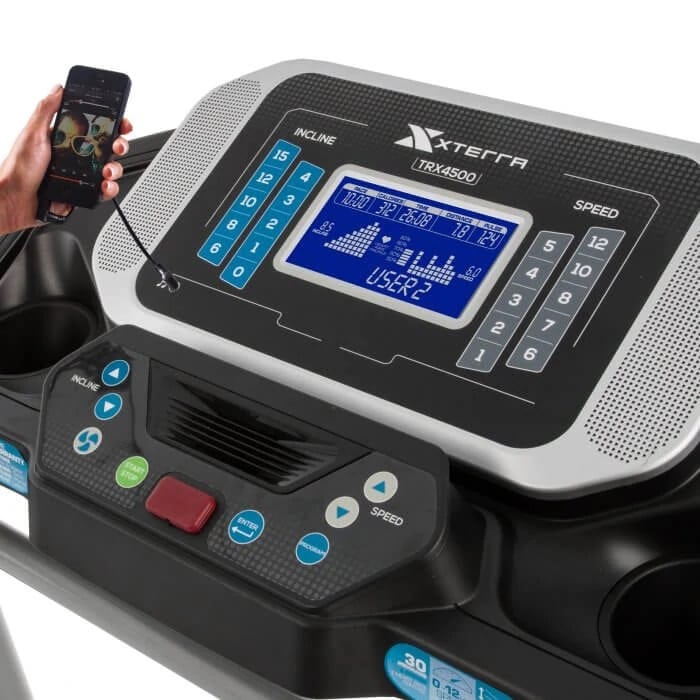 ---
KEY FEATURES
Lift Assist Frame Design:
The TRX4500 is a folding treadmill designed to fit easily in any space. Its lift assist feature aids in its feasible folding. Space shortage should not hinder your workouts, so Xterra has designed this easy-to-store treadmill for small storage spaces. You can fold its frame and reduce its surface area by approximately a quarter. The best part about its folding ability is that it does not compromise its advanced design. Moreover, the frame design is sleek and can go with all interior designs.
Safe Drop Feature:
In addition, to lift assist, a safe drop feature has been included in the making of TRX 4500 for added safety. This exclusive feature slowly lowers the deck, which allows risk-free folding and unfolding of the treadmill.
Efficient Workouts and Programs:
The Xterra TRX4500 has multiple programs and workout options to choose from as well as several built-in programs that you can explore too. You can select from cardio, uphill, run, manual, endurance, or pulse motivating programs. Also, you can create multiple user profiles on the treadmill so that each time you workout, your data is saved for the next workout session. The preset programs will help you achieve fitness goals, plus you can also customize your workouts through the Xterra App.
XtraSoft Deck Cushioning:
The XtraSoft Deck Cushioning Technology is one of the premium features of the Xterra TRX4500. This cushioning helps reduce the stress induced on bones and joints during exercise and the Xtrasoft side rails also contribute to added safety.
Treadmills without cushioning can have adverse effects on the bones and joints of the runners. The TRX4500 is designed to accommodate people of all shapes and sizes, thus the Xtrasoft Deck Cushioning Technology can reduce such problems to a greater extent. People with joint-related problems or the elderly will find the TRX4500 very comforting.
Heart Rate Monitoring:
The Xterra TRX4500 Treadmill constantly monitors your heart rate through a wireless heart rate chest strap. In addition, it has aluminium EKG grip pulse monitors to keep you in a healthy heartbeat range. Keeping your heart rate at the optimal range during workouts should be a prime concern as incorrect or strenuous exercise can lead to unnecessary heart problems.
Bright LCD and Display Options:
This folding treadmill comes with an oversized 7.5 bright blue backlit LCD display in the center of the control panel. The LCD displays program profile, speed, and incline rates, workout display, time, calories, miles, volume, and connected devices.
Speed and Incline Controls:
The TRX4500 has a heart-pounding speed range and multiple incline options. You can control speed and incline from the buttons on the panel and additional remote controls mounted on the handlebars. The additional remote side handlebar-mounted controls allow you to quickly change incline and speed settings during your workout. This is also important in respect of safety. The 'console direct access' speed and incline buttons really come in handy for faster workout sessions.
---
Warranty
This amazing folding treadmill is covered by a solid warranty. The company offers a lifetime frame and motor warranty. Also, the company has extended 5 years and 2 years warranty on the deck and parts respectively. One-year warranty for in-home labour for UK residents. These warranty periods are for the people who live in Mainland UK. The warranty periods may differ for the residents of Northern Ireland and other countries.
*Warranty may be subject to change without notice and may differ between retailers – please check carefully before making a purchase.
---
Pros and Cons
Cooling Fan:
You do not want to be all tired and sweaty during the workouts. The cooling fan can prolong the workout time by reducing the intense heat and fatigue felt during workouts.
Connectivity and Added Feasibility:
The TRX4500 keeps you fully connected with the workouts and entertainment. This is achieved by connecting the treadmill to the Xterra Fitness App and enjoying unlimited workouts. Also, you can play your favourite tunes while working out as the treadmill comes with an audio jack, but perhaps more importantly, you can also connect your mobile devices to the treadmill via Bluetooth (You have a couple of options of where to place or store your phone on the console as required).
The treadmill console has two oversized cup holders for your energy drinks or water (or phone) and it also has a built-in reading rack so that you can read from books or a tablet if you prefer.
Broad Running Surface:
The Xterra TRX4500 has a 20″ x 60″ running surface that allows athletes to run with the utmost freedom. As we all know, with a broader running surface, it is always easier to make more effective body movements.
Powerful Motor:
The Xterra TRX4500 Treadmill has a 3.25 hp motor; the high powerful torque of 3.25 HP makes the treadmill run incredibly smoothly. As I'm sure you can appreciate, the motor is the driving force of any treadmill and as such possibly the most important factor. If you want a better functioning motor with high-end technology then this folding treadmill should certainly be on your list as it has a strong powerful motor to pace up your workouts and meet every runner's needs.
Modern Interface:
A modern interface can be an exclusive feature but when it comes to treadmills for homes an easy-to-read interface is preferred. Bringing the training home can be challenging and the challenge is harder with a difficult interface. You will need to go through the user manual and get yourself equipped with all the information you need. But once you are through the manual you can gain many benefits from it.
A Bit Expensive?:
The price of this treadmill might seem a bit expensive initially, especially with you worrying about the upfront price and electricity consumption. However, when it comes to buying the TRX you have multiple payment methods and you can always have finance/ monthly payments. Remember, this is a one-time investment in your fitness.
In its favour, there are few treadmills on the market to match the TRX 4500's modern technology and design on the market and as such the price reflects this. This folding treadmill is one of those treadmills that is aimed to create fitness solutions for people of all levels and sizes, so still, in my eyes a wise investment.
---
Overall Verdict:
The Xterra Fitness TRX4500 Treadmill is a folding treadmill that will not only satisfy the athlete in you but will also comply with your aesthetic requirements. In my opinion, this treadmill is one of the finest treadmills on the market based on price vs tech and as such its amazing functionality and premium features make it the treadmill you will want to bring home for your training sessions.
This gym equipment is a perfect fit for any small-sized flat or apartment and can even fit seamlessly into any larger commercial setups if needed. Highly recommended.
---
---
FAQ's
Does the TRX4500 have chest strap heart rate monitoring?
The TRX4500 treadmill has a heart rate chest strap monitor along with handlebar EKGs.
How can I apply for finance for the TRX4500?
To get financed for TRX4500 you have to fill out an application form online. You will be asked to fill out necessary personal and economical details about yourself. Once the finance is approved as your payment option, you can buy TRX4500.
Is the delivery free of the treadmill?
There are no delivery charges for the people living in the mainland UK.
Does TRX4500 have handlebar speed controls?
Yes, handlebar speed controls are mounted on the side rails of the TRX4500.
Yes, direct access speed buttons are part of the panel, and yes direct access incline buttons are also integrated into the system.
What are the payment options and can I pay monthly installments on TRX4500?
For monthly payments and finance, check forms online.
---
Affiliate Disclosure
In compliance with the FTC guidelines, please assume the following about all links, posts, photos and other material on this website:
Any/all of the links on this website are affiliate links of which GymFreakz receives a small commission from sales of certain items, but the price is the same for you.
www.gymfreakz.com is a participant in the Amazon Services LLC Associates Program, an affiliate advertising program designed to provide a means for sites to earn advertising fees by advertising and linking to Amazon.com & Amazon.co.uk. Pages on this site may include links to Amazon and its affiliate sites on which the owner of this website will make a referral commission.