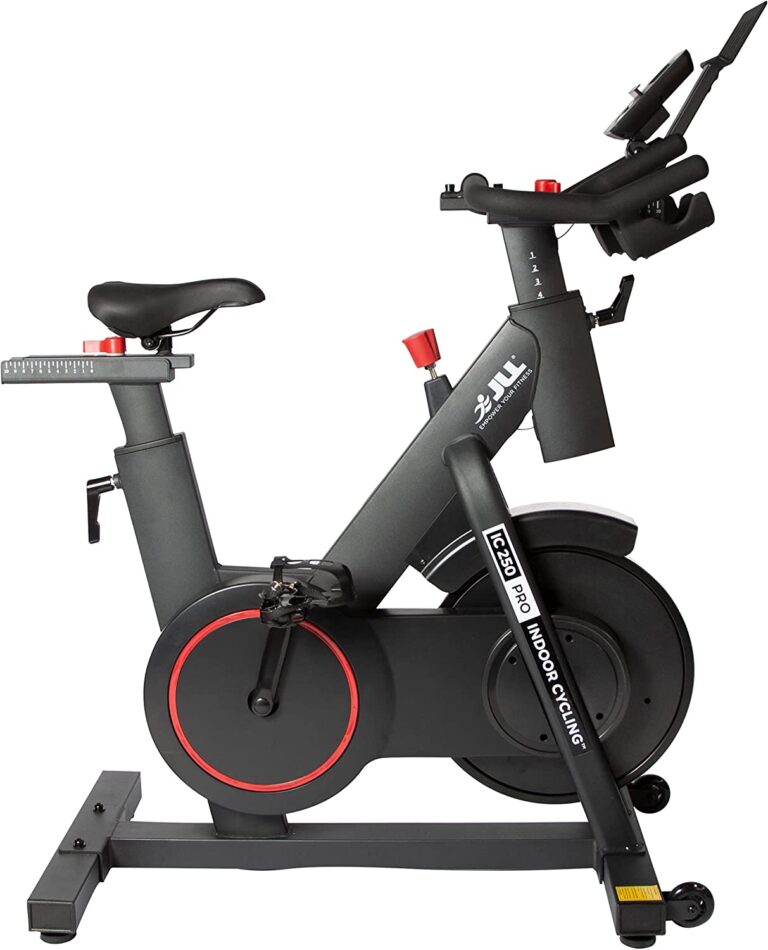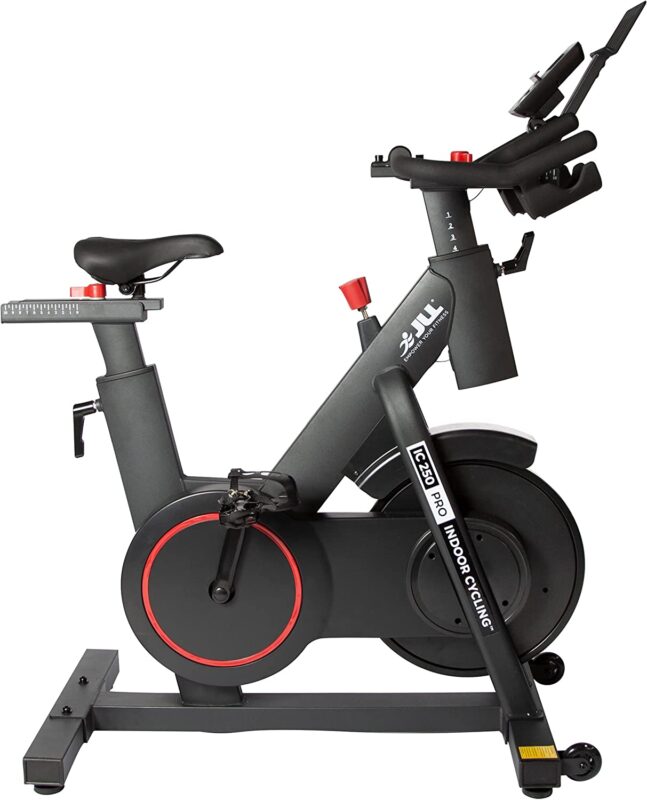 ---
---
Introduction to the JLL IC250 Pro Indoor Cycling Bike
If you have been looking to workout from home, using an indoor exercise bike is one of the best options to consider. Budget spin bikes have increased in popularity around the world due to how cycling is an effective way to lose weight, improve your fitness, tone muscles, as well as help your mental wellbeing and cognition.
If you wanted to save time on going to classes and using a spin bike, the JLL IC250 Pro could be a great purchase. With so many budget bike options to consider, finding a home exercise bike to suit your needs can be tricky. This post includes the specs, features, pros, and cons surrounding the JLL IC250 exercise bike. As a result, you can leave this post feeling more assured about whether the IC250 is the right choice for you.
They've fitted this indoor cycling bike with a high-quality 7 KG flywheel which works incredibly well with the magnetic resistance system and belt-driven feature to provide you with a smooth cycling experience. The handlebars and seat can both be easily adjusted to create a comfortable riding experience.
Users have been liking how the ergonomic handlebars and seat come with several height adjustment levels as it means that you can be sure to find the riding position that's best for you. The maximum weight limit is also impressive for allowing people of varying weights to exercise securely with this indoor cycling bike.
To learn more about what the JLL IC250 Pro indoor cycling bike has to offer, check out the details below.
Disclaimer – This website contains affiliate links. If you find the information useful and click on a product link and make a purchase, a small commission will be earned by GymFreakz and we appreciate your support.
---
Specifications
Resistance – Magnetic resistance system with an adjustable dial
Crank – Durable 3-piece crank system
Frame – Steel construction
Belt – Direct belt-drive system
Monitor – LCD display that tracks speed, time, calories burned, heart rate, and distance
Flywheel – 7 KG bi-directional flywheel
Pedals – Foot straps and cage included
Handlebars – 4 handlebar height adjustment levels are available
Seat – 10 adjustable seat height levels are available
Transport – Wheels built-in
Maximum user weight – 135 KG
Dimensions – 116 cm x 51 cm x 134.5 cm
Item weight – 43.2 KG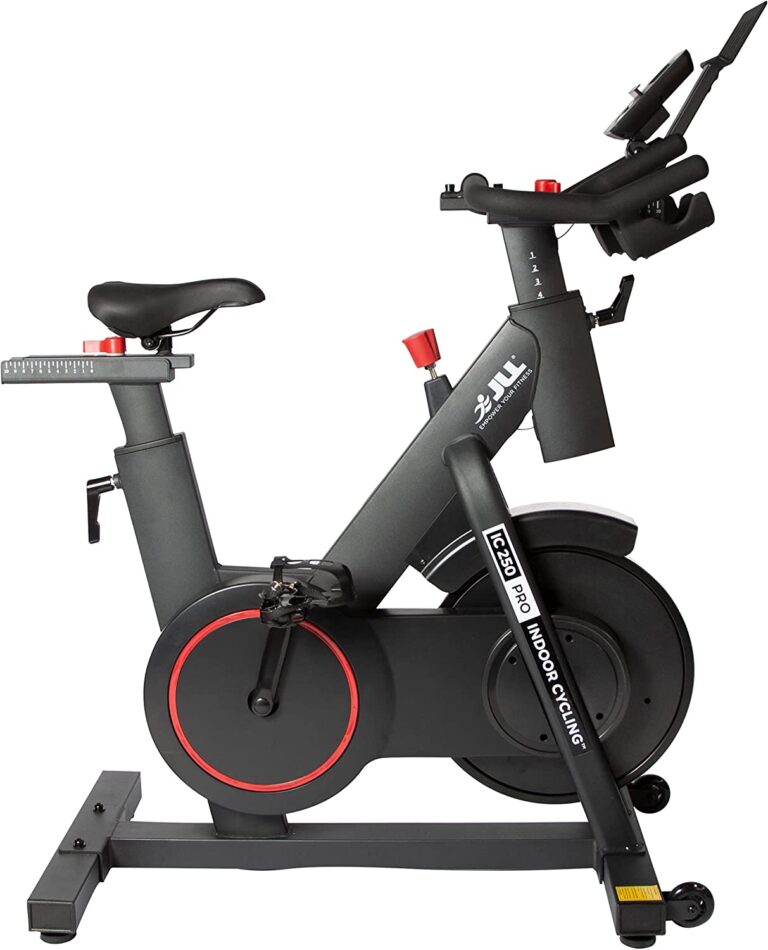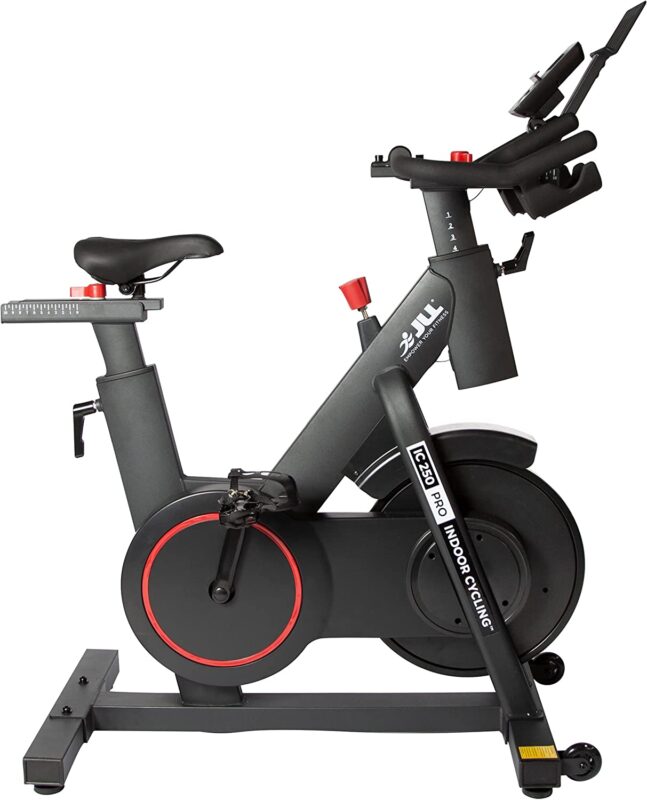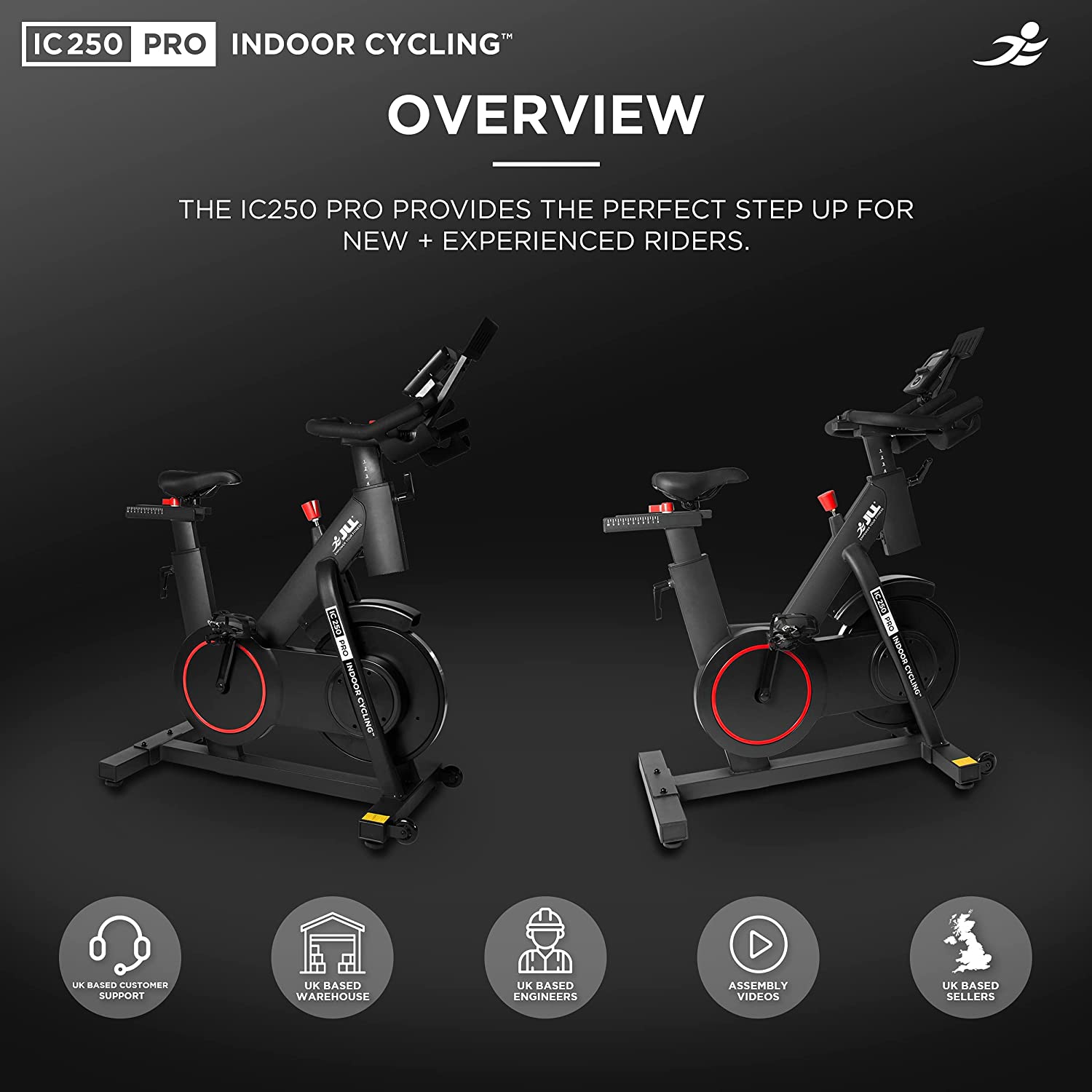 ---
KEY FEATURES
Flywheel
I liked how the flywheel weighs 7 Kg as it means that you're provided with plenty of sturdiness while riding. This is a great benefit for those of you who were interested in working out intensely as you can feel confident that the flywheel will keep you stable.
In addition to this, the flywheel has been designed with smoothness in mind. As a result, I found that I was able to cycle for long periods or shorter intense workouts without vibrations. This is a superb feature that enhances the overall riding experience and makes it more enjoyable.
The flywheel also includes a quick stop knob that can be used to stop the flywheel from spinning. This is a safety feature that users have been appreciating.
Belt Driven System
The belt-driven system that has been included in the JLL IC250 Pro indoor cycling bike is excellent for boosting the bike's durability and strength. High-quality rubber materials have been used for the belt which is fantastic for making sure that the power is being properly transferred from the pedals to the flywheel.
The belt and flywheel work together which has enabled riders to cycle smoothly. Not to mention, this belt design minimizes the amount of noise that's created while you're cycling. Therefore, those of you who are looking to workout from home without creating a lot of noise would find this to be a great option.
Another one of the great benefits of a belt-driven system is the fact that it requires minimal maintenance. As a result, you can spend more time engaging in a challenging workout and less time working on maintenance.
Magnetic Resistance
JLL Fitness has equipped the IC250 Pro indoor cycling bike with a magnetic resistance system. This works with the flywheel and belt-driven system to further enhance the user experience while cycling. The friction resistance is minimal which allows you to cycle smoothly.
I liked how a dial has been fitted to the bike and positioned in an area that's easy to reach. As a result, you can easily change the resistance level of the bike depending on what your workout goals are. You can twist the dial one way for high resistance, and the other way for lower resistance.
Monitor
The basic monitor that's available with the IC250 indoor cycling bike allows you to track calories, speed, distance, time, and heart rate. Having the ability to track all of these statistics is vital when it comes to setting goals and working towards reaching them.
My primary goal when it comes to exercising is weight loss, which means that I was able to take advantage of the calorie tracker that the IC250 Pro comes with. Subsequently, I could see the number of calories that I burned during each workout which allowed me to get a much better grasp on what my overall caloric intake for the day needed to be to lose weight.
I was impressed with how a heart rate band is also included. This is helpful for people who are looking to work on their fitness and aim for a certain heart rate goal while exercising. You can wear the band and be provided with details on the monitor about your heart rate. This information can be used to determine the intensity of your workouts so that you can make adjustments where necessary.
Handlebars
Users have been liking how the handlebars have been created with an ergonomic design. This means that you can feel more comfortable while riding which adds to improving the overall cycling experience.
In addition to this, the IC250 Pro exercise bike features 4 handlebar adjustment levels. I found this to be a highly beneficial feature when it comes to cycling comfortably. Being able to change the height between 4 levels means that you can be sure to find a position that feels right for you.
The combination of the ergonomic design and adjustability features is excellent for people interested in either longer steady-state forms of cardio or shorter high-intensity bursts of exercise.
Saddle
Another one of the comfort features that this bike excels in includes the saddle. I liked how soft grade-A foam materials have been used for the padding with this seat. It enabled me to feel comfortable while riding which is a major concern among indoor exercise bikes. The seat comes with an impressive total of 10 adjustable levels. Users found that this helped allow them to find the right height that felt best for gripping onto the handlebars.
I was also pleased to find that high-grade synthetic leather materials have been used to make the saddle. As a result, the seat won't wear down too quickly. Moreover, this synthetic leather creates a sweat-resistant system that mimics the design of mountain bike saddles.
Crank System
A 3-piece crank system has been implemented to the JLL IC250 Pro indoor exercise bike which provides the bike with plenty of durability and strength. They've designed the crank system with sturdiness in mind which means that you can expect it to last you longer and help towards creating a stable bike.
Furthermore, the crank system works smoothly along with the pedals, flywheel, and magnetic resistance system to provide you with the feeling that you're riding a real bike. I found this to be a superb feature that made the cycling experience more fun.
Transport
If you're worried about an indoor cycling bike taking up too much space in your home, you'll be pleased to hear that the IC250 Pro comes with fitted wheels. As a result, you're able to have an easy time moving the bike around from room to room in your home.
You could wheel the bike into a storage room or a place where it's out of the way when it's not being used. The wheels make it super easy to then pull the bike out and use it before putting it back into storage.
Users have been liking how this bike is easy to transport as it means they can conveniently workout from home without taking up a ton of room.
---
Warranty
JLL's range of fitness equipment provides a 12-month warranty for all of its fitness equipment. This enables customers to have peace of mind in knowing that if they encounter any issues with the product, they'll be covered under the warranty terms. The warranty is activated from the delivery date.
Moreover, a 30-day-money-back guarantee comes with the IC250 Pro. As a result, you can try out the bike for a few weeks to decide whether you think it's the right model for you. If not, you can contact the company's customer service team and organize for the bike to be returned and for you to receive a full refund.
Domestic use of the IC250 Pro has a warranty that covers the following:
2 years parts and labor warranty
Lifetime frame warranty
5 years motor warranty
You should be aware that this warranty doesn't include the wear and tear of the bike that's expected to happen over time. The IC250 Pro is also only covered if you followed the assembly instructions and correctly put the bike together. If you have a problem completing the assembly of this bike, you can contact the customer service department to receive help.
*Warranty may be subject to change without notice and may differ between retailers – please check carefully before making a purchase.
---
Pros and Cons
---
Overall Verdict:
JLL Fitness has created a piece of home exercise equipment at a budget-friendly price with the IC250 Pro that allows beginners and intermediates to workout effectively and conveniently from home. The magnetic resistance system, flywheel, and belt-driven features work seamlessly together to create a stable and smooth riding experience.
I liked how consistent usage of the IC250 Pro didn't create any friction resistance or distracting vibration. Instead, I was able to focus on the workout and enjoy the smooth experience.
Users have been impressed with how a pulse rate band has been included with the IC250 Pro. It's an excellent tool that helps you to gauge your heart rate while you're exercising. This means that you can set goals in terms of the pulse rate that you want to maintain while working out. The Kinomap app compatibility was an additional feature that helps to provide you with more stats about your rides. Having this data available helps cyclists to adjust the intensity of their workouts to push and reach their goals.
The monitor also provides you with details about the distance, speed, time, and calories. Therefore, people looking to lose weight can keep track of the calories being burned each time they workout to ensure that they're in a caloric deficit to drop fat.
I was also pleased with how the IC250 Pro comes with several comfort and adjustable features. The adjustable handlebars have been made with an ergonomic design which means that you can feel comfortable while holding onto them and cycling. Moreover, it has 4 height adjustment levels which are great for putting your body in a natural riding position.
Some users were disappointed with how the handlebars can only be adjusted in height and not orientation. However, the seat has 10 adjustment levels available which allow most people to be specific about the height of their body concerning the handlebars.
The padded foam seat was also super comfortable. This is especially beneficial for people who are interested in using the JLL IC250 Pro for longer forms of steady-state cardio as it allows them to stay comfortable during long workouts.
One of the main downsides of the IC250 Pro is the tablet holder. The wobbliness of the tablet holder has made some users concerned about their tablet falling out while they're cycling.
All in all, the IC250 Pro is a choice worth considering for newbies and intermediate cyclists. Customers have been liking how there are plenty of comfort and adjustable features that let them workout in a position that feels best. Moreover, the bike is packed with features that create a smooth riding experience which provides great value for money for those of you not wishing to spend too much.
---
---
What I Liked About This Exercise Bike
One of the standout features that the IC250 Pro has to offer includes the heart rate band that's available. This is usually something that you would need to purchase separately. Users have been using this to become more accurate at tracking their pulse rate while working out. This is a fantastic feature that helps you gauge how intense your workouts are, as well as where your fitness levels are currently at and whether you need to push yourself more. The Kinomap app compatibility was an additional feature that helps you to further track your workouts.
The adjustable and ergonomic features that have been integrated into the handlebar and seat design make this indoor cycle bike a joy to ride. You're able to have a lot of control over the position that you put your body in which creates an environment that promotes a better riding posture.
Users have been liking how a dial is available for the magnetic resistance system. This is because it allows you to have precise control over how difficult you want your workouts to be.
The flywheel and belt-driven system are also effective for reducing vibration and noise and providing you with a smooth and quiet workout experience.
I liked how JLL Fitness has made the IC250 Pro easy to transport. The design of the built-in wheels means that you can easily move the bike around your home without any hassle. This is a huge benefit to consider if you were concerned about an indoor exercise bike taking up too much room. You can simply roll it out of the way when it's not being used.
The max user weight is also ideal for ensuring that people of varying weights can feel confident in using this bike. There's a max user weight limit of 135 KG which is very accommodating.
Users have also been mentioning that the level of customer care available from using JLL IC250 pro indoor cycling bikes is outstanding. This can help you to feel assured in knowing that you can pay for a bike and quality service from JLL. Other stores and online services don't always provide this level of care for customers.
Things That Could Have Been Better
While the height range adjustability of the handlebars is a useful feature, some users were disappointed with how the handlebar orientation can't be changed. As a result, not everyone may be completely happy with how the handlebars are positioned while riding.
In addition to this, the tablet holder that has been fitted feels a little wobbly. This has left some users concerned about whether their tablets can be securely placed in the holder while working out.
---
FAQ's
What's the maximum user weight limit?
The JLL IC250 has a max user weight limit of 135 KG.
Can you adjust the angle of the handlebars?
No, the handlebars that have been fitted to the JLL IC250 exercise bike can only be adjusted in height.
Additional Points
Indoor exercise bikes provide you with a remarkably convenient way to workout from home. There is a surprising range of benefits that a spin bike has to offer which you can take advantage of by using indoor exercise bikes.
Cycling is an effective way to burn fat and improve your overall fitness levels. Not to mention, using a spin bike can tone the muscles in the lower body while also improving circulation.
One of the other huge benefits of cycling involves mental health and wellbeing. Studies have revealed that cycling increases the production of dopamine which is one of the driving chemicals behind putting you in a good mood. Your cognition can also be improved as a result of cycling.
So, if you don't want to pay for classes with spin bikes, using an indoor cycling bike, such as the JLL IC250 Pro could be a great option to consider.
---
Affiliate Disclosure
In compliance with the FTC guidelines, please assume the following about all links, posts, photos and other material on this website:
Any/all of the links on this website are affiliate links of which GymFreakz receives a small commission from sales of certain items, but the price is the same for you.
www.gymfreakz.com is a participant in the Amazon Services LLC Associates Program, an affiliate advertising program designed to provide a means for sites to earn advertising fees by advertising and linking to Amazon.com & Amazon.co.uk. Pages on this site may include links to Amazon and its affiliate sites on which the owner of this website will make a referral commission.