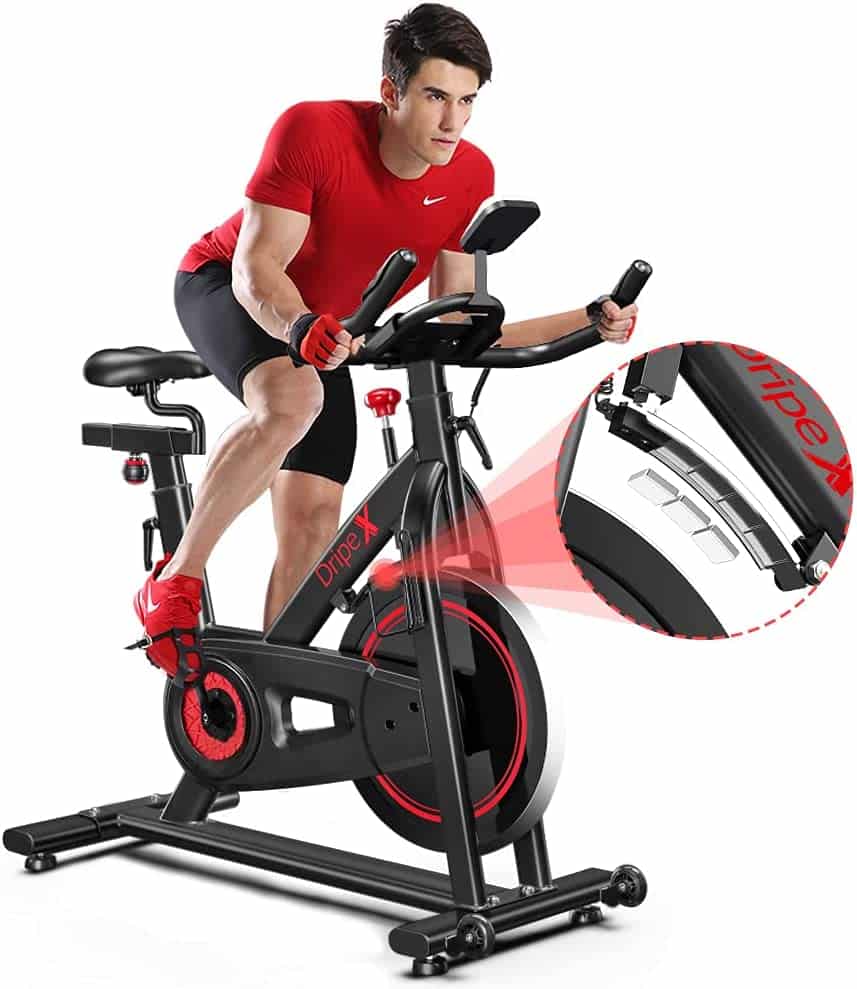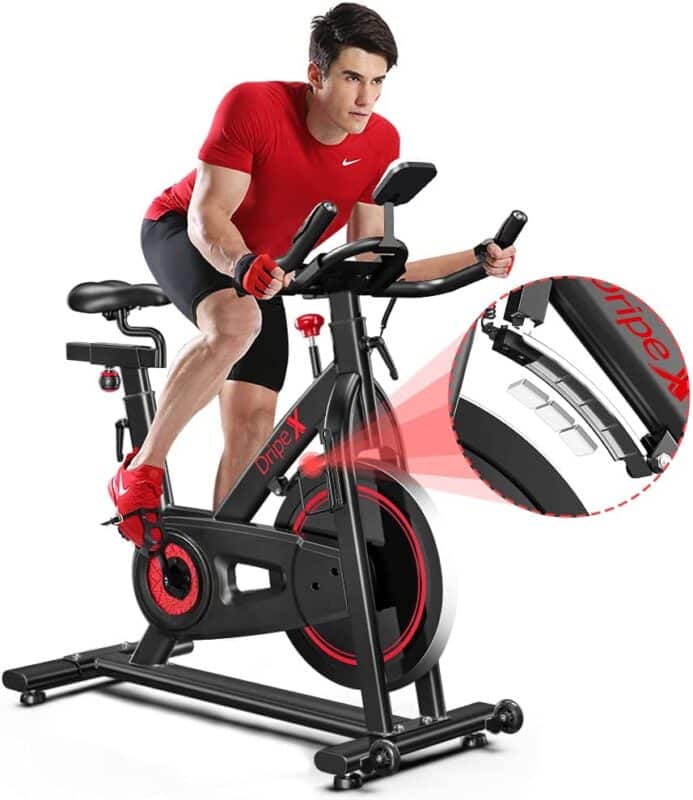 ---
---
Introduction to the Dripex Indoor Cycling Magnetic Resistance exercise bike (2022 upgraded version)
Dripex is a well-known brand when it comes to fitness as it produces the best high-quality workout equipment. It ensures to include all the necessary features to cater to the fitness requirements of workout lovers.
The new Dripex indoor cycling magnetic resistance exercise bike has a perfect combination of features. It has everything at-home fitness lovers can wish for at such an affordable price. The easy assembly, comfort, manoeuvrability, and sturdiness are the key aspects of this bike. With a multifunctional LCD monitor, tracking your progress and performing goal-oriented workouts become easy.
Its comfortable seat cushion allows you to adjust the seat to the most suitable position for your cycling. With an upgraded safety level it ensures you have a firm foot grip without slipping and preventing injuries. A perfectly reasonable deal to get an outstanding product and a satisfactory shopping experience. Keep on reading to know more about it in our in-depth review below.
Disclaimer – This website contains affiliate links. If you find the information useful and click on a product link and make a purchase, a small commission will be earned by GymFreakz and we appreciate your support.
---
Specifications
Item Dimensions: 113 x 88 x 24.5 cm
Maximum Weight Capacity: 150kgs
Material: Alloy steel
Transmission Mode: Belt Drive
Resistance Mode: Magnetic Resistance
Heavy-Duty Flywheel
Anti Slip Caged Pedal
Ultra Silent
Multifunctional LCD
Water Bottle Holder
Built-in Transportation Wheels
Comfortable Seat Cushion
Brake And Resistance System
Phone Holder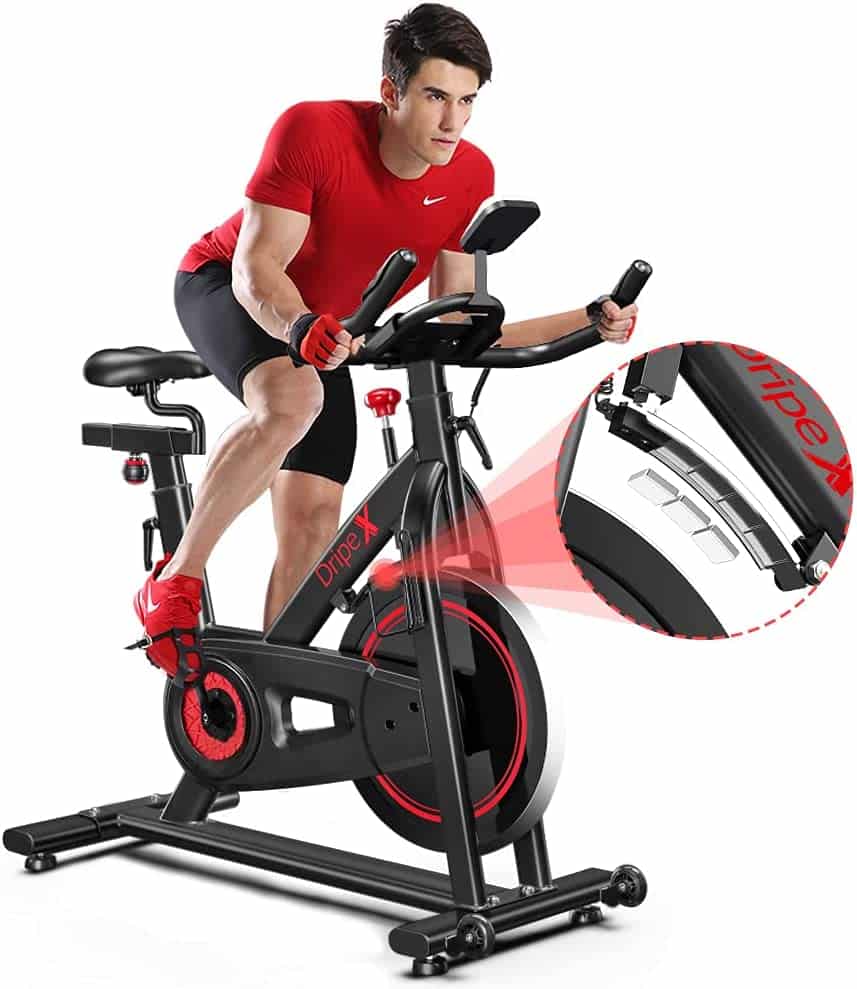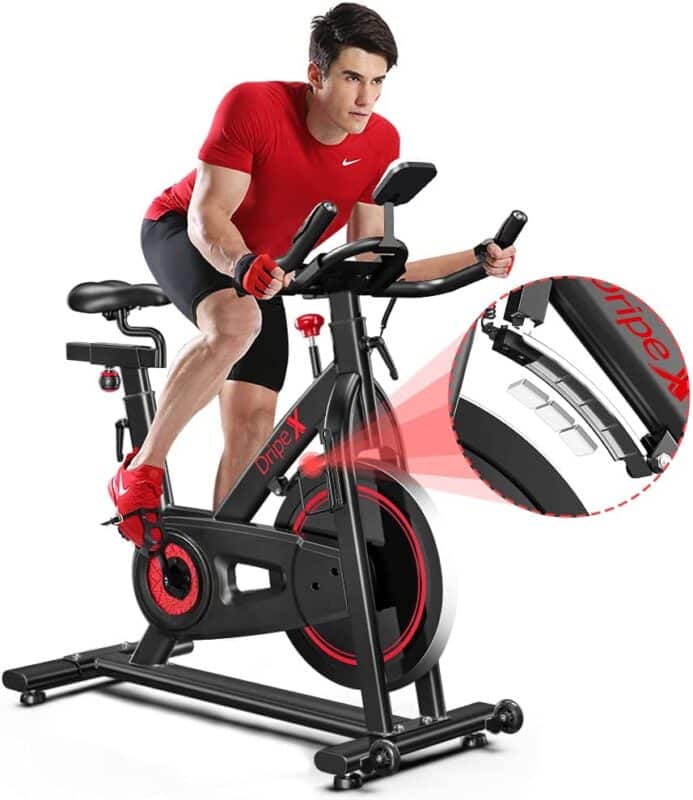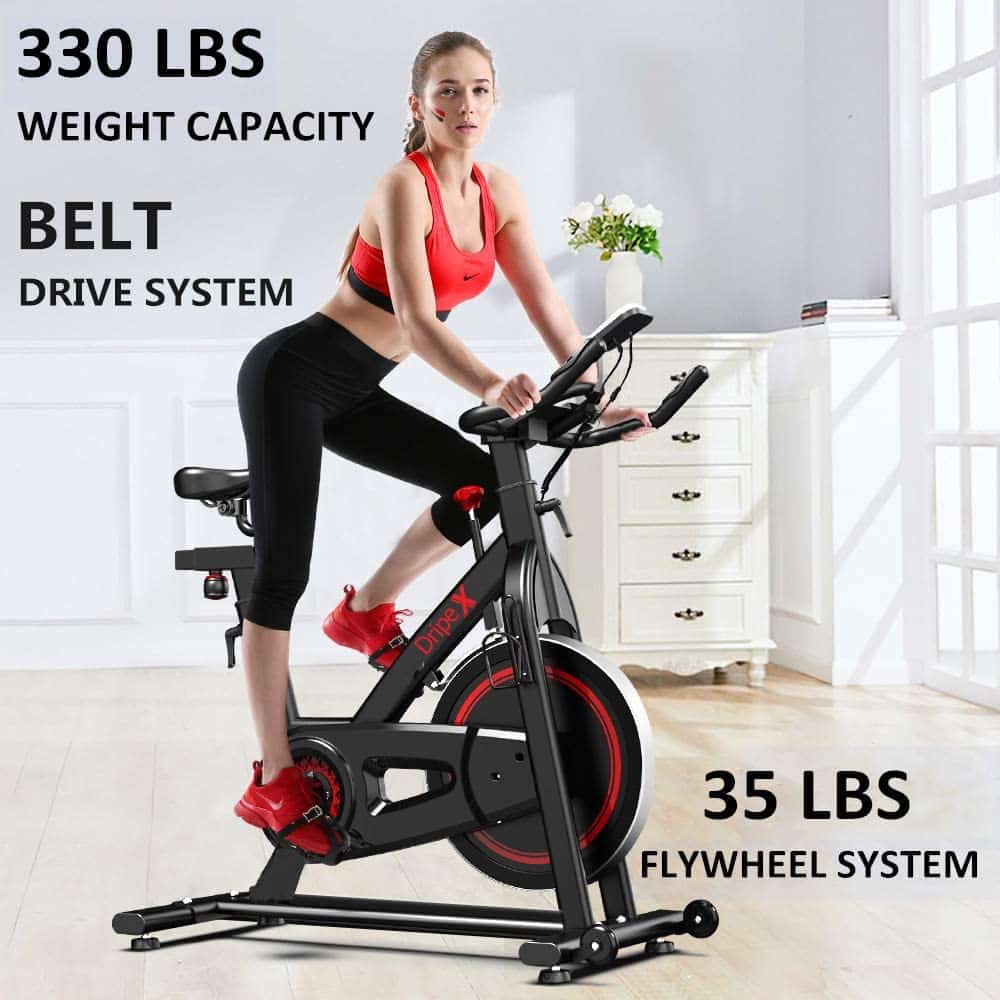 ---
KEY FEATURES
Heavy-Duty Triangle Frame
Dripex knows how to keep fitness enthusiasts engaged with its sturdy and durable fitness equipment. Safety and durability are the key factors when buying fitness equipment to avoid any uncertainty.
This Dripex magnetic exercise bike comes with an upgraded safety level to ensure outstanding stability. With a heavy-duty steel frame and 35LB flywheel, you can enjoy exercise without losing momentum. Most exercise bikes overlook this aspect which may result in serious injuries. However, it is designed according to the triangle stability principle which ensures optimal stability and riding momentum. It gives a maximum weight capacity of 150kgs/330 pounds which is perfect for different individuals' physical demands.
Magnetic Resistance Adjustment System
It's always irritating when the fitness equipment makes too much noise or disturbs others. This exercise bike comes with an adjustable magnetic resistance which guarantees smooth and quiet cycling. Dripex has come up with its exceptional super quiet adjustment system with no maintenance required. It is like a bonus that will easily serve you in the long term; just make sure you make good use of it.
The bike's magnetic piece is more durable than other regular woollen brake pads. This will help in keeping up to the resistance along with targeting different muscle groups. It is suitable for both beginners and elite trainers, especially cardio lovers. This feature also includes a bidirectional resistance adjustment bar that allows you to simulate real road riding.
And please note; you can always use the support emergency brake by pressing the resistance knob in order to stop cycling immediately.
Adjustable Handlebar and Seat
When it comes to 'burning out', the Dripex exercise bike helps reduce exercising fatigue which is highly beneficial when you want to perform long hours of training sessions. It comes with an extremely comfortable and large air-permeable seat that can be moved back and forth easily. This feature ensures maximum comfort for the user keeping them engaged in the workout.
It has 9 levels of adjustment for the seats allowing the rider to set it according to their own personal requirements. This will help the users of different heights to adjust accordingly and enjoy their workout. Moreover, you can also adjust its handlebar up to 5 levels to fits your needs too. According to the manufacturer's description, this exercise bike is best suitable for users with heights varying between 5'3-6'3.
Multi-Function LCD Monitor
When it comes to statistics, Dripex knows exactly what they're doing. The Dripex magnetic resistance bike comes with a multifunctional LCD monitor that provides you with essential details. It helps in tracking your overall progress while displaying time, speed, calories burned, and pulse data.
This feature is very useful for someone whose into goal-oriented workouts as it helps in keeping up with all the data. Its pulse sensor helps in tracking your heart rate and ensures that you are exercising at the right intensity (it is very important to know your heart rate zone in order to get the maximum benefit of exercising). Moreover, it also has a phone holder that securely holds your phone allowing you to enjoy exercise and entertainment simultaneously.
---
Warranty
Not mentioned by the manufacturer
*Warranty may be subject to change without notice and may differ between retailers – please check carefully before making a purchase.
---
Pros and Cons
---
Overall Verdict:
If you're looking for some long-term use fitness equipment that is worth your investment, then you'll love this bike from Dripex!
The Dripex magnetic resistance indoor cycling is what you need to get the most out of your workout session and as such, it comes with a user-friendly design that gives great comfort to its users.
In addition to well-built quality, this is also a versatile exercise bike that caters to a variety of users' fitness needs. Its magnetic resistance control is unmatchable as it guarantees smooth and quiet cycling. It ensures your safety and avoids the risks of injuries by providing optimal stability. It comes with a heavy-duty steel frame and 35lbs flywheel that ensure riding momentum. The belt drive system of upright exercise bikes is best known for its smoother and quieter functionality, unlike traditional chain drives.
Moreover, its bidirectional resistance adjustment bar is designed to enable both medium-high intensity workouts. It helps create excellent intensity to give you a real-road riding experience. Many exercise bikes come with a basic LCD monitor that is not very helpful. This is where the Dripex exercise bike has an advantage as it includes a multi-functional LCD monitor. The pulse sensor can track your heart rate while the phone holder securely holds mobile devices.
With an adjustable handlebar and seat, it can be moved forward and backward easily. This is best for the users with different heights to get the most suitable position and enjoy cycling accordingly. In short, the Dripex bike is not only cost-effective but performance efficient too. Indoor studio cycles are more versatile as compared to gym equipment as it is not being used vigorously. It would be more reliable if the manufacturer had mentioned the product warranty. Overall, it's a great product for such a price and offers everything you can ask for in at-home fitness equipment.
---
---
What I Liked About This Exercise Bike
It's very disturbing when you can't maintain the flow or your foot keeps on slipping while cycling. I like how its aluminium alloy-based pedals and adjustable belt prevent foot slip and give more support while pedalling. This is helpful in maintaining balance and acquiring a firm foot grip. The caged shape pedals are designed to ensure upgraded safety levels and enable cycling with relaxation.
Built-In Transportation Wheels
Moving fitness equipment from one place to another is a stressful task, especially if there is no wheel support. (I hate it when fitness equipment lacks transportation wheels). Thankfully, Dripex has included this convenience-adding feature. This exercise bike comes with two built-in wheels that allow you to move the bike easily whenever you want to. All you need to do is simply tilt and roll out the bike for use instead of heavy lifting or muscle strain.
When you're a fitness freak it's also important to stay hydrated so thanks to Dripex for the water bottle holder. It's located at arm's length which is perfect for long cardio workouts to stay hydrated. After all the sweat and burned calories you need a good amount of water to refuel your body. It is also perfect to keep your trusty favorite beverage by your side; be it water or your favourite energy drink, put the bottle into the holder to conveniently replenish energy as you go.
Brake And Resistance System
I love how this feature simulates the real road riding feel and makes cycling more fun. Its bidirectional resistance allows the user to exercise both forward and backward while changing the directions at any time. It also has a support emergency brake in order to prevent injuries and stop cycling immediately. As it is a magnetic resistance exercise bike, it has a more durable magnetic piece, unlike a normal brake pad. It allows smooth and quiet cycling without disturbing others. The best part of the product is it requires little to no maintenance.
When buying something sturdy I'm always concerned about how easy it will be to assemble because with such a big purchase it's often not straightforward. Surprisingly, the Dripex magnetic resistance exercise bike comes with a very easy assembly which takes less than an hour. All you need to do is follow the steps accordingly and you're done. Many reviewers have mentioned its easy assembly and undoubtedly they are right! A sturdy design with easy installation is the perfect combination!
Things That Could Have Been Better
Although the monitor is multifunctional it still needs some improvement. It seems a bit outdated as it doesn't display distance in miles which can be irritating for some users.
---
FAQ's
Is it ok to do cycling without resistance?
No, it is not recommended to ride without resistance except at the time of warm-up or cool-down. Riding at high speeds without resistance may result in injury while resistance develops strength, power, and speed.
Fast cycling VS more resistance. What is more effective?
It is observed that faster pedalling reduces the resistance with each stroke you're pushing. This will help you in shifting a good portion of stress to your heart and lungs instead of leg muscles.
How to find the correct saddle height?
The best way to find the correct saddle height is by sitting on it to find the right position. Make sure your knees bend slightly with your leg positioned on the bottom pedal.
---
Affiliate Disclosure
In compliance with the FTC guidelines, please assume the following about all links, posts, photos and other material on this website:
Any/all of the links on this website are affiliate links of which GymFreakz receives a small commission from sales of certain items, but the price is the same for you.
www.gymfreakz.com is a participant in the Amazon Services LLC Associates Program, an affiliate advertising program designed to provide a means for sites to earn advertising fees by advertising and linking to Amazon.com & Amazon.co.uk. Pages on this site may include links to Amazon and its affiliate sites on which the owner of this website will make a referral commission.