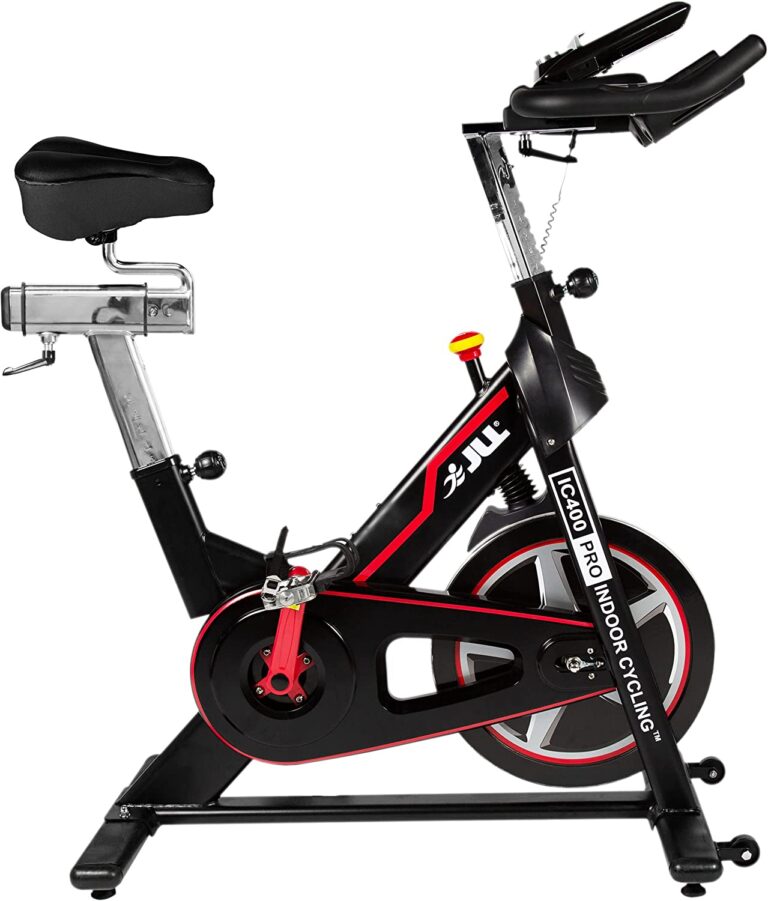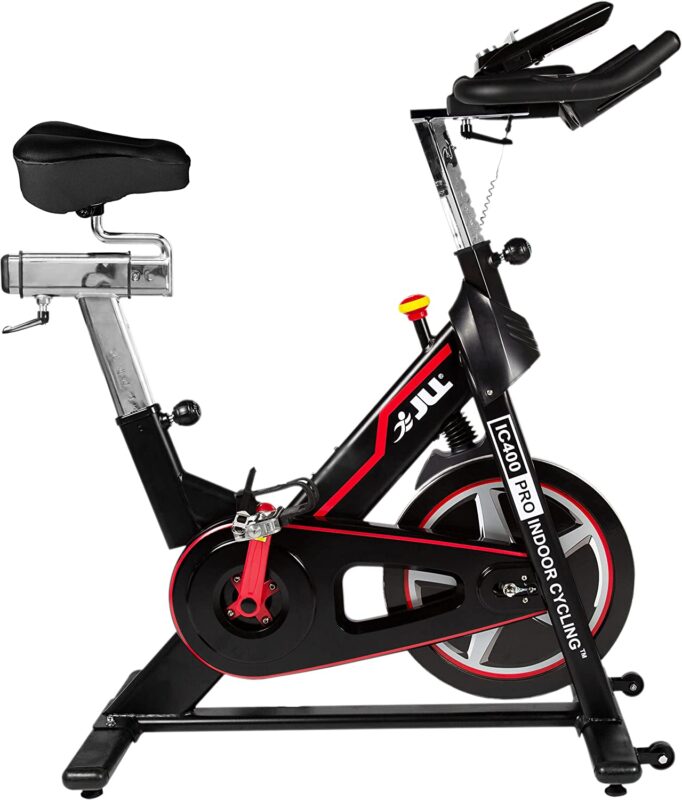 ---
---
Introduction to the JLL IC400 Pro Indoor Cycling Exercise Bike
If you're interested in finding a home spin bike, you may be feeling overwhelmed with the number of available options. There are also so many features to take into consideration that it can leave you confused and put you off the idea of having an indoor exercise bike at all.
Well, this post covers the main features, specs, pros, cons, and everything that you need to know about the JLL IC400 Pro indoor cycling bike. After reading through our post, you'll be left with a better sense of whether it's the right choice for your fitness needs.
I liked how the JLL IC400 Pro comes with a range of adjustable features revolving around the handlebars, seat, and foot straps. As a result, you're able to get yourself into the most comfortable riding position and focus on your workouts.
Moreover, the flywheel is remarkably heavy which is always a great feature among indoor exercise bikes. This flywheel design works well with the smooth magnetic resistance system and durable belt-driven system to provide you with a bike that feels natural to ride.
If it's sounding good so far, then below, you can learn even more about what the JLL IC400 Pro has to offer.
Disclaimer – This website contains affiliate links. If you find the information useful and click on a product link and make a purchase, a small commission will be earned by GymFreakz and we appreciate your support.
---
Specifications
Resistance – Magnetic resistance
Flywheel – 22 KG flywheel
Belt – Direct belt-driven system
Monitor – LCD display that tracks distance, time, speed, calories burned, and heart rate
Crank – Strong 3-piece crank system
Seat – Both horizontal and height adjustments are available
Handlebars – Ergonomic design that allows for horizontal and vertical adjustments
Pedals – SPD compatible and comes with foot straps
Maximum user weight – 150 KG
Dimensions – 130 cm x 54 cm x 145 cm
Item weight – 59KG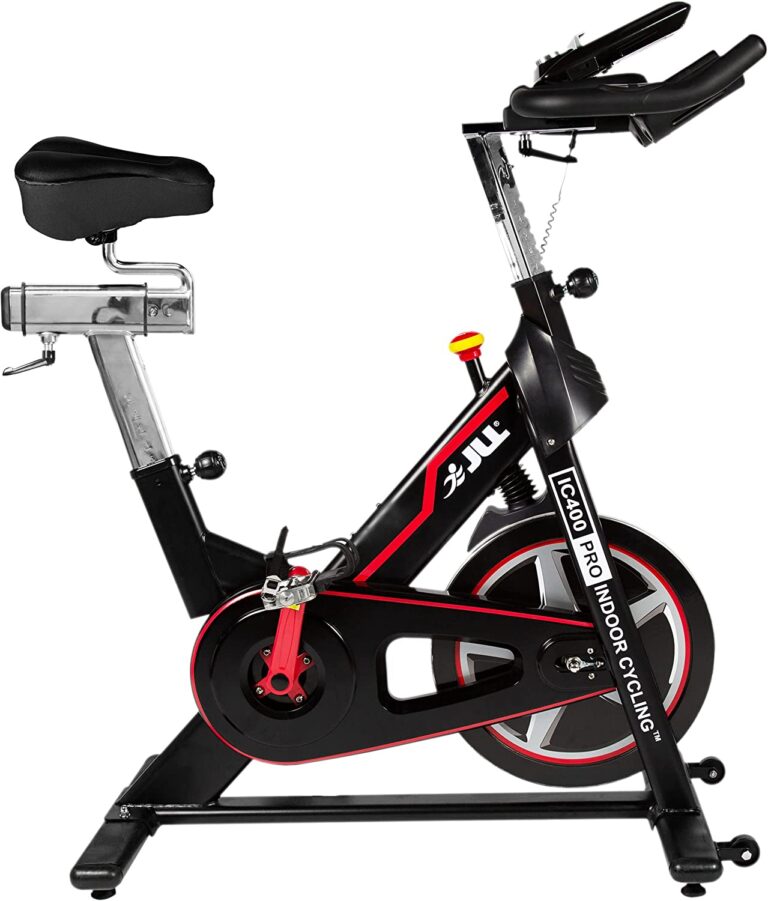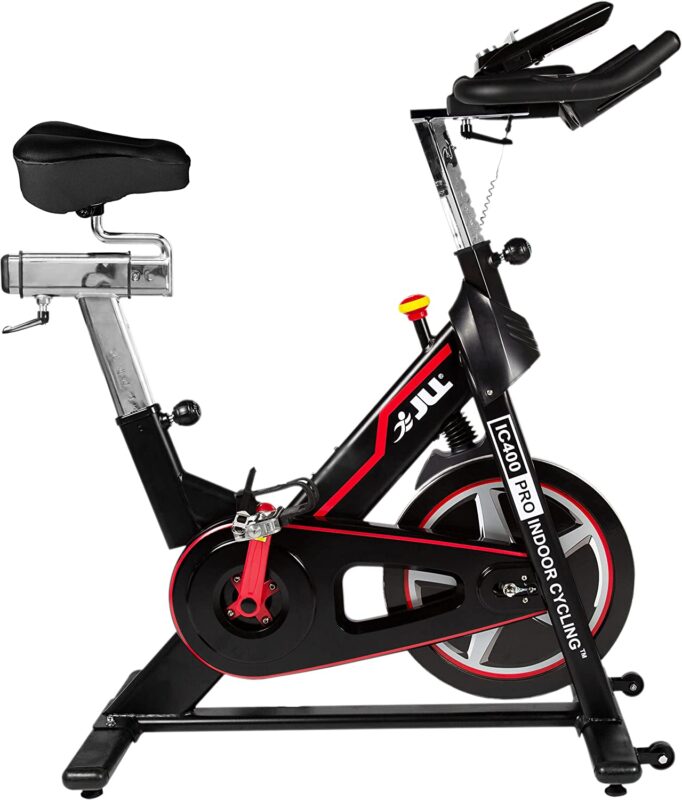 ---
KEY FEATURES
Quality Flywheel
The flywheel that has been fitted to the JLL IC400 Pro is incredibly heavy weighing in at 22 KG. This is a superb feature that enables you to feel stable while cycling during intense workouts.
Moreover, the heavy flywheel is durable and allows you to cycle smoothly and quietly. Users found that this made the indoor bike feel more like a regular bike which enhanced their experience. This is because the flywheel was designed to mimic the natural forward movement that you feel while cycling a normal bike.
The quiet aspect of the flywheel is also ideal for those of you who are looking to keep the noise to a minimum whilst working out from home. This means that you can cycle at high speeds whilst still keeping the noise down.
Direct Belt Driven Exercise System
I liked how the JLL IC400 Pro features a belt-drive system. This is fantastic for allowing you to cycle smoothly while being given the option to cycle with a backward or forward momentum. As a result, you can use this exercise bike to exercise in different ways to keep things fresh.
Furthermore, the rubber materials that have been used for the belt are strong and durable. This means that you can expect the belt-driven system to last you for a while. Users have also been liking how the belt system requires minimal maintenance compared to chain-driven bikes.
In addition to the smoothness and durability benefits, the tough rubber belt mechanism works quietly too. This means that you can feel confident in being able to workout from home quietly.
Adjustable Magnetic Resistance Settings
The JLL IC400 Pro comes with a magnetic resistance system that works well to provide you with a very smooth ride whilst also staying quiet. This type of resistance, in combination with the rubber belt system and flywheel design, allows you to enjoy cycling smoothly without creating too much noise at home.
I liked how an adjustable dial has been integrated into the bike in a position that's easy to access while you're cycling. This meant that I could easily change the resistance while working out to make it more or less challenging.
Monitor
Users have been liking how a large LCD monitor has been fitted to the JLL IC400 Pro. This is because it's easy to read and allows you to see your stats conveniently. The display provides you with details about your distance, time, speed, calories, and heart rate.
In addition to this, the IC400 Pro is compatible with the iConsole app that's available on the App Store and Google Play. This allows you to keep records of your workouts more easily. Being able to see all of this information regarding your workouts is incredibly valuable when it comes to setting fitness goals and reaching them.
People who are looking to improve their fitness and endurance would focus more on the time, distance, and speed stats. For example, they can aim to reach a certain distance within a certain period. Those of you who are interested in losing weight may focus more on the number of calories that you're burning each workout.
I was also impressed with how the JLL IC400 Pro features 3 pre-set programs and 5 manual programs. This provided me with plenty of options when it came to choosing one based on my goals. With several programs available, you can be sure to find one that tailors to your workout needs. This is an especially useful feature for people who are new to cycling as it can provide you with some guidance about how to structure your workouts.
Handlebars
The handlebars fitted to the IC400 Pro have been created with an ergonomic design. As a result, I found that I was able to hold onto the handlebars and feel comfortable whilst cycling.
In addition to the ergonomic design, the handlebars can be adjusted both horizontally and vertically. Being able to adjust the handlebars vertically and horizontally meant that I was able to place my body into the best possible position that felt comfortable for the most advanced cycling performance.
Pulse rate sensor plates have also been integrated into the handlebars. You can hold onto these sensor plates whilst cycling and be provided with a pulse rate reading on the monitor. This is great for giving you an idea about where your elevated heart rate levels are. You can then aim to maintain a specific heart rate based on your fitness goals and be able to see it in real-time while cycling.
Adjustable Seat
I was pleased to find that the adjustability features didn't end with the handlebars. The seat features a range of horizontal and vertical adjustments. Therefore, you can feel confident in being able to set the seat to the right height and position that feels best for your body.
The seat has also been made with a high-quality leather material which increases the durability of the seat. Not to mention, padded foam materials have been included with the seat which is great for helping you to feel comfortable whilst cycling. I found that this was an especially useful benefit that helped me feel comfortable during my longer workouts.
High-Quality Construction
The JLL IC400 Pro has an impressive maximum weight capacity of 150 KG. This means that you can be assured to cycle with this bike and feel stable. This is due to how high-grade materials have been used to design the frame to allow for a stable foundation for you to cycle on. I also liked how the frame has been covered in a special powder to ensure that it doesn't wear down over time and maintains its aesthetic finish.
Device Stand & Water Bottle Holder
As someone who does a lot of steady-state cardio, I often find that having some form of entertainment helps me to get through it. I was glad to discover that the JLL Fitness IC400 Pro comes with a good quality tablet holder. This enabled me to set up my tablet and watch TV shows and movies while cycling at a slow pace for a longer period.
Furthermore, the JLL IC400 Pro features a water bottle holder too. This meant that I could keep a water bottle stored in a convenient place on the bike to stay hydrated for an ultimate workout.
Transport
If you're concerned about an indoor exercise bike taking up too much space in your home, you'll be able to make use of the transport wheels that have been fitted to the IC400 Pro. You can simply tilt the bike by holding the handlebars and lifting it to roll it around to a more suitable place that's out of the way when it's not being used.
I found that the built-in wheels and tilting method made it incredibly easy for me to move the bike into a different room where it wasn't taking up too much space and without me needing anyone to help me move it.
---
Warranty
JLL Fitness LTD provides a 12-month warranty on all of their fitness equipment which becomes active from the delivery date of the product. As a result, you're provided with peace of mind in knowing that the IC400 Pro is covered under their warranty for up to a year.
Furthermore, JLL Fitness LTD offers a 30-day-money-back guarantee. This is superb for allowing you to test the bike out for a while before deciding whether you want to keep it or return it and receive a refund.
Some of the other terms to know about that are included with the JLL Fitness warranty include the following:
2 years parts and labor warranty
Lifetime frame warranty
5 years motor warranty
If parts of the bike have worn down over time but have not been specifically damaged or malfunctioned, they won't be covered under the JLL Fitness warranty. Moreover, you must be sure to assemble the bike correctly by using the instructions that are provided. This is because JLL Fitness will only cover the bike under their warranty if it has been assembled correctly.
*Warranty may be subject to change without notice and may differ between retailers – please check carefully before making a purchase.
---
Pros and Cons
---
Overall Verdict:
All in all, the JLL IC400 Pro indoor exercise bike is a superb option to consider if you're looking to conveniently workout from home due to the impressive range of features. The magnetic resistance system and adjustable knob mean that you can alter the difficulty of your workouts easily without having to stop and start. The direct resistance works great with the direct belt-driven system and heavy flywheel design for a smooth ride and quieter workout.
These are some of the main features that make the bike durable and sturdy to use for a long time. They also mean that you can cycle smoothly and create minimal noise which could be a big plus when you're working out from home.
I was also impressed with the number of adjustability features that are included with the JLL IC400 Pro indoor bike as it leads to advanced cycling performance. The adjustable seat height and handlebar height/horizontal adjustments helped me to find a specific riding position that felt best for my body. Not to mention, the ergonomic design of the handlebars and foam padded seat added to the comfortability factor.
The included workout programs are also ideal for newbies. If you're struggling with how to start exercising with an indoor bike, you can select one of the programs whilst training that is included to be given some guidance and partake in a challenging workout. You can also easily keep track of your workout statistics by looking at the large monitor that has been fitted.
Users have discussed how they were a little disappointed with how the pedals don't have the most durable design. Whilst replacement pedals are readily available, they can still be a hassle. Moreover, users have mentioned that assembling the seat proved to be more difficult than the other areas of the bike.
---
---
What I Liked About This Exercise Bike
I was pleased to find that the JLL IC400 Pro indoor exercise bike comes with a tablet and a water bottle holder. The tablet holder is great for helping me to stay entertained during my longer workouts. Users mentioned that it can hold most devices. I like being able to set the tablet up and watch a TV show or my favourite films to keep me going. JLL has also made sure to create the tablet holder with a sturdy design. I found that I wasn't worried about my tablet slipping out of the holder while I was cycling.
Furthermore, the water bottle holder is a very useful feature. It helped me to easily stay hydrated while working out. Being able to grab my water bottle while continuing with my workout was a lot more convenient than having to stop and start my sessions to drink water.
The overall build quality of the JLL IC400 Pro indoor cycling bike is also excellent. It can withstand up to 150 KG which is plenty to ensure that you can ride with stability. The frame has been made with a heavy-duty design which means that those of you who are looking to cycle intensely can feel secure.
Things That Could Have Been Better
I was a little disappointed with how users had discussed a lack of durability in regards to the pedals. They've been made to allow for SPD pedals to be added which means that you can customize them to tailor more towards creating a studio bike from home. However, you may want to purchase additional pedals with the Ic400 Pro indoor cycling bike and keep them spare as they seem to wear down more quickly.
In addition to this, I noticed that people have had issues when it comes to assembling the adjustable seat with the JLL IC400 Pro. Therefore, you may want to be prepared to spend more time making sure that you've assembled the seat correctly.
---
FAQ's
Can you add different pedals to the IC400 Pro?
Yes, you can remove the pedals and add different ones to give yourself more options than just what JLL provides with the bike.
Is the IC400 Pro indoor cycling bike suitable for people of different heights?
Yes, users who are 5'1" up to people who are 6'2" have mentioned that they can adjust the handlebars and seat to feel comfortable whilst cycling.
Additional Points
Cycling from home with exercise bikes can be a more convenient way to exercise than spending time and money on going to a class and using spin bikes. There are also lots of physical and mental health benefits to cycling.
For one, studies have proven that cycling with indoor exercise bikes is incredibly effective when it comes to fat burning. Furthermore, you can workout with high resistance whilst keeping your knees and shins safe. This is because cycling with bikes like the JLL Fitness LTD IC400 Pro indoor cycling bike provides a low-impact form of exercise which means that you can minimize causing damage by running and partake in cycling instead.
Cycling with exercise bikes can tone the muscles in your lower body and help to decrease blood pressure and bad cholesterol, whilst also boosting circulation. However, using bikes can also help you to increase the production of chemicals in the brain such as dopamine which makes you feel better and can be an effective contribution to improving your mental health.
---
Affiliate Disclosure
In compliance with the FTC guidelines, please assume the following about all links, posts, photos and other material on this website:
Any/all of the links on this website are affiliate links of which GymFreakz receives a small commission from sales of certain items, but the price is the same for you.
www.gymfreakz.com is a participant in the Amazon Services LLC Associates Program, an affiliate advertising program designed to provide a means for sites to earn advertising fees by advertising and linking to Amazon.com & Amazon.co.uk. Pages on this site may include links to Amazon and its affiliate sites on which the owner of this website will make a referral commission.