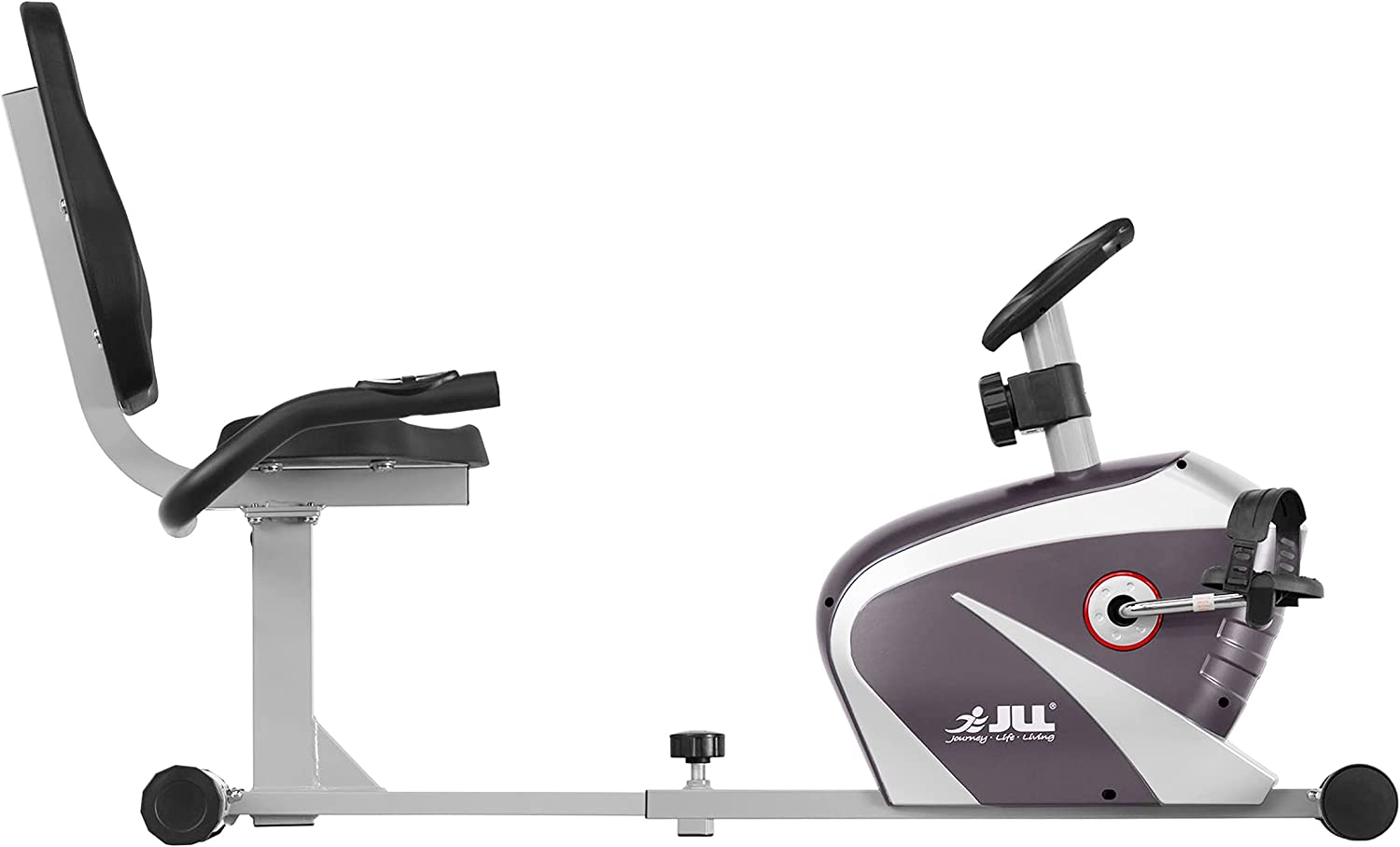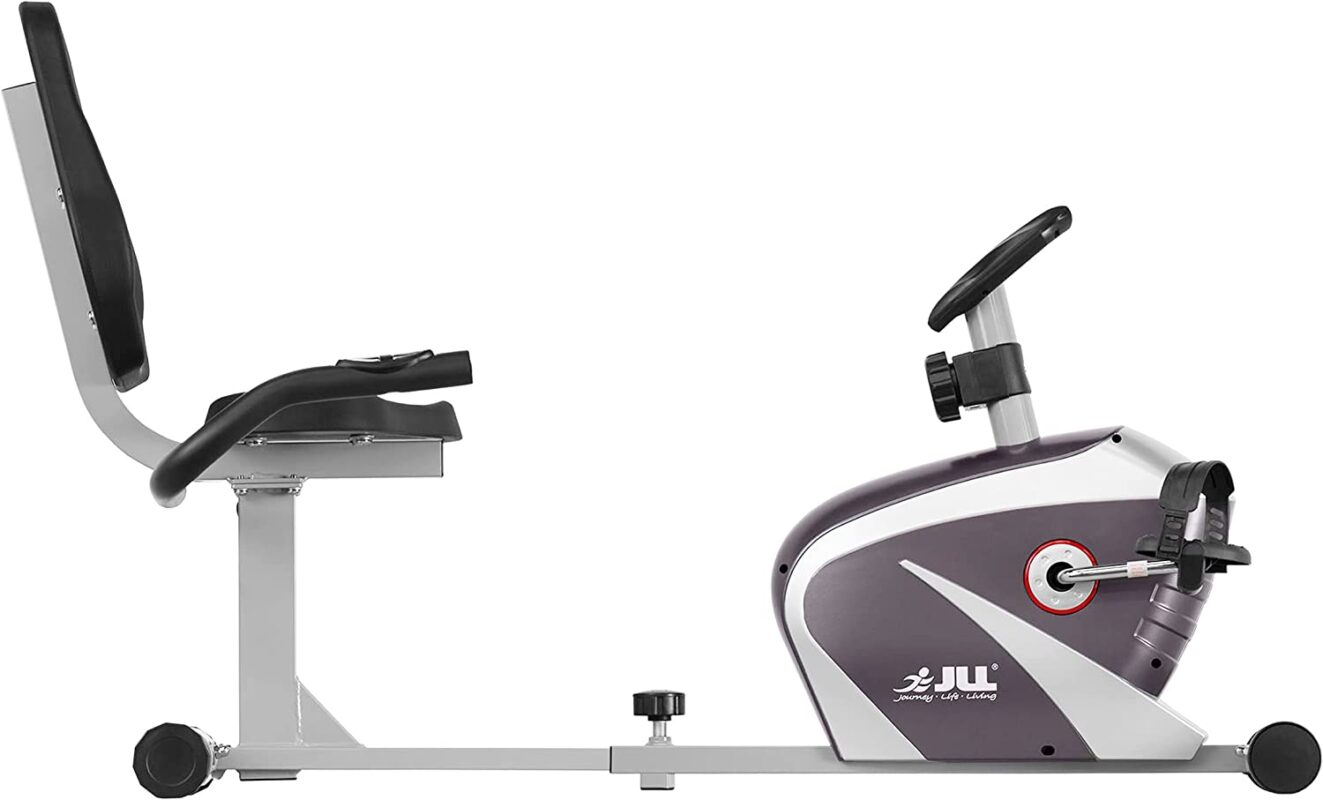 ---
---
Introduction to the JLL RE100 Recumbent Home Exercise Bike
Finding the right recumbent exercise bike for your home workouts can be difficult. There are lots of features to consider and it can become confusing trying to narrow down your search. Well, this post includes the main features, specs, pros, cons, and more surrounding the JLL RE100 Recumbent home exercise bike.
To start with, I was impressed with how smooth this recumbent exercise bike is. The magnetic braking system and magnetic resistance levels work smoothly and quietly, which is a great benefit when working from home.
Furthermore, the seat is super comfortable which is great for those of you who are interested in long workouts. The readout monitor provides plenty of details about your workouts too which you can use to set fitness goals.
Interested so far?…let's take a look at the JLL RE100 Recumbent home exercise bike in more detail.
Disclaimer – This website contains affiliate links. If you find the information useful and click on a product link and make a purchase, a small commission will be earned by GymFreakz and we appreciate your support.
---
Specifications
Resistance – Magnetic resistance for smooth and quiet restriction
Flywheel – 5 KG flywheel
Belt – Direct belt-driven system
Monitor – LCD display that shows the time, distance, speed, calories burned, wattage, and heart rate
Crank – Strong 3-piece crank system
Adjustable Seat – Horizontal adjustments are available
Handlebars – Built-in pulse sensor plates
Pedals – Adjustable toe straps
Transport – Built-in wheels
Max weight limit – 100 KG
Dimensions – 140 cm x 60 cm x 82 cm
Item weight – 24 KG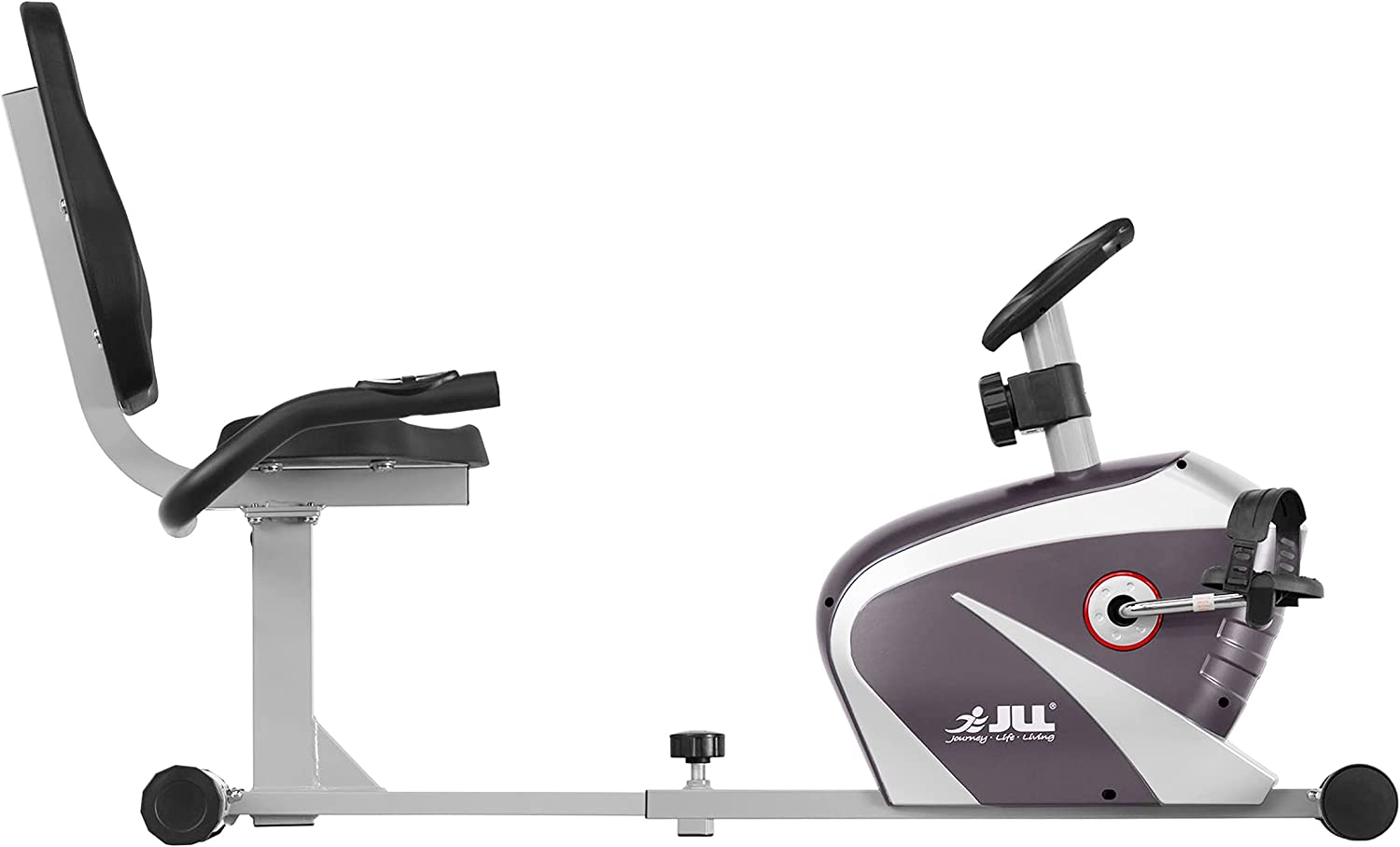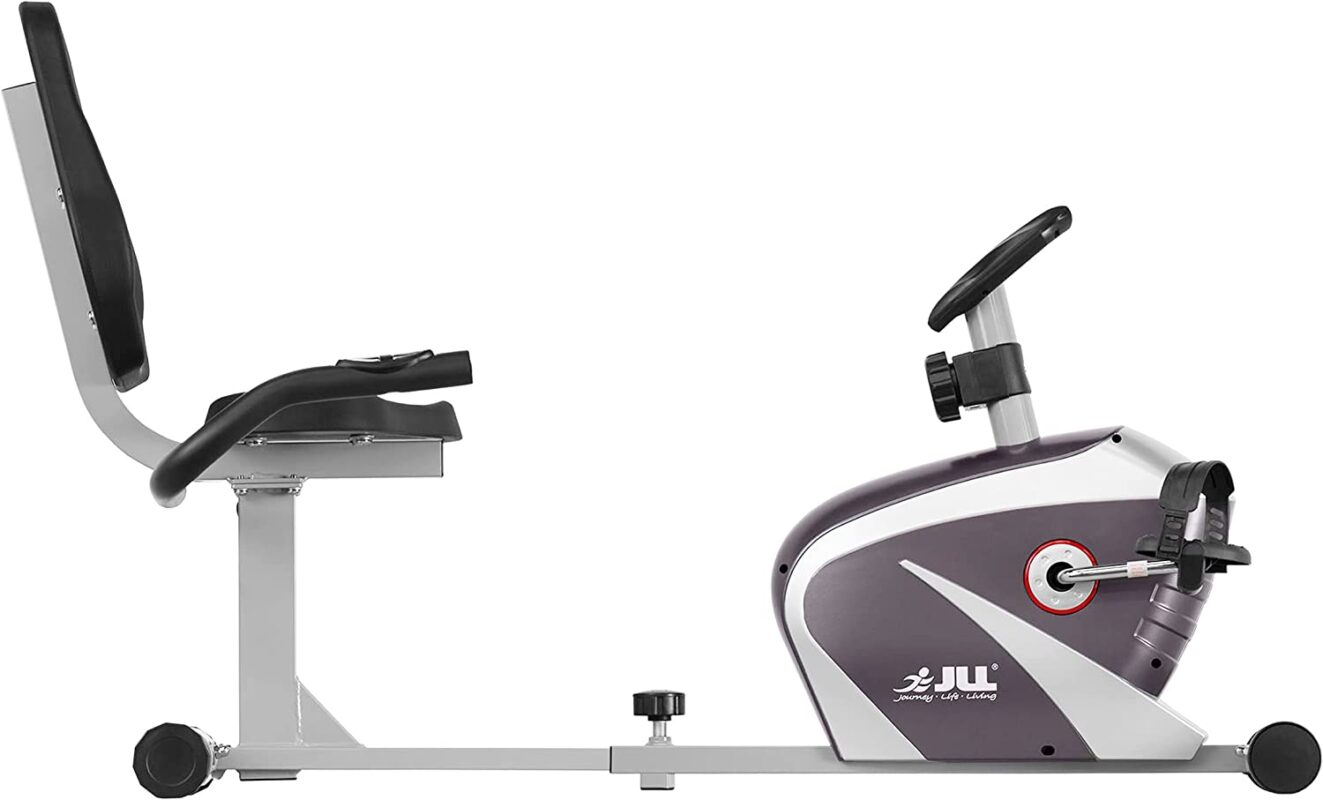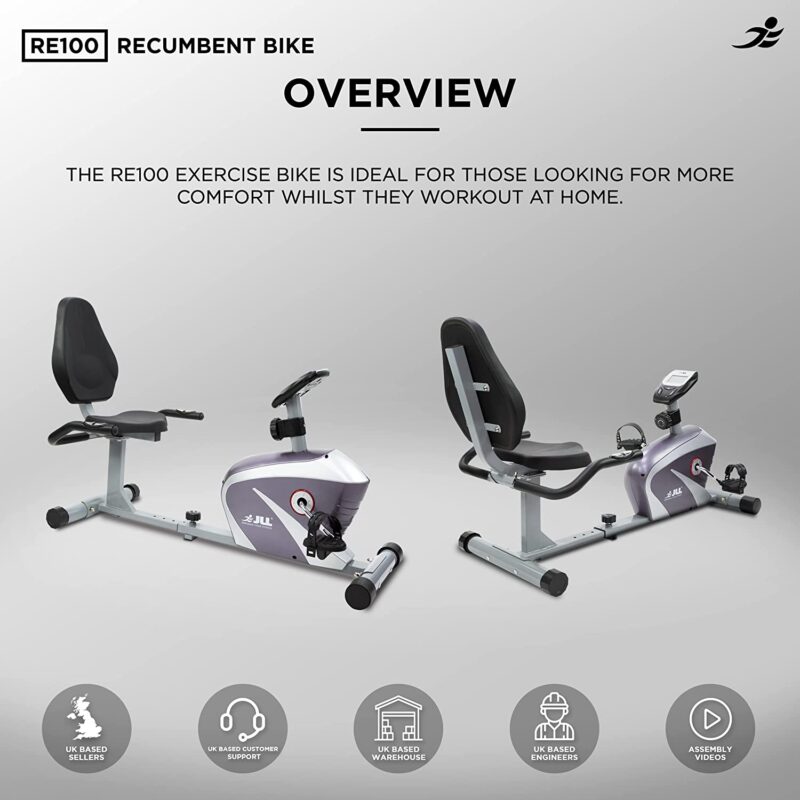 ---
KEY FEATURES
Flywheel
The JLL RE100 recumbent home exercise bike has been integrated with a 5 KG flywheel that has a two-way design. This allows you to pedal both backward and forwards which I found was excellent for helping me to add some variety to my workouts.
Whilst the 5 KG weight of the flywheel isn't too heavy, it still allowed me to get a good workout. However, if you were interested in using a recumbent exercise bike for more intense workouts, you may prefer a bike with a heavier flywheel.
Direct Belt Driven System
A belt-driven system has been implemented to the JLL RE100 recumbent home exercise bike which enables you to ride smoothly and quietly. I liked how the rubber belt didn't cause any issues and allowed me to focus on my workouts. This is largely due to how rubber belt systems require less maintenance compared to chain-driven bikes.
The belt works well with the flywheel to ensure that you get a smooth ride which enhanced the overall experience I had whilst cycling. Being able to workout without causing a noise disturbance is a great benefit when it comes to choosing a home exercise bike.
Magnetic Resistance
The magnetic resistance system that's available with the JLL RE100 recumbent home exercise bike comes with 8 levels of resistance. I liked how a dial has been fitted to the bike as it allowed me to easily adjust the resistance level whilst working out.
With 8 resistance levels available, I found that I was able to be specific about selecting how difficult I wanted my workouts to be. Having this much control over the resistance is excellent for ensuring that you can use the exercise bike to focus on your specific fitness goals.
In addition to this, users have been liking how the magnetic resistance works smoothly and quietly. Therefore, it works incredibly well with the flywheel and rubber belt to provide you with quiet and smooth workouts.
Magnetic Braking System
JLL Fitness has also included a magnetic braking system with the JLL RE100 recumbent home exercise bike which works quietly and smoothly. I was pleased to find that using the magnetic braking system was easy and effective.
This works to provide resistance whilst pedaling in a way that's smoother and quieter than fan systems and direct-contact brake systems.
Monitor
The display that's available with the JLL RE100 recumbent exercise bike is simple but effective. There are only three buttons which make operating the monitor super easy. Moreover, the display is big and easy to read.
I liked how it was able to track the time, distance, speed, calories, and heart rate in real-time. Being able to see this information whilst working out was fantastic for helping me to set goals to aim for each workout.
For example, losing weight is one of my primary goals which meant that I mostly focused on the calories burned statistics. However, people who are looking to develop their fitness may be more interested in the time, distance, and heart rate stats.
Handlebars
Heart rate sensors have been built into the handlebars with the JLL RE100 recumbent bike. This made it super easy for me to hold onto the sensors whilst working out and be given my current heart rate.
The pulse sensor plates are responsive and easy to use. I liked being able to see my heart rate in real-time as it enabled me to aim for an elevated heart rate to maintain whilst exercising.
Seat Adjustments & Comfort
I liked how the adjustable seat that's fitted to the RE100 recumbent exercise bike comes with a range of 7 horizontal adjustment levels. This is fantastic for ensuring that people of varying heights can adjust the seat to a position that feels most comfortable for them.
Being able to adjust the seat horizontally meant that I was able to put my body into a position that felt the most natural and comfortable. As a result, I could workout for long periods and not feel discomfort.
Another element that added to the comfort of this bike involves how the seat has a cushioned design. Foam padding materials have been used which ensured I could stay comfortable. In addition to this, a backrest has also been included which made a remarkable difference compared to using an upright bike.
It provided me with more support and took the pressure off my lower back. Therefore, if you have back problems, you may want to consider the RE100 due to how supportive the backrest is.
Transport
I was pleased to discover that the JLL RE100 recumbent bike features built-in wheels. As a result, I was able to conveniently move the bike around my home without needing any help.
The end caps of the bike allow you to lift the other end and roll it around. Therefore, you can wheel the bike into an area where it's out of the way when you're not exercising and save space in your home.
---
Warranty
A 12-month warranty is available from JLL Fitness LTD and covers the bike from the delivery date that the fitness equipment arrived. Furthermore, you're provided with a 30-day-money-back guarantee which is fantastic for ensuring that you can try out the bike and see whether it's a good fit. If not, you can return it and receive a full refund.
The warranty from JLL Fitness doesn't cover general wear and tear on their fitness equipment. Therefore, you must make sure to properly maintain the bike. Furthermore, the bike should be correctly assembled by following the provided instructions and assembly videos that are available online. If the bike has been incorrectly assembled, you may not be covered by the warranty.
Some of the other factors of the warranty include the following:
2 years parts and labour warranty
Lifetime frame warranty
5 years motor warranty
*Warranty may be subject to change without notice and may differ between retailers – please check carefully before making a purchase.
---
Pros and Cons
---
Overall Verdict:
The JLL RE100 recumbent exercise bike is an excellent choice worth considering for people who are interested in more gentle workouts. However, if you're an athlete or someone who's looking to partake in a more challenging workout, you'll probably be disappointed by the RE100 recumbent exercise bike and I'd advise looking at higher-end bikes with the capacity to support more intense sessions.
I used the bike for steady-state cardio workouts and I had a great experience using the bike in this way. The resistance settings are enough to where I can still challenge myself whilst cycling for a long period.
Furthermore, the padded foam materials used for the seat, in addition to the supportive backrest, kept me incredibly comfortable. This was a huge plus as it meant that I could workout for longer without feeling discomfort. Being able to adjust the seat horizontally with 7 different options was also a superb benefit. It allowed me to find a position that felt natural.
So, I can recommend the JLL RE100 recumbent bike for people who are looking for more gentle workouts from home. If you're interested in high-intensity workouts, this bike will disappoint you.
---
---
What I Liked About This Exercise Bike
The overall smoothness and quietness that the RE100 exercise bike has to offer were superb benefits. It meant that I was able to workout from home without disturbing anyone with any squeaking noises. Moreover, the smoothness of the magnetic resistance, belt, and flywheel made the riding experience so much more enjoyable.
I also liked how I was able to easily move the bike around my home. The built-in wheels meant that I could simply wheel the bike around to a storage room when I wasn't using it.
Users have also mentioned how the statistics that the monitor provides you with are accurate. Some people have compared the stats from the monitor to other devices, such as Apple watches, and found that the RE100 is accurate. Therefore, you can use the readout monitor to gauge an accurate idea about your fitness levels so that you can set goals.
The 100 KG weight limit is also worth mentioning. I liked how I was able to feel stable whilst cycling with this bike. Despite the flywheel being a little on the light side, the overall sturdiness of the bike kept me secure.
Things That Could Have Been Better
The durability of the pedals is one of the biggest downsides that users noticed when using the RE100 recumbent bike. Some found that they wore down very quickly or even broke. Therefore, you may want to consider having spare pedals ready in case they become worn down.
---
FAQ's
How much does the bike weigh?
The RE100 weighs 100 KG.
Does the display track in KM/H or MPH?
The JLL RE100 only displays the distance in KM/H.
Additional Points
Exercising from home can be a lot more convenient than going out to a gym due to how it can save you time and money. You're also able to experience the same benefits of cycling from home compared to a spin class or riding a regular exercise bike.
Recumbent exercise bikes are an incredibly effective way to burn calories and shred fat. You can focus on the calories being burned whilst using the RE100 exercise bike if losing weight is your main goal.
In addition to this, cycling is a great alternative to running. This is because it's a low-impact form of exercise which means that you cause less wear and tear on your knees. Therefore, people who suffer from knee issues could use cycling for cardio workouts without aggravating their knees.
Studies have also proven that cycling is linked with improved mental health. One of the biggest reasons for this is that cycling can increase the level of dopamine that's released in your brain. This is the main chemical that's responsible for feeling good and cycling can help to release it to help with mental health issues like anxiety and depression.
---
Affiliate Disclosure
In compliance with the FTC guidelines, please assume the following about all links, posts, photos and other material on this website:
Any/all of the links on this website are affiliate links of which GymFreakz receives a small commission from sales of certain items, but the price is the same for you.
www.gymfreakz.com is a participant in the Amazon Services LLC Associates Program, an affiliate advertising program designed to provide a means for sites to earn advertising fees by advertising and linking to Amazon.com & Amazon.co.uk. Pages on this site may include links to Amazon and its affiliate sites on which the owner of this website will make a referral commission.