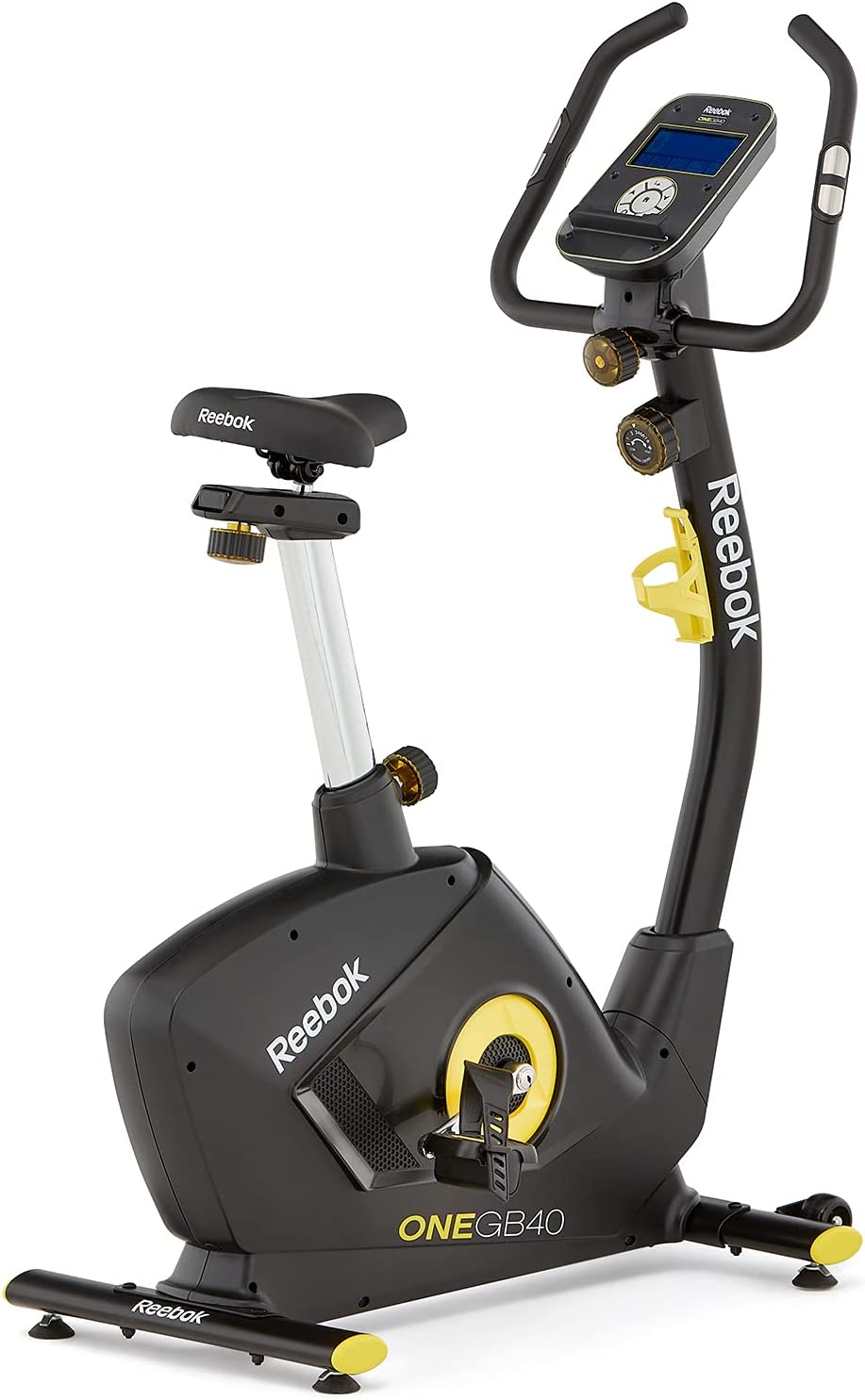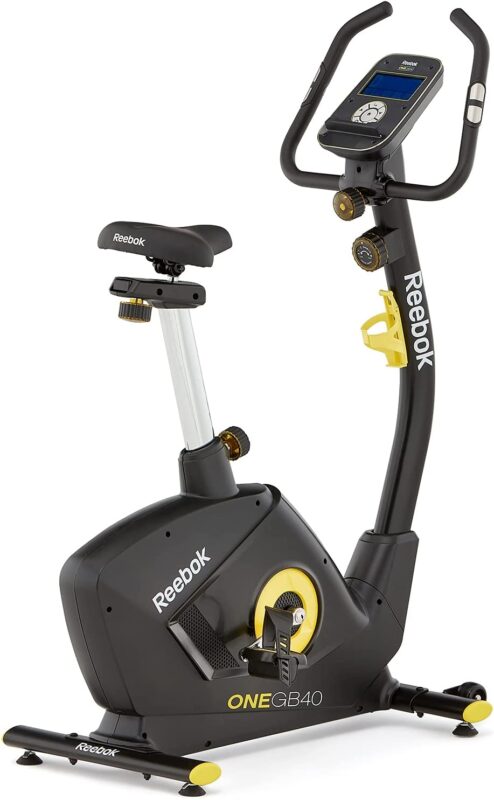 ---
---
Introduction to the Reebok Exercise Bike GB40
You may recognise this mighty brand name. It's safe to say it's popped up a fair few times over the decades, now you get the chance to experience Reebok in bike form – and it's not something you want to miss out on.
With trusted brands comes an expectation. Quality, reliability, life span; these are all important factors that a brand needs to nail in order for their name to be featured around the globe. By that very merit, Reebok are clearly doing things right time and time again. But how has that trusted brand transposed it's presence into a unique form of exercise?
Bikes in general can manifest in so many ways. I couldn't possibly describe them all but factors and features like watts control, a user defined programme, pedal straps, resistance levels, levelling pedals… and we've not even touched on the finer details yet. While there are an almost unmentionable amount of factors to look for, we're going to break down what it is that the Reebok GB40 Exercise Bike does right, and where it may have missed the mark.
This entry in the trusted indoor cycle series orients itself around user customisation. Whenever a product is designed to give you options yourself you have to give praise – fitness is incredibly personal, even if you're on a defined machine. 5 different people could be working out on the same machine yet they can each have different goals and different requirements, but you don't have to tell Reebok this, clearly they already know.
Let's take this machine for a spin and find out if its the one for you.
Disclaimer – This website contains affiliate links. If you find the information useful and click on a product link and make a purchase, a small commission will be earned by GymFreakz and we appreciate your support.
---
Specifications
LED display
Height – 136 cm
Weight – 29 kg
Display width – 52 cm
Corded electric power connection
Batteries included
Maximum weight capacity – 110 kg
6 kg flywheel
Water bottle holder
Product dimensions – 100 x 52 x 130 cm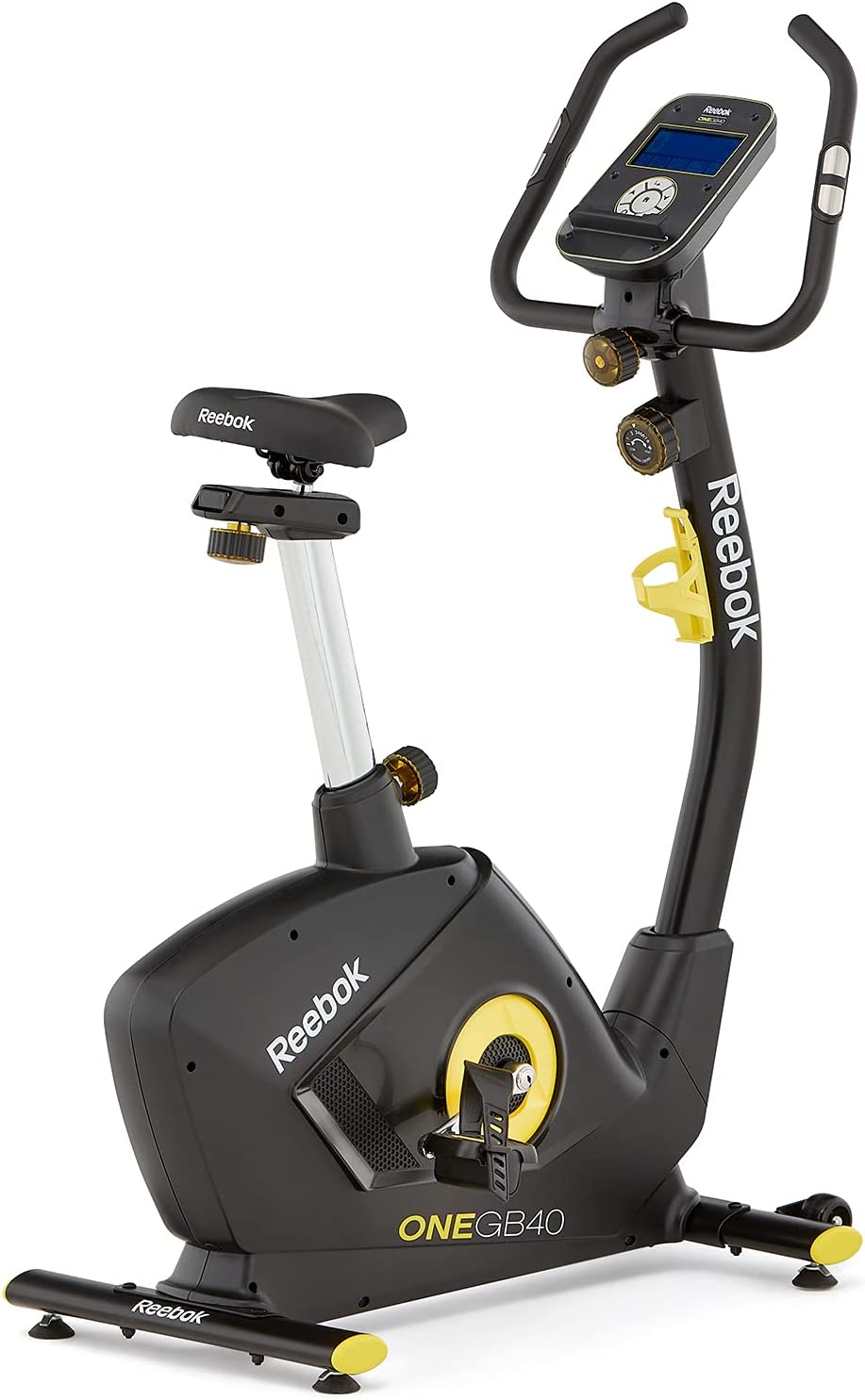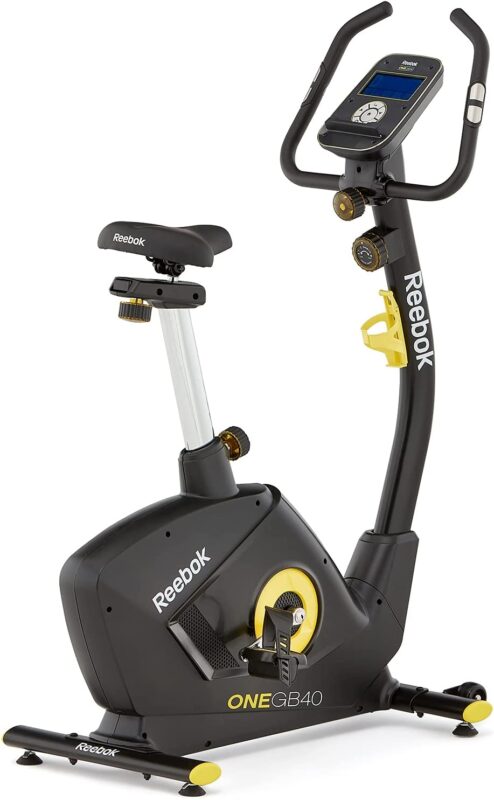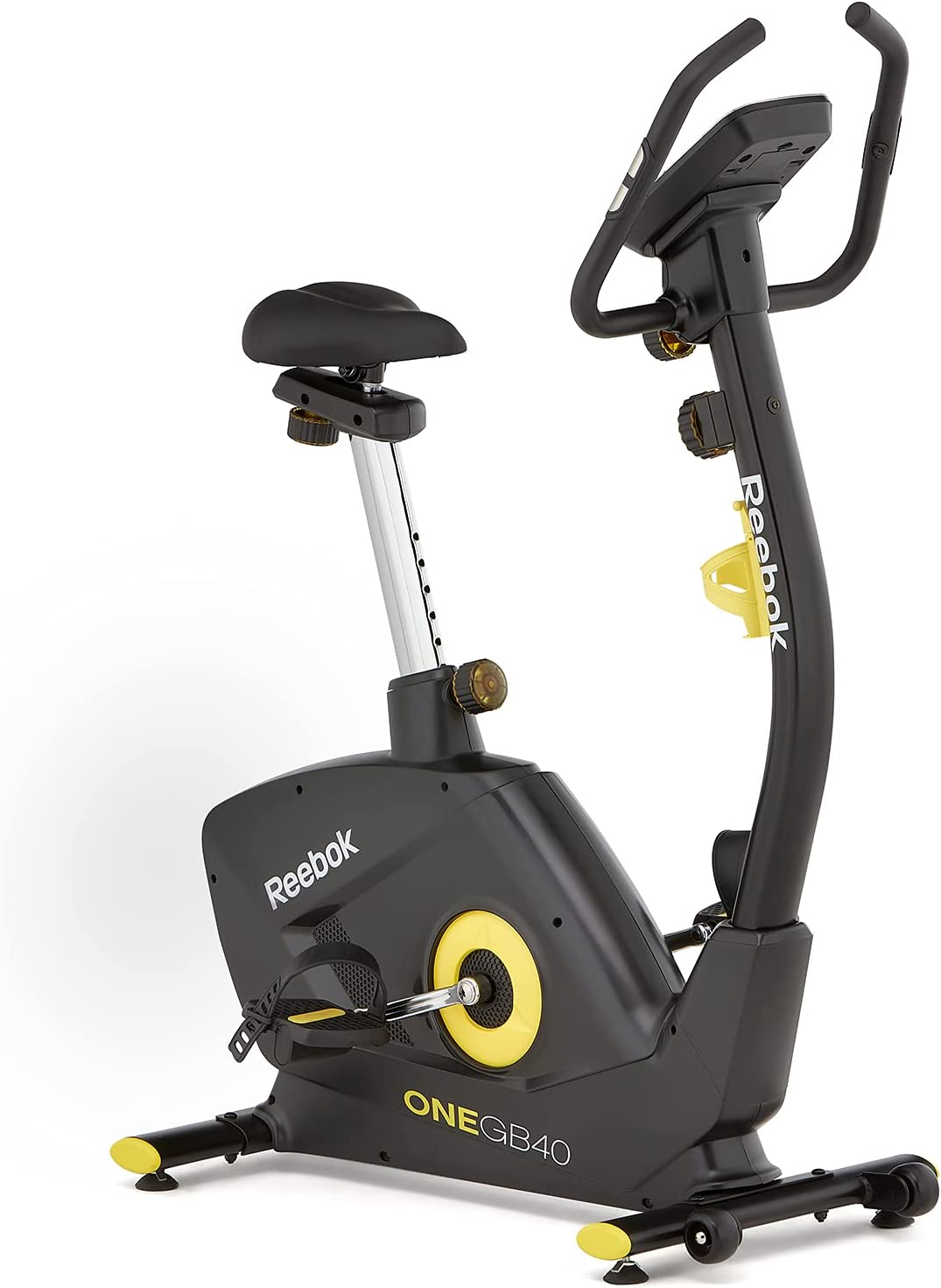 ---
KEY FEATURES
Unique colour specifically for this machine
Measuring from heart rate and speed all the way to calories burned and distance run
Tailored workouts through intensity adjustments
4 fitness programs for variation
Feedback through the console and data tracking
Padded comfort saddle seat with great adjustment for your comfort and choice
Light frame making it nice and mobile
---
Warranty
2-year parts and labour warranty as standard
*Warranty may be subject to change without notice and may differ between retailers – please check carefully before making a purchase.
---
Pros and Cons
---
Overall Verdict:
Want my verdict? Buy this bike. It's so cheap for what it can give you it's an undeniably good investment. From the comfort features to the workout-enhancing programs, this compact machine, with compact technology and a compact price is simply worth it.
Now, it's not the most fleshed-out bike in the world, the price reflects that. However, it's not trying to be. If you're a customer with purchase concerns about high prices from expensive stores, and you decide it's all a bit too confusing and off-putting then you don't need to read another word – this is the straightforward, robust bike you need. Simple. And I put a lot of work into each review, so if you want even more reason to buy this machine then please do read on.
To round up why else this bike is great then all you need to do is look at the features and specs. 4 programs for a unique workout, great data tracking and measurement options, intensity adjustments to make your workout your own and a host of adjustability options for the bike itself. You might be thinking, '4?' and well I understand. But this is the point I'm trying to make – Reebok want to give you an affordable fitness option with enough features to make it memorable, but a compact mantra to make it affordable too. In my opinion, the GB40 strikes the perfect balance for those looking to workout and save money.
---
---
What I Liked About This Exercise Bike
Okay so price aside, resistance levels aside, console feedback and adjustability aside, this thing looks great. I love the way it looks. It's simple, elegant and modern, and would compliment any home gym in an instance. I won't spend too much time here, look for yourself and try to disagree.
With popular brands and home workouts you need to strike a balance. As I've said, Reebok have. But it appears that nothing has been comprised when it comes to the build quality. The machine boasts a nice max user weight, great dimensions for multi-room applications and a very well built to last console. The 6kg flywheel is a great size given the smaller dimensions of the bike, a nice balance has been struck there too. The adjustments of the adjustable seat are well considered, well designed and plentiful enough to accommodate for a lot of riders. However, you may want to take a seat for the next section…
Things That Could Have Been Better
While the seat is dual adjustable, the verticality aspect is stressed here, and the horizontal feels a little sidelined. As you start to look at that time elapsed reading, and perhaps feel a little uncomfortable, you might struggle to move the seat any direction other than up and down. This may be a problem for some but generally speaking I've found that the position is comfy enough for a few of my fellow fitness connoisseurs, always make sure to check though.
I need to mention too that, despite it being a reasonably compact machine, I do think the console could have been a little more expansive. Besides the fact it's a little dated in terms of looks, I do feel like it needed to have been stretched out just a little more. I see no reason why an extra program or a slightly bigger screen couldn't have been included and still stayed a pretty low price. Because of the features available I actually think they've under priced this machine, and so could have afforded to go up a notch and create something slightly better with the same success and demographic met.
The fact the console looks like it has snake on it aside, I think the rest of the bike is pretty great. Always make sure to check the bike over yourself if you can to see if you like it or not, alternatively make sure to look for people actually using the bike. Seeing it in action could substantiate or oppose the words I'm writing in this review.
---
FAQ's
What does it mean if I keep missing my target time?
Well, it means just that. Missing a target time could mean a few things though. Firstly, it may be an indicator that you're setting the bar too high; it's easily done but make sure your aims are realistic. Secondly it could be an indication that actually, you're not trying hard enough. If you don't feel like you've done enough, stray from even breaking a sweat or ride as though it's Sunday every day then you're not putting enough effort in. If you've tried all you can to reach that time, then adjust the target time to a more realistic place.
Should I try to get a full refund if I'm unhappy?
It completely depends on the position you're in. If you think it justified then always try to get what is owed, but be careful that you're not being unreasonable or wasting both your time and others'. If a bike is faulty then you have a chance, if it's preference then absolutely not – you paid for the machine knowing what it was like. In any case, you need to check the warranty and be careful to not get a bike that's cheap and has a rubbish warranty deal. It's usually a sign that you've found some bad quality machinery. It's up to you to be vigilant and as a buyer you always get what you pay for.
---
Affiliate Disclosure
In compliance with the FTC guidelines, please assume the following about all links, posts, photos and other material on this website:
Any/all of the links on this website are affiliate links of which GymFreakz receives a small commission from sales of certain items, but the price is the same for you.
www.gymfreakz.com is a participant in the Amazon Services LLC Associates Program, an affiliate advertising program designed to provide a means for sites to earn advertising fees by advertising and linking to Amazon.com & Amazon.co.uk. Pages on this site may include links to Amazon and its affiliate sites on which the owner of this website will make a referral commission.