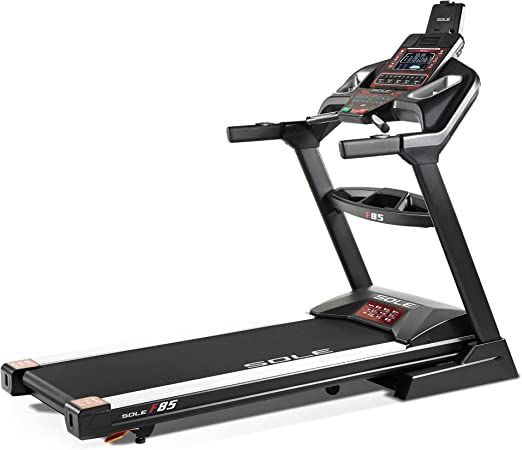 ---
---
Introduction to the Sole F85 Folding Treadmill
Sole Fitness has always offered treadmills with unique designs and modern technology, and the Sole F85 Treadmill is no exception. A folding treadmill that has been stylishly redesigned to meet the light commercial standard, this treadmill is also suitable for home workouts as it is easily foldable.
The Sole F85 is equipped with modern-day technology and high-end electrical and mechanical parts. The new enhanced model benefits the exercisers in terms of comfort and safety. Also, it provides enhanced workout settings and programs that help you shred weight and maintain body tone.
With the Sole F85, you needn't worry about the storage space either. Its Easy Assist Folding Design has made folding a lot more convenient and safe. Moreover, the treadmill has several built-in programs giving you complete access to connect to other fitness apps. The treadmill's new model design facilitates runners to perform high-intensity workouts with ease. …and that's not all, the treadmill has many feasible features to keep you facilitated during workouts like the cooling fans, USB charging point, audio jack, reading rack, mobile holders, accessory tray, and Bluetooth Connectivity.
When buying treadmills, we tend to look for those that are obviously within our budget but more importantly, ones that provide gym-like training. The F85 Folding Treadmill is an affordable treadmill for light commercial and home use. If you are looking for a treadmill to tone your body and keep you active, this enhanced model of the F85 is all you need.
Disclaimer – This website contains affiliate links. If you find the information useful and click on a product link and make a purchase, a small commission will be earned by GymFreakz and we appreciate your support.
---
Specifications
Brand: Sole Fitness
Model: F85 Treadmill
Motor Power: 4.0 HP
Dimensions: 82″ x 37″ x 57-66″ (lxwxh)
Maximum Speed: 12mph
Minimum Speed: 0.5mph
Incline Range: 15%
Equipment Weight: 265 Pounds
Maximum User Weight: 400 Pounds
Built-in Programs: Yes
Custom Programs: 12
Fitness Tests: 7
Bluetooth: Yes
USB Charging Point: Yes
Phone Holder: Yes
Integrated Tablet Holder: Yes
Integrated Sound System: Yes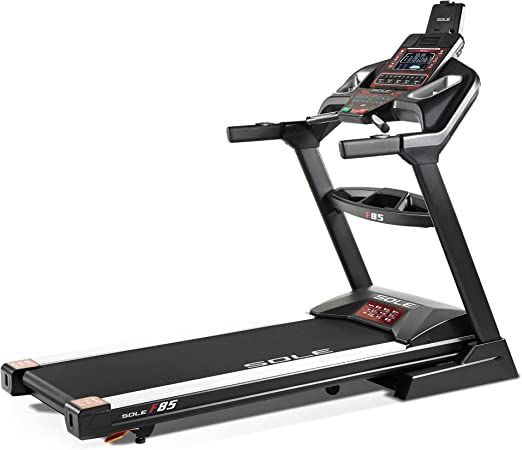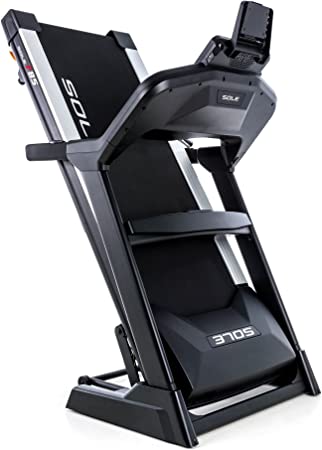 ---
KEY FEATURES
Modern and Minimalist Look:
The F85 is Sole's number one folding treadmill, and this treadmill's new model has impressed us all not only with its functions but also with its looks. The sturdy heavy-duty look gives your workout space positive workout energy. The treadmill is built with industrial-quality electrical and mechanical parts. The epoxy powder-coated paint on the frame adds to its modern look. The treadmill goes perfectly with your anterior and adds a modern look to your home setting.
Smooth Static Free Surface:
The nylon deck is smooth and static-free. The belt is made of high-quality double woven 2ply nylon. Beneath lies a middle PVC layer sandwiched between two rubber layers. Each component has its benefit. The nylon is smooth and provides a static free motion. The PVC layer is integrated to inhibit the belt from over-stretching and the rubber enhances the durability of the treadmill.
Sole App:
The Sole App is a mobile app designed to provide a better range of quality workouts and connected via Bluetooth this App connects you to a whole new world of fitness. With this gym equipment, you can stay connected to the virtual worlds of fitness. You can track your performance and workout data anywhere with the help of this app. Also, it allows you to transfer workout data and download workout routines from other fitness apps. The app lets you create two user profiles so that your fitness data is well organized and readily available during workouts. You can also connect to and stream videos on Kinomap app for better workouts.
Folding Treadmill Design and Safety:
The Sole Treadmill Folding Series has many impressive models but undoubtedly the F85 has the best folding treadmill design. The easy assist technology has made folding a lot easier. The deck can easily be lowered by unlocking the safety lock. The safety lock deck design not only makes unfolding easier but also contributes to the safety of people at home or in the gym space. Other safety features include heart rate monitoring, a padded deck, a large stop button, steel handles, and arm rails.
Industrial Quality Motors:
The manufacturers of Sole always add industrial quality motors to their treadmills and this particular folding treadmill comes with the highest horsepower motor in the range. The Sole F85 Treadmill has a powerful motor of 4.0 HP that allows a smooth and static-free workout. The gym equipment is supported by quality motors to keep you running. This motor provides the driving force for smooth and uninterrupted running, thus the Sole F85 treadmill provides a powered motor more than adequate to support you throughout your workout.
---
Warranty
The Sole F85 Treadmill manufacturers provide a lifetime warranty on the motor, frame, and nylon deck. Moreover, the company also offers a 5-years warranty on the electrical and other mechanical parts of the treadmill. You may also enjoy a 2- years labour warranty on the treadmill. We must mention that these warranty periods are exclusively for UK residents. People from other parts of the world may have different warranty periods.
*Warranty may be subject to change without notice and may differ between retailers – please check carefully before making a purchase.
---
Pros and Cons
Cushion Flex Whisper Deck:
Sole offers a high-quality cushion flex deck, reducing joint stress that is likely to be induced during workouts. The cushioning offers stability and comfort and with this new model comes better quality cushioning that reduces the impact on knees and back caused by workouts. The rollers and the padding often induce stress on the bones, but the new model benefits people of all ages and has a high-quality deck padding that supports bone health.
Convenient Features:
The Sole F85 Treadmill comes with many feasible features for your ease and comfort. The treadmill has an integrated fan to enhance the workout performance. The fans reduce the fatigue and stress the high-intensity workouts can cause. The treadmill comes with a convenient tablet holder for you to read and enjoy workouts simultaneously. Other convenient features include Bluetooth audio integration, USB ports, and an accessory tray.
The console has an integrated accessory tray that has two cup holders to put your water bottles, energy drinks towels, smart devices, or keys during workouts. Moreover, with an audio jack and speakers, you can play your favourite music while you walk. Also, if you are worried about running out of the battery of your smart device, you can conveniently charge it via the USB ports.
LCD and Personalization:
The F85 Folding Treadmill has a practical design, and what we love about the Sole F85 treadmill line is the level of personalization they offer. The Sole treadmills feature an intuitive user interface and a bright blue LCD. The graphic display of the LCD features the training data and stats like speed, incline, calories, distance, heart rate, pulse, programs, and connectivity.
The new treadmill model is the best folding treadmill that is a pro at handling multiple users. It allows you to create different user profiles and save data. Moreover, on each profile, you can create your custom workouts and also save your progress. The progress can be tracked anywhere through the fitness app. It makes it convenient to work out knowing your training stats and previously used settings.
Impressive User Weight Capacity:
All the specifications of this Sole fitness equipment are worth praising, but we could not stop appreciating the range of weight compatibility. The maximum weight allowed by the Sole F85 Folding Treadmill is 400 pounds. Whereas the total equipment weighs 285 pounds. The weight capacity is 125pounds more than the equipment weight. It symbolizes the strength and quality of the mechanical parts of the treadmill. The folding treadmill industry rarely offers such user capacities. So, and just to re-emphasise, the F85 is one of the top model pieces of equipment by Sole Fitness.
Wide Incline and Speed Ranges:
The Sole F85 Treadmill has heavy-duty stable inclines that allow gym-like workouts and the F85 is some the best gym equipment that provides a wide incline and speed range with preset buttons. The high-power motor provides a maximum speed of 12 mph and a minimum range of 0.5mph. This heart-pounding speed makes you work harder and builds your stamina. Moreover, the incline ranges from 0-15% provide impressive inclines to keep your body and muscles toned without inflicting harm to your bone health.
Short Side Rails:
Though the F85 folding treadmill provides a comfortable and quiet workout, it lacks broader side rails. Its side rails are smaller as compared to other treadmills. The side rails should be large enough to easily rest your foot comfortably and they should allow a certain level of stability. Although the treadmill's new model is secure and provides amazing safety levels when it comes to side rails, it just doesn't quite fit.
---
Overall Verdict:
If you are a serious runner and you are looking for affordable gym equipment, the F85 Treadmill's New Model is a perfect fit for your workout space. In short, it is one of the best gym equipment products on the market. All the specs are designed keeping in view the demands of the athletes. High-quality building material, guaranteed electrical components, high-power 4.0 industrial motor, custom, and built-in programs. Moreover, it has added benefits like an accessory tray with holding cups, USB ports, a sound system, tablet holder, audio jack, BlueTooth, and App connectivity. The Sole F85 treadmill new model has all that you will ever need to perform gym-like workouts. Sole Fitness has always tried to come up with the best fitness solutions for people of all ages, and this F85 home and gym equipment is one of their finest products.
---
---
FAQ's
How can I buy the F85 treadmill new model online?
You can order the F85 new model from the Sole Fitness website. The company also provides finance options if needed by the customer. The customer can fill out the application form online for the finance with the required details and documents. If eligible, you can pay for the treadmill in monthly installments. All the decisions are reserved by the provider and rules and regulations are applied.
What kind of motor is integrated into the new upgraded version of the F85 Folding Treadmill?
The highest horse power motor of 4.0 HP is integrated into the new F85 treadmill model.
Where can I download the sole app?
The Sole App is available on the google app stores and apple app stores.
Which is the Sole's best gym equipment?
In my opinion, the F85 treadmill is the best gym equipment by Sole Fitness because of its enhanced design and high-rated performance.
---
Affiliate Disclosure
In compliance with the FTC guidelines, please assume the following about all links, posts, photos and other material on this website:
Any/all of the links on this website are affiliate links of which GymFreakz receives a small commission from sales of certain items, but the price is the same for you.
www.gymfreakz.com is a participant in the Amazon Services LLC Associates Program, an affiliate advertising program designed to provide a means for sites to earn advertising fees by advertising and linking to Amazon.com & Amazon.co.uk. Pages on this site may include links to Amazon and its affiliate sites on which the owner of this website will make a referral commission.