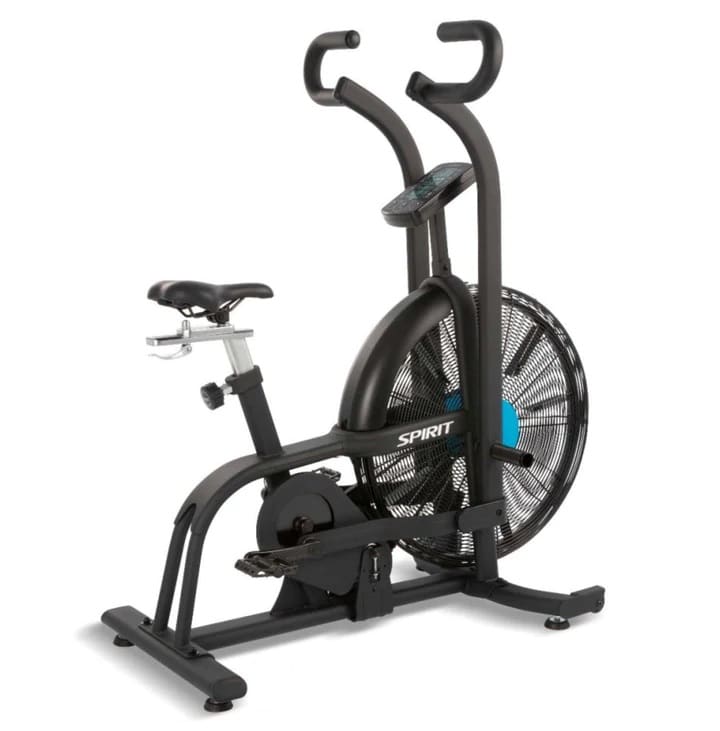 ---
---
Introduction to the Spirit AB900 Air Exercise Bike
Just because you see the words 'indoor bike' doesn't mean that you know what to expect. Like everything in this world, there's an almost unfathomable amount of diversity and variation. Colours, dimensions, materials… these are all part of that variety, and indoor cycles are a part of this world.
You may not be able to feel uniqueness everywhere on a bike. Components like a simple control keypad, easy programming integration and dual sided molded pegs can all be very familiar, but there's always more than meets the eye. Underneath the hood we could be buying innovative and unique interior design and engineering parts. Aspects like the jaw dropping unlimited resistance drive train and high quality bearings are often unseen, but that doesn't mean they're not unique.
So why do I keep talking about special items or unique values?
Because we're about to break down the Spirit AB900 Air Bike, and I can't wait to unveil what makes this machine so creative. From the use of an air driven resistance system in the first place to the dual targeting cardio and calorie burn design, this bike is sure to excite you, enhance your fitness, and make for a visually inviting addition to whatever room you put it in.
So, let's break down the pros, the cons, the specs, and the best bits of one of my favourite bikes from the much hailed Spirit gym equipment design team.
Disclaimer – This website contains affiliate links. If you find the information useful and click on a product link and make a purchase, a small commission will be earned by GymFreakz and we appreciate your support.
---
Specifications
27″ (68.5cm) 9-blade fan wheel
1/8″ chain
Commercial grade structural steel frame
Durable powder coated paint finish
User weight 25 stone (159kg)
Size L x 122cm W x 66cm H x 127cm (48" x 26" x 50")
Product weight 54kg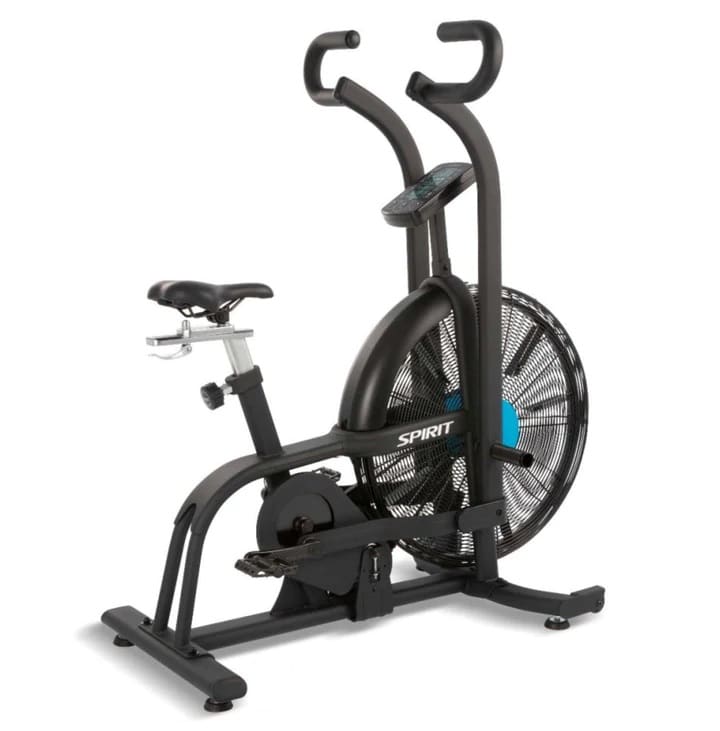 ---
KEY FEATURES
Unlimited air resistance
Upper and lower body workout
LCD console
Anti skid foot pedals
Cushioned saddle
Vertical and horizontal seat adjustments
Integrated windscreen
Extra heavy commercial grade steel frame
User weight 25 stone (159kg)
Size L x 122cm W x 66cm H x 127cm (48" x 26" x 50")
---
Warranty
Full commercial with 3 years parts and labour
*Warranty may be subject to change without notice and may differ between retailers – please check carefully before making a purchase.
---
Pros and Cons
---
Overall Verdict:
I can't display how much I love this machine in my writing here, so I hope that what you've read regarding the specs and features is enough to sway you.
It looks great, feels great, moulds to fit my needs and has a really nice sense of user focus. I love how it seamlessly fits into any room in my house – great bike aesthetics are important for home use, even for home gyms, and so this one ticks the box for me.
With an intelligent energy saving design I love how this benefits more than just my fitness levels. It's great to see that innovation is being conducted with me and my wallet in mind. While air resistance bikes are nothing new, they remain a staple in my top favourite bike types for a reason – limitless resistance and low energy bills.
With easy to read instructions, easy programming integration for the console, seat adjustment speed and performance design foot pedals, this bike feels like the right choice for those seeking ergonomic workouts with the ability to push themselves if needed.
High performance seems to be a focus of Spirit. With an incredible range of high performance equipment showcased even on this site, Spirit are one of the number one manufacturers around. So, despite the fact I'd recommend pretty much anything from these guys, please do read on to see what I really liked about this bike. I don't want to just talk about target time, user's effort or how this could help with your target distance, that's obvious – I want to get into the nitty gritty of this wonderful design and really see what we could be working with.
---
---
What I Liked About This Exercise Bike
Specifically, I love the anti skid foot pedals. This sort of ergonomic foot pedal design really helps keep me safe and frustration-free. There's nothing worse than slipping or bumping on any kind of equipment, so to stay focussed and unscathed this feature is a must. Speaking of frustration-free, the user comfort convenient console feedback is awesome too. The console is simple, easy to use and really helps you stay on track while you're burning those calories and tracking that data. Yes, it's a little limited, but it'll never be the difference between a great workout and a bad one.
This powerful tool comes with a fairly compact design too. Good dimensions are always something to look for. I mean, if you have the space for a tank then go for heavy duty, but I personally love to save space when I buy equipment so I can (unsurprisingly) follow through with my purchase addiction and use the space for more gear. Saving money is also a massive plus. With no power requirements (other than the 4AA battery powered console) I can safely keep my wallet fresh and not have to think about how much this thing is draining it, and looking at the independent and consumer reviews I'm clearly not the only one who loves this.
Last but certainly not least, and I mentioned this briefly, I absolutely love how my workout intensity is completely down to me. The air driven resistance system let's me push, and hard. The faster I spin, the harder I work, the more I gain, and 1/8″ sturdy chain helps to support this too.
Mainly, I don't need to fiddle around with a dated crank system mid-workout and the resistance matches mine. This also makes me feel really connected to the bike, and trust me, when you're riding on these for a long time this is super important.
Let's move on.
Things That Could Have Been Better
So this section is a little less, 'what I don't like about this bike' and more, 'what I don't like about air bikes'
They're pretty noisy.
While having an air bike has many benefits, especially a bike as sturdy as a steel frame one, with great maximum user weight it tends to make a lot of noise. And it's not due to the chain power. An air bike is essentially a big fan, so if you need to be careful with noise, maybe you need to workout late at night or live next to close proximity neighbours, then you may want to consider carefully the purchase choice. Don't get me wrong it's not a deal breaker for most, and it doesn't exactly sound like a jumbo jet, but you do have more noise than the usual, normal, upright bike.
What else? This next one's a little picky but personally I prefer a higher fan blade count. The more fans, the higher the potential resistance, and in order to get the most of what I hailed as being a great feature of air bikes then I'd like to be on a bike that undoubtedly stops me in no way, whatsoever, from burning out – I like to work out hard, not everyone's the same. You can justify this bike easily if you still want a cooler workout (although, if you really want a cooler workout, then the faster you spin the faster that fan's blowing air and cooling you down, get to work!)
---
FAQ's
Why should I care about a bike that accommodates upper body stability, bike's aren't for total body exercise?
Biking involves every part of your body to some degree, and if you're going for endurance rides then physique maintenance and low strain postures are super important. Bikes that accommodate every part of your body should be a consideration – no body likes fatigue and unnecessary strain.
What is low load rehabilitation?
Low load rehabilitation is great for those who may be recovering from and injury. For example, if you're a weight lifter but mobility is an issue, so much so that it caused some muscle tear or cartilage damage (for example), then a bike is one way to help with recovery. Low load rehabilitation to high performance is exactly what those in recovery should be striving for, and muscle repair and mobility repair need to come first.
---
Affiliate Disclosure
In compliance with the FTC guidelines, please assume the following about all links, posts, photos and other material on this website:
Any/all of the links on this website are affiliate links of which GymFreakz receives a small commission from sales of certain items, but the price is the same for you.
www.gymfreakz.com is a participant in the Amazon Services LLC Associates Program, an affiliate advertising program designed to provide a means for sites to earn advertising fees by advertising and linking to Amazon.com & Amazon.co.uk. Pages on this site may include links to Amazon and its affiliate sites on which the owner of this website will make a referral commission.