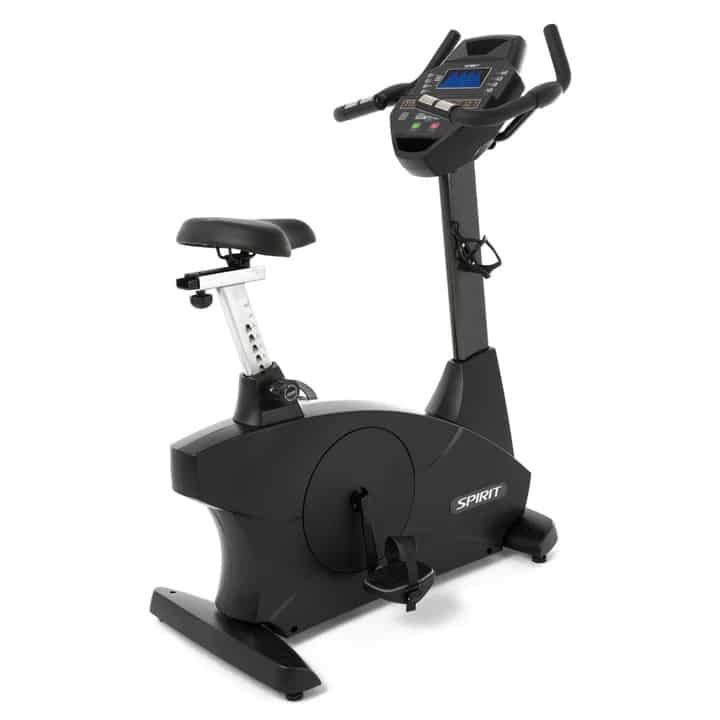 ---
---
Introduction to the Spirit CU800 Upright Exercise Bike
When we think of self-sufficiency we don't always think of superiority. For example, a wind turbine will generate less power than its power station counterpart, or one solar panel can only produce a minimum amount of energy as compared to…. well, another power station. But in the case of the self-sufficient Spirit CU800 we not only get a powerful tool, we get a smart one too.
Most bikes come with expected components, things that, if they were missing, would leave you doing star jumps and scratching your head. Facets like a seat post, solid platform, an easy-adjust seat or LED lights on an LED display, we've just come to expect certain things. But what if we think beyond the obvious, what if we spin our brains and try to innovate?
The result?
The Spirit CU800 upright exercise bike, and new solutions to age-old problems.
Over the course of this review we'll look at one of Spirit's strongest entries. We'll break down its equally strong aspects like smooth motion pedalling action, the wide dual-spring seat, turbo cooling fan, and its generator powered console. As always, the right bike for you is only a read away, and my job is to make this review fair and exciting, so if you don't buy this bike then you can at least see If I pass the test.
Beep. Beep. BEEP.
Disclaimer – This website contains affiliate links. If you find the information useful and click on a product link and make a purchase, a small commission will be earned by GymFreakz and we appreciate your support.
---
Specifications
Self-generating
Dimensions L x 42" W x 21" H x 53" (107 cm x 53.3 cm x 134.6 cm)
Frame heavy-Gauge, High-Steel, durable powder coat paint finish.
13.6kg Flywheel
Product Weight 52kg
Max User Weight 32.1Stone (204 kg)
Warranty – 3-years parts and labour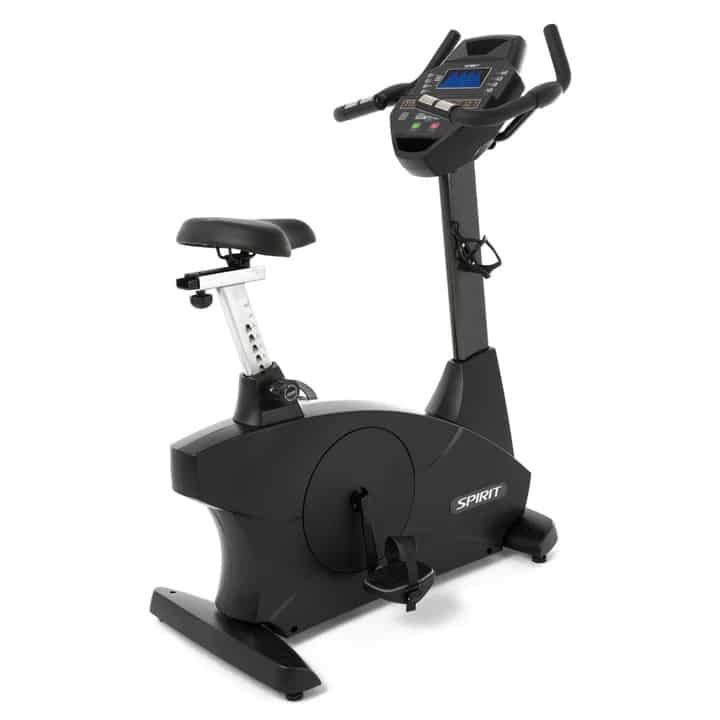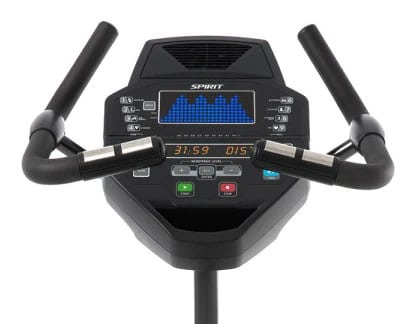 ---
KEY FEATURES
Self-generating
Wide dual spring seat
Oversized foot pedals with fast latching system
40 Levels of resistance
Water bottle holder
Contact heart rate monitoring
Optional telemetric heart rate monitoring.
---
Warranty
3-years parts and labour
*Warranty may be subject to change without notice and may differ between retailers – please check carefully before making a purchase.
---
Pros and Cons
---
Overall Verdict:
So, gathering myself after trying this machine out, I love it. It feels very classic, very familiar (which is a good thing) and left me feeling knackered, job done. The smooth ride aspects of this bike are certainly true, with the fluid motion of the pedal wheel and flywheel combined, and the comfort features like the dual spring seat were ace.
The strength of this machine is pretty obvious too. With a sturdy look it safe to say what's happening underneath reflects that. The heavy-duty, heavy gauge High Strength steel is a great choice as build materials for a bike. It lasts, it's affordable and most of all – it makes you feel comfortable if you want to give it a real go.
The Spirit CU800 upright exercise bike is sure fire way to save money, burn carbs and make sure you don't have to buy again anytime soon after.
---
---
What I Liked About This Exercise Bike
The self-generator-powered console and entire unit are obvious points here too. It saves money, hassle with unplugging, hazards with wires and just makes me feel like I've made a smart purchasing decision. If you have all the money in the world then great, but you don't earn money through stupidity, or luck… well some do but we'll forget about them. With 40 levels of resistance the CU800 upright bike is sure to give you a challenge. And that's what I love about Spirit Fitness – they always offer a challenge with their machines, and that's what always draws me to them. The console also has 10 programs with projected maximum efficiency. It also has a heart rate% profile (fancy) a turbo cooling fan and a 20 character message centre for that extra personalised feel.
On the fitness CU800 upright bike, with a 13.6kg flywheel weight you're in for a medium bike feel. You do get heavier ones that offer a little more resistance in part but also help to create a realistic feel for an indoor bike. But it's never a bad thing to have the middle ground of course, you get both the benefits of a lighter more focussed feel and the heavier more realistic feel, so it's a win, win.
I've also clocked great deals for UK residents knocking about so be sure to check our link; you never what you might find and of course, how much you might save. From monthly payments to a different finance option deposit amount, you may be able to find financial options that suit you, no matter your status finance stability.
Things That Could Have Been Better
A few reasons the Spirit Fitness CU800 upright could be better…
To start, given the weight and frame strength I would have liked a slightly heavier flywheel weight. It's not essential by any means but I like a heavier workout personally. Something else that could be a bit lighter… the looks.
Yes, I mentioned it has a classic look and for some that's ace – retro's never a bad thing. That said, in the modern age it just feels like it's missing a trick. But this thing up to other more modern machines and the CU800 upright bike doesn't just look like it's not up to date, it looks like out of date. The console feels a little like this too. The blue LED lights can be a little bland but for most this isn't a huge issue but I wouldn't be surprised if it wasn't for you too.
I also feel like the 20 character LED message centre (not the LED heart rate bar) is a little bit of a given to be shouting about. It feels odd to mention how many character's the message centre has (I certainly don't encounter it much) which says to me they don't have a whole lot to shout about it. However, in conclusion? That doesn't matter. What they've done is focus on the fundamentals and delivered a solid bike for a solid riding experience… and yes, every time you set foot on it.
---
FAQ's
Can indoor exercise bikes be taken outside?
You have to be seriously careful here, with the Spirit Fitness CU800 upright bike and others. Some bikes have corrosive resistance paints the majority probably don't. Only take your bike outside if you're going to be responsible with it. Use a bit of tarp to cover it up, leave it in a shady place or better still… leave the thing inside. Some bikes actually come with warnings about taking them outside so please check the conditions. Not all machines are as durable as you think, read the small print.
Why does gym equipment cost so much?
It's not just features like a tablet friendly reading rack or a dual gel seat, the manufacturing costs for these machines can be big, let alone the time going into producing them. While gym equipment may appear pretty straight forward, in reality you're looking at years and years of innovation. These machines can be chock full of great engineering, and mostly in places where you can't see. Focus less on a tablet holder and more on the internal mechanics.
---
Affiliate Disclosure
In compliance with the FTC guidelines, please assume the following about all links, posts, photos and other material on this website:
Any/all of the links on this website are affiliate links of which GymFreakz receives a small commission from sales of certain items, but the price is the same for you.
www.gymfreakz.com is a participant in the Amazon Services LLC Associates Program, an affiliate advertising program designed to provide a means for sites to earn advertising fees by advertising and linking to Amazon.com & Amazon.co.uk. Pages on this site may include links to Amazon and its affiliate sites on which the owner of this website will make a referral commission.