A review of the curved treadmill's specifications, pros and cons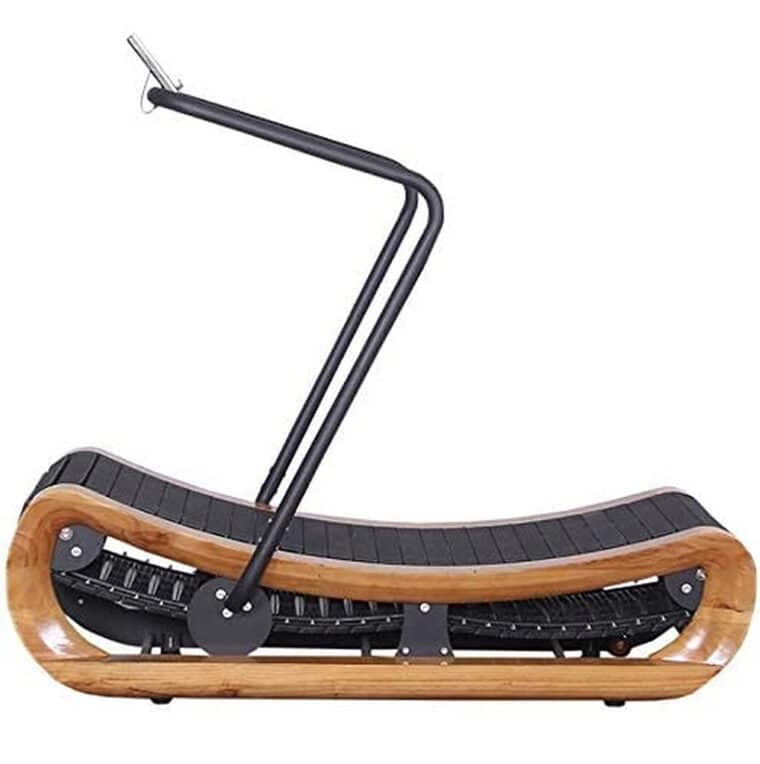 Introduction:
If you want a safer alternative to a motorized treadmill then a curved treadmill could well be the best choice for you.
To start with, the running deck on a curved treadmill generally has much more grip and creates less friction without generating heat.
…and no doubt you've heard – Curved treadmills are the new talk of the town because of their effective functionality and results.
It's easier to do the more intense workouts with them as their mechanism is more about human power than a motorized machine and it promotes a natural running style by mimicking natural stride patterns while enhancing the pace.
Simulating outdoor running is easier than ever now as curved treadmills are the best alternative whilst engaging even more muscles. It enhances the balls of your feet to run with low impact to joints and keeps the glutes active.
In this article, we have reviewed one of the best-curved treadmills available. It helps you burn more calories than that of a more traditional, motorized one and with no electricity, you can consider it not only gentle to your body but to the environment too.
Disclaimer – This website contains affiliate links. If you find the information useful and click on a product link and make a purchase, a small commission will be earned by GymFreakz and we appreciate your support.
---
Features
Self-Powered
The GJJSZ is a non-motorized curved treadmill that requires no power to operate.
Non-motorized treadmill running is best known for its higher cardiometabolic demands and is one of the most effective methods for managing cardiovascular and the risk factors of metabolic diseases.
Curved treadmills have the potential to trigger cardiovascular activities by their vigorous intensity. The mechanism of the curved treadmill promotes isometric pulls and countermovement jumps to give athletes power.
It requires more human effort than motorized treadmills which makes it an effective intense workout machine. Also, curved treadmills are gentle to your joints and lower libs by giving less impact to them.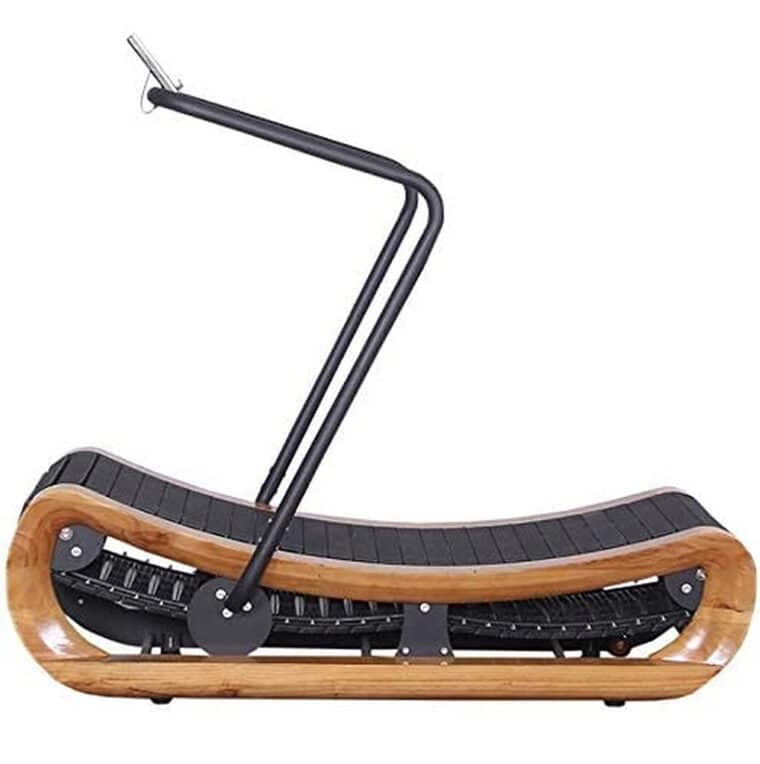 ---
FEATURES
Foldable Mechanism
The best aspect of a non-motorized treadmill is that it saves a lot of storage space. Unlike others, the GJJSZ is a folding curved manual treadmill which makes it ideal for those short on space.
Foldable treadmills are easier to move as they have transportable wheels and it's easier to clean the area underneath as they can be lifted.
Besides, if you want to keep up with your fitness routine in your office too, then this treadmill will lie flat under your standing desk.
Make sure to use the safety lock once you're done running because it may result in injury especially if there are children in the house.
The deck can also fall if not locked so keep this in mind too.
Natural Free Running
This curved treadmill features a pro brake system that makes it the most versatile machine in the market. It offers six settings to allow natural operation with a low drive along with transverse electric and walking progress.
Using a natural incline is a wonderful way to burn more calories and helps in building muscles more effectively. It promotes a more natural free running than on a standard treadmill by its aspect of human effort.
The mechanical braking system of the curved treadmill helps in providing the brake to the self-powered treadmill. This works by rapidly stopping the motion of the belt and rollers in case of electric fluctuation or the removal of a safety key.
An electric motor is connected to a belt roller via motor gear so you get the freedom of natural running with the backup support of the electric aspect of the machine.
Curved Running Area
Its curved running area tends to give a strong grip with a running surface that responds to your natural stride pattern.
This allows the user to use more natural effort where the motorized treadmill creates friction between the belt and deck, but be aware, the users should avoid constantly adjusting the console to match the energy level required for the exercise because the belt immediately responds to any changes.
A curved running surface has the ability to increase the propulsive force which is an important aspect to walking speed. The mechanism set up helps in immediately responding to any changes in the userspace which results in helping interval, HIIT, and sprint training.
As well as the intensive training methods mentioned above, it is one of the most ultimate tools for distance running too with the curved design mimicking a natural stride pattern which reduces the impact operation.
Manual curved treadmills naturally encourage the ball of your feet to give better and natural motion of ball movement.
Unrivalled build quality
Durability is one of the most important factors for any home fitness equipment. The curved manual treadmills feature unparalleled build quality that gives a great running surface and an easy to read console. It uses a variety of data that enhances its overall appearance giving true value for your money.
The inclusion of the drop resistance braking system and hand-shaped track makes it an ideal training tool for HIIT. This mechanism also allows slow drive resistance just like pushing a sledge, power walking progress making it the perfect traditional treadmill for walking or running.
---
Overall Verdict:
If you're into self-pacing and looking for a manual treadmill that features a braking system then this is an ideal pick for you!
The GJJSZ treadmill is designed to provide a natural jogging experience similar to outdoor running whilst also burning 30% more calories per session.
Most importantly, it provides more effective running training than a powered treadmill.
A self-powered treadmill that does not require power is more environmentally friendly, and your running costs will therefore be reduced due to this saving on electricity.
It is simple to use and manage, kind to your and body, and with no complex control buttons and accurate performance statistics, you can put your full confidence into this curved treadmill.
It is one of the best-curved treadmills for marathon training too as this treadmill is ideal for running at a constant speed, if you as a runner are experienced enough to control this, and due to its curve design, it has a lower impact than a traditional treadmill.
---
What I Liked About The GJJSZ Unpowered Curved Treadmill
Curved treadmills are best known for their ability to burn more calories than a motorized treadmill. It gives the average expenditure of 30% more because of its higher intensity making them ideal for HIIT.
The mechanism of the curved manual treadmill is designed this way to increase your heart rate and the urge for oxygen.
This eventually results in burning more calories as compared to motorized treadmills.
The curved treadmill's technology is intended to enhance muscle firing impulses. This is because it targets glutes and hamstrings that usually don't get full attention.
Each footstrike propels the running belt behind to give it a more natural style of running. This minimizes the vertical displacement of the body's centre mass which results in increased energy expenditure.
Curved treadmills are more likely to give an effective workout by increasing the rate of perceived exertion by 1.44 units. It increases the heart rate and the consumption of oxygen simultaneously by its self-pacing training.
Keeping the glutes and hamstrings active is very important as these muscles are involved in the hip joint and maintaining the posture and curved treadmills help effectively to keep these muscles active.
The best part of self-powered treadmills is that they are completely powered by the user being simple and quick to use.
They are a mix of gravity, friction, and analyzing the forces involved during running. The foot and the weight of the body pull the tread down because of its curved shape.
All you need to do is jump on the track and shift your body weight forward in order to run or jog. It demonstrates that you do not have to wait for the system to boot up. This allows you to become accustomed to the pace before increasing your speed.
---
Things That Could Have Been Better:
There is no doubt GJJSZ is an incredible treadmill, but it is missing an adequate warranty that would attract people even more.
Warranty is an important aspect of any fitness equipment that establish a sense of reliability in customers' mind.
*Warranty may be subject to change without notice and may differ between retailers – please check carefully before making a purchase.
---
---
FAQ's
How many calories do you burn on a Curved Treadmill?
Research suggests that you can burn 30% more calories on a curved treadmill than on a motorized treadmill. For Example; if you burn 100 calories on a motorized treadmill, you will burn 130 calories at the same time on the curved treadmill.
Do you run slower on a curved treadmill?
According to recent studies, curved treadmills require more effort than a motorized treadmill. This is because it uses your body weight and friction of the foot that helps in moving the belt instead of a motor.
Therefore, it depends upon the user's speed whether they run slower or faster.
Do curved treadmills prevent injuries?
As they promote a natural running style while running on the balls of your feet it lowers the risk of injury.
They reduce the impact on the muscles and joints which helps in preventing injuries and pain. Its rubber surface absorbs the stress on your joints more effectively as compared to motorized treadmills.
Are they good for long-distance running?
Yes, and no…
Curved treadmills are not good when it comes to long-distance running if you struggle to control your pacing (whereas a motorized one can be set to a certain constant speed)
However, if you want to master speed control over longer distances in a natural way then the curved, manual treadmill allows you to do just that, whilst also having a lower impact on your joints compared to a motorized one.
Who should buy a curved treadmill?
Anyone looking to lose weight faster or wanting to get fit quickly should opt for a curved treadmill. It's great fitness equipment for intense workout freaks as well.
Besides, it's a great option for people who want to save money on their electricity bills.
How to run on a Curved Treadmill?
It is quite similar to how you run on a traditional treadmill; simply step on the treadmill and start running.
However, there is no need to click any button as it is a self-powered treadmill. Put the weight of your body against the treadmill belt and spin it by running.
---
Affiliate Disclosure
In compliance with the FTC guidelines, please assume the following about all links, posts, photos and other material on this website:
Any/all of the links on this website are affiliate links of which GymFreakz receives a small commission from sales of certain items, but the price is the same for you.
www.gymfreakz.com is a participant in the Amazon Services LLC Associates Program, an affiliate advertising program designed to provide a means for sites to earn advertising fees by advertising and linking to Amazon.com & Amazon.co.uk. Pages on this site may include links to Amazon and its affiliate sites on which the owner of this website will make a referral commission.