Introduction:
If you want to change your running routine then the Microink curved treadmill might just be the best way to do that!
Having put it through its paces this treadmill will take your fitness to the next level by engaging more muscle groups due to its non-motorised build.
This running machine is great for sprinting and has everything you need for working out to lose weight. It also gives several health benefits like improving blood circulation, improving cognitive function and enhancing coordination.
The Microink is a manual treadmill with a digital display that shows the distance covered, calories burned and more, aiming to create a high-quality healthy life for its consumers all over the world.
Curved treadmills (also said to be human-powered treadmills as they involve more human effort than a machine) allow you to run with a more natural style on the balls of your feet as they're self-powered.
So whether you're an elite trainer or a beginner this curved treadmill will keep you fully determined and focused on your workout. It will also help you in strengthening the glutes and hamstrings that usually don't get the same attention with a motorised treadmill.
Perfect cardiovascular equipment that uses more human energy than a conventional treadmill!
Disclaimer – This website contains affiliate links. If you find the information useful and click on a product link and make a purchase, a small commission will be earned by GymFreakz and we appreciate your support.
---
Microink Curved Manual Treadmill Specification
Maximum weight: 150kg
Running surface: 150cm x 40 cm
Size: 155cm(L) x 69cm(W) x 134cm(H)
Transport wheels
8 adjustable resistance
Transport wheels
Digital display
Multiple training moods
No maintenance
Non-motorized treadmill
Infinitely variable speed
Improves running posture
30% high-calorie burn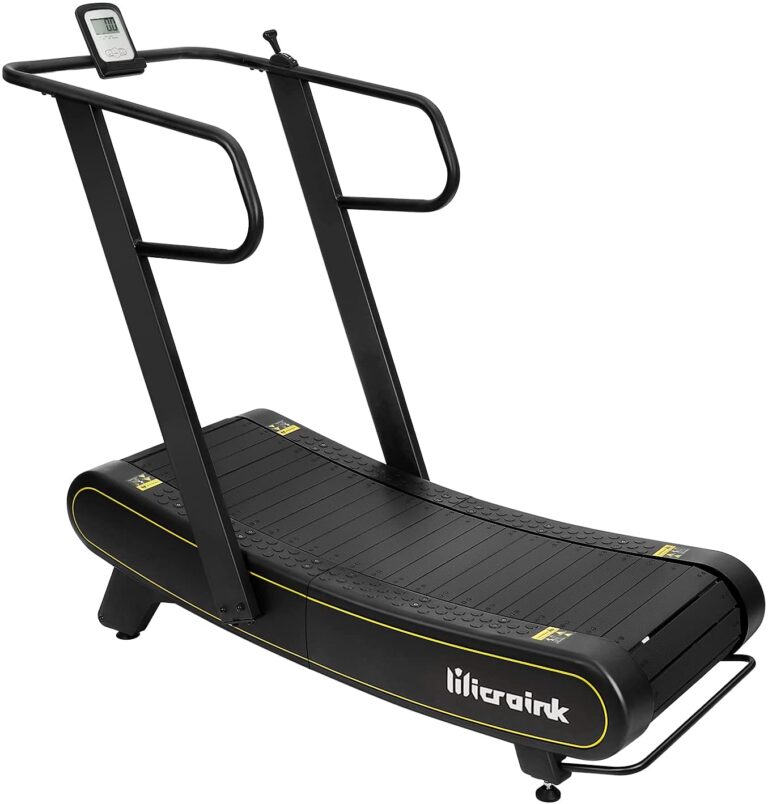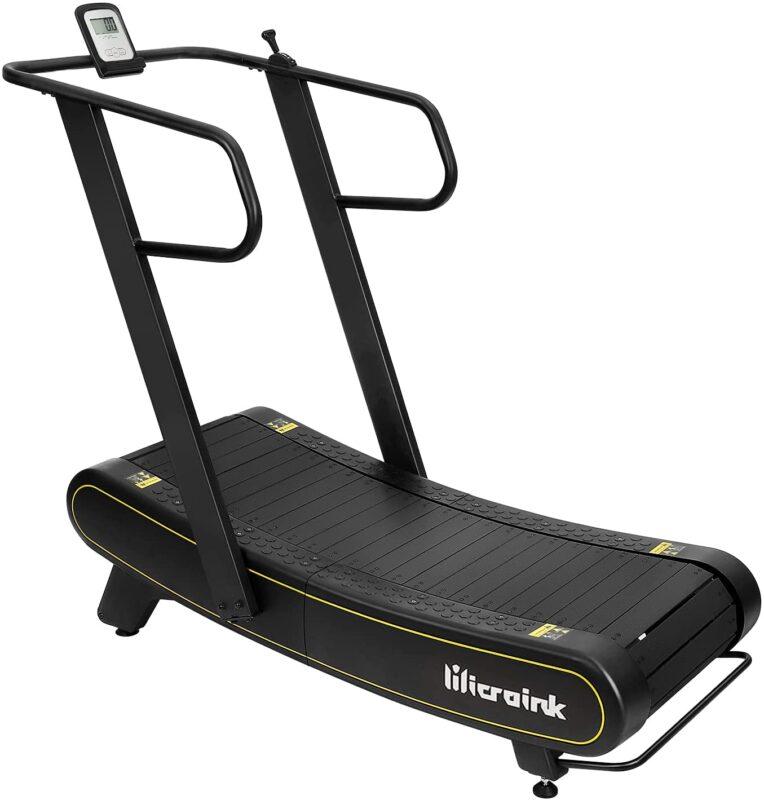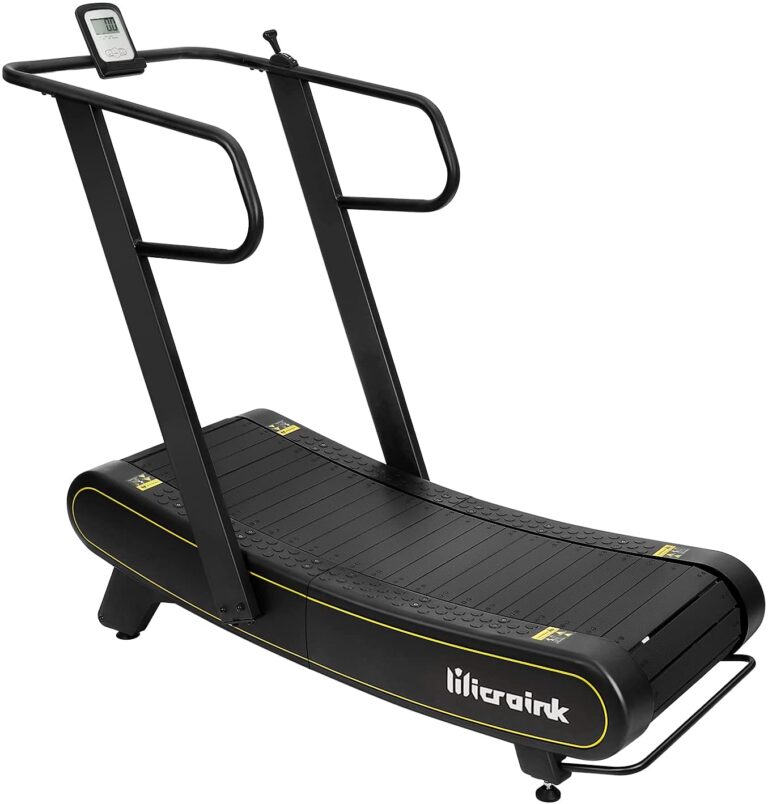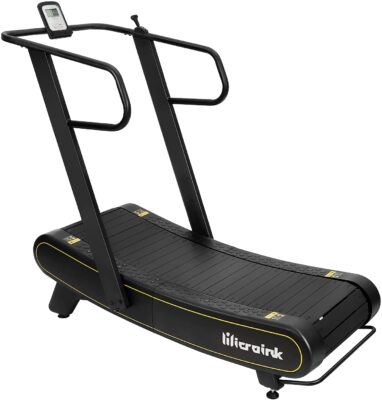 ---
---
FEATURES
Battery Operated Display
This curved treadmill comes with a digital display that will turn on automatically once you start operating. The cordless treadmill allows dynamic incline, freestyle running, and much more. It shows the distance covered, speed, calories burned, and battery display.
The Mircoink also features a smartphone and pad holder that enables the user to mount their phone or tablet easily. The best part of this curved treadmill is that it allows the gym's multiple performances capabilities.
Shock Absorption
The Microink curved treadmill comes with rubberized slats that are designed to absorb foot strike. It includes 55 individual slats and built-in 60 ball bearings with a non-slip texture that gives low impact to your foot.
It is designed to reduce horizontal friction of the early part of the foot strike. This improves the muscle firing pattern to get more effective training sessions by enhancing the running capacity.
The cushioning system is located under the belt and the deck slides over which helps in absorbing the shock. It creates a low impact to the foot strike and gives a better shock-absorbing effect than motorized treadmills.
8 Level Resistance Bar
The Microink curved manual treadmill comes with 8 levels of manually adjusted resistances for the running belt and is designed for a variety of training such as jogging, walking, leg coordination, etc. Some of the higher-end manual treadmills offer adjustable resistance via magnetic tension on the belt and flywheel. This enables the user to walk slightly upwards throughout the workout session.
The resistance bar allows the user to increase or decrease the diversity of the workout with the help of a magnetic pull. This helps in creating more challenging or less strenuous workouts with the difficulty of the exercise. This feature is also helpful when it comes to creating more effective running training programmes. The handgrips can be adjusted to increase or lower the tension on the user's arm and upper body, creating less friction and lowering the impact on the body.
Curved Running Area
This running machine incorporates an innovative curved running belt design. It allows the user to use a more natural effort where the motorized treadmill creates friction between the belt and deck.
It is operated with the help of the movement of your body as curved treadmills require more of a human effort. It allows infinitely variable speed from a comfortable walk to an all-out sprint. The Microink curved treadmill gives a fully determined pace according to the user's running capacity.
Non-Motorized
The Microink is a non-motorised curved treadmill that does not require electricity and eliminates messy wires and because it doesn't use a motorised source this makes it an environmentally friendly option. This non-motorised set-up also promotes a more natural style of running that many people prefer.
More so, the machine does not include any complicated buttons or restrictions on the location. It requires very little repairing due to the manual build giving it a nearly unlimited life if looked after and is kind to the body with a lower impact on the joints and lower limbs.
Overall, this fitness machine is not only good for the body but environmentally friendly and helps in saving energy bills too.
Unlimited Top Speed
In general, the speed of treadmills vary according to their quality and purpose. With the Microink's curved shape and manual speed generation, it has infinite speed and allows the users to work out according to their own personal fitness levels.
The curved nature of the belt also promotes a more efficient calorie burn per session.
>>Microink curved manual treadmill made it onto our list of the "Best Amazon Running Machine"<<
Warranty:
According to the manufacturer, the warranty period commences on the original date of purchase, which is warranted for a period of one year.
*Warranty may be subject to change without notice and may differ between retailers – please check carefully before making a purchase.
---
Overall Verdict:
If you are looking for a treadmill with no power consumption and little maintenance then the Microink could be an excellent option!
This home treadmill is designed to give several health benefits like increasing blood circulation, improving immunity, strengthening muscles, etc. It helps the users to start their fitness journey on the right track with more effective running training.
The Microink curved manual treadmill is one of the best home equipment and with no complicated control buttons and efficient performance data, you can fully trust this running machine. A self-powered treadmill that does not require power makes it eco-friendly and will keep your running costs low as it saves on electricity.
It's designed to give a natural running experience like outdoor running along with 30% more calorie burn. Above all, it gives more effective running training than a motorized treadmill.
It's easy to operate and easy to control, gentle to your body and environmentally friendly.
Besides, with 8 levels of adjustable resistance and a sturdy handrail, I don't see any reason why someone wouldn't want to get their hands on this amazing technology.
>>Check out our list of Best Treadmills On Amazon here<<
---
What I liked about the CT-300b Curved Treadmill
Keep The Joints Protected
It has a rubber surface which helps with the impact on joints and connective tissues, preventing injuries. Along with its self-powered nature, this makes the treadmill similar to walking outside.
The Microink Curved Treadmill is a great product for those who are looking to protect their joints. It has an ergonomic design that will allow you to feel less pain in your back, knees, ankles, and other joints when running and this reduced impact on the joints eventually helps in improving your running performance. It also helps keep the hamstrings and glutes fully engaged so they can be more active while running on the machine.
Moreover, it features a slightly concave surface that consists of 55 slats that are hard and flexible to give a smooth running experience. This helps in giving a more natural feel while keeping the posture accurate.
The Mircroink Treadmill is a great way to get your cardio in for the day. The curved treadmills have been scientifically proven to burn more calories, due to the greater physiologic intensity than a motorised treadmill.
It has an ergonomic inclination, which means it requires higher activation of the core and trunk. This makes the average calorie expenditure 30-40% higher than traditional treadmills, whilst at the same time making the Microink treadmill an excellent choice for those looking to burn fat and lose weight while getting in shape!
You Can Do More Effective Workout
The mechanism of the curved treadmill is designed to improve the muscle firing pattern. It is designed to immediately adjust to the running style of the user giving a more effective workout.
Curved treadmills are said to be more effective because of their higher intensity which also makes them ideal for HIIT. Its curved surface increases the physiologic intensity of the workout. It helps in increasing the heart rate instantly and also increases the consumption of oxygen.
Moreover, sprint workouts are ideal on curved treadmills as there is no motor. This allows the user to start their sprint training quickly without waiting for the motor to turn the belt to a particular rate. It also helps in maintaining the balance and posture of the body effectively. Curved treadmills are best when it comes to doing hard workouts by increasing the pace.
Ideal For HIIT And All Out Sprint Training
The Microink Treadmill is great for sprint workouts. It has no motor which makes it easy to work out on. The curved surface allows you to accelerate and decelerate with ease.
This is the perfect machine for those who are looking to get a high-intensity workout with their treadmill. It is very easy to use, and when you stop running, the deck slows down quickly so that it doesn't throw your body off balance. This feature aids in the quick and seamless transition from one workout to the next. Slowing down quickly is one of the criteria for sprint training and HIIT.
You can run naturally, and not have to worry about heel strikes which would cause extra pressure on your joints, especially if you're overweight or out of shape. This provides an easier transition from running outdoors and makes it better for aerobic exercises.
---
Things That Could Have Been Better:
A few users have complained about its belt adjustment that possibly needs to be improved. This is because when the bodyweight propels it pulls the belt down enabling the user to run at a single pace. The belt needs some adjustment to have a smooth run without friction from time to time. 
Unfortunately, Microink lacks a good warranty. It's always good to have your fitness equipment backed by a warranty. It gives you peace of mind that in case your product meets with some problem, the manufacturer has got you covered.
Want to see other treadmills in the same price range? Check out our helpful roundups:
---
---
FAQ's
How to run on a Curved Treadmill?
It is quite similar to how you run on a traditional treadmill; simply step on the treadmill and start running. However, there is no need to click any button as it is a self-powered treadmill. Put the weight of your body against the treadmill belt and start to turn it by running.
How many calories do you burn on a Curved Treadmill?
Research suggests that you can burn 30% more calories on a curved treadmill than on a motorised treadmill. For Example; if you burn 100 calories on a motorised treadmill, you will burn 130 calories at the same time on the curved treadmill.
Who should buy a curved treadmill?
Anyone looking to lose weight faster or wanting to get fit quickly should opt for a curved treadmill and it's a great piece of fitness equipment for intense workout freaks as well.
Also, it's a great option for people who want to save money on their electricity bills.
Do you run slower on a curved treadmill?
According to recent studies, curved treadmills require more effort than a motorised treadmill. This is because it uses body weight and friction of the foot that helps in moving the belt instead of a motor. It depends upon the user's speed whether to run slower or faster.
Are they good for long-distance running?
Not as easy as a motorised treadmill. Curved treadmills are perhaps not as good when it comes to long-distance running because it's hard to control your pacing whereas a motorised one would by nature keep you running at your selected pace.
Do curved treadmills prevent injuries?
As they promote a natural running style while running on the balls of your feet it lowers the risk of injury. They reduce the impact on the muscles and joints which helps in preventing injuries and pain.
Its rubber surface absorbs the stress on your joints more effectively as compared to motorized treadmills.
---
Affiliate Disclosure
In compliance with the FTC guidelines, please assume the following about all links, posts, photos and other material on this website:
Any/all of the links on this website are affiliate links of which GymFreakz receives a small commission from sales of certain items, but the price is the same for you.
www.gymfreakz.com is a participant in the Amazon Services LLC Associates Program, an affiliate advertising program designed to provide a means for sites to earn advertising fees by advertising and linking to Amazon.com & Amazon.co.uk. Pages on this site may include links to Amazon and its affiliate sites on which the owner of this website will make a referral commission.