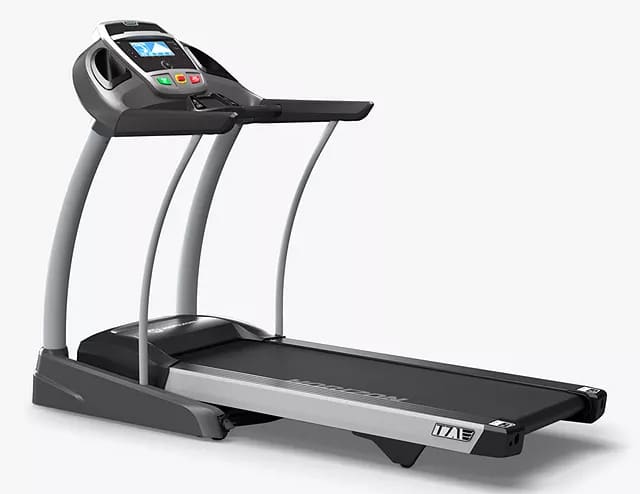 ---
---
Introduction to the Horizon T7.1
Are you looking for a treadmill that matches your fitness level and routine? If so, then great news, Horizon Fitness has come up with their Horizon T7.1 Folding Treadmill that has now made fitness a lot easier for everyone!
This treadmill comes with lots of advantages for its owners ensuring your fitness sessions are no longer a chore. Always better to enjoy the entire process than feel that you are doing it just because you have to!
That is why the Horizon Fitness treadmill comes with lots of benefits and many key features that will make your entire exercise routine a lot of fun! It comes with variable response cushioning and also gives you all the workout data you need while you work out!
Plus with the Horizon Fitness T7.1 you can also do high-intensity interval training which could help you with weight loss and to lose a lot of fat in a short amount of time if that's your goal!
And did I mention, it's also passport ready, allowing you to have virtual real fitness training that will massively enhance your entire experience of working out!
Disclaimer – This website contains affiliate links. If you find the information useful and click on a product link and make a purchase, a small commission will be earned by GymFreakz and we appreciate your support.
---
Specifications
This product gets 5 out of 5 stars.
The motor is 3.0CHP (4.5HP peak).
The incline is from 0 to 15 percent.
You can also fold your Horizon T7.1 Folding Treadmill.
The top speed of the Horizon T7.1 FoldingTreadmill is 12 MPH allowing more than enough pace.
The running area surface of this treadmill is 153 x 50 cm.
When folded dimensions of the treadmill are 103 x 94 x 193 cm.
The maximum user weight this treadmill can withstand is 182 kg.
There are 23 built-in programs.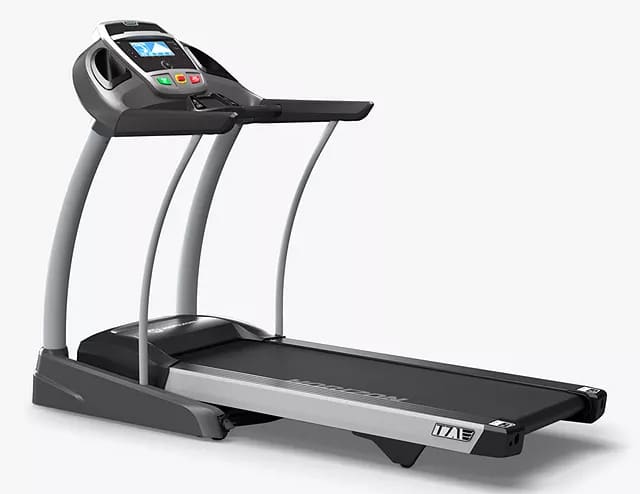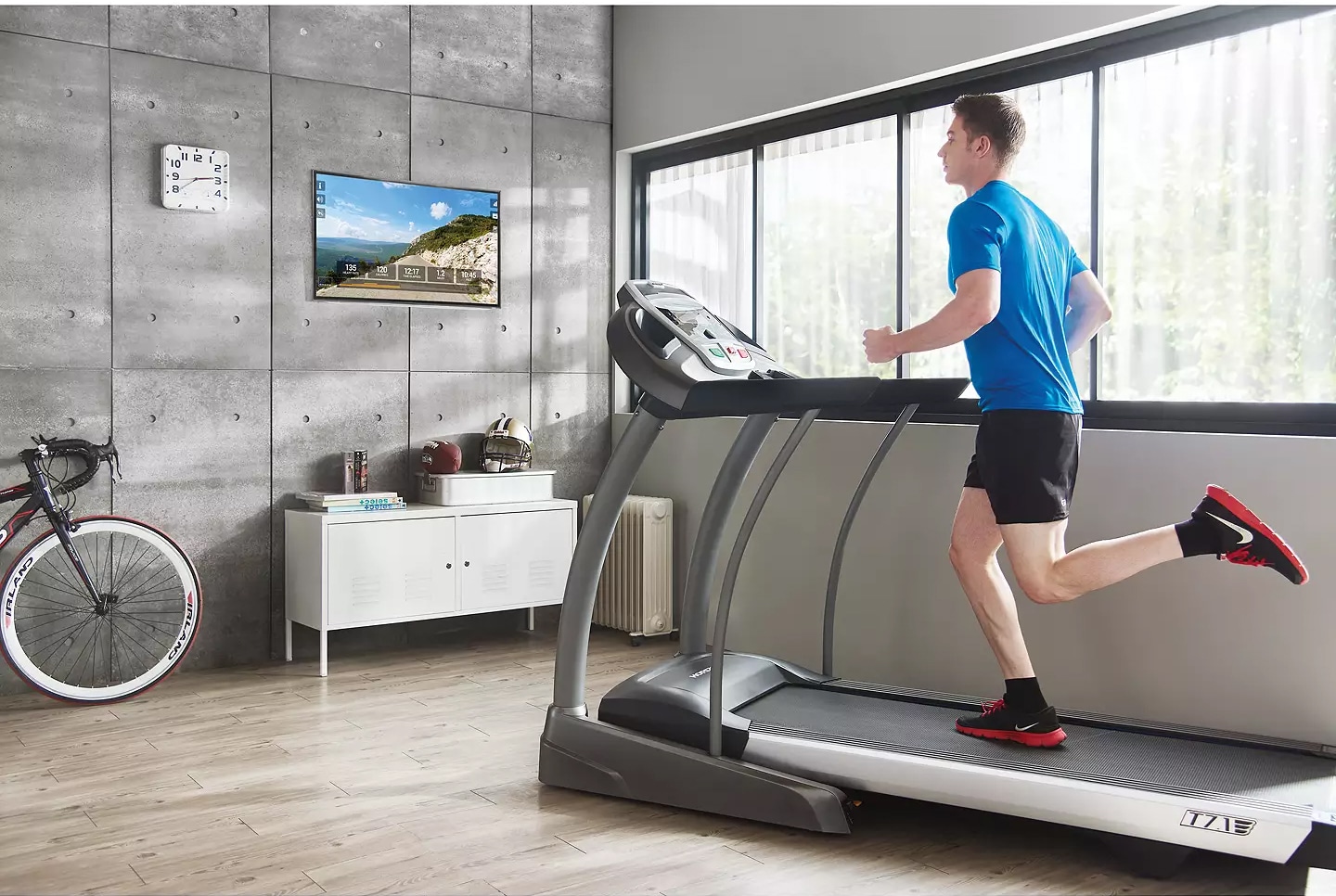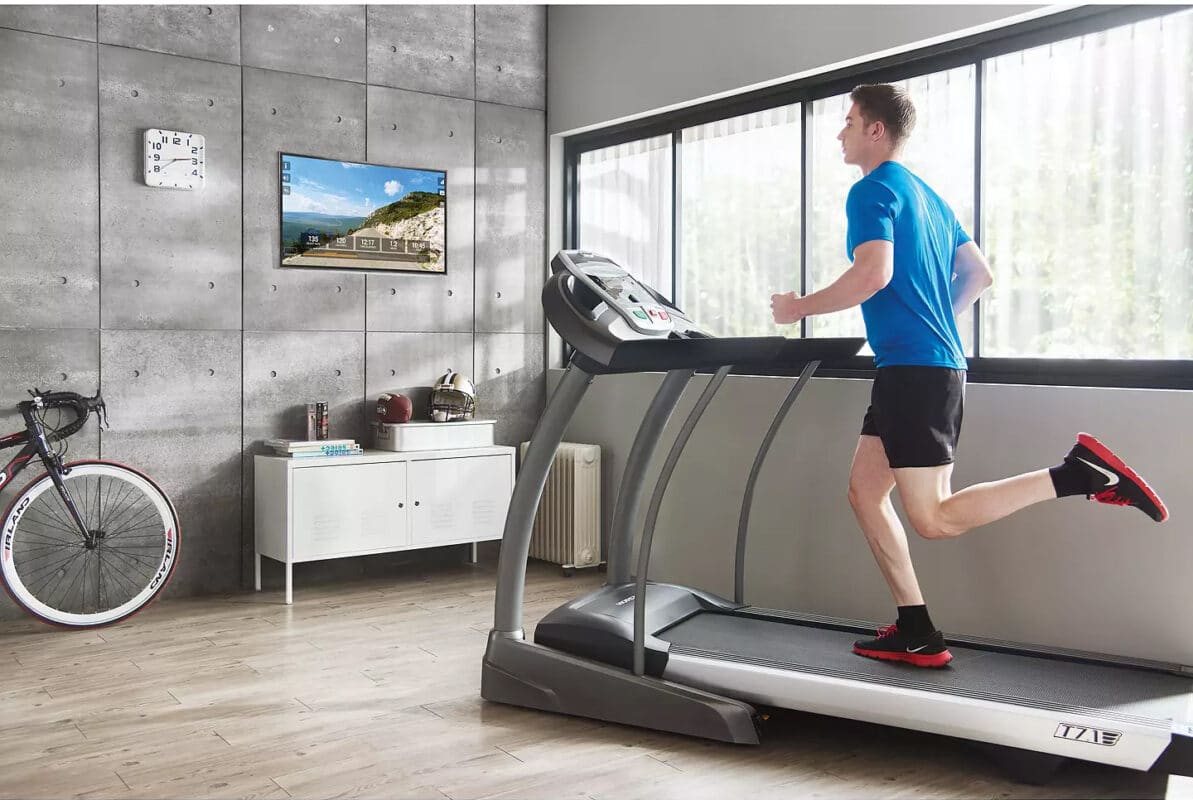 ---
Key Features of the Horizon Fitness T7.1
Powerful motor
This treadmill has a 3.0 CHP (up to 4.5 HP peak) motor making the users comfortable whether they want to walk or run. Due to its Johnson Health Tech it is also a quiet treadmill because of its low rpm so if you don't like your equipment making a lot of noise then this treadmill is a good option! Due to low rpm, it also makes this treadmill a long-lasting one with enhanced durability.
Foldable Treadmill
One of the most amazing features of this treadmill is that you can fold it and fit it anywhere in your house. If you live in a small apartment you don't have to worry that this treadmill will take up a lot of space. You can easily fit this treadmill wherever you want to and this is what makes this treadmill appropriate for small apartments and houses. After folding the treadmill the dimension are down to H193.5 x W94.5 x L103.5cm which is very impressive!
Heart Rate Monitoring
The Horizon Fitness Treadmill comes with heart rate monitoring. You can monitor this in two ways; 01) by purchasing an add-on wireless strap you can monitor your heart rate easily with while working out, or 02) this treadmill also comes with handgrip sensors to measure your heart rate but by using the chest straps to monitor your heart rate is far more accurate.
Screen
The Horizon T7.1 Folding Treadmill has an LCD screen that is blue backlit where you can monitor your steps, speed, pulse rate, incline, distance covered, and calories burned.
Programs
This treadmill comes with a variety of programs. In total there are 23 built-in programs that you can use while working out which are designed to increase your fat-burning allowing you to burn more calories. You can easily meet your fitness goals through these programs and many of the programs are targeted to specifically increase calorie burning, step goals, and more, all of which will help you reach your fitness goals.
Alternatively, this treadmill can be customized according to your own personal choice! There is a calorie category option as well on this treadmill that helps you to burn 100-900 calories. Another program on this treadmill is the distance program which helps you meet your walking or running goals which start from 1 to 12 distances.
There is also an option to run half a marathon plus the various performance programs include all levels from beginner to intermediate to advanced so whatever your fitness level is you can easily choose accordingly. Another program that you will find on this treadmill is the steps program. As the name suggests in this program you can choose the number of steps you want to do. Such workouts are great for fat burning as they also provide different interval units.
These workouts are great for muscle building and there are also programs that allow you to select specific joint-friendly training.
Running Belt
This treadmill offers a running surface that is relatively wide. Plus you don't need to wax the track either because it comes with a synthetic hard wax which also reduces the need for lubrication. The running belt of this treadmill helps you to build endurance and also improves your performance simply because of the size of the belt.
Variable Response Cushioning
This feature is very useful for people who are overweight but still want to do their workouts. Often people complain about pain in the ankles after they use certain equipment but this feature reduces the impact on your knees and ankles and distributes weight evenly throughout your legs and foot. It gives the right amount of balance and impact absorption due to the cushioning of three levels beneath the surface.
Passport Videos
With the option of passport videos, you can enjoy your workout while at home and also enjoy outdoor surroundings!
Since this option incorporates real-life videos, you will feel that you're actually running outdoors whilst still in the comfort of your own home.
It offers many virtual routes so whether you are walking, jogging or running you can enjoy the scenery and feel that you are anywhere from Europe to North America. This might also motivate you to perform better since you will enjoy yourself more while working out!
Although it comes passport ready, this option however is not included in the purchase of this treadmill but is certainly a great add-on to think about.
ViewFit Connect
The ViewFit connect option lets you connect your phone with your horizon fitness screen through Wi-Fi allowing you to keep a check on your daily progress through it. Another thing you can do with this option is you can send your workout data, share it with your friends and also share your favorite fitness apps too.
Large Speakers
With the sound system, this Horizon T7.1 Treadmill lets you enjoy your favorite songs with its built-in speakers. It's also Bluetooth enabled offering you seamless connectivity during your workout while listening to your favorite songs!
High-intensity interval training
You will get an amazing experience of high-intensity interval training with this machine! The workout options that it provides will burn a lot of calories in a short amount of time.
---
Warranty
If you look at the price of the T7.1 Treadmill you might initially think it's a little expensive but once you appreciate the investment you're making in a quality piece of equipment you'll soon realise what value you're getting. It also comes with a 2-year manufacturer's guarantee warranty on parts and labour.
*Warranty may be subject to change without notice and may differ between retailers – please check carefully before making a purchase.
---
Pros And Cons
Every treadmill has some pros and cons so let's take a look at some of those to help you decide whether you should buy a T7.1 Treadmill or not. Let us take a look at some pros first.
---
What I Liked About This Treadmill
There were many things I liked about this treadmill so let us take a look at all the things which I enjoyed using! Its motor is one thing that I liked a lot about this product.
Due to its heavy motor, it is extremely easy to use and it's also a quiet machine. Great to run on at speed and to not disturb others whilst doing so is a definite bonus!
Its spacious running belt is also something great about this machine. Since it's low maintenance I would also advise others to try this machine as you won't have to spend a lot of time taking care of it.
Horizon T7.1 is a great treadmill that helps people to lose weight. Plus its variable response cushioning put less pressure on my knees when I used it. I also got to use many of my fitness app favorites which also allowed me to run a half marathon!
Its water bottle holder is also placed nicely so that whenever you feel thirsty you can quickly take a sip of water!
Due to its spacious treadmill deck, your running power will also increase which will increase your metabolic rate. It also comes with an intelligent tread sensor.
The option to link it with a chest strap is also a great way to measure your heart rates and it offers a lot of variety when compared to other cheaper treadmills.
---
What I Didn't Like About It
Not much in the way of a negative review here. The machine is fantastic and when supplied by John Lewis you know you're in good hands.
With that said the basic warranty could be better but if a concern there is the option of boosting this over many additional years.
Overall Verdict:
If after reading this review about the Horizon T7.1 Folding Treadmill you are still not sure whether you should buy this treadmill or not then keep on reading for the last round-up.
This treadmill is a low-maintenance treadmill that has lots of options. It is an extremely good treadmill that will be a good addition to your home or gym. It is suitable for everyone since it has lots of workout programs that will help you reach your goal. If you're a beginner or an expert this treadmill has all the options of workouts you could ever need from which to choose.
It has a high-speed range, and the incline levels it provides are also suitable for all ages and all workout types. The advanced features this treadmill comes with are not available in most other products in this category level.
Plus the price this treadmill is offering is not too high compared to others that offer the advanced features it has built-in.
---
---
FAQ's
Is it hard to assemble the Horizon T7.1 Treadmill?
I am not disappointed with the Horizon T7.1 delivery or assembling. With many delivery options, this is taken care of for you. Always ensure you make contact with the supplier in question to review delivery and assembly options.
How long does it take to assemble this treadmill?
Since it is really easy to assemble this treadmill it can easily be assembled within 2 hours and as with all treadmills, it is best to be assembled by two people.
Is the Horizon T7.1 Folding Treadmill good?
All horizon treadmills offer great value for money and the same goes for the Horizon T7.1 Treadmill as with most of its brand reviews. With lots of options to choose from this treadmill gives us a variety of programs for the price it offers. So if you're looking for a great treadmill then I recommend you consider this one!
Is the Horizon T7.1 a durable treadmill?
This treadmill is one of the most durable machines due to its excellent build quality. Also when you fold this treadmill its capacity reduces which enables you to keep it wherever you want to so clever storage options will also help ensure it has a long life!
---
Affiliate Disclosure
In compliance with the FTC guidelines, please assume the following about all links, posts, photos and other material on this website:
Any/all of the links on this website are affiliate links of which GymFreakz receives a small commission from sales of certain items, but the price is the same for you.
www.gymfreakz.com is a participant in the Amazon Services LLC Associates Program, an affiliate advertising program designed to provide a means for sites to earn advertising fees by advertising and linking to Amazon.com & Amazon.co.uk. Pages on this site may include links to Amazon and its affiliate sites on which the owner of this website will make a referral commission.