---
---
Introduction
A folding treadmill is always a great option for fitness enthusiasts who are short on space. It's a convenient and ideal way to continue your fitness journey when you do not have enough room for other fitness equipment.
They also tend to have transportation wheels so that you can move them from room to room easily. Folding treadmills are easier to clean as compared to other treadmills as they can be lifted so you can clean the area underneath.
If you want to enjoy trainer-led workouts at home then the new ProForm Pro 2000 Folding Treadmill is the perfect choice for you. It comes with iFit family membership that allows you to engage in studio class workouts and target more muscle groups.
It also aids in several health benefits like cardiovascular training and weight loss. With the help of different workout sessions, you can effectively build better muscle tone and achieve your fitness goals.
Disclaimer – This website contains affiliate links. If you find the information useful and click on a product link and make a purchase, a small commission will be earned by GymFreakz and we appreciate your support.
---
---
ProForm Pro 2000 Folding Treadmill Specification
Let's take a look at some key specifications of the Horizon 7.4AT Folding Treadmill.
Item Dimensions LxWxH: 77.3 x 35.3 x 59.6 inches
Maximum user weight: 136kgs/300 pound
Deck size: 60 inches
Maximum speed rating: 12MPH
Belt size: 20" x 60"
10'' Smart HD touchscreen
CoolAire workout fan
Folding space-saving design
-3 to 12% incline training
Connected fitness tracking check
Certified personal trainers
30-day iFit family Membership
Global workout and studio classes
Auto adjust speed incline/decline
3.25HP Mach Z motor
Digitally amplified speakers
Heart rate monitor
Transport wheels
Rebound Pro cushioning
Easy lift assist
1'9 rollers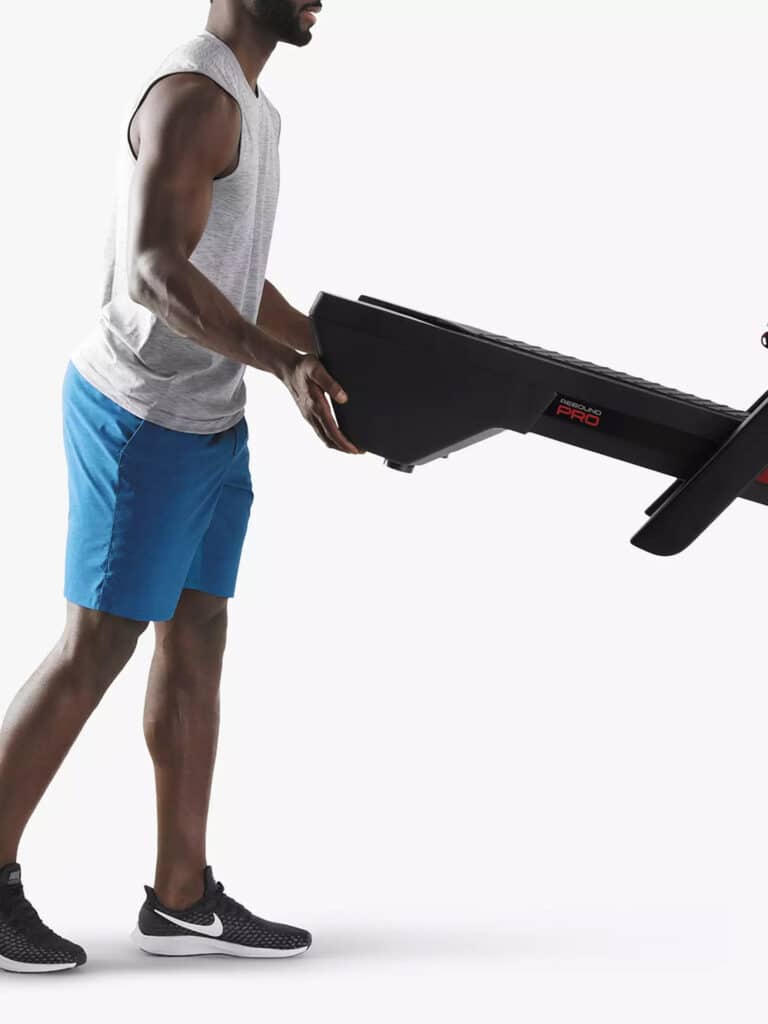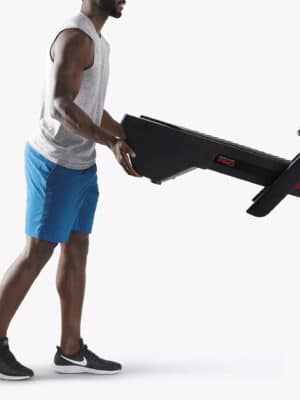 ---
FEATURES
10" Smart HD TouchScreen
Easy to access and large touch screen panel is a must in all fitness equipment. It helps in keeping a track of your workout stats and performing goal-oriented workouts. It keeps the users involved in every workout with its iFit Global workouts and interactive training studio classes.
It allows you to easily track your workout as it is large enough to read your mileage, speed, distance, calories burned, heart rate, and time. Pro 2000 also enables you to connect with hundreds of streamed personal trainers for the best training experience. It allows both iFit subscriptions and even cross-training options.
The 10" large smart Touch screen makes it easy to watch videos of live workouts, interact with the iFit community or try out different workout programs. You can easily monitor your workout statistics and navigate the connection within seconds.
3.25HP Mach Z Motor
The Pro 2000 comes with a continuous horsepower motor of 3.25HP which is smaller than its previous model. However, the treadmill is perfect for joggers and walkers as it has a top speed of 12MPH. Since the horsepower is continuous, you don't have to worry about the motor pausing in between the adjustments to catch up.
The treadmill has updated its features using a self-cooling Z motor which helps in effective running and cardio training at home. It is a perfect running machine for those who want to run faster than 6MPH. And when the speed is combined with the incline level, you can have a more intense workout experience.
The more challenging your workout is, the more effectively you can build and tone your muscles while burning more calories. In short, the treadmill will provide you with optimal assistance. It can both attain and maintain the speed while the user inclines/declines the deck. It can maintain the incline adjustment while holding on to a constant speed.
ReBound Cushioning System
The ProForm Pro 2000 comes with an amazing ReBound cushioning system under the desk that facilitates a balanced toe-off. It gives protection to your knees and joints by reducing the impact on them. The best part of a ProForm treadmill is that they are equipped with a cushioning system that helps the user in working out longer and recover faster.
The cushioning system of a treadmill can vary from one to multiple cushioning zones which makes them stable for initial strikes. The Pro 2000 is as good as NordicTrack 1750 which gives the best cushioning. This is because it has gone through several changes to make it more efficient and quieter.
Moreover, the Pro 2000 comes with a roomy deck size of 60 x 20 inches that makes your workout comfortable. It is best for tall runners as its spacious belt allows you to stretch out your strides easily. The ProForm Pro 2000 added stride length is perfect for both kickback and forward foot reach. The side rails of this treadmill come with a sturdy black plastic that gives a balanced width for stepping off the belt.
Its 1'9 precision-balanced non-flex rollers move the belt along the deck. They are positioned both at the front and the back to slide the belt along underfoot easily. This will give the user a balanced and comfortable runner surface for an effective training session.
Incline/Decline Range
This feature is helpful when it comes to adding resistance to your workout and burns up to 5% more calories. It also helps in increasing the muscle tone effectively and the ProForm Pro 2000 treadmill gives the best incline training.
It comes with both preloaded workouts and subscription content so that you can use it to influence future fitness plans. It is relatively quiet than other folding treadmills which makes it a quiet in-home experience. ProFrom offers automatic incline adjustability that gives the user convenience to change the incline setting easily and add variety to your workout.
The incline of the treadmill is designed to work in sync with built-in workouts and apps. Its virtual iFit terrains allow shifting the resistance levels in the workout programs automatically. Its incline/decline feels very real especially for those who are fond of outdoor running.
The ProForm Pro 2000 offers one of the best features of the -3 decline to the +12 incline range. Variability is one of the key components in any training system as it helps in preventing overuse injuries along with guaranteed muscular balance. It allows multiple training options so that the users of Pro 2000 won't get bored.
The plus point of this feature is the -3 decline which is not usually found in other folding treadmills. Decline training is best for muscle strengthening of the knees and quads. The +12 helps with glutes and hamstrings to offset quad supremacy and facilitate muscle balance for the lower body.
Robust Frame
The Pro 2000 is constructed with a sturdy alloy steel frame along with two steel side beams. It also has a mid-deck side beam for stability and the grab bar at the end of the deck is also made up of steel that provides a solid grip being a folding treadmill.
The side rails of the ProForm pro are heavy moulded plastic as the handrails extend out 18" from the console. The frame gives sturdy feels without being jiggly or shaky while running. It also feels secure when folded up.
It was updated in 2021 with an added red stripe along the base of the deck that gives the treadmill a more vibrant appeal. It is more compact than its previous models and most of the other folding treadmills. To ensure reliability and durability it has been tested for one million cycles at double the user weight.
---
Warranty
Frame: 10 years
Parts and labour: 2 years parts and 1-year labour
*Warranty may be subject to change without notice and may differ between retailers – please check carefully before making a purchase.
---
---
Overall Verdict:
If you're looking for a treadmill that gives the right combination of features for indoor workouts then the ProForm Pro 2000 treadmill is what you need. It gives on-demand fitness with certified personal trainers.
The treadmill comes with a helpful space-saving design that is best suited for those short on space. You can easily lift the treadmill with the help of EasyLift assist and store it when not in use. This means that you don't have to sacrifice your living space for your fitness habit anymore.
The ProForm 2000 folding treadmill comes with high-quality components that you would love to explore for better fitness tips. With its iFit membership, you can have interactive personal training whether it's challenging uphill routes or complete real-world experience.
ProForm is the perfect fitness brand when it comes to top-quality gym equipment. Its quick speed buttons allow the user to adjust the intensity instantly. Its 22″ width provides the perfect and comfortable elbow room and you can choose from two-speed settings for quick control.
The ProForm treadmill comes with a Mach Z motor of 3.25 continuous horsepower which stays cool through the toughest workouts. Its incline training is the treadmill game changer as it is one of the best features of the Pro 2000. Not just that but the treadmill is media-friendly which allows you to tune into its built-in speakers for a better sound system. With its iPod-compatible Bluetooth audio, you can have the best fitness experience of a hands-free workout.
---
---
The ProForm comes with an iFit family membership that gives professional training programs and stock experience personal training. It is the best way to have trainer-led workouts and have high-definition videos from throughout the world. Each of the videos is led by a professional personal trainer that will guide and motivate you to have the most of your workout. Also in these trainer-led studio sessions, the live trainers can also control the machine physically via remote.
Moreover, it is also compatible with the iFit Coach app and Google maps so that you can use the machine to virtually run across various terrains. It is the best way to keep the user engaged without them being bored with the same workout routine. And with the enhanced HD display you can have the best workout experience as streamed personal trainers lead you to in-studio classes.
Help In Cardiovascular Training
ProForm is a valued name in the fitness industry because it gives the best combination of features. The incline options and speed variables make the Pro 2000 best for cardiovascular training.
It allows you to stay aerobic and comfortably in that fat-burning zone while you walk vigorously on a 10% incline. This aspect allows the user to stay low impact yet they can have the best workout experience.
Cardiovascular training affects both the heart and lungs while your legs work to move along. This phenomenon will increase the blood flow to the limit along with increased circulatory efficiency even when you've stopped exercising. Moreover, the precision balanced non-flex rollers will decrease tension that prevents wear and tear.
The ProForm comes with a CoolAire fan that allows you to complete your workout with comfort. It comes with built-in ventilation so that you can have a soothing breeze when needed.
It comes with four power settings so that you can easily adjust from lower to higher. Climate control is one of the needed aspects when using gym equipment at home and you can trust ProForm with it.
The first three settings move the fan speed from Low-Med-High so that you can have constant airflow. It also gives instant control to the Auto fan setting when you hit the button four times. This will make the fan speed match up the speed of the belt. It means that the fan will work according to the intensity of your workout. If you are working harder the power of the fan increases, if slower the power decreases. It will reduce the noise and is best suited while running intervals.
Another highlighted feature of this treadmill is that it comes with a folding space-saving design. It is best suited for those short on space and who want to make the most of their place. 
It comes with an EasyLift Assist that makes the treadmill easy to lift and store upright when not in use. The treadmill also has transportation wheels that make it easy to transport the treadmill from room to room.
It allows you to maximize your training space and powerful shock that helps to lift the deck by an easy push. Also, there are two large pockets on either side of the console for storage. You can also use it to hold a water bottle, keys, or any other personal item.
---
Things That Could Have Been Better:
Though the motor is good but not recommended for running as it is slightly smaller for that. As ProForm has updated its several features it would be better to work on this aspect as well.
---
FAQ's
Does the ProForm 2000 fold up?
Yes, the ProForm 2000 can easily be folded due to its SpaceSaver® Design.
Is this treadmill suitable for tall users?
Yes, the treadmill is best suited for users up to 6ft as it features a large running area that gives your legs plenty of room. Also, it depends upon how long the stride is as every user has a different running style.
How long will the ProForm 2000 treadmill Last?
Most of the treadmill gives an average duration of 7-12 years of durability. The ProForm 2000 gives the maximum durability that can last up to 10 years easily.
Is the ProForm treadmill worth it?
While the treadmill is expensive, it is one of the best folding treadmills out there for walkers, joggers and some runners. The overall features are incredible, it has SpaceSaver® Design, a spacious running area and whatnot. Though if you are an elite runner, you would want to look for another treadmill as it might not cater to your fitness level.
Does ProForm give reliable customer service?
Yes, it is reliable when it comes to customer satisfaction. It keeps its online chat open and responds very quickly. Keep this in mind, as the representatives are motivated by the commission which makes them a little pushy to get you to make a purchase.
Is it easy to assemble the ProForm treadmill?
The assembly of the treadmill is easy but what makes a fuss are the heavy pieces. You will need help to get this treadmill a final look.
---
Affiliate Disclosure
In compliance with the FTC guidelines, please assume the following about all links, posts, photos and other material on this website:
Any/all of the links on this website are affiliate links of which GymFreakz receives a small commission from sales of certain items, but the price is the same for you.
www.gymfreakz.com is a participant in the Amazon Services LLC Associates Program, an affiliate advertising program designed to provide a means for sites to earn advertising fees by advertising and linking to Amazon.com & Amazon.co.uk. Pages on this site may include links to Amazon and its affiliate sites on which the owner of this website will make a referral commission.