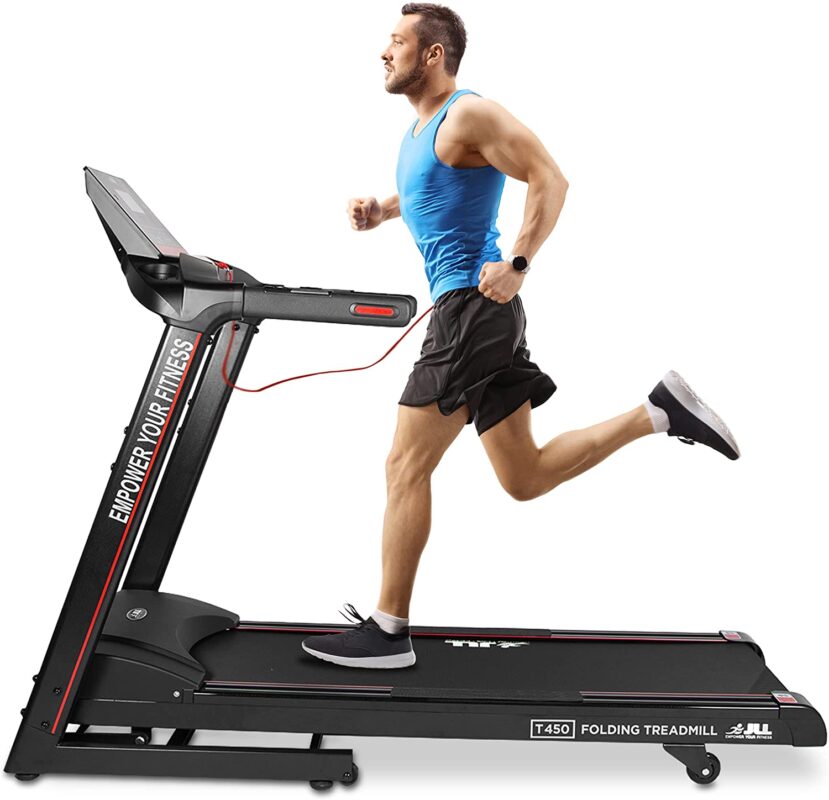 Introduction
---
Fitness Equipment Review
Those familiar with JLL products will know that the 'T' in the JLL T450 Folding Treadmill denotes "technology." This is a step up from the wildly popular T350 (which I've also reviewed previously – JLL T350 review).
The T450 is a big, powerful running machine with an 18 km/hour top speed, but it is the app connectivity, display and programmes which make this big mid-budget treadmill well worth the money.
JLL is a well-known name in the UK for exceptional after-sales service and with a fantastic warranty, you know you're in safe hands: 2 years on parts/labour warranty and 5 years on the motor with a lifetime guarantee on the frame.
So moving on to the treadmill itself.
This is a big piece of equipment, roughly half again as large as many of the smaller-priced versions. Measuring 168cm long by 72cm wide and 133cm tall at the top of the console, this gives you a 127cm x 42cm running area – plenty of room for a safe and comfortable run.
The shock absorbers, which are included by default, cushion your joints from jarring while you run and the engine is no slouch either; a 2.5 horsepower model that reaches 4.5 horsepower when you reach the top speed of 18 km/hour.
That's a powerful motor and pretty fast for most people.
The JLL T450 Digital Folding Treadmill has 20 levels of incline. This may be varied while you run, adding variety and intensity to your routines whilst helping you stay motivated. It also folds using its hydraulic arm to save space and the maximum user weight is 120 kg, or more than 18 stone.
New Generation Digital Control / USB Interface and Bluetooth
The JLL 'T' treadmills are compatible with a wide range of technology standards, including Bluetooth and USB and as such enters the new generation digital control.
You may play music or a podcast through the device's built-in speakers although this treadmill does not link to 3rd-party applications. This model will allow you to charge your phone or tablet while exercising.
The screen display is informative, you have a series of simple push buttons to control the speed from starting off to peak power and incline and the 20 pre-set programs will keep your routines varied.
A free chest strap is included with the T450. This allows you to monitor your pulse rate, which is displayed. As you gain experience you can use your own pulse rate to adjust your workout.
Disclaimer – This website contains affiliate links. If you find the information useful and click on a product link and make a purchase, a small commission will be earned by GymFreakz and we appreciate your support.
AND now onto the spec…
JLL T450 Digital Folding Treadmill Key Specifications
Motor: Peak power of 4.5 HP and dc continuous power of 2.5 HP
Speed: 0.3km h to 18km h / 0.18 mph to 11.2 mph
Running Area: 127 cm (length) x 42 cm (width)
Running Programs: 20
20 Level Incline
Maximum User Weight: 120 kg / 18.8 St / 264 lb.
Entertainment: High Powered Speakers, iPod/iPhone/MP3 Connectivity through the USB interface and Bluetooth® wireless connection / New Generation of Digital Control
Pulse Function: Heart Rate Band Included
Warranty: 2 years on parts/labour warranty and 5 years on the motor. Lifetime guarantee on the frame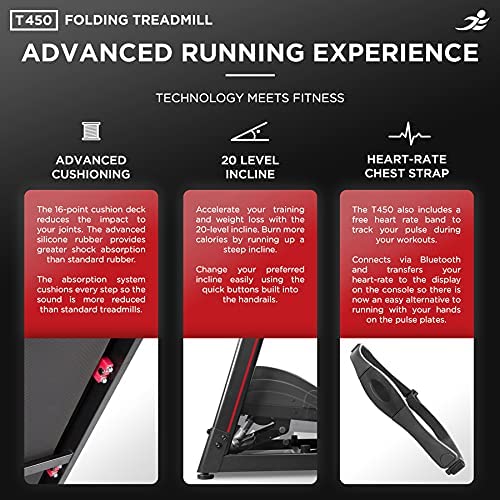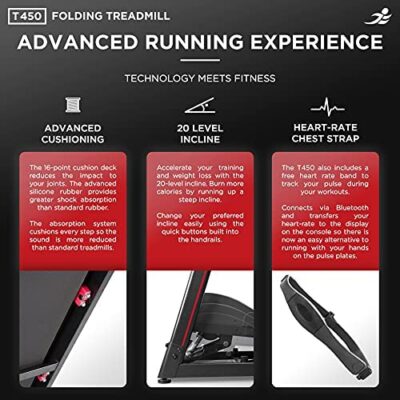 ---
FEATURES OF THE JLL T450 DIGITAL FOLDING TREADMILL
20 Level Incline
The 20 level auto-incline lets you burn up to four times the fat calories while walking, so it's great for burning off extra pounds. For easy access, adjust the incline of your stair using the handrails' incline buttons.
PLEASE NOTE: This machine has an initial gradient of 1 degree
Advanced Cushioning System
The internal cushion decks alleviate strain on your body and joints while enhancing comfort.
The cushioning system absorbs the kinetic energy generated when you run on the board, making it safer to run on and allowing you to train harder and longer.
Sensors Built into the Handrails
The equipment comes with a variety of adjustments for both speed and inclination on the front. The handrails include speed and incline buttons, as well as heart rate sensor plates.
Entertainment
Use a USB interface or the Bluetooth® wireless connection to keep your spirits up with your favorite music while you work out. Get rid of your headphones and listen to fantastic sound from the high powered speakers.
Phone Charging Port
Connect your phone to the USB port to charge it while you exercise.
Pause Function
Ideal for an emergency or taking a pause, you may stop your workout at any time by pressing the STOP button once and then restarting where you left off when you're ready.
---
PROGRAMS
With 20 programs to choose from, you'll never be bored when it comes to exercise options.
20 Running Programs
Choose from a variety of workouts for every runner, including walking, HIITs, time trials, and heart rate programs.
Heart Rate Program
The motorised treadmill will automatically adjust the running speed to keep you at your target heart rate.
---
WARRANTY
This treadmill will need maintenance to keep it running smoothly, and factors like where the device is kept and how often it's used will impact when the equipment requires service. It is encouraged to have this work done every six weeks.
The necessary instructions for performing this task may be obtained on the JLL support center or in the instruction book that is included when you purchase your item.
Treadmill Frame: Lifetime Warranty
Motor: 5 Years Warranty
Parts and Labour: 2 Years Warranty
PLEASE NOTE: When you first set up your treadmill, double-check the running belt to be sure it's in good shape!
This is a part of your machine's upkeep and it may be found in your handbook.
*Warranty may be subject to change without notice and may differ between retailers – please check carefully before making a purchase.
---
---
Overall Verdict For the JLL T450 Folding Treadmill
So is the JLL T450 Folding Treadmill Right for You?
The JLL T450 has everything you look for in a big, sturdy home treadmill from a well-known/reputable brand.
You can listen to your favourite music while you work out on this machine — and it comes with a variety of programs on the console. The 20 incline levels and 18 km/hour peak power, top speed are tremendous features for this JLL and add to its overall quality performance.
The JLL T450 treadmill is an excellent option for people who are serious about running or just want to take a walk every now and again. Great value for money and well worth the purchase price based on its features and performance, all backed up by a quality service.
---
---
---
FAQs
What is DC Continuous Power?
JLL T450 DC Continuous Power is a quality, high performance, ultra-quiet DC motor with continuous power or greater than 3 horsepower powered by EnergyCell™ technology. EnergyCell™ provides smooth and consistent power over the entire running surface of the treadmill.
Commercial Treadmills
The JLL T450 treadmill is a commercial grade, folding treadmill designed for anyone up to 120 kg. (One of the top folding treadmills designed for all abilities; and also a proven factor in weight loss).
Affiliate Disclosure
In compliance with the FTC guidelines, please assume the following about all links, posts, photos and other material on this website:
Any/all of the links on this website are affiliate links of which GymFreakz receives a small commission from sales of certain items, but the price is the same for you.
www.gymfreakz.com is a participant in the Amazon Services LLC Associates Program, an affiliate advertising program designed to provide a means for sites to earn advertising fees by advertising and linking to Amazon.com & Amazon.co.uk. Pages on this site may include links to Amazon and its affiliate sites on which the owner of this website will make a referral commission.