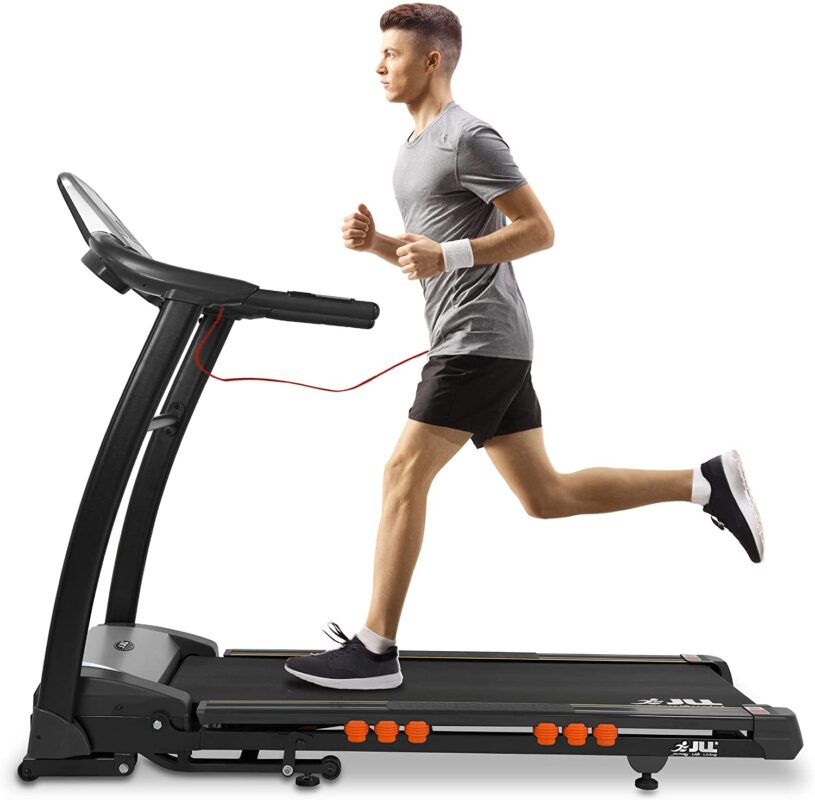 Introduction
---
Fitness Equipment Review
The JLL S400 Folding Treadmill is the newest version of one of the world's best-known premium treadmill brands, JLL Fitness Equipment. This version offers a number of benefits that make it an excellent option for any home gym.
Comparable
The JLL S400 is comparable to many treadmills you may find at your local gym, with a good top speed, power incline, good quality premium running belt, calories burned data, heart rate monitor along with many other features.
Unlike many home versions though, JLL offers more functionality and a solid 5-year motor warranty, as well as a lifetime frame guarantee making it a really great deal.
Top of the line
The S400 is the top-of-the-line variant of the JLL S300 treadmill, which was a big hit and one of the best selling treadmills with both amateur and experienced runners.
Differences
The primary difference between the two pieces of fitness equipment is that the JLL S400 running machine has a larger running deck / running area and includes Bluetooth wireless connectivity for the built-in speakers.
Aside from these two differences, they are very similar in build quality, motor output, incline settings, frame vibration and running surface.
Disclaimer – This website contains affiliate links. If you find the information useful and click on a product link and make a purchase, a small commission will be earned by GymFreakz and we appreciate your support.
JLL S400 Treadmill Key Specifications
Motor: Peak power of 4.5 HP and continuous power of 2.5 HP
Speed: 0.3 km/h – 16 km/h / 0.18 mph – 10 mph
Running Area: 135 cm (L) x 45 cm (W) / 53.1 inch (L) x 17.7 inch (W)
Running Programs: 15
Incline: 20 Level Incline
Incline Height: From the floor to the running deck. Lowest = 19cm / Highest = 26cm
Max User Weight: 120 kg / 18.8 St / 264 lb.Entertainment: LCD Display, High Powered Speakers, iPod/iPhone/MP3 Connectivity, USB connectivity interface and Bluetooth® wireless connection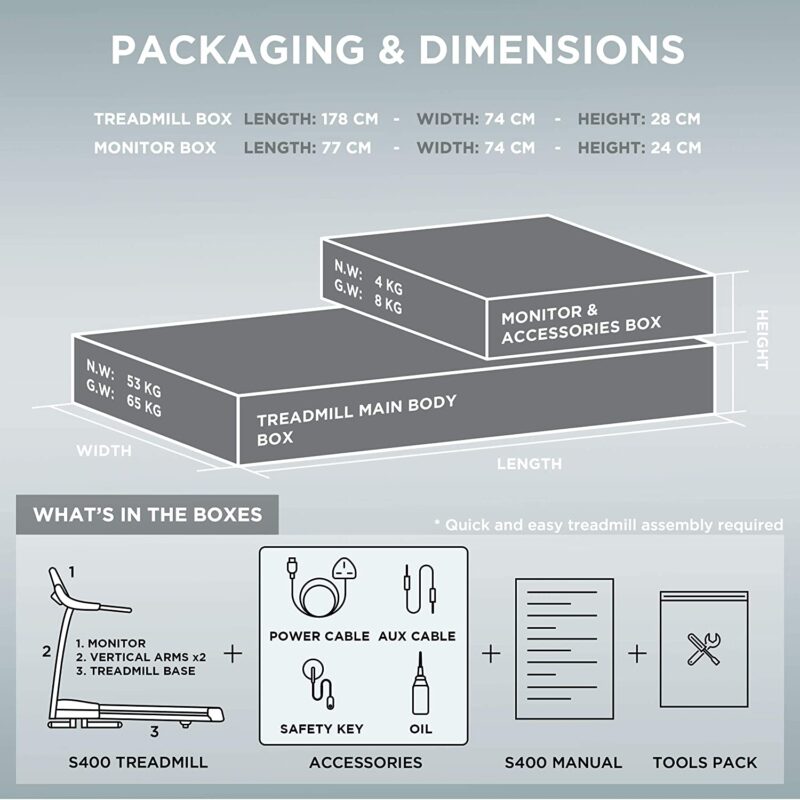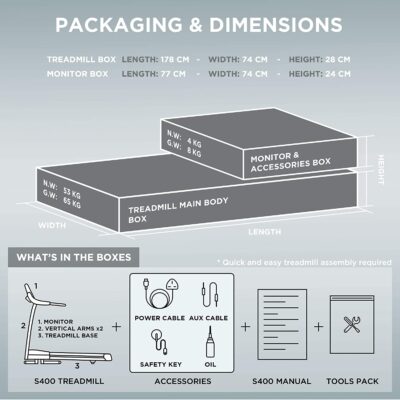 ---
KEY FEATURES
20 Level Incline
The 20 level auto-incline ranges will help you burn up to four times the fat calories while walking. For simple access, easily adjust your elevation using the incline buttons on the handrail.
*NOTE: This running machine has a starting slope of one degree.
16-Point Cushion System / Shock Absorption
The internal cushion deck shock absorption will help you relax and maintain your posture on the running surface while reducing the strain on your joints.
The cushioning system absorbs the impact of your training, making it safer to run on the board and allowing you to train harder and longer.
Sensors Built into the Handrails
The handrails include Speed and Incline buttons. Additionally, there are heart rate sensor plates on the handrails linking to the heart rate monitor on the digital display.
Entertainment
Stay motivated with your favorite running track music by connecting your iPod, iPhone, or MP3 to the AUX input or inserting a flash drive loaded with songs into the USB interface port.
Get rid of your headphones and hear how great the powerful built in speakers are with incredible sound.
Phone Charging Port
To charge your phone during your workout, connect it to the USB port.
Pause Function
You may pause your workout at any moment by pressing the STOP button once, then continue from where you left after you are ready.
Ideal for unexpected events or taking a break, you can stop your activity at any moment by pushing the STOP button and resume it later when you're ready.
---
PROGRAMS
The JLL S400 Folding Treadmill has 15 running programs to help you improve your fitness. Furthermore, the first three programs may be reset.
15 Running Programs
With the JLL S400 treadmill's 15 running programmes, it's fairly easy to challenge your fitness training by selecting your speed and fitness goals on one of these home models.
3 Custom Programs
Furthermore, you may reset the speed on the first three programs to get the most out of your workout if the goal is to get even fitter or to lose weight.
Heart Rate Program
The motorized treadmill will maintain your desired heart rate by automatically changing the running speed.
MAINTENANCE
Maintenance is required by JLL Fitness for this machine to function effectively. The amount of time between maintenance will be influenced by where the equipment is kept and how often it is used.
When maintaining, the belt should be cleaned, including all of the internal mechanisms of the treadmill, and also lubricate the moving parts and monitor for any loose bolts and screws and tighten if necessary (do not over-tighten).
There is maintenance information in the booklet that comes with your item, as well as the support center.
---
WARRANTY
Folding Treadmill Frame: Lifetime Warranty (great value)
Motor: 5 Years Warranty
Parts and Labour: 2 Years Warranty
PLEASE NOTE:
Before you start using your JLL S400 treadmill, double-check the running belt to ensure that it's free of any kinks or tears.
This is required maintenance for your equipment, and it is outlined in your user's guide.
*Warranty may be subject to change without notice and may differ between retailers – please check carefully before making a purchase.
---
The JLL S400 Compared to the JLL S300 Model
The JLL S400 Folding Treadmill offers a greater running area (5,000mm versus 4500mm) and Bluetooth connectivity for the speakers.
Larger Deck
The JLL S400 treadmill has a larger running deck with 12cm extra length and 4cm additional width than the S300. This larger running area helps enormously when running at higher speeds.
Consider the S300?
If you're average height or shorter and don't need the Bluetooth function, the JLL S300 is worth considering because it's about 25% less expensive.
---
---
Overall Verdict For The JLL S400 Folding Treadmill
The JLL S400 Treadmill features a number of premium characteristics, which means you won't find much to criticize with it. It's a gym quality treadmill and has a mid-range price tag, and it's long-lasting. The warranty is also excellent.
The digital LCD display shows all of your essential metrics, such as calories burned (great guage on weight loss), speed settings and mileage.
Its also Bluetooth enabled allowing you to connect to your smartphone or tablet to play music through the strong, built-in speakers.
The JLL S400 delivers a commercial-grade level of quality at an affordable price, making it an excellent option for people looking to increase stamina, reduce weight, or gain muscle.
---
---
---
FAQs
What is Maximum User Weight?
120Kg / 264 lbs, users with a weight of more than 120kg may damage the product.
Price and Availability Information Explained
Prices and availability may vary between retailers. Please ensure you're happy with both before you proceed with any purchase.
What are Classed as High Powered Speakers?
High powered speakers are typically speakers that will produce a louder sound than a computer or TV speaker.
How to Lose Weight on a Treadmill
There are many ways to reduce your weight but using a treadmill is one of the best options. Treadmills are not only used by athletes for their training but also by people who suffer from obesity and wish to achieve weight loss without putting in excessive effort.
Affiliate Disclosure
In compliance with the FTC guidelines, please assume the following about all links, posts, photos and other material on this website:
Any/all of the links on this website are affiliate links of which GymFreakz receives a small commission from sales of certain items, but the price is the same for you.
www.gymfreakz.com is a participant in the Amazon Services LLC Associates Program, an affiliate advertising program designed to provide a means for sites to earn advertising fees by advertising and linking to Amazon.com & Amazon.co.uk. Pages on this site may include links to Amazon and its affiliate sites on which the owner of this website will make a referral commission.