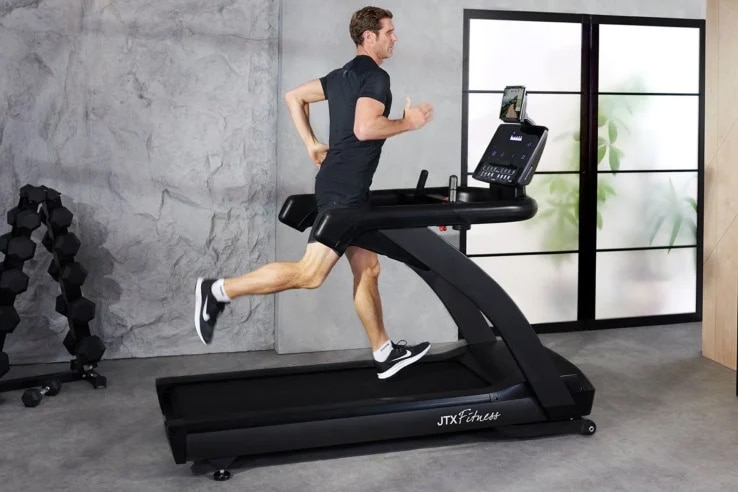 ---
---
Introduction to the JTX Club-Pro Professional Treadmill
Are you motivated to change yourself after watching a transformational video? Or are you looking to lose weight for an event around the corner? Well then, a treadmill might be the best exercise equipment for you.
Reports have shown that a treadmill can burn up to 1000 calories within an hour. If we use some calculations, a thousand calories are about 28% of a pound, so based on our assumption, you can lose a pound by working out for about 3 hours on a treadmill.
Isn't that great?
In this blog, we are going to discuss an effective treadmill that can help you move forward in your fitness goals. The machine is a semi-commercial treadmill, which makes it appropriate for both home and commercial gyms. The JTX CLUB-PRO: Professional treadmill has attracted the public eye since its launch so let's take a closer look.
The machine comes with an amazing motor, commendable cushioning, and various monitors for real-time statistics. The treadmill is also reliable as it comes with multiple warranties, covering different faults and repairs.
JTX has been a popular treadmill manufacturer over the last decade, and their treadmills have gained a reputation for their reliability and efficacy.
We shall continue to discuss the treadmill in further detail throughout the sections of our blog.
The free tablet holder and high-quality components are popular features that add to the trainer's experience with the treadmill.
Are you interested in knowing more about the treadmill?
Well, then, keep on scrolling as the latter section of the blog will describe the treadmill and its specifications in complete detail.
Disclaimer – This website contains affiliate links. If you find the information useful and click on a product link and make a purchase, a small commission will be earned by GymFreakz and we appreciate your support.
---
Specifications
Running Area: 155 cm x 57 cm
Cushionstep™ Pro Deck
Maximum speed: 22KPH
Incline: 15 Levels
Suspension: 8 Point commercial shock system
Computer Console: Advanced computer
All key statistics monitors including time, pulse, speed, incline, distance, and calories burnt
Workout Programs: 43 Workout Programs
Heart Rate Training: Yes
Power: 4 Horsepower AC motor
Roller Size: Front Roller: 2.8″ / Rear Roller: 3.3″
Folded Dimensions: Fixed, Non-Folding
Dimensions: 87 (w) x 211 (l) x 170 (h) cm
Floor-to-Deck Height: 28cm (11″) (flat deck)
Boxed Dimensions: Box 1 – 222(l) x 95(w) x 39(h) cm,
Box 2 – 180(l) x 97(w) x 29(h) cm
Safety Features: Safety key for emergency stop
Speakers: Yes
Transport Wheels: Yes
Max. User Weight: 160kg (25.2 stone) (352.7 lbs)
Machine Weight: 167kg
Boxed Weight: 192kg (Box 1 – 140kg, Box 2 – 52kg)
Polar compatible: Built-in Polar receiver.
Free Accessories: Free Tablet Holder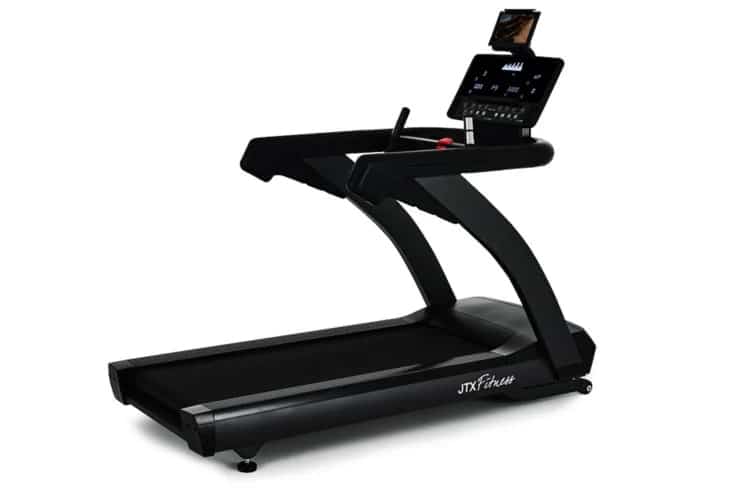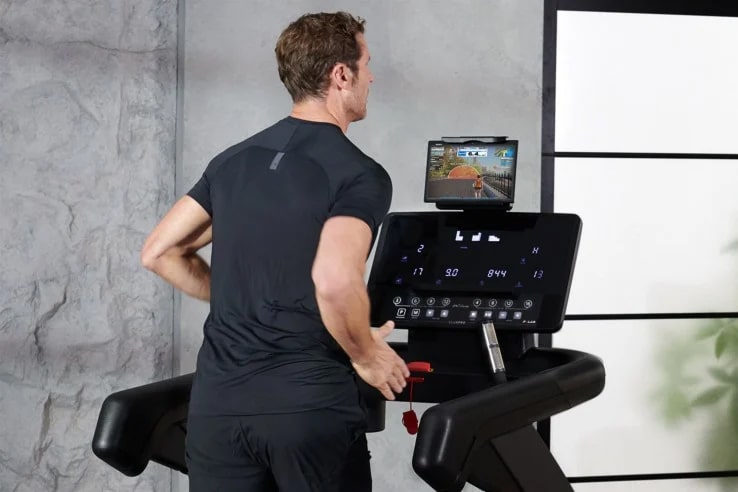 ---
Features
Made for High-intensity
JTX has been popular for producing innovative gym equipment; their treadmills collection has a mix of residential and commercial treadmills. JTX club pro: professional is a hybrid between a commercial and residential treadmill; it has an appropriate size and price for home gyms, but its high-quality motor and running deck makes it perfect for long-term usage.
The treadmill motor plays an important part in ensuring the durability of your treadmill. For motorized treadmills, the treadmill motor powers the running belt and helps it rotate. The speed of the belt is dependent upon the capacity of the motor.
For most intensive training regimes, the trainers will require a high speed and incline, which creates a significant strain on a motor. A low-powered motor might not be appropriate for periods of high-intensity intervals regardless of its quality.
For instance, a 2.5 hp motor is suitable for regular brisk walking sessions, but if you use the same treadmill for high intensity or as a gym treadmill, the treadmill won't suffice your goals, and it could well become a technician's weekly service visit.
JTX club pro comes with a high-powered 4 hp motor that can rotate the belt at 22 mph with a top incline of 15%. Unlike most commercial treadmills, the motor isn't overpowered, which will be handy in saving you extra pounds on the electricity bill.
Serious runners and regular trainers can utilize the running machine regularly and make the most of it without worrying about costly repairs.
Unparalleled Stability
Sometimes, you might think that opting for a public park for your running will be a cost-effective alternative to buying a treadmill. You can save a hefty investment and might be able to use it elsewhere. Some trainers might even start running on a track in a nearby park. But their fitness goals don't materialize, and they end up quitting sooner or later.
Do you know the reason behind the early fall?
Public tracks are made of concrete and cement bricks which make them stiff. Hence, whenever you run on them, the bricks transfer an equivalent impact on your foot strike during your run.
The opposite force not only shortens your workout by causing fatigue but also creates knee and joint injuries. Eventually, the trainer ends up thinking that exercise isn't for them, so they go back to their previous lifestyle.
On the other hand, a treadmill comes with a running belt made of rubber and polythene, making it pressure absorbent. Hence, whenever you are running on it, it will absorb the pressure of your strides and transmit negligible stress to your sole.
JTX club pro comes with an even better Black-diamond running belt with CushionStep cushioning. The running belt is made of elastomer, which makes running as easy as you like; the elasticity of the belt helps you retain posture without getting tired.
To further enhance the stability and protect your joints, the JTX club pro treadmill has an 8-point shock and suspension system. If you have used low-quality treadmills, you would know that the running machines start rattling as they get old.
However, in the case of the JTX club pro, you won't face such a problem. The suspension system absorbs the pressure of your strides and keeps the belt stable regardless of an angular or flat treadmill.
22.5-inch gigantic screen
In the world of advancing technology, a conventional small screen treadmill won't attract many runners. Unlike most treadmills, the JTX club pro contains a massive 22.5 inches screen, containing the speed and incline buttons. The positioning of the LCD allows the user to change the intensity of the exercise without getting distracted by the complexity.
Similarly, the LCD also contains a list of monitors that can help runners analyze the progress of their cardio training. Pulse sensors and calories burnt monitors shall help you determine the efficiency of each workout. Other workout stats may also provide a comprehensive view of the workout.
The screen also has 43 pre-installed workout modes integrated into it. The workout modes contain a mix of low, moderate, and high-intensity workouts, helping trainers based on their training needs. The treadmill also allows trainers to add 3 different custom workout modes for themselves. Hence, if you are hesitant to try new workout modes, the treadmill could be a good answer.
The workout modes allow trainers to focus on their workout without getting distracted by changing speed and intensity after each interval. HIIT workouts are also an important component of the machine.
Now, you won't have to run after a coach to determine what fits your training needs. Instead, you can try the workouts to find out what suits you best.
Free Application Integration
JTX reviews have been an important addition to the JTX framework; it includes reviewing fitness apps and gadgets that can increase the effectiveness of JTX products. Most of these products are free for JTX users; however, some may require an additional cost for better features.
A well-known integration is kinomap; it is a google map-based technology that connects trainers and athletes from around the world and you can connect this application to your running machine. It will monitor your progress, and take you through outstanding sceneries from around the world. Kinomap shall also help you build a network with other runners that will keep you motivated towards your goals.
There are several other fitness apps too, which can be connected to JTX club pro. Most fitness apps come in handy to monitor your progress and attain insights into your workout's effectiveness.
Comprehensive Warranty Cover
Most fitness trainers are reluctant to buy a treadmill due to its high cost; the costs aren't only limited to the purchase price, but the cost of future repairs is also a burden on the pocket. To solve the problem, JTX club pro comes with a wide range of warranty covers that can help trainers enjoy their workout without worrying about repairs.
The treadmill is made from high-quality components, which makes it highly durable and resistant to frequent faults. The treadmill has a non-folding frame, ensuring better stability and longer life. JTX has a confident outlook for the treadmill's frame, and it offers a lifetime frame warranty.
Similarly, another expense related to a treadmill is the costly motor repairs. The treadmill motor is the most crucial aspect of the treadmill, and if it isn't in its best state, the workout won't be enjoyable. JTX has prepared an impressive 10 years motor warranty, which speaks for the motor's reliability.
Moreover, JTX club pro comes with a three-year in-home warranty and a 1-year commercial-use warranty. In the unlikely event of a breakdown, the warranties provide a cover for both the cost of labor and parts of the treadmill
---
---
Warranty
3-year in-home warranty
lifetime frame warranty
10 years motor warranty
28 days money-back guarantee
1-year commercial-use warranty
*Warranty may be subject to change without notice and may differ between retailers – please check carefully before making a purchase.
---
---
Overall Verdict:
JTX fitness has been a forerunner in creating innovative fitness equipment that appeals to the masses. JTX club pro is an amazing treadmill filled with features for regular trainers. It is a great choice for hard-core trainers looking to create a personal training studio for themselves. It has a wide range of features that makes it great to use.
With a high top speed and incline, the treadmill is great for HIIT workouts that can quicken your weight loss journey. JTX has selected the right word to brand the treadmill- "semi-commercial"- as it isn't a completely residential treadmill nor a commercial one. If you are a home gym owner who is looking to conduct HIIT workouts, the treadmill is a better option than most residential treadmills.
However, if you are a beginner or a gym owner, then there are better options that you can look out for at either end of the treadmill spectrum.
---
---
---
What I Liked About This Treadmill / Things That Could Have Been Better
I have been using the treadmill in my gym for the past year, and it has been a great experience so far. There are several features that I love about the treadmill, but there are also some limitations. So, let's first discuss what I like about it. The treadmill is amazingly stable. It comes with an 8 point suspension and the JTX special Black-diamond belt, making it incredibly reliable.
The treadmill is under use for about 4-7 hours each day, and its performance has been top-notch. I haven't noticed any creaking noises or rattling sounds during high-paced runs. The 43 workout modes are another amazing perk. JTX has thought about these workouts, and they are pretty effective for all levels of runners.
The composition of speed and incline is different in each workout, and they are good for different uses. Similarly, the treadmill comes with a 22 mph top-speed and 15 incline levels- close to most commercial treadmills. JTX club pro has looked good for high-intensity interval training.
My decision to purchase the treadmill was based on its warranty cover. In a gym, I need to have machines that can last for a long time. If a machine isn't working, the other treadmills have to suffer the load, and that then puts them at risk too. The JTX club pro comes with a 10-year motor warranty and a lifetime frame warranty, which could well save me a fair amount in the long run.
Despite all of its features, there are some limitations to the treadmill. JTX has branded it as a "semi-commercial" treadmill, which means it is applicable for both home and commercial gyms.
However, the treadmill isn't a complete fit for both locations. As JTX club pro is a compact treadmill, it comes with a slightly smaller running deck and motor. It has a 4hp motor, while JTX club pro max has a 6hp motor, which is more suitable for heavy-duty and long hours in a commercial gym.
For home gyms, the problem is their frame. Unlike the JTX's Sprint series, JTX club pro doesn't have a folding track, which means it occupies more space in your house compared to its alternates. I believe that the treadmill is an ideal fit for a personal training studio but have reservations about the formerly mentioned locations.
---
FAQ's 
Is the JTX treadmill better than the Bowflex treadmill?
Well, both of these brands have been operating in the fitness market for several years, and they have created a brand reputation. The prices of similar types of treadmills are the same for both brands. It comes down to the user's choice regarding which treadmill they think would fit their needs better. JTX club pro features high-end cushioning and stability, making it ideal for most users.
Can I set personalized workouts in JTX club pro?
JTX club pro comes with 43 pre-installed workout modes and 3 custom modes. You can alter and save the custom modes as per your workout requirements. The purpose of programmed workouts is to help trainers focus on their workout without worrying about changing the pace and incline after each interval.
A few final words of support and insight
Most trainers are in a hurry to begin their weight loss journey. They are motivated to get rid of the excess fat within a week or two. However, our body doesn't work that way. Results are often slow, and it might get demotivating to see the same weight after a few exercise sessions. To avoid demotivation, it is better to opt for a treadmill. Comparatively, treadmill running is the fastest way to lose excess weight.
However, finding a usable treadmill is harder than it sounds. The first location you think of to use a treadmill is a gym. However, gym treadmills are often taken by individuals who will set them at 3 mph and occupy the machine for the rest of the hour. And when they are done with it, the machine is filled with sweaty drops all around, making it pretty disgusting for the next runner to use.
The other option is to buy a treadmill for yourself and start a home gym, however, the search for the right treadmill can be confusing.
We have got dozens of reputable brands reviewed; all of which have hundreds of treadmills that come with different specifications and price ranges. As a hefty investment is involved, a home gym owner won't want to get their decision wrong. Treadmill selection is based on a variety of factors such as the treadmill motor, running deck, LCD computer, top speed, and much more.
It is often difficult to understand how important each factor is and which qualities can be compromised to get a lesser price. Hopefully, by researching this site fully, you'll be able to select the right treadmill to suit your needs and make your purchase accordingly.
---
Affiliate Disclosure
In compliance with the FTC guidelines, please assume the following about all links, posts, photos and other material on this website:
Any/all of the links on this website are affiliate links of which GymFreakz receives a small commission from sales of certain items, but the price is the same for you.
www.gymfreakz.com is a participant in the Amazon Services LLC Associates Program, an affiliate advertising program designed to provide a means for sites to earn advertising fees by advertising and linking to Amazon.com & Amazon.co.uk. Pages on this site may include links to Amazon and its affiliate sites on which the owner of this website will make a referral commission.