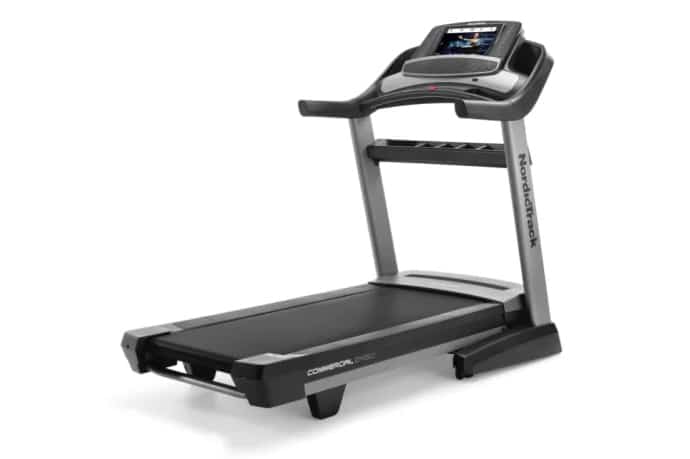 Introduction to the Nordictrack Commercial 2450 Treadmill
Nordictrack treadmills are known for their extraordinary treadmills! The same goes for the Nordictrack Commercial 2450 treadmill which is a step-up from the previous Nordictrack Commercial 1750.
The Nordictrack Commercial 2450 has some amazing features including a powerful motor, great incline and decline option, a larger display screen, and a large deck.
This treadmill is great for people who want to run, walk or hike and iFit is also included for the first month. With the iFit option, you can run or jog anywhere while enjoying your views so your workouts will never be boring with this extraordinary treadmill!
Innovate your running experience with the new updated 14-inch HD screen, active pulse technology, new innovative design, and two 3" digitally amplified speakers sound system!
Nordictrack Commercial 2450 treadmill is going to be one of the most immersive treadmill experiences you will ever get!
So if you plan to run, walk or jog on a treadmill that also folds then this treadmill is for you!
Disclaimer – This website contains affiliate links. If you find the information useful and click on a product link and make a purchase, a small commission will be earned by GymFreakz and we appreciate your support.
---
Specifications
Motor: 4.0 CHP DurX™ Commercial Plus Motor1
Running surface: 55 x 152 cm Tread Belt
User weight: 135kg
Foldable? Yes
Footprint in use: 209L x 99W x 150H cm
Footprint when folded: 108L x 99W x 185H cm
Max speed: 0-22 KM/H Speed / 12 MPH
Incline range: -3 percent to 15 percent
Electrical requirements: 120 V
Belt: 2 Ply commercial tread belt
Roller size: 2.5 inches precision and balanced non-flex rollers
iFit integrated google maps
Dual 3 inch digitally amplified speakers
Workout fans dual auto breeze
Integrated Tray
Product weight: 154 kg
Smart hd touchscreen
Quiet drive incline tech
Stable surface
Automatic Trainer Control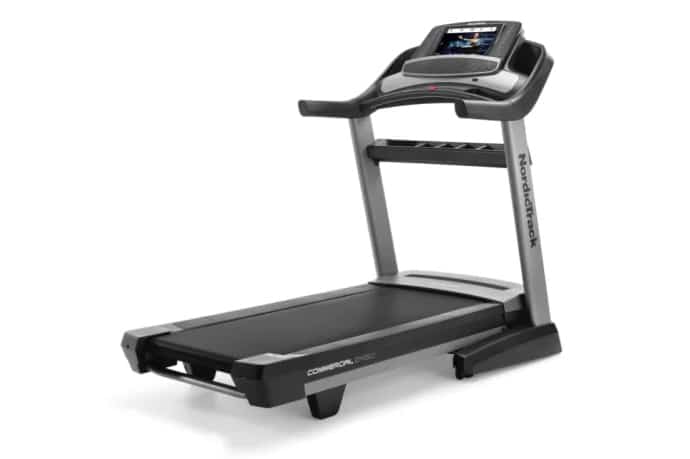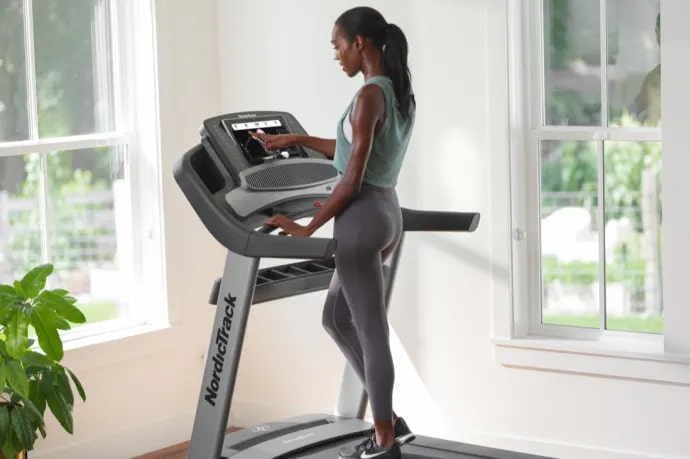 ---
---
---
Features Of Nordictrack Treadmill
Incline/Decline range of Nordictrack treadmills
The incline and decline range of this treadmill is great. They make sure that you don't just walk on a straight path but also give you some variations in your workout. It is great for runners and those people who like hiking routines.
The incline and decline settings were steady and responsive and with the quiet technology, the treadmill is not only quieter but also gives a very smooth feel when you work out on this treadmill.
When you move the incline settings from 0% to 15% it only takes under 22 seconds and then when you descend back it doesn't even take 20 seconds. While working out on this treadmill you won't feel the need to even hold the handrails since the incline and decline are so smooth you might not even feel it!
With the incline options, you can rest assured that they will get you a variety of workouts that you need. Even if you're training for a 'hilly' marathon this treadmill will give you the practice you need without even getting out of your house!
Runners Flex Cushion
The runner flex cushioning is one of the best features of the NordicTrack treadmill! When compared to running outside this feature of this treadmill reduces the impact on feet by 30 percent! This is great for those people who have a problem with injury or those people who find running painful!
To turn the runner's flex cushion on all you have to do is select ON using the lever that is given on the side of the deck you can also turn it OFF if you want to experience road-like conditions while running.
If you turn the button ON the button is turned down, away from the deck and this is what allows more flex while running.
iFit Subscription and Elite ifit Trainers
The Nordictrack Commercial 2450 treadmill comes with an iFit subscription free for the first month. You can also have 5 profiles and with over 16000 classes to choose from you will never get bored on this treadmill!
With an iFit subscription, you will get studio-based classes with elite ifit trainers that include boot camps, interval training, and combo routines that allow you to build your strength and burn more calories. The trainer will guide you at every step and iFit will also automatically adjust speed and incline options for you at the direction of the trainer.
You can walk, hike or run in the most exotic outdoor locations. While you workout around the world the trainers will adjust your incline and decline range according to the workout you're doing or the hike you have chosen.
You can also choose off the treadmill classes and for that, all you have to do is log in to your iFit app and select the Menu bar from there you can choose Daily workout and you will have lots of options to choose from for your workouts. The personalized workout stats will also be available for you to see and you can also do cross-training workouts.
One thing to note while using all these workouts is that you will need a wi-fi connection if you want to work out even without iFit. Classes are led by ifit trainers and ifit professionals in real locations. A 3o minute workout will just fly by and you won't even know where the time went while doing those workouts.
There are also increased training variables and this is especially important because you can combine different workouts together and create your own workout without even having to go to a gym!
The trainer-led workouts and live workouts will assure you that you get a great workout in and you can also stream live workouts! The automatic trainer control will also make sure that you don't have to worry about changing the speed all the time while working out.
Frame
The frame is built on an all-steel frame and this treadmill has a sturdy feel.
Nordictrack is well known in the industry for the high-end design and durability of their machines! This folding treadmill comes with the latest workout technology.
Deck
The treadmill deck of the NordicTrack Commercial 2450 treadmill is sturdy and the size of the belt provides added length at both sides of the treadmill. For people who are tall, this option is great for such people since it gives ample space for a tall person to work out.
In fact, every person will enjoy the extra space without being too close to the side rails all the time.
The rollers are also balanced and pull the belt along the running surface and underneath the deck. Since the diameter of the rollers is large this gives an added advantage because it creates less tension between the belts and there is also an additional area to grab the belt and move it around.
The 2 ply belt is also nice and thick and the belt has a nice texture and feel underneath.
Motor
The 4.0 CHP DurX motor is an impressive motor in the Nordictrack Commercial 2450 treadmill! It also has a self-cooling feature that keeps the motor cool at all times and the powerful motor keeps the machine moving in an easy way to easily change speeds between the training.
It also performs well if you change the incline and decline speeds suddenly!
Foldable
This treadmill is easy to fold and locks up securely using its SpaceSaver® Design with EasyLift™ Assist. Press the bar that is against the release bar to help unlatch the deck and it won't unlatch itself and fall on the floor which can be a major worry for most parents!
---
Warranty
The warranty for this treadmill is as follows:
Frame: 10-year warranty
Parts: 2 years
Labor: 1 year
*Warranty may be subject to change without notice and may differ between retailers – please check carefully before making a purchase.
---
Let us take a look at some of the pros and cons of the NordicTrack x32i treadmill!
---
Overall Verdict:
This treadmill is definitely one of our favorites and with so many options to choose from this treadmill is a definite front runner amongst all comers!
The Nordictrack Commercial 2450 is a great treadmill for people who want a quality workout. The machine is sturdy, comes with amazing features, and a free subscription to ifit for the first month!
If you're looking for a durable and quality treadmill then this is the one for you! With an incline and decline, top speed of 12 mph, 14 inch LCD screen, and a family membership for the first month, this treadmill has everything you need to get a great workout.
Make sure to position the incline and decline ranges of this treadmill correctly to avoid any injuries, and be careful not to let anything fall under the machine when in the decline position!
In short, the Nordictrack Commercial 2450 is a great purchase for anyone looking for a quality treadmill and comes highly recommended.
---
What I Liked About This Treadmill
There are many things that one would love when you use this treadmill and that's how my experience has been! With so many amazing qualities in this treadmill, it has to be hard for anyone not to love it!
Let's take a look at all the things I like about it!
Incline and Decline
The incline and decline of this treadmill were great and worked exceptionally well and it was not that extreme that it might be a problem for people who are prone to injuries. You can also workout without any incline and decline range and still have get a great workout in!
The top speed of this treadmill is not too high making it easier for everyone to use! So if you can't go outdoor running for whatever reason then this treadmill is your answer to all your problems!
It is one of the best treadmills which also comes with a free information kit. The entire body of this treadmill is made up of steel and along with other workouts you can also do strength training yoga and complete training help is also provided!
iFit Subscription
This treadmill comes with an iFit subscription that is free for the first month! The ifit community will help you to get the help you need and when compared to other treadmills this treadmill provided a lot of different options!
You can also use this machine in manual mode and it is one of the finest treadmills in the treadmill industry!
It comes with a free family membership for the first month, giving you an ifit experience like no other! Family membership auto-renews won't happen after the first month so make sure to subscribe to it if you like it!
There are many training options to choose from and this machine is great for weight loss, walking, running, or hiking!
Screen
The 14-inch screen of this treadmill is one thing I like the most about it not to mention the self-cooling feature which also allows the screen to run smoothly without any hiccups or problems. This is perfectly lit for your workouts and is neither too bright nor is it too light…
…as in it's just the right amount of brightness for you when you workout!
What I Didn't Like About It
To be honest there wasn't much to mention here so had to really struggle just to come up with this minor (albeit obvious?) point.
Positioning of Incline/Decline
Make sure that the incline and decline ranges of this treadmill are given some space on the ground since this treadmill sits a little above the ground. When in the decline position the treadmill will go below o percent so make sure you don't have anything under the treadmill for it to go down smoothly.
Also when you incline the machine it will go a little higher so make sure that you have enough space at the top of the treadmill as well to make sure no one gets hurt while working out on this treadmill!
---
---
FAQ's
Can you watch tv on the Nordictrack Commercial 2450?
Yes, this is the latest addition to this treadmill that you can watch tv on this treadmill.
Can you use Nordictrack 2450 without the internet?
No the Nordictrack 2450 treadmill will not work without the internet and to use the screen and connect with other applications you will need the internet connection.
Does The Nordictrack Fold Up?
Yes, all the treadmills of this series will fold up with EasyLife Assist technology.
---
Affiliate Disclosure
In compliance with the FTC guidelines, please assume the following about all links, posts, photos and other material on this website:
Any/all of the links on this website are affiliate links of which GymFreakz receives a small commission from sales of certain items, but the price is the same for you.
www.gymfreakz.com is a participant in the Amazon Services LLC Associates Program, an affiliate advertising program designed to provide a means for sites to earn advertising fees by advertising and linking to Amazon.com & Amazon.co.uk. Pages on this site may include links to Amazon and its affiliate sites on which the owner of this website will make a referral commission.