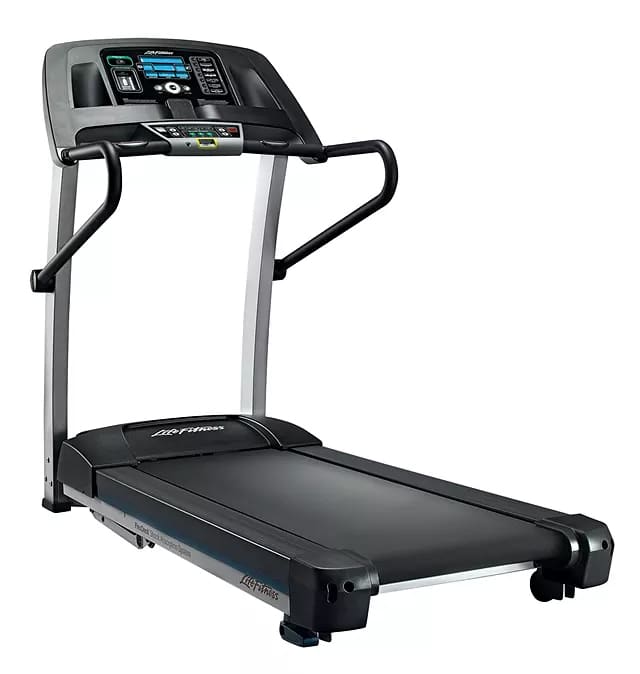 ---
---
Introduction to the Life Fitness F1 Smart Folding Treadmill
Outdoor workouts can hinder your fitness routine due to severe weather conditions, procrastination, kids, and any work-from-home commitments. We therefore often look at easy home fitness solutions to keep our workout regime in the circle and what could be better than a wide running track just installed in your lounge?
A treadmill is the finest of home fitness equipment. Working out on a treadmill is an engaging experience as it not only helps to tone your muscles but also keeps you fit and active at home. The Life Fitness F1 Smart Folding Treadmill is a great choice if you are looking for a combination of ease, convenience, and effectiveness.
Life Fitness F1 Smart Folding Treadmill is a premium life fitness equipment that gives you a professional workout experience in your own home. Its innovative features help improve heart health, tone muscles, and allows you to experience gym-like workouts. Moreover, it takes up minimum storage space and can be folded easily. It comes with innovative features designed for customer feasibility.
The Life Fitness F1 Smart Folding Treadmill might cost you some cash at the start but is a wise investment, as it promises long-term durability and effectiveness. Its high-quality components ensure its durability and will help you achieve your fitness goals.
Disclaimer – This website contains affiliate links. If you find the information useful and click on a product link and make a purchase, a small commission will be earned by GymFreakz and we appreciate your support.
---
Specifications
Brand: Life Fitness
Material: Blend
Model: F1 Smart
Incline: 0-12%
Energy Efficient: Yes
Save Incline Positions: 03
Minimum Speed: 0.8kph
Maximum Speed: 19kph
Motor Power: 2.5 HP
Dimensions(Operating): 196x87x150cm (LxWxH)
Running Track Dimensions: 51cm x 140cm
Walk, Jog, Run: Yes
LCD Display: Yes
iPod Connectivity: Supported
FlexDeck Shock Absorption System: Yes
Pre-programmed Workouts: Yes
Hand Pulse Sensors: Yes
Headphone Jack: No
Safety: CE, CEN, CSA, TUV, UL Certified
Ergo Bar: Yes
Integrated Reading Rack: No
Heart Rate Monitor: Included (Wireless Chest Strap Included)
Storage: Folding and Easily Rolled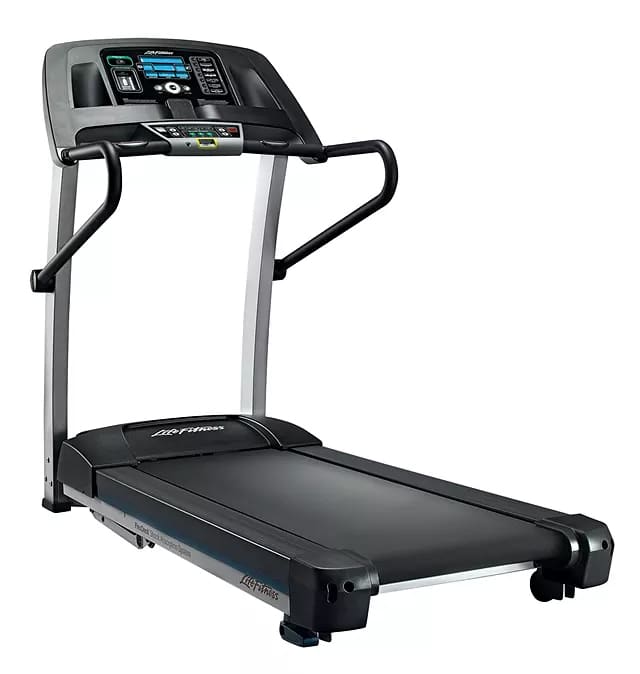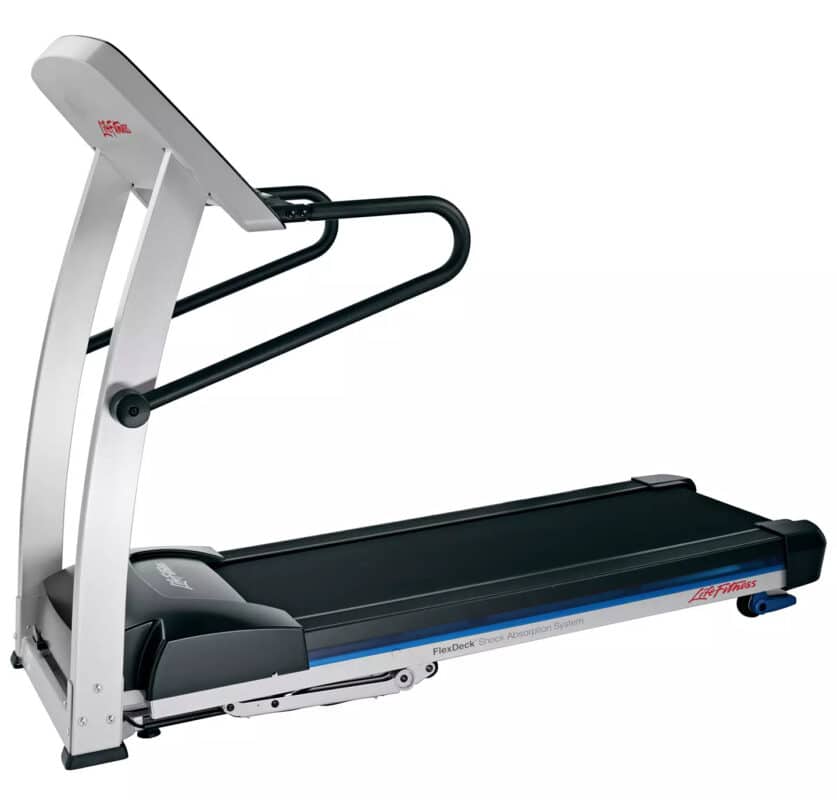 ---
Highlighted Features:
Energy Saving:
The Life Fitness F1 Smart Folding Treadmill is eco-friendly and a great energy saver. It saves up the energy with its highly effective and well-integrated energy-saving system. It has an installed Energy Saver Button that helps you save energy when you are not using the treadmill. Moreover, it has a 2.5HP smart motor that boosts the energy efficiency of the treadmill. The smart motor knows when to stop utilizing more energy. In simple words, the heavier weighing person draws more energy than a lighter weighing person. This way, the energy is optimized and used according to your weight.
Quick Start
What is better than having your preferred options saved already? Quick Start saves time and effort of going through settings and selecting different programs and speeds. The QuickStart feature remembers your preferred walk, jog and run speeds. Moreover, you can save your 3 favorite incline positions so that you do not have to go through the trouble of setting up your workout equipment before each session.
Workout Pannel:
The treadmill offers several pre-installed programs. In addition, it also allows you to run downloaded workout programs. The programs are designed on the models of easy fitness solutions that help you achieve fitness goals. The workout panel allows you to choose from the following programs:
Manual
Hill
Random
Fat Burn
Cardio
Fit Test
Cool Down Mode
These seven programs are highly effective and aid in toning muscles and burning fat. Moreover, you can run pre-programmed workouts by connecting them to the treadmill.
Heart Health and Wireless Chest Strap:
The Life Fitness F1 Smart Folding Treadmill promotes and monitors heart health. The equipment includes a chest strap (wireless). The strap is connected to the display, and it receives signals from the heart and interprets them. The signals are transmitted to the screen, and your heart rate is displayed. It is highly beneficial as it helps you modify your workouts in an optimal heartbeat range. It also has hand pulse sensors installed. These sensors interpret heart signals through the skin.
Commercial Quality Fitness Equipment:
Now you can tone muscles in your home setting with the Life Fitness F1 Smart Folding Treadmill giving a commercial-quality fitness experience. It is home gym equipment that promises a variety of well-integrated programs and high efficiency. If you want to experience the heat of the gym at home, the F1 will be a wise investment.
Shock Absorption and Flexdeck Cushioning:
FlexDeck Cushioning System makes it safe for use and reduces joint stress. The innovative cushioning makes it easy on the knees and can reduce up to 30% chances of body shocks. With cushioning, the risk of injury is reduced. Flexdeck shock absorption system is usually used in gym equipment and high-quality workout machines. Life Fitness offers this exclusive feature in the F1 Smart Folding Treadmill, making it premium fitness equipment.
Incline Positions:
The incline helps your fat burn rapidly. The Life Fitness F1 Smart Folding Treadmill comes with a 12% incline. You can increase 0.5% incline with each push of the button. Also, the QuickStart feature allows you to save your three different incline positions. With a 12% incline, you can do gym-like workouts at home.
Child Safety Lock:
With kids and pets at home, it is usually not safe to keep workout equipment in their reach. There are high chances of them mistakenly operating the machines. Luckily, the F1 Smart Folding Treadmill comes with a child safety lock. It has a safety lever that enables operating the treadmill with a key. You can simply lock it and relax while your kids and pets can play around. This treadmill will be an exquisite and safe addition to your home setting.
Personalized Experience:
The treadmill provides a personalized experience as it gives you connectivity options. You can now connect your iPod and listen to your favourite music during your fitness regime. Also, the iPod dock allows you to charge your device while still playing your favourite music. Moreover, the panel contains an accessory tray. The accessory tray has 2 cup holders for your protein shakes and other drinks.
LED Display:
In the centre stage, an LED display is integrated. The rectangular displays settings and program details. These details include incline, time, speed, pace, caloric count, heart rate, and distance covered.
High Durability Home Fitness Equipment:
The popular brand, Life Fitness promises the high durability of the F1 Smart Folding Treadmill. The electrical and mechanical parts have high resistance to pressure and workload. Moreover, durability is also promised by the patented system and flexdeck shock absorption system. When searching for a treadmill for home, people usually look for higher durability, as home equipment is often used by more than one user. The Life Fitness F1 Smart Folding Treadmill is a compatible life fitness equipment that can be used by multiple users.
Free Installation:
Although, the Life Fitness F1 Smart Folding Treadmill does not need any high services it does require installation and initial setup. Life Fitness provides its customers with the gift of free installation.
Life Fitness Connect App – Life Fitness Virtual Trainer:
The Life Fitness connect is a virtual trainer app that is free for all users. It does not require setups and expensive signups. The virtual trainer website helps in creating fitness solutions for all body types. Life Fitness connect app makes Life Fitness treadmills more effective as it boosts programs and workouts. You can seamlessly connect to the app, and create pre-programmed workouts.
---
Warranty
The Life Fitness F1 Smart Folding Treadmill comes with a lifetime warranty on the frame. Moreover, it includes a 3-year warranty on electrical and mechanical parts of F1 Smart Treadmill. Also, Life Fitness provides a one-year labour warranty. The company provides a good service throughout the year in case of any issue.
*Warranty may be subject to change without notice and may differ between retailers – please check carefully before making a purchase.
---
Pros And Cons
Pros:

Convenient Storage:
Life Fitness F1 Smart Folding machine can easily be folded and stored in a convenient storage area. It is space-saving, and a great choice for small homes. Once you are done working out the equipment can be stored in minimum storage space.

Heart Health Monitoring:
Heart health is the most important factor for extensive workouts. During exercise, you need to keep a track of your heart rate so that you can modify workout intensity according to your pulse. So, heart rate monitoring is an exclusive feature of the F1 Smart Treadmill.

Shock Absorption:
The flexdeck shock absorption system makes the Life Fitness F1 Smart Folding Treadmills one of the safest treadmills by the popular brand. It reduces joint and knee stress and prevents the body from shocks. Moreover, it reduces the chances of injury.

Overall Quality:
F1 Smart Treadmills are premium quality treadmills with innovative and classy built-up. The blend of materials is used in the frame to protect it against abrasion, physical stress, weather conditions, and chemical severity. Moreover, its innovative features and modern technology make it a great choice for daily workouts. It has effective biomechanics and can help reduce fat and maintain a healthy lifestyle by just staying at home.

Energy Efficient:
The Life Fitness F1 Smart Folding Treadmill is energy efficient. It puts less strain on your electricity bills than conventional treadmills. Life Fitness introduced an Energy Saver button on the F1 Smart Treadmill. Energy Saving mode draws power according to workout and user weight. The heavier the workout and user, the more power is drawn.

Life Time Frame Warranty:
Companies do not usually give lifetime warranties on folding treadmills. Life Fitness provides the best warranty options. The lifetime frame warranty means the treadmill is durable and long-lasting.
---
Cons:

No Workout Fan:
Workout fans are essential to maintain body temperature and reduce fluid loss. Unfortunately, the F1 Smart Folding Treadmill does not have an installed workout fan. Thus, it may cause extreme sweating and fluid loss. It is a misconception among many that workouts are adversely affected by fans. Contrary to that, fans help maintain an effective workout and increase endurance. You can work out longer because of fluid retention.

No Headphone Jack:
The Life Fitness F1 Smart Folding Treadmill does not come with a headphone jack. You can not enjoy music all by yourself. Instead, if you are planning to listen to music, you will have to connect your iPod and play the music loud.

Short Track Length:
Though the track is wide it lacks the preferred length for a treadmill. The treadmill track is 55″ long. It might seem quite a walk, but it is not the optimal length of runners.

iPod Connectivity Issue:
Slight iPod jack issues have been reported. It often gets disconnected during workouts and runs. The console goes all blank for a few seconds and is then automatically refreshed
---
Overall Verdict:
The Life Fitness F1 Smart Folding Treadmill is a deadly combination of quality, built up from effective biomechanics, and innovative programs. It is a one-time investment for your unlimited workouts. The F1 Smart Treadmill is an unbeatable piece of home workout equipment as it provides a commercial experience at home. It has a great body and endurance. It is tested and certified for durability, shock absorption, and safety. So, if you are looking for premium workout equipment in an affordable price range the F1 Smart Treadmill should be your first choice.
---
---
FAQ's
Does the Life Fitness F1 Smart Folding machine monitor your heart rate?
The treadmill includes a wireless chest strap. The strap monitors the heart rate so that you can keep track of your heart health during immersive workout sessions and adjust your fitness regime likewise.
What is the maximum weight capacity of the Smart Folding F1 Treadmill?
The Smart Folding F1 Treadmill can bear a maximum user weight of 135kg. The strong high-quality components ensure maximum weight-bearing capacity.
How safe is Life Fitness F1 Smart Folding Treadmill?
The F1 Smart Folding Treadmill is extremely safe and reduces the risk of injuries and shocks. The patented system helps improve endurance, and as this is FlexDeck cushioned, it becomes one of the safest treadmills. Moreover, the highly efficient home workout equipment can reduce about 30% of a shock to your body.
Is the F1 Folding Treadmill portable?
The F1 is so feasible that it can be easily rolled into a convenient storage space. It is easily folded and is portable. It has efficient rollers that reduce the pressure of lifting it. You can simply drag it to your storage when you are not using it.
Does F1 Folding Treadmill measure your weight?
The F1 Treadmill does not display your body weight, but it does monitor the pressure on the belt. The smart motor recognizes pressure to alter the energy needs of the machine.
Does the F1 Smart Treadmill come with a free gift?
The F1 Smart Treadmill comes with a fitness mat. However, this may depend on the country you are ordering from.
---
Affiliate Disclosure
In compliance with the FTC guidelines, please assume the following about all links, posts, photos and other material on this website:
Any/all of the links on this website are affiliate links of which GymFreakz receives a small commission from sales of certain items, but the price is the same for you.
www.gymfreakz.com is a participant in the Amazon Services LLC Associates Program, an affiliate advertising program designed to provide a means for sites to earn advertising fees by advertising and linking to Amazon.com & Amazon.co.uk. Pages on this site may include links to Amazon and its affiliate sites on which the owner of this website will make a referral commission.