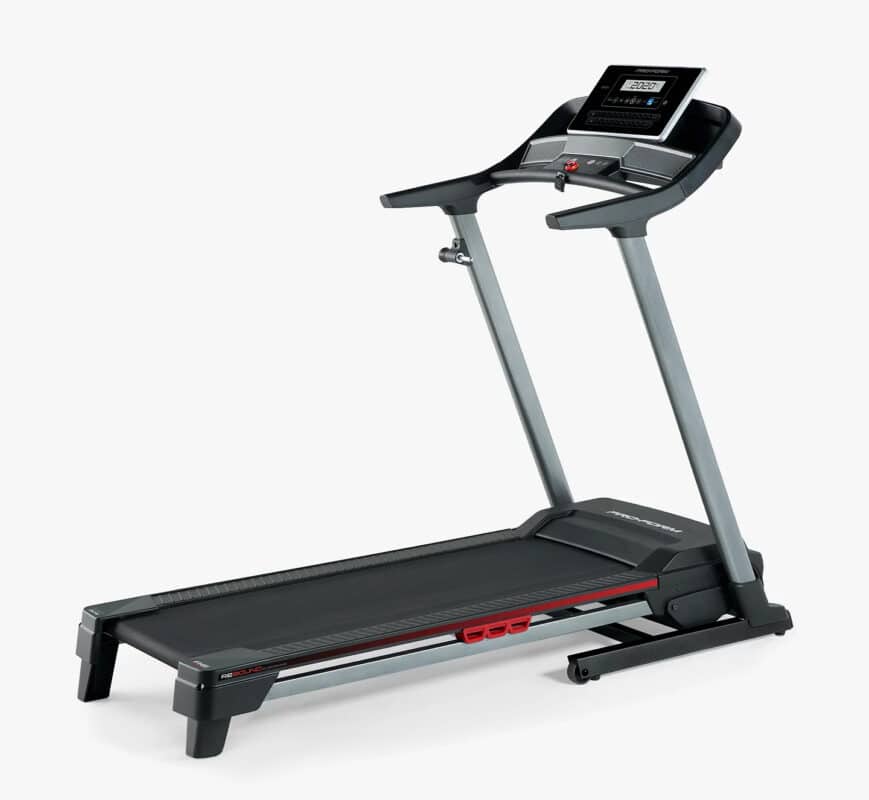 ---
---
Introduction To The ProForm 305 CST Treadmill
ProForm is a popular fitness company well-known for its quality treadmills that serve its users with plenty of innovative features. ProForm Treadmills are best for home purposes that come with a compact design and are powered by a vigorous motor to cater to the fitness levels of a wide range of users.
With its ever-growing workout library, the ProForm 305 CST treadmill enables users to develop a versatile fitness routine and get themselves into race day shape.
Moreover, it comes with a folding feature that helps you to store the treadmill anywhere in your home easily when not in use without worrying about space issues.
So continue reading as we break down more of its amazing features.
Disclaimer – This website contains affiliate links. If you find the information useful and click on a product link and make a purchase, a small commission will be earned by GymFreakz and we appreciate your support.
---
ProForm 305 CST Treadmill Specification:
Dimensions: H165 x W81 x L154
Dimensions folded: H106 x W82 x L154cm
Incline: 0-10%
Running deck surface: L127 x W46cm
Maximum speed: 0-16KPH/0-10MPH
Tread belt: 16" x 50"
Heart rate monitoring with chest strap
Heart rate monitoring with hand sensors
Maximum user weight: 115kg
Motor: 2.0HP
Tablet holder
iFit integration
Certified personal trainers
Audio auxiliary ports with dual speakers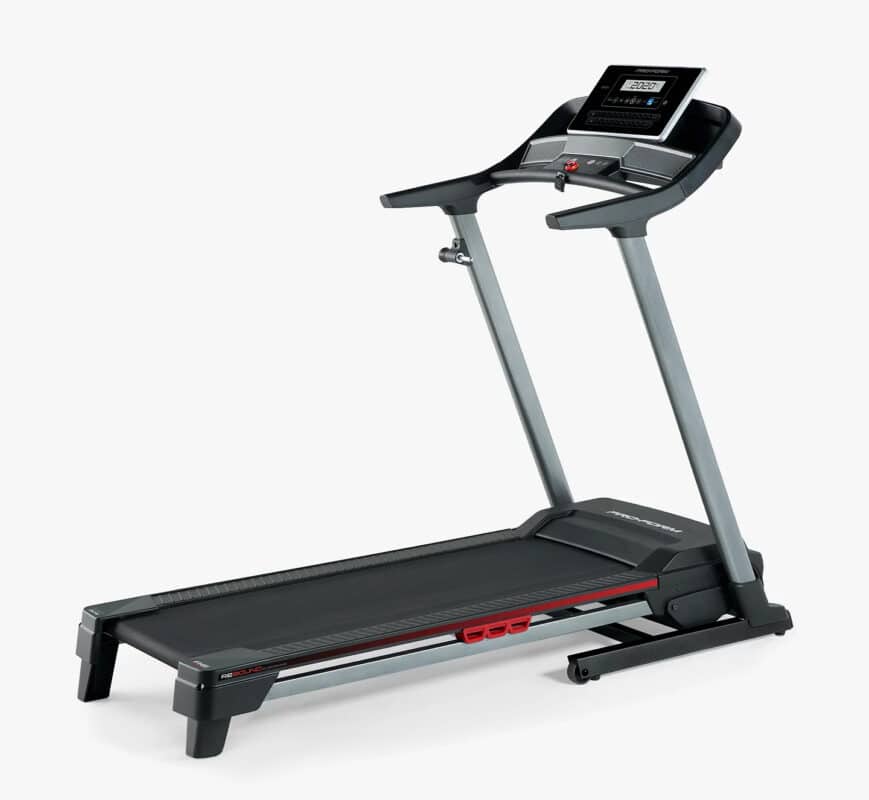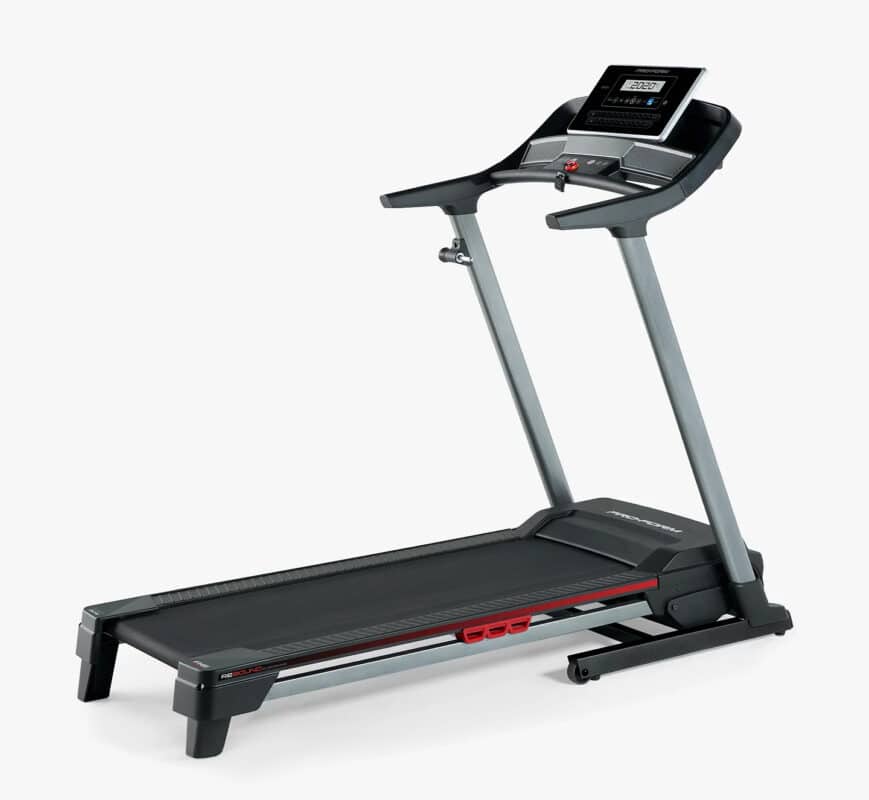 ---
FEATURES
2.0 Horsepower Motor:
Operating the 305 CST utilises a 2.0 horsepower uninterrupted duty motor which performs well for driving the belt up to the speed of 10mph. This way a user can easily transition from a brisk walk to jogging at higher speeds.
The top speed of the 305 CST makes it suitable for most home users especially if used in conjunction with a 10% incline. At high speeds, the motor does get louder, while the responsiveness of the propelling belt when speed is changed is super quick as compared to other models.
Proshox Cushioning:
The decent deck size of the ProForm 305 feels super positive to run on due to the ProForm Proshox cushioning system. This feature of the treadmill serves the user with optimal impact absorption capability. Proshox cushioning absorbs the impact and reduces stress on the joints that can predispose them to injuries.
In addition, the ProForm 305 CST treadmill allows you to pick your own running surface due to this feature. You can choose the option of softer landing for a slow workout day or you can go for a more realistic track feel by adjusting the Proshox cushioning system.
In today's times, rebound cushioning absorbs have become high in demand since users often want commercial gym quality especially when training at higher levels of intensity.
The control is completely in your hands and you can adjust the intensity instantly due to this updated feature.
Workout Entertainment:
Fitness sessions should not just be about having intense jogging workouts, there should also be a healthy environment aspect to them as well. To help facilitate this, the ProForm 305 CST Treadmill comes with a tablet holder that will hold your device safely. You can keep yourself entertained by watching your favourite shows or listening to downloaded podcasts on your device.
You can also plug into the integrated speakers, put up your favourite songs and spend a healthy and fun time jogging along. An audio auxiliary port is also available in this model where you can connect your phone or any other device to enjoy your favourite music while training.
iFit Coach and Services Available:
You can enjoy all the up-to-date features of the ProForm 305 CST treadmill within one touch. Download the iFit app on any of your devices from the play store and sync it with the console of your treadmill so you can gain access to unlimited workouts.
IFit's vast training library serves you with a number of options from where you can select your desired workout routine. With thousands of options available in just a click away you can find yourself a healthy fitness routine that suits your fitness level.
On top of that, there are several fitness professionals and coaches you can connect with. They will guide you about the best fitness routines allowing you to reach your desired fitness goals. If you are worried about being overweight, then your personal trainer can help you achieve faster results whilst advising on recovery too.
You can have thrilling workout sessions daily by staying connected with these professional trainers from all around the world. It is not just constricted to your treadmills, however, the trainers will also prepare you to run your first marathon or help you maintain that perfect physique.
In order to make most of these benefits from iFit, it requires membership which is sold separately.
Device Shelf Benefits:
There are several characteristics on your integrated device shelf that can come in handy. These include incline, live cast, google maps, video recipes, activity tips, and downloadable content.
The live cast feature allows you to enjoy a complete virtual studio setting where you can have your favourite things added to enhance your workout sessions with experienced trainers.
The Google Maps feature on your tablet helps you train anywhere around the globe. It also adjusts the incline automatically to match real-life terrain so that you get the best experience.
You can also access videos of expert dieticians that will teach you how to cook healthy gourmet meals to complement your fitness routine.
Spacesaver Design:
Like most of the home treadmills, the 305 CST is delivered flat-packed and requires little assembly. Without any doubt, it is an easy 2 person job to set it up. Many customers noticed a slight lack of trim at the base of the frame on the front end of the product that possibly gives the 305 CST treadmill a little unfinished look. However, it actually serves as an advantage during the assembling process.
Due to this, there are lesser steps to follow and the product can be easily put together within a short amount of time. Many potential buyers and fitness enthusiasts do not consider this missing area when purchasing a home treadmill as it is not present in their top wish list anyway.
The running surface on the 305 CST treadmill is quite decent at 127cm x 46cm although this is quite modest compared to other higher or similarly priced models. Regardless, the size of the deck allows the user to have a safe and comfortable running platform.
High Contrast LCD Display:
The console of the 305 CST treadmill comes with a dual colour backlit LCD display. This LCD displays your workout stats that include the number of calories you've burnt, the time you have spent doing a workout, speed, distance and whatnot. The units represented can also be changed and you can read your stats in KM or MPH.
The contrast of the display is also adjustable and you can have a clear, bright view of your performance. The 305 CST treadmill has 16 preset workouts that are portioned into incline, calorie or speed categories so that you can easily choose the type of workout you want.
By looking at your progress you can quickly access speed and incline buttons to easily step up from a zero incline to greater with a single press. This makes your workout smooth and you can easily boost your performance.
---
Warranty
Frame: 1-Year warranty
Motor: 1-year warranty
While you also get a 1-year warranty for parts and labour it can be extended to 2 years. The warranty extends only to the original purchaser and does not cover normal wear and tear.
*Warranty may be subject to change without notice and may differ between retailers – please check carefully before making a purchase.
---
---
Overall Verdict:
Although the ProForm 305 CST treadmill offers excellent functionality, it lacks power and might not be an ideal choice for elite runners. However, with available features and functionality, it is a great treadmill for beginners.
By making use of the ProForm 305 CST treadmill you can set up your speed range to 10 MPH and manage an incline range from 0 to 10 per cent. This easy to assemble treadmill will help you get out of your bed and get running within minutes. This also saves you time and money by keeping you from buying expensive gym memberships.
The 5" multi-colour screen high contrast display is super clear and you can easily view your workout stats and plan your workout accordingly.
The main aspect where the ProForm 305 needs improvement in my opinion though is the warranties it offers. This is an aspect that could turn more potential buyers into customers.
Final verdict – a great treadmill for beginners or those limited on a really top-end budget.
---
---
FAQ's
Does the 305 CST treadmill incline?
Yes, the 305 CST treadmill provides you with 0-10% incline which is sufficient for most users fitness requirements.
Is the ProForm treadmill worth it?
The ProForm 305 serves its customers with the best benefits in a very decent price range. You can have a complete gym feel to a simple jog, within your home while staying in touch with your personal trainers.
Is ProForm 305 CST good for running?
With the Proshox cushioning feature, the ProForm 305 CST is an excellent choice for running. There is cushioning present in the entire running area so that the user's joints are protected from impact.
Are ProForm treadmills bad?
When you are looking for quality home treadmills for the best jog and walking purposes, then ProForm is not a bad choice at all. The Proshox cushioning feature, incline, top speed, and iFit services make it best for beginners as well as entry-level professionals.
---
Affiliate Disclosure
In compliance with the FTC guidelines, please assume the following about all links, posts, photos and other material on this website:
Any/all of the links on this website are affiliate links of which GymFreakz receives a small commission from sales of certain items, but the price is the same for you.
www.gymfreakz.com is a participant in the Amazon Services LLC Associates Program, an affiliate advertising program designed to provide a means for sites to earn advertising fees by advertising and linking to Amazon.com & Amazon.co.uk. Pages on this site may include links to Amazon and its affiliate sites on which the owner of this website will make a referral commission.