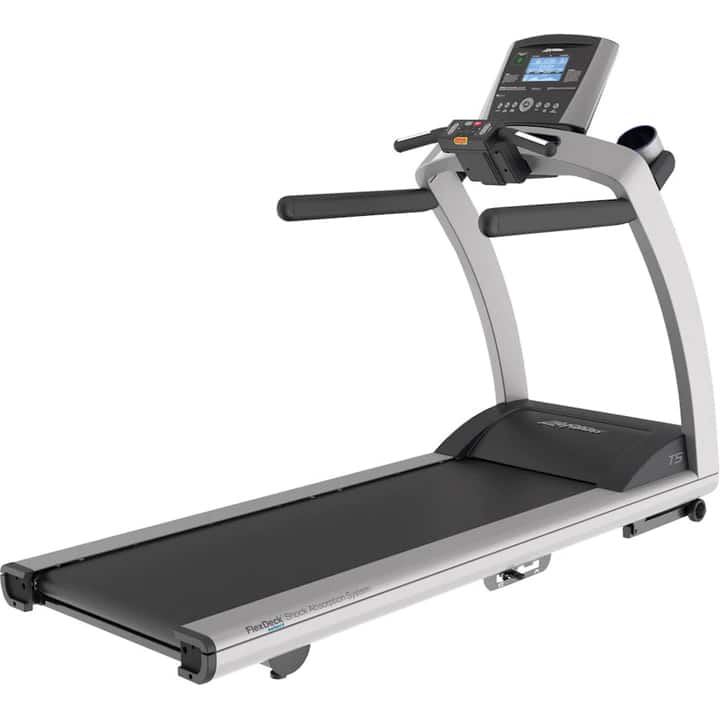 ---
---
Introduction to the Life Fitness T5 Treadmill, Track Connect Console, Silver
Most people procrastinate walking or jogging because it takes a lot of time and effort to get dressed and prepare yourself for human interaction. With this in mind, Life Fitness brings you a gym-like experience at home. Read on and find out why the Life Fitness T5 treadmill is one of the finest home workout equipment around this year and why it can enhance your work/life balance.
T5 has a sleek design but a heavy-duty construction. It is strong, reliable, and comes with great features like a track connect console, a heart monitoring system, flex deck absorption, and much more. The T5 with track connect console is premium Life Fitness equipment that is designed to help you achieve your fitness goals at home.
A home workout setup can help you remain in shape and do home chores simultaneously. Moreover, multiple users can benefit from it. The T5 is made of strong electrical and mechanical parts to support multiple user usage. Also, it comes with a virtual trainer app that helps you tone your body and stay healthy.
The Life Fitness T5 treadmill is one of a kind and reasonably priced considering what it has to offer, always bearing in mind it's a one-time investment. Compared to other markets' products, it is hard to find an equal when searching for a piece of heavy-duty gym equipment in this price range.
If you are ready to invest in a healthy lifestyle, the T5 might be your first step towards it.
Disclaimer – This website contains affiliate links. If you find the information useful and click on a product link and make a purchase, a small commission will be earned by GymFreakz and we appreciate your support.
---
Specifications
Brand: Life Fitness
Color: Silver
Material: Blend
Folding: No (Fixed)
Product Dimensions: 80 x 32 x 60 (LxWxH in inches)
Wireless Heart Monitoring: Yes
Handlebar Heart Monitors: Yes
Power Source: Electric
Walk, Jog, Run: Yes
Built in Reading Rack: No
On the Fly Programming: No
Proactive Belt Wear Notification: No
Flex Deck Shock Absorption System: Yes
Track Connect Console: Yes
Product Weight: 341 Pounds
Minimum Speed: 0.5 mph
Maximum Speed: 12 mph
Maximum User Weight: 400 Pounds/ 181 kg
Maximum Incline: 15%
Polar Compatible: Yes
Welded Steel Frame: Yes
Workout Fan: No
Energy Smart: Yes
Number of Programs: 16
App Compatible: Yes
Compression Entertainment Rack Compatible: Yes
Screen: Yes (LCD)
Manufactures Guarantee: 3 years guarantee on parts and labor, lifetime frame & shock absorption system, 15 years guarantee on motor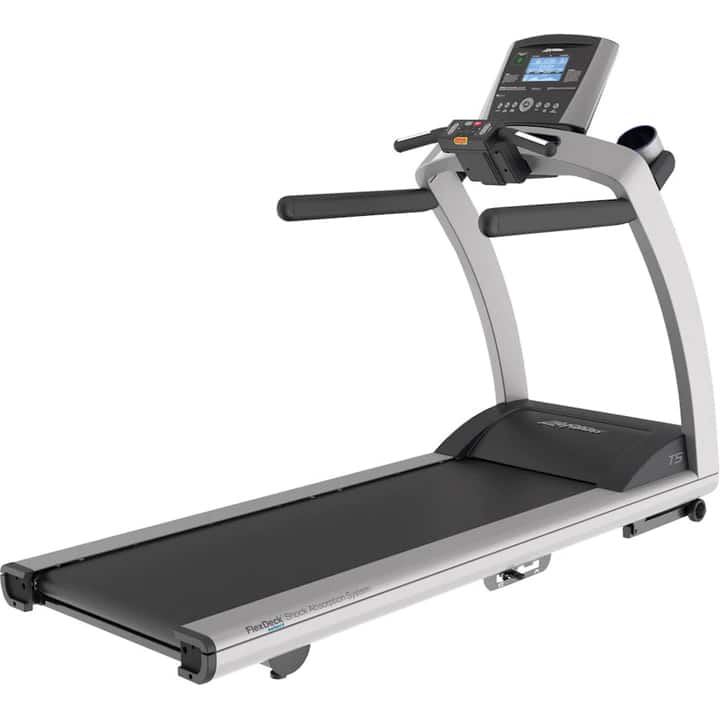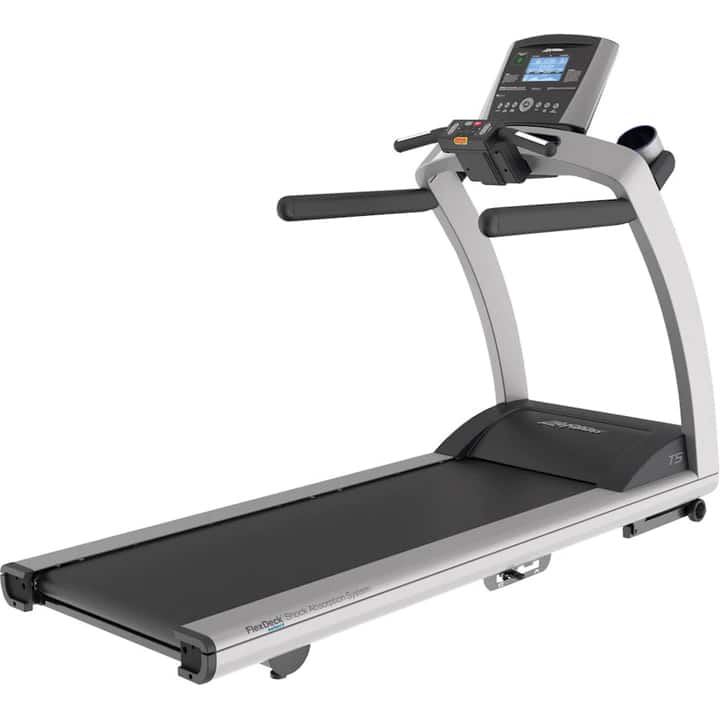 ---
Key Features:
Strength and Durability
The overall quality of the Life Fitness T5 treadmill is remarkable. It comes with commercial-grade rollers and other high quality electrical and mechanical parts. It has strength and durability. Its build-up includes a robotically welded steel frame, flexdeck shock absorption system, front-mounted accessory tray, track connect console, and much more. Life Fitness treadmills are flagship products that are not only committed to great quality but also have an efficient operating system. The quality and durability treadmills that Life Fitness offer is exceptional.
Efficient Cushioning
The FlexDeck Shock Absorption System is integrated into Life Fitness treadmills. These enhance the comfort level of working out by reducing joint stress by 30%. Moreover, the select shock absorption system allows selecting three different running surface firmness settings for a more pleasing experience. The select shock absorption system is well integrated into the T5 treadmill with track connect console and the flexdeck select system can be operated with ease through the integrated panel.
Track Connect Console
The Life Fitness T5 treadmill comes with a track connect console. The console allows connecting third-party fitness apps for working out more efficiently. The console is android and iPod compatible. You can also use the 16 built-in workout programs which include all kinds of mild and strenuous workout routines. Also, the T5 treadmill has a Go Console along with track connect console. The QuickStart is an impressive option to save time and energy on customizing a workout routine each time. (The lower control pad features the Quick Start menu). The multiple console setting allows ultimate freedom to choose the most suitable plan from various workout programs.
Heart Monitors-Wireless Chest Strap Included
The life fitness treadmills are concerned with monitoring your heart health and as such the console feature heart rate monitors. Telemetry heart rate monitoring and contact heart rate monitoring allow you to constantly be mindful of your heart health. The included wireless chest strap receives and converts heart signals and then transfers them to the LCD on the mounted console. Moreover, the frame sensors are integrated on the handles of the Life Fitness T5 treadmill. Both these aid in convenient heart rate monitoring by Life Fitness Treadmills.
Personalized Workout Programs
The Life Fitness T5 treadmill has 16 preprogrammed workout plans. Moreover, it stores and memorizes your workout routine. So it is easier to remember your preferred walk, jog, run settings. Also, this intuitive treadmill recalls your run speeds and other programs used. The recall preferred walk, jog, and run settings allow you to work smartly in your workout zone. It is a very convenient workout setup and the track connect console also allows you to connect your preferred fitness apps to explore unlimited custom workouts. The life fitness treadmills are committed to giving a personalized experience.
Incline and Speed Range
Life Fitness T5 treadmill is an incredible machine suitable for all kinds of workouts. You can raise the incline to 15% with an inclinment increment of 0.5%. Moreover, the speed range can be monitored through the console panel. Also, you can recall run speeds and continue your workout. The incline helps tone the body better and in a more effective manner. There are several programs like hill advanced workouts, heart rate hill, race mode, resistant sports training which all use incline as their basic function.
---
Warranty
Longer warranty periods demonstrate the confidence of the manufacturer in the product. The warranty also determines the durability of the equipment. High-quality workout equipment has longer warranty periods. The Life Fitness T5 treadmill comes with a three-year warranty on its electrical and mechanical parts. Moreover, the fitness company provides a lifetime warranty on the frame and shock absorption system. Also, the T5 comes with a fifteen-year guarantee on its motor. The long warranty periods of the T5 ensure your confidence that it is durable, stress-resistant, and strong.
*Warranty may be subject to change without notice and may differ between retailers – please check carefully before making a purchase.
---
Pros And Cons
Pros:

Comfort and Customer Feasibility
Comfort and customer feasibility are maintained by the T5 treadmill and the track connect console effectively. The flexdeck shock absorption enhances the comfort of the treadmill while the track connect console allows a personalized workout experience with this gym equipment.
The console has an integrated accessory tray that has dual dishwasher safe cupholders. Also, you can use the connect console for connecting to different third-party apps. The Life Fitness Treadmill with track connect console offers complete customer comfort and workout efficiency.

Mulitpe User Login
The multiple user logins and proximity login is the key feature of the t5 treadmill with track connect console. The Life Fitness virtual trainer app allows you to create precise workout analysis and use unlimited custom workouts with ease. Now, each user can create an account on the virtual trainer app and work out according to their health status and preferred workout intensity by saving workout programs.

Entertainment and Workout Options
The Life Fitness T5 treadmill with track connect console is a complete package in sense of entertainment and workout options. Not only does it allow you to create workouts of your own choice but also has a dual-zone design that separates the entertainment section from the workout zone. The track connect console has an LCD that displays all the features of the workout as calories burnt, speed, mode, distance covered, heart rate, and time. Also the animated symbols highlight special features, a series of signs that indicate all features being used during the workout. Moreover, the display features an instructional message centre.
The console can hold cell phones and play music. It is compatible with android and Apple devices making the T5 treadmill with track connect console convenient gym equipment for home workouts.

Energy Smart
The T5 treadmill is energy-smart and its energy saver mode does not use energy when the treadmill is not in use or sitting idle during the workout. The motor draws power only when the user is active and using the features of the Life Fitness T5 treadmill. The deck energy-saver feature has also made it a key element in 'go green equipment' for the company.

Extra Wide and Long Track
The track of Life Fitness T5 treadmill is oversized and extra-wide. This is designed to obtain all the benefits of high-intensity workouts. People prefer long and wide tracks as they give a realistic experience.
---
Cons:

Takes up a lot of space
The Life Fitness treadmills oversized track can be a problem for people who have less space in their homes. This T5 treadmill with track connect console is not foldable or easy to store. People with smaller homes might not find it suitable for them.
---
Overall Verdict:
The Life Fitness Treadmill with track connect console would be a dynamic addition to your home gym. It has great build quality and commercial-scale construction. Moreover, it can beat any gym equipment if compared by features or quality. The dual-zone design and the high-intensity workout features make the Life Fitness T5 treadmill a flagship product. If you are a fitness freak, the T5 treadmill with track connect console can serve as your fitness trainer. So, do not think twice before buying this amazing gym equipment by Life Fitness.
---
---
FAQ's
Is the Life Fitness T5 treadmill compatible with iPod classic?
The Life Fitness T5 treadmill with track connect console is compatible with iPod classic and other apple devices.
What are the benefits of track connect console?
The track connect console allows you to connect to third-party fitness apps and use custom workouts of your choice. It improves the personalized experience of the user.
What is included in the package if I order a T5 treadmill?
The Life fitness T5 treadmill with track connect console comes with a wireless chest strap included in the packaging. Moreover, Life Fitness allows you to choose between an exercise map or free installation as a free gift.
---
Affiliate Disclosure
In compliance with the FTC guidelines, please assume the following about all links, posts, photos and other material on this website:
Any/all of the links on this website are affiliate links of which GymFreakz receives a small commission from sales of certain items, but the price is the same for you.
www.gymfreakz.com is a participant in the Amazon Services LLC Associates Program, an affiliate advertising program designed to provide a means for sites to earn advertising fees by advertising and linking to Amazon.com & Amazon.co.uk. Pages on this site may include links to Amazon and its affiliate sites on which the owner of this website will make a referral commission.