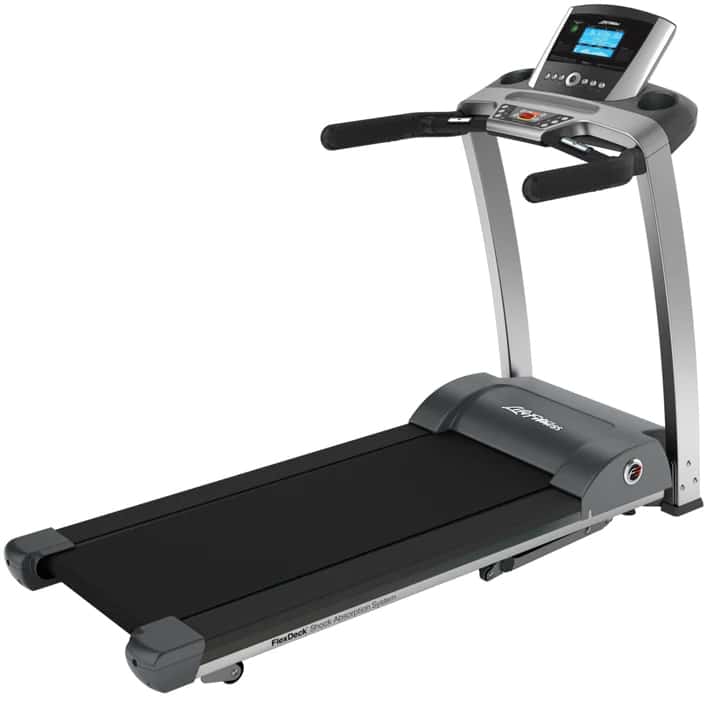 ---
---
Introduction to the Life Fitness F3 Folding Treadmill, Go Console
If you are not an outside person, treadmills are a blessing. Treadmills are convenient home workout setups, as you can stay healthy and you can stay home. These are convenient, easy to handle and support gym-like workouts at home.
Treadmills are a smart way to save time and keep your body fit. But with so many treadmills in the market, it becomes hard to choose one. We have the answer to your quest of choosing a perfect treadmill for your home. Now you can do gym-like workouts at home and achieve your fitness goals, with Life Fitness F3 folding treadmill that comes with a go console.
Life Fitness machines are of the finest quality and great efficiency. This Life Fitness equipment has been people's number one choice for years. Its highest quality components ensure endurance and long life. Moreover, it takes up minimal storage as you can fold it and store it conveniently.
Life Fitness has served as a major fitness equipment provider. It is committed to creating fitness solutions. Moreover, it is known for its quality and commitment toward fitness. The F3 folding treadmill is one of many treadmills by Life Fitness. It is created to help customers tone their bodies, lose weight and perform vigorous workout sessions a home.
Disclaimer – This website contains affiliate links. If you find the information useful and click on a product link and make a purchase, a small commission will be earned by GymFreakz and we appreciate your support.
---
Specifications
Brand: Life Fitness
Model: F3 Go
Minimum Speed: 0.5 mph (0.8 kph)
Maximum Speed: 10 mph (16 kph)
Maximum User Weight: 159kg
Dimensions: 198.5 x 87 x 148 (L,W,H in cm)
Folding: Yes
Incline: 0-12%
Polar Compatible: Yes
Material: Mixed Metals
Product Weight: 120kg
Portable: Yes
Flexdeck Shock Absorption System: Yes
Health Monitors: Yes
Adaptive Audio Coaching: Yes
Motor: 3.0CHP DC Motor
Number of Programs: 13
Workout Fan: No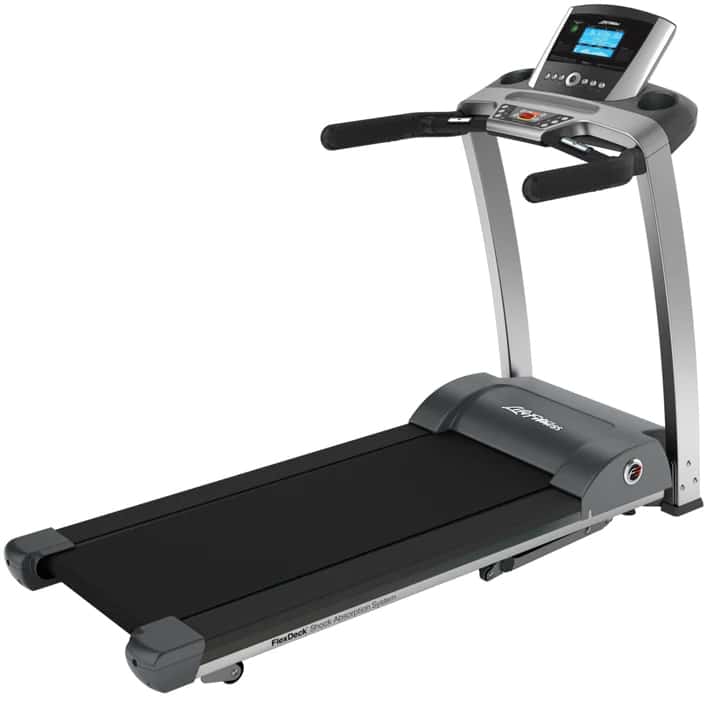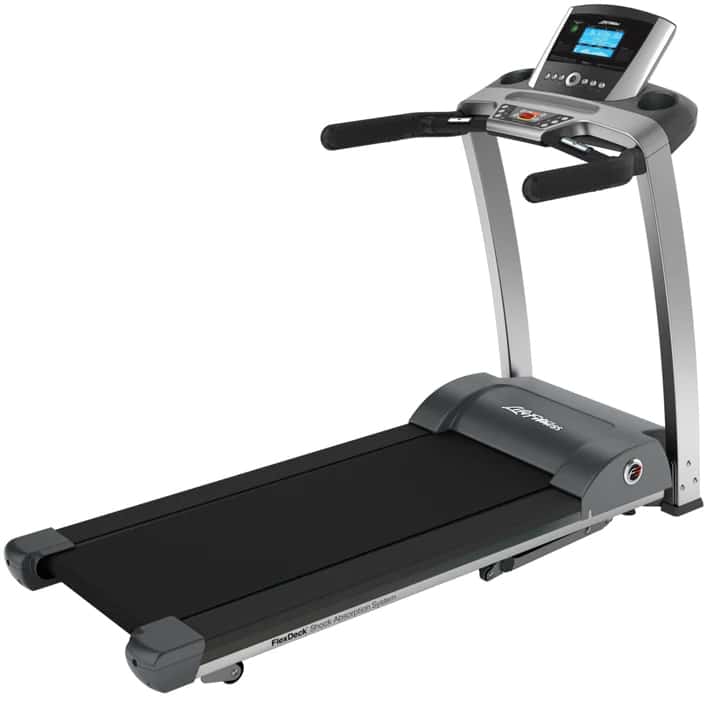 ---
Key Features:
Go Console:
Though the Go Console is fundamental, it provides effective workout options. Life Fitness F3 Treadmill provides basic preplanned workouts with its track console. It has twelve programs that are diligently designed to meet the customer's needs. Here are the key programs:
3 Classic Workouts
2 Advanced Workouts
3 Goal Oriented Workouts
5 Heart Rate Controlled Workout Programs
Moreover, the Life Fitness F3 Treadmill with Go Console and the lower control pad make it easier for people to select their preferred speeds, inclines, and pre-installed workouts.
Energy Smart:
High energy consumption is a major concern for many people. It is important to reduce energy losses at the home level. The F3 Folding Treadmill is energy-smart and draws minimum power. It not only helps conserve energy but also lightens the burden of electricity bills.
It saves energy by drawing power according to the weight. As the weight of the person increases, the power drawing rate of the motor increase too. Moreover, if the equipment is plugged in but not in use, the motor draws zero power. Now, with energy-efficient Life Fitness equipment, you do not have to pay for energy you didn't utilize.
Wireless Heart Rate Monitoring:
The Life Fitness F3 Folding Treadmill comes with a contactless chest strap option to monitor heart rate. The chest strap receives the signals and transmits them to the console. These can be used to monitor heart rate during workouts. Also, this can be paired with heart rate controlled workout programs of the treadmill for more efficient running. In addition to that, contact hand sensors are integrated into the system. These contact handlebar sensors ensure the heart rate is monitored throughout your regime.
Easy to Store Home Fitness Equipment:
Storge of treadmills and their placement can be a hindrance while buying quality equipment. The F3 Folding Treadmill does not sacrifice quality but saves a lot of space. This is the best folding treadmill that is easy to fold and portable. It takes minimum space when folded.
Moreover, it has installed transport wheels that help you drag it to a convenient storage area without the use of much labour. Now, you do not have to worry about a treadmill sitting in the centre of the room and disturbing your daily routine. You can simply fold it against the wall or store it in the garage when you are not burning your fat.
Preferred Incline:
The Life Fitness Treadmill comes with a power incline. You can adjust to preferred incline positions. It can incline up to a maximum incline of 12% from its level. Moreover, positions can be adjusted within a range of 0.5% increase and more.
Incline can help increase the intensity and efficiency of a normal workout and therefore helps improve muscle tone. Also, the incline can be adjusted to three different incline positions that are preprogrammed for effective workouts.
Shock Reduction and Safety:
The Life Fitness F3 folding treadmill has a FlexDeck shock absorption system. The Flex Deck absorption reduces up to 30% shock risk as compared to gym equipment without shock absorption systems. This type of high-quality cushioning is part of expensive gym equipment so that it can increase endurance and reduce the risk of injury. The joint stress can be reduced with FlexDeck Shock Absorption System.
Life Fitness Connect App:
Life Fitness connect app helps you create custom workouts and maintain your workout regime. Custom workouts give you an engaging workout experience as you can select various programs to make up your workout session. You can also have an amazing cardio experience while using this app. Moreover, you can seamlessly connect to the app anywhere, anytime.
It supports multiple profiles and custom workouts for each. Moreover, you can connect the Life Fitness F3 Folding Treadmill with go console to connect to various interactive apps. The track connect console is a high-tech feature that makes life fitness treadmills one of the much-praised treadmills across the globe. You can now achieve your fitness goals by simply, connecting to the track connect console.
---
Warranty
Most of the Life Fitness Treadmills come with a lifetime warranty on the frame. The F3 treadmill also has a lifetime warranty on the frame and Flex Deck cushioning. Moreover, it has a 10-year motor warranty. The electrical and mechanical parts also have a 5-year warranty. However, you have to note that the warranties may differ for different countries and through different suppliers/sellers.
*Warranty may be subject to change without notice and may differ between retailers – please check carefully before making a purchase.
---
Pros And Cons
Pros:
The F3 treadmill is one of the premium type treadmills by Life Fitness. There is so much to like about it. It not only supports a gym-like workout at home but it is safe, strong, and comes in a reasonable range. We have short-listed our favorite pros that might help you reach the decision of buying the F3, soon.
Customer Friendly Life Fitness Treadmills:
This Life Fitness F3 Treadmill with go console is dedicated to creating fitness solutions. It is easy to use and customer-friendly. The treadmill supports easy to use interface and preprograms like sport training, fat burn, and other goal-oriented workouts.
Moreover, for a pleasant experience, it has well-integrated compression racks. The compression rack securely holds mobile devices and gadgets. Now, you can connect your mobile device to the track connect console and enjoy your workout. Also, the front panel has oversized dual cup holders, where you can keep your protein shakes and energy drinks.
Child Safety:
It is childproof as it folds vertically and gets locked. You should not worry about your kids getting into trouble with Life Fitness equipment. It has a safety lever, that is operated with a key.
Endurance:
Its high endurance makes it a premium workout station for home. As treadmills at home are used by multiple people, they need to have high endurance. The high-quality components installed in the treadmill with go console make it a great fit for your home workout zone.
Easy Installation and Operate:
It does not take, much time to get installed. It requires basic installation and comes along with an installation guide. You may get a free installation if you are living in the UK. It is even easier to operate. It has a go console and a quick start display.
The consoles allow you to perform effective workouts without any hindrance. Also, the quick start display feedback includes calories, heart rate program selected, speed, incline, and much more.
Something that makes Life Fitness Treadmills a Complete Package:
The Life Fitness F3 with track connect console is a complete package. Not only it is economical but also safe and secure to use. It has all the qualities premium gym equipment has. It has preprogrammed workout plans, different inclines, various speed options, elaborative display, heart rate monitors, a shock absorption system, and much more.
Altogether, these amazing features make it a worth buying product.
---
Cons:
Though we are satisfied with the overall quality of the F3 treadmill with the go console we do have two major concerns.
Short Running Track:
This folding treadmill with a go console might not be the best choice for taller runners as the running track is short. Though it is best for day-to-day use and home workouts, some people might be concerned about the track length of the treadmill.
---
Overall Verdict:
The Life Fitness F3 with a track connect console is a convenient workout setup designed to cater fitness solutions. It has everything now expected in easy-to-handle workout equipment without compromising its overall quality. It helps reduce weight and tone the body and perform gym-like cardio at home.
The convenient storage and folding feature help save space for other interiors. If you are not willing to go out in the mornings or nights for a walk, get your hands on the Life Fitness F3 Treadmill and enjoy staying fit and healthy at your home. We strongly recommend the F3 treadmill for households with multiple users as this can bear workload and is also energy efficient.
---
---
FAQ's
Here are some frequently asked questions about the Life Fitness Folding Treadmill.
Q. How much weight can the F3 folding treadmill bear?
A. The Life Fitness F3 Folding Treadmill can bear a user weight of 159kg. The high-quality components ensure that the treadmill supports the maximum weight.
Q. What is Flex Deck Shock Absorption?
A. The flex deck shock absorption helps prevent body shocks. It reduces joint stress and allows you to continue your preferred walk, jog or run without risk of injury. We may call it a hi-tech cushioning system that is a part of premium gym equipment.
Q. Do we have to buy the chest strap separately?
The F3 Folding treadmill comes with a wireless chest strap included in its packaging. You do not need to buy the strap separately or pay any additional charges.
Q. Do we have to signup for professional installation?
You can get free installation by professionals if your package offers premium professional installation. Moreover, the free installation is only valid for the UK address. Also, you need to claim the installation in 5 days from your package delivery date.
---
Affiliate Disclosure
In compliance with the FTC guidelines, please assume the following about all links, posts, photos and other material on this website:
Any/all of the links on this website are affiliate links of which GymFreakz receives a small commission from sales of certain items, but the price is the same for you.
www.gymfreakz.com is a participant in the Amazon Services LLC Associates Program, an affiliate advertising program designed to provide a means for sites to earn advertising fees by advertising and linking to Amazon.com & Amazon.co.uk. Pages on this site may include links to Amazon and its affiliate sites on which the owner of this website will make a referral commission.