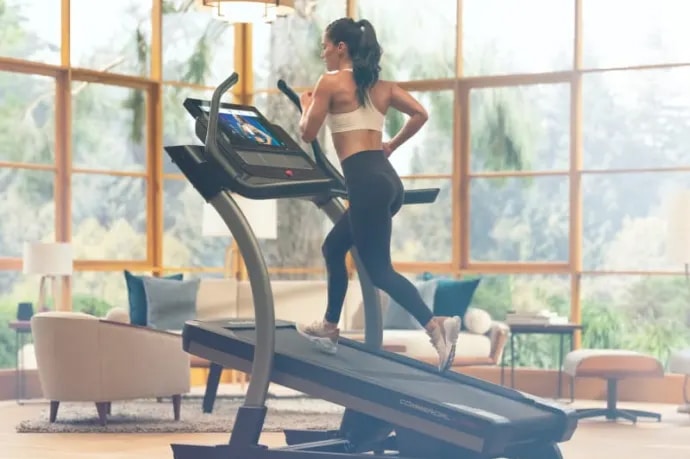 Introduction to the Nordictrack Commercial X22i Incline Trainer Treadmill
Nordictrack's latest treadmill, the Commercial X22i Trainer Treadmill is a great addition to all its other previous models. It has lots of updated graphics and a more powerful and responsive motor than its previous models.
If you are looking for a large, interactive screen and want to work out with iFit while enjoying all the running trails then this treadmill might just be the one for you! This machine has a sharp, maximum incline and slight decline and this machine does not just offer lower body workouts but also upper body workouts too.
Nordictrack named this treadmill X22i because of its large 22-inch widescreen. With all of its included features, this treadmill is redefining home fitness with interactive training and users can enjoy HD augmented reality and virtually tour the whole world through world-class personal trainers.
Disclaimer – This website contains affiliate links. If you find the information useful and click on a product link and make a purchase, a small commission will be earned by GymFreakz and we appreciate your support.
---
Specifications
4.0 CHP motor
0-40 percent digital incline
0-6 percent digital decline
0-22 km/h speed
22 inches full-color HD touch screen display
30-day iFit membership included
iFit integrated
Bluetooth-compatible dual 3-inch speakers.
2.5 inches roller
55×152 cm tread belt
reflex cushioning
Dual auto breeze workout fans
Assembled dimensions: 179 cm length x 100 cm with x 184 cm height
Boxed dimensions: 194 cm length x 103 cm width x 87 cm height
Product weight: 153 kilograms
Boxed weight: 196 kilograms
Maximum user weight: 135 kilograms
One-touch controls
50 built-in programs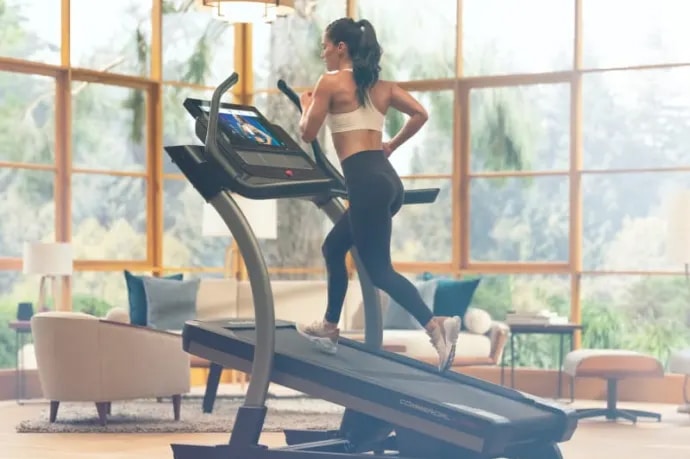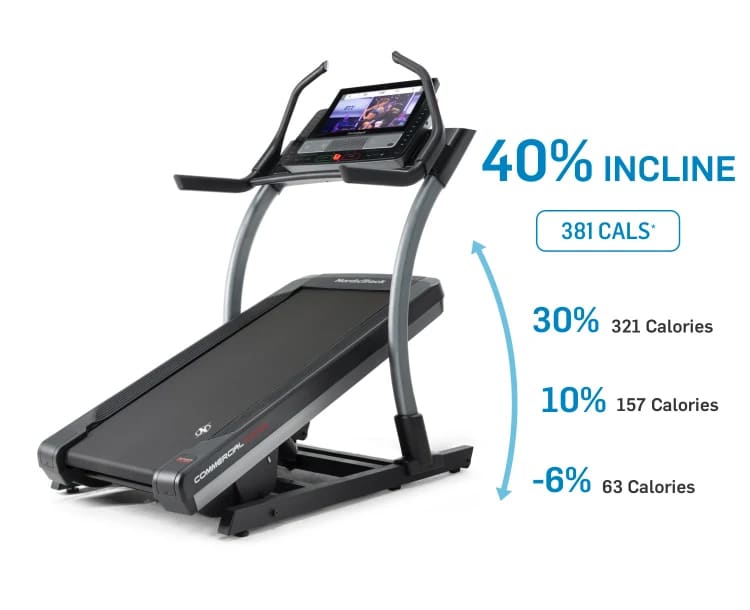 ---
FEATURES
Incline Training
With these incline controls, you can now burn 5 times the maximum calorie burn. It has a tilt range of -6 percent to 40 percent which means that with this incline you're able to workout harder but in a shorter amount of time! This range is double the range of most treadmills within this category.
By selecting each incline level the muscles targeted are different and this allows users to therefore use different muscles and train different areas of the body. If you compare this treadmill to other treadmills then you will know that this treadmill puts less strain on muscles and joints which reduces the risk of injuries and also helps to increase your endurance while you train.
With the incline options that this machine comes with you can increase your calorie burn by adding these intense yet low-impact workouts. When you walk in an incline position you will target your hips, hamstrings, and calf. When you bring the incline back to its normal position then your body will fall forward targeting the glutes and hamstrings while the quads will be doing most of the work.
This versatile treadmill comes with lots of options to build strong muscles and burn calories to help you get fit and get the body you have always wanted.
Sled Push
The next-generation sled push option gives your body a cardio blast in addition to your average workout due to the new push bar sled grips.
Set your machine to 1 MPH and take on this new training challenge, literally pushing your endurance while burning lots of calories! It takes a lot of manual effort but the results are effective.
Quiet Running
This treadmill is one of the best known for providing a very quiet run. It is being ranked as one of the quietest machines on the market today! So if you're looking for a machine that is quiet yet gives you lots of benefits then this treadmill should be on your list!
Screen
Nordictrack's incline trainer has a large 22-inch screen. Change up your workout routine with this fully rotatable screen and a lower deck that helps with an easy transition on as well as off the treadmill while watching and taking up advantage of lots of iFit workout routines. This screen is ideal for enjoying outdoor virtual workouts.
Bluetooth
Nordictrack incline trainers come with an updated Bluetooth capability as compared to other machines. With its previous treadmills, you could connect your phone with the treadmill via Bluetooth to enjoy your favorite songs or workouts while with this new advanced technology you can now pair your Bluetooth headphone to the unit so you can easily do and follow the workout without disturbing others around the house.
iFit
With the large screen you get with this treadmill the iFit technology ensures that you get to enjoy your treadmill's large screen with its 1-year iFit family membership! This advanced technology allows you to enjoy different scenic workouts while staying in your own home. It will let you enjoy different trails from all over the world plus, now this year, you are also allowed to use iFit with multiple users at one time.
Programs
This treadmill has more than 16000 on-demand workouts which you can stream through the expanding library of this treadmill. You can do them any time or anywhere whether it is day or night. The world-class trainers will not just motivate you to work out but will also support you through captivating workouts at home! And with 5o workouts programmed with preset workout goals to help you target the calories, incline, intensity, and speed as well, you'll never run out of options to try.
Motor
Nordictrack incline trainers have a powerful motor of 4.0 CHP which is great for heavy-duty training plus it has an automatically powered self-cooling system that will cool itself when the speed is too high and hits 12 mph. This commercial plus motor will keep up with you even on the longest run. It will help you power through your daily workouts, fast runs, distance runs and will also support multiple users. It has a very durable motor that will make your workout much easier while toning your body at the same time!
Wide Track
The treadmill comes with a wide track and measures 22 inches wide and 60 inches long. If you compare it to other workout machines then you will know that this machine has a spacious track which allows for an easier run even for people who are generally big and tall in height.
The wide track makes the workouts much more fun giving you a lot of space and allowing you to enjoy your workouts which you might not be able to do on other treadmills which have a smaller deck.
Sound System
This treadmill comes with a Bluetooth sound system. It is equipped with Bluetooth audio capabilities and a set of 3 amplified speakers which makes your workouts much more fun and enjoyable. These speakers are the perfect addition to help users stay motivated through music throughout the workout!
Heart Rate Monitor
Like all other treadmills, the NordicTrack Commercial X22i also comes with a heart rate monitor. This incline trainer provides two options to measure the heart rate including handlebar sensors and an iFit Bluetooth wireless chest strap. All these things come included with this treadmill. Now go beyond your traditional workouts and use your heart rate, elevation, and intensity to work out more and to work out harder.
Reflex Cushioning
This softest deck cushioning provides you with a comfortable belt to workout on to reduce stress on your joints and muscles. This low-impact cushion will ensure that you enjoy your workout while also making sure that you target each and every muscle the way it should be without the risk of injury.
Easy Assembly
Incline trainers are generally easy to assemble which is why this treadmill is also easy to use and assemble plus the user weight capacity for this treadmill is 300 pounds which is very high when compared to other treadmills.
---
Warranty
We all know Nordictrack is known for its amazing warranty! Let's take a look at this treadmills warranty below:
10-year frame warranty
2-year parts warranty
1-year labour warranty
*Warranty may be subject to change without notice and may differ between retailers – please check carefully before making a purchase.
---
Every machine has some good points while it can also have some bad points. The same goes for this Nordictrack Commercial X22i Treadmill. Now let's take a look at some pros first!
---
Overall Verdict:
The treadmill from Nordictrack has everything a great treadmill should have. From high power to serious incline and decline adjustments and great electronics, this machine has about everything!
This treadmill offers good workouts and the steep incline, strong motor, extra-wide HD screen, and iFit customized training are what makes this treadmill stand out!
Although this machine might be a little pricey for some, the benefits it offers are great and makes it one of the most popular treadmills on the market! This treadmill will not just give you a regular workout but will make sure to target all the major muscle groups in your upper and lower body!
---
What I Like About This Treadmill?
There is no doubt that NordicTrack builds some of the best treadmills since they have been in this business for more than thirty years! The way they make their machines is exceptional and this, therefore, allows you great workouts plus a great warranty. There were many things I loved about this treadmill; let's take a look at them below!
Incline Trainer
This treadmill is known for its incredible incline and decline adjustments. With a 40 percent incline and a 6 percent decline when you will work out on this treadmill your entire body gets toned.
So not only will your legs get toned up but it will also strengthen all your lower body muscles which will increase your calorie burn up to 5 times more than if you were using a regular treadmill! This treadmill is versatile with lots of great options to help tone your body or lose weight.
Whatever your goal is this treadmill is definitely going to help you reach that goal.
Sled Push Training Option
The Nordictrack Commercial X22i is a completely unique treadmill with the option to switch to manual mode and do a sled push workout. With this treadmill using this feature, you will get a full-body workout.
This treadmill is not your average treadmill and it will push you way past your body's capabilities and give you that great workout you have been looking for!
If you are looking to build leg power then try sled training mode. This workout will make you feel that you're working out on the grass and while resistance is difficult in the beginning it will decrease as you increase your speed.
The belt will only move when you will forcefully push it with your legs. So to start this workout use the sled grips and use your leg's power to push the belt with a speed of 1 mph. This is going to be a completely different and unique experience for you where your muscles will burn but it will be worth it!
22-Inch Touchscreen
This top of the line treadmill from NordicTrack has a 22-inch touchscreen that offers workouts in brilliant colors. Your iFit trainers will guide you through cross-body training workouts and while sitting in your room you can work out anywhere in the world with google maps and with world-class trainers. iFit trainers are professional trainers and each trainer has a unique style and approach that will push you to meet your workout goals. They will force you, push you, and motivate you for you to be able to reach your goals.
Motor
The motor of this treadmill is quite simpy an amazing one! The Commercial X22i has a self-cooling motor and it is this commercial plus motor that will ensure that you run for a long period of time without getting too tired. Plus with its reflex cushioning this treadmill also ensures that you don't get injured due to working out on this machine and subsequently provides just the right amount of cushioning.
iFit Connectivity
The best part about this treadmill is that it's an iFit enabled treadmill. You will get access to all elite-led trainer runs from the comfort of your own home! iFit trainer can also automatically adjust your speed and incline according to the workout they are providing so you don't have to do it manually; this gives you customized workout programming without any gym membership.
Obviously, if you want to make changes yourself you can do that as well. The iFit trainer will give you a heads up on every step and will also let you know before if they are increasing or decreasing the speed or incline of the workout. Also, the entire family can use this membership and remember you can also select destination workouts.
You can make up to four profiles on this top-notch treadmill which should hopefully cover all family members wanting to train.
---
Things That Could Have Been Better
There were some things that I felt could have been better. Let us take a look at them below:
Price
The price of this treadmill could possibly be considered a little too much? With that said, the X22i is one of the more expensive treadmills but well worth it in terms of specification and features. So if it's the one you've got your mindset on but it's out of budget you may have to wait for a sale to get it!
Warranty
Nordictrack's warranties are good but there are perhaps others available that are better
Cushioning
Unlike the cushioning on the Commercial series from Nordictrack, the cushioning on this treadmill is not adjustable on the incline trainer treadmill which makes it less personal to train on.
---
---
FAQ's
Is the Nordictrack X22i noisy?
The X22i is one of the quietest treadmills on the market in 2022 and the latest model has an even quieter incline drive which means there is very little noise while the treadmill goes through speed adjustments.
Are the NordicTrack incline trainers worth it?
The Nordictrack Treadmill is one the most popular ones right now on the market and is a treadmill that you won't find at a regular gym. It has some impressive and great features so if you're looking for a treadmill that offers lots of benefits then this treadmill is definitely worth it.
Does Nordictrack have video workouts?
Yes, this treadmill has lots of video workout options to choose from within the treadmill.
Do elite personal trainers motivate you?
Yes, the elite personal trainers will motivate you throughout your workout ensuring that you meet your fitness goals without getting bored!
---
Affiliate Disclosure
In compliance with the FTC guidelines, please assume the following about all links, posts, photos and other material on this website:
Any/all of the links on this website are affiliate links of which GymFreakz receives a small commission from sales of certain items, but the price is the same for you.
www.gymfreakz.com is a participant in the Amazon Services LLC Associates Program, an affiliate advertising program designed to provide a means for sites to earn advertising fees by advertising and linking to Amazon.com & Amazon.co.uk. Pages on this site may include links to Amazon and its affiliate sites on which the owner of this website will make a referral commission.