---
---
Trying to keep the price as low as the decibel reading – finding the right quiet treadmill for you.
Purchasing a treadmill can be difficult. There are so many factors to consider. Factors like whether it's a folding treadmill or not, how sturdy the treadmill belt is, how many inches long is the deck and what brand to go for.
Even with everything considered, if you're looking to purchase a treadmill that's required for a certain perhaps tricky space, then you have even more things to weigh up. Namely, how much noise can I afford to make without my downstairs neighbors getting annoyed, without my family waking up if I do night shifts.
So what factors, besides floor space saving designs and home integration technology (Bluetooth speakers or usb port), should you be looking out for when considering the noise levels of a treadmill?
We're going to be breaking down different treadmills that address features differently in order to impact noise created by the motor. For example, some treadmills simply use a weaker motor to remain super quiet, while other treadmills use shock absorbing technology to reduce noise output.
Whatever it is, we're going to hunt it down now, and talk about some wider features to help you find the best quiet treadmill possible.
Disclaimer – This website contains affiliate links. If you find the information useful and click on a product link and make a purchase, a small commission will be earned by GymFreakz and we appreciate your support.
In A Rush?
| | Quietest Nordic- Track: | Quietest Horizon: | Quietest Sole: | Quietest Curved: | Quietest JTX : |
| --- | --- | --- | --- | --- | --- |
| Brand | Nordictrack | Horizon | Sole | Microink | JTX |
| Model | Commercial X22i | Omega Z | F80 | Curved Manual | Sprint-7 Smart Edition |
| Photo | | | | | |
| Max. Speed | 22 kph | 20 kph | 20 kph | n/a | 20 kph |
| Max. Weight | 135 kg | 159 kg | 150 kg | 150 kg | 130 kg |
| Running Area | 55 cm ×152 cm | 51 cm x 140 cm | 56 cm x 152.4 cm | 150 cm x 40 cm | 145 cm x 51 cm |
| PRICE* | £2,999.00 | £1,399.99 | £1,799.00 | £499.99 | £1,079.00 |
| | | | | | |
| Check Prices | | | | | |
*Prices correct at the time of writing
---
Quietest Nordictrack Treadmill:
Nordictrack Commercial X22i Incline Trainer Treadmill (£2,999.00)
Key Features
4.0 CHP motor
0-40 percent digital incline
0-6 percent digital decline
0-22 km/h speed
2.5 inches roller
55×152 cm tread belt
reflex cushioning
Dual auto breeze workout fans
Product weight: 153 kilograms
Maximum user weight: 135 kilograms
One-touch controls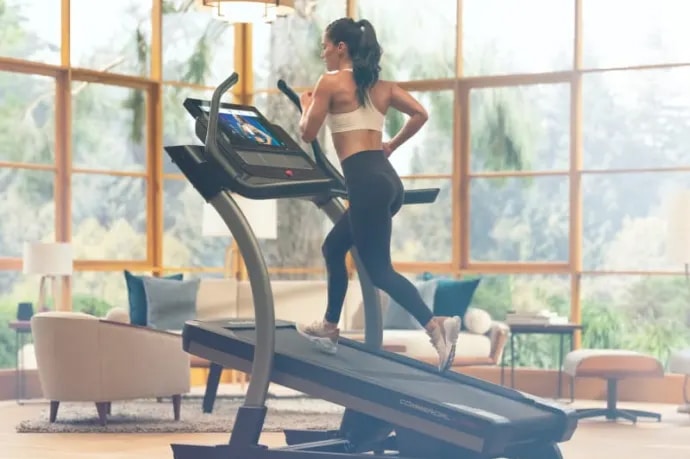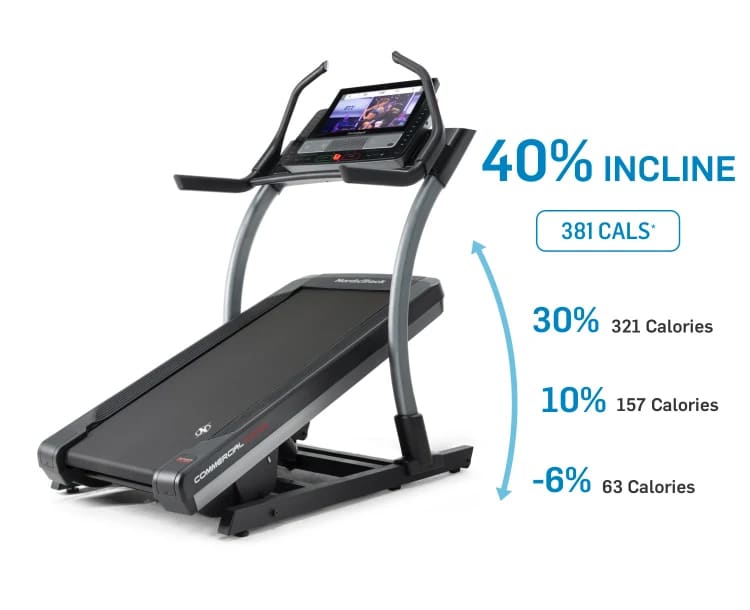 ---
Overview
Nordictrack treadmills are renowned for their builds. With sturdy frames and long-lasting machines, you can be sure that you're investing in a good treadmill for great workouts.
Specifically, this quiet treadmill boasts low-noise running, incline range, and amazing features all around. The quiet aspect of the treadmill belt will be due to the material it's made out of and how it interacts with the suspension system. Not to mention that the motor power is quite high here. While quiet, this machine makes it hard to be the quietest possible, especially given the cooling fans available too.
If you're simply looking to drown the noise out for yourself, however, then you're in the right place. It may not be the quietest treadmill available on this list but it does let you minimise noise by… well, hooking up headphones to its versatile and ranged entertainment system.
Nordictrack named this treadmill X22i because of its large 22-inch widescreen. With all of its included features, this treadmill is redefining home fitness with interactive training and users can enjoy HD augmented reality and virtually tour the whole world through world-class personal trainers.
Want to know more? Read our full review of the Nordictrack Commercial X22i Incline Trainer Treadmill here.
---
Quietest Horizon Treadmill:
Horizon Omega Z Folding Treadmill (£1,399.99)
Key Features
Dimensions of this treadmill are, height is 144cm, width is 89 cm and diameter is 183 cm.
Incline range is from 0-12 per cent.
Maximum user weight capacity for this treadmill is 159 kilograms.
Its motor is 3.0 MHP.
Power supply is through mains.
The running surface of this treadmill is width is 51 cm and length is 140 cm.
Screen type is a LED.
Speed ranges from 0.8 to 20 km/hour.
It also comes with transport wheels.
The weight of this treadmill is 93 kgs.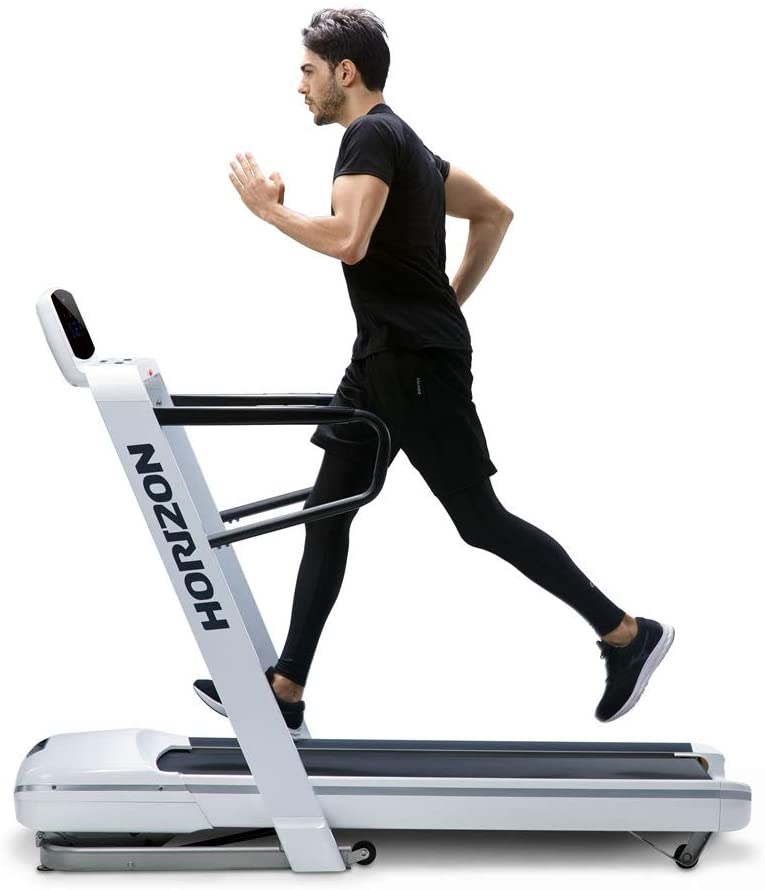 ---
Overview
The first and most noticeable thing about the Horizon Omega Z is its size. The reasonably compact dimensions of this motorized treadmill means the noise output is less. The bigger the treadmill, generally, the higher the chance of it being a noisy treadmill.
In order to find the quietest treadmills, the above factors have to be considered. And the overall size isn't the only thing to note here. The treadmill belt is correlated to the size of the machine, as well as the motor (3hp).
However, there is one factor to consider – folding treadmills have more collapsable components, meaning, after time, potentially more noise. If components are rubbing together after some wear then this needs to be considered.
Thankfully, this machine is up there with the best workout equipment on this list, and with great gym equipment comes great builds, and so the wear after a while would hopefully refrain from making this a noisy treadmill.
Want to know more? Read our full review of the Horizon Omega Z Folding Treadmill here.
---
Quietest Sole Treadmill:
Sole F80 Folding Treadmill (£1799.00)
Key Features
3.5 HP Motor
Speed 0.5- 12mph (1-20km/h)
Incline 0-15 levels
10 Standard programmes
Sole Bluetooth Compatible with Kinomap
Cushioned Flex Whisper Deck
Step Up Height 20cm (8″)
Double Woven 2 Ply Running Belt
Incline and Speed Quick Keys on console and handle bars
Hand Grip Pulse
Telemetric Heart Rate monitoring
---
Overview
This treadmill is a medium-range, well-built, and to-the-point machine. If you're looking for the best quiet treadmill you're certainly not far off.
Because of the build (Cushioned Flex Whisper Deck) you get great comfort levels and get to experience why treadmill noise won't be an issue here. A decent treadmill should have shock absorption, of course. But a great treadmill knows that a great shock absorption system also makes building some of the best quiet treadmills going, and Sole 580 is exactly that.
Unlike most treadmills, especially desk treadmills, you don't have to worry about movability. This machine is a foldable treadmill with a great focus on an easy lift system to make the machine storage a painless and noise-free process.
While the motor is as mid-range as the price (not a bad thing for noise) you may find that it's best used as a walking treadmill, to reduce treadmill noise and take advantage of the busy yet useful console. Data tracking and console functionality can really help you reach your fitness goals, make less noise from less use (accuracy), smash your weight loss targets through tracking, and achieve a fitness goal even at low speed.
---
Quietest Curved Treadmill:
Microink Curved Manual Treadmill (£499.00)
Key Features
Maximum weight: 150kg
Running surface: 150cm x 40 cm
Size: 155cm(L) x 69cm(W) x 134cm(H)
Transport wheels
8 adjustable resistance
Transport wheels
Digital display
Multiple training moods
No maintenance
Non-motorized treadmill
Infinitely variable speed
Improves running posture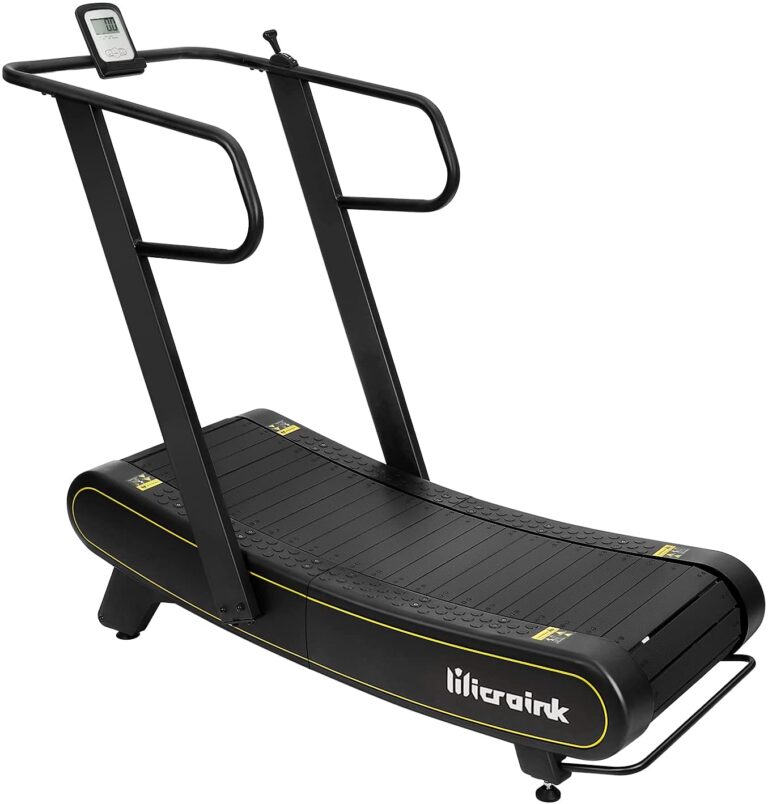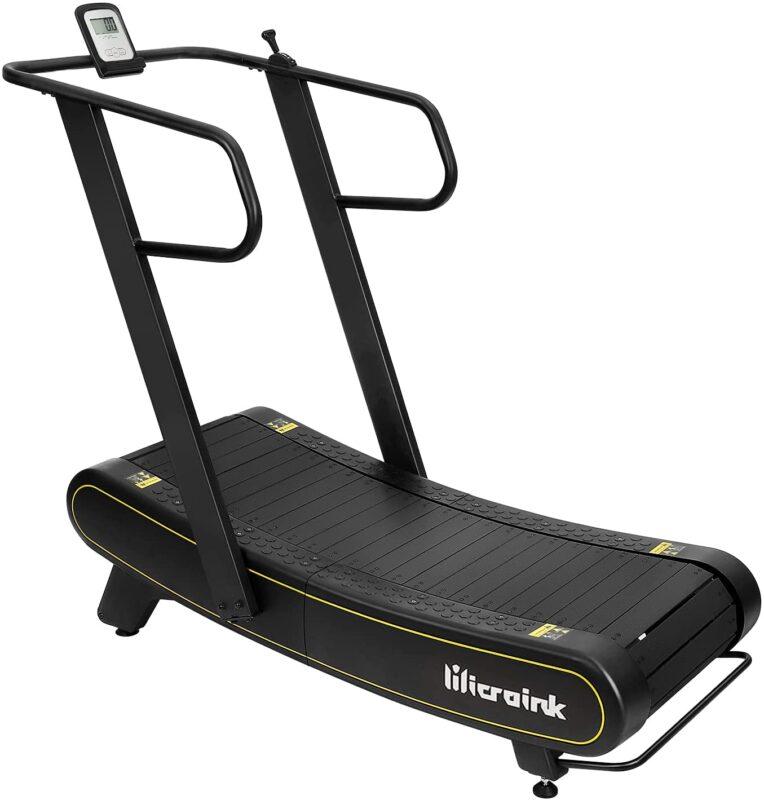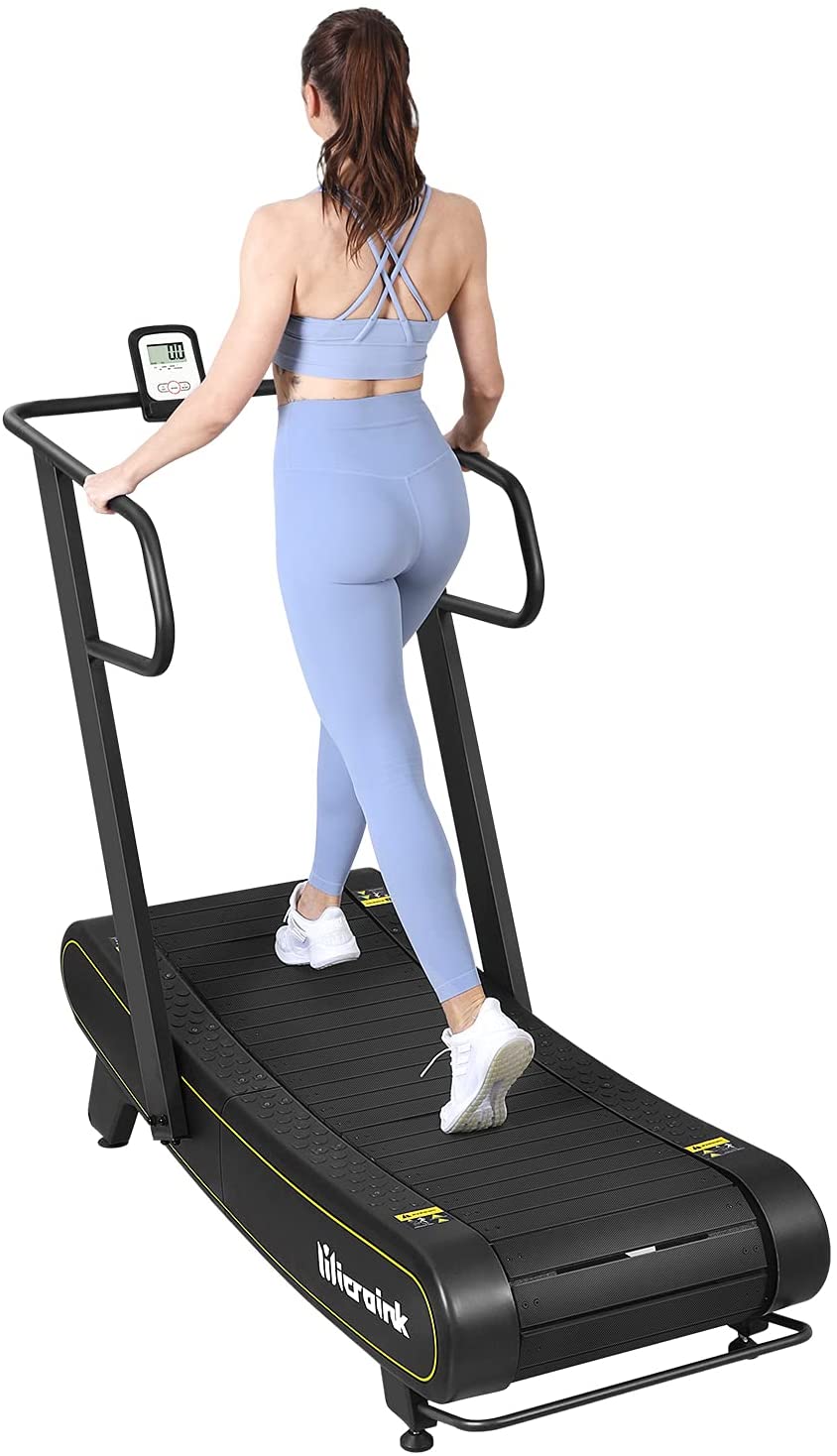 ---
Overview
The Microink curved treadmill comes with rubberized slats that are designed to absorb foot strike. This, funnily enough, helps to dampen noise too. Despite there always being a limitation on noise if you reach speeds considered high, the material of the deck in combination with shock absorption system are obvious factors with this machine (feel free to research impact-absorbing compression shocks to discover more)
So, for a home treadmill aimed towards serious runners that also want to save space instead of investing in other machines, this is a great treadmill for you.
The Microink curved manual treadmill comes with 8 levels of manually adjusted resistances for the running belt and is designed for a variety of training such as jogging, walking, leg coordination, etc. Some of the higher-end manual treadmills offer adjustable resistance via magnetic tension on the belt and flywheel. This enables the user to walk slightly upwards throughout the workout session, while retaining a similar noise output too.
Another plus for noise is that this running machine incorporates an innovative curved running belt design. It allows the user to use a more natural effort where the motorized treadmill creates friction between the belt and deck, thus creating more noise and giving motorized treadmills a bad name!
Want to know more? Read our full review of the Microink Curved Manual Treadmill here.
---
Quietest JTX Treadmill:
JTX Sprint-7 Smart Edition Treadmill (£1,079.00)
Key Features
Roller at the front = 2.4″ / Roller at the rear = 2.6″
Cushionstep Deck is a 145 x 51cm deck with a cushioned top.
Max speed of 20kph.
12% Incline
Suspension: 8-point shock system
Displays time, pulse rate, speed, incline, distance and calories burned on computer console.
43 Workout Programs
Heart Rate Training: Using hand pulse sensors or a Polar chest strap (available separately)
DC motor with 3 horsepower
88cm x 120cm x 159cm Folded Dimensions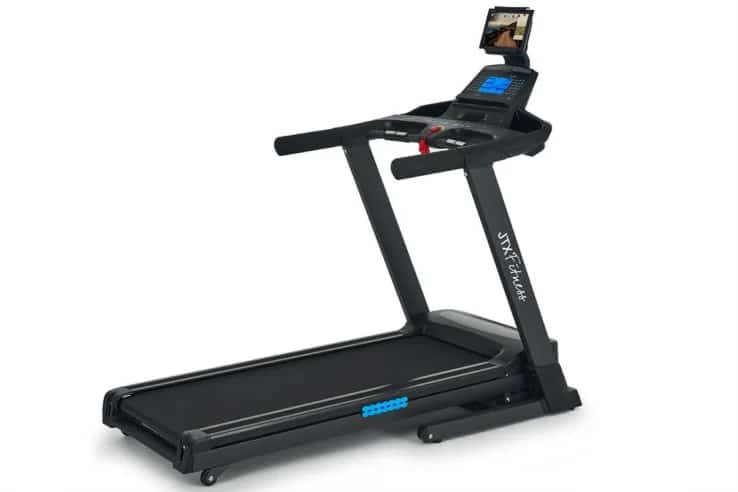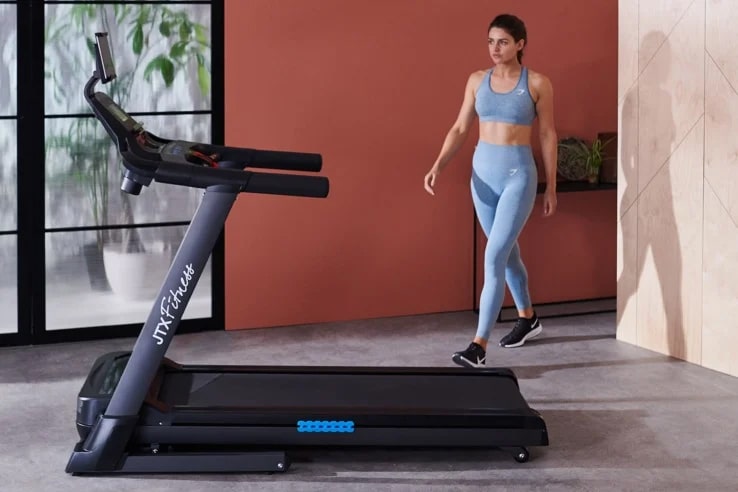 ---
Overview
The JTX Sprint-7 Smart Edition Treadmill is a top-quality piece of fitness equipment that comes with a range of features and benefits.
While the machine is pretty big, and the noise output is quote high (relatively speaking) it's been quiet enough for my room in my apartment block and I've had very little to worry about here.
It has a powerful enough 3HP engine, making it perfect for running or HIIT workouts, and also includes a 12% power incline. The treadmill is compatible with Zwift, giving you an immersive training experience, and also comes with a free Polar H10 chest strap.
The running deck is 145cm long and 51cm wide, providing plenty of space for a comfortable run, and the 8 point cushionstep deck™ absorbs impact to reduce noise. It is easy to store and transport due to its size when unfolded (180cm long, 84cm wide and 159cm high). The treadmill also comes with a 3-year warranty, making it a great choice for anyone looking for a long-term investment.
Want to know more? Read our full review of the JTX Sprint-7 Smart Edition Treadmill here.
---
Conclusion
Let's make some noise for not-so-noisy treadmills! From the quietest treadmills with the best relative speed range to noisier machines with amazing side features, we've got a great list to pick from here.
If you're in an apartment on your own, or in a block with your family, this list will have the right machine for you.
>> Take a look at more of our helpful guides here. <<
---
FAQ'S
Is there any way I could make my noisy treadmill into one of the best quiet treadmills going?
Some treadmills are inherently noisy, and there's little you can do to counteract that. However, we do know that things like footwear, the speed at which you run, floor material, and room size can all be manipulated to optimise for the quietest possible outcome. Just have a think yourselves…
---
Affiliate Disclosure
In compliance with the FTC guidelines, please assume the following about all links, posts, photos and other material on this website:
Any/all of the links on this website are affiliate links of which GymFreakz receives a small commission from sales of certain items, but the price is the same for you.
www.gymfreakz.com is a participant in the Amazon Services LLC Associates Program, an affiliate advertising program designed to provide a means for sites to earn advertising fees by advertising and linking to Amazon.com & Amazon.co.uk. Pages on this site may include links to Amazon and its affiliate sites on which the owner of this website will make a referral commission.