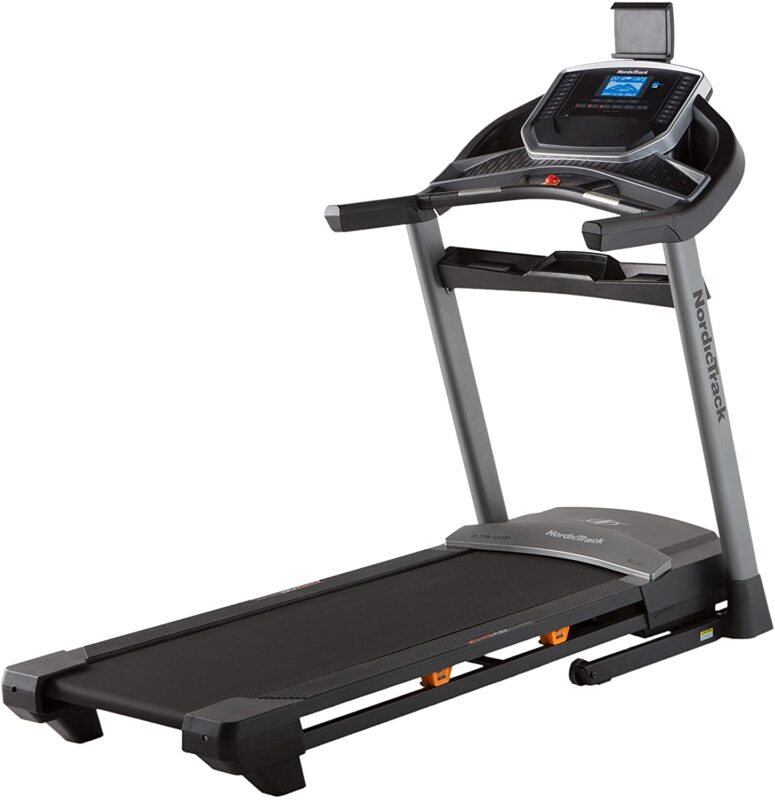 Fitness Equipment Review
Introduction
The Nordictrack S20i Treadmill is a fantastic home, high-quality treadmill with a running surface of 140cm x 51cm that's suitable for both novice and experienced runners.
With a 5″ LCD display, Bluetooth enabled wireless connection, iFit training programs and 10 level incline, is superior to most of the competition out there and basically covers 'everything a runner needs.'
With a cushioned running deck as part of the deal, plus powerful speakers, the Nordictrack S20i Treadmill is a piece of excellent all-around fitness equipment and allows you to exercise at any time.
Read on to discover more about the Nordictrack S20i treadmill's specifications, features, and maybe even its drawbacks to see if it's the best treadmill for you.
Disclaimer – This website contains affiliate links. If you find the information useful and click on a product link and make a purchase, a small commission will be earned by GymFreakz and we appreciate your support.
---
Nordictrack S20i Treadmill Key Specification
Brand: Nordictrack
Colour: Black
Material: Other
Item dimensions: L= 2.03m x W = 0.91 m x H = 1.51m
Item weight: 95 Kilograms
Maximum weight recommendation: 135 Kilograms
Maximum horsepower: 3 Horsepower
Speed rating: 18 kilometers per hour
Screen size: 5 Inches
Maximum speed: 18 kmph
Maximum Incline: 10%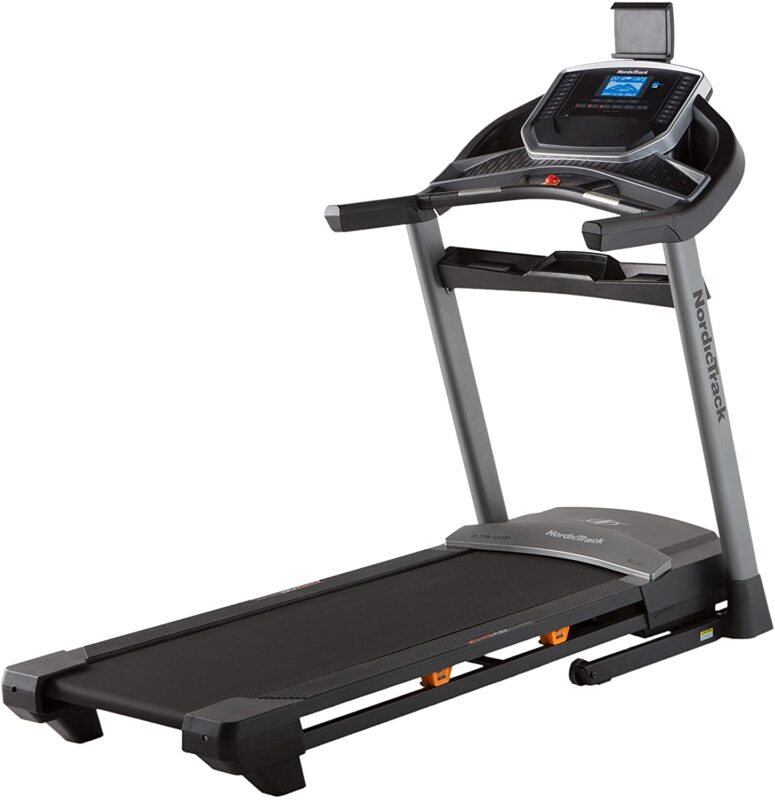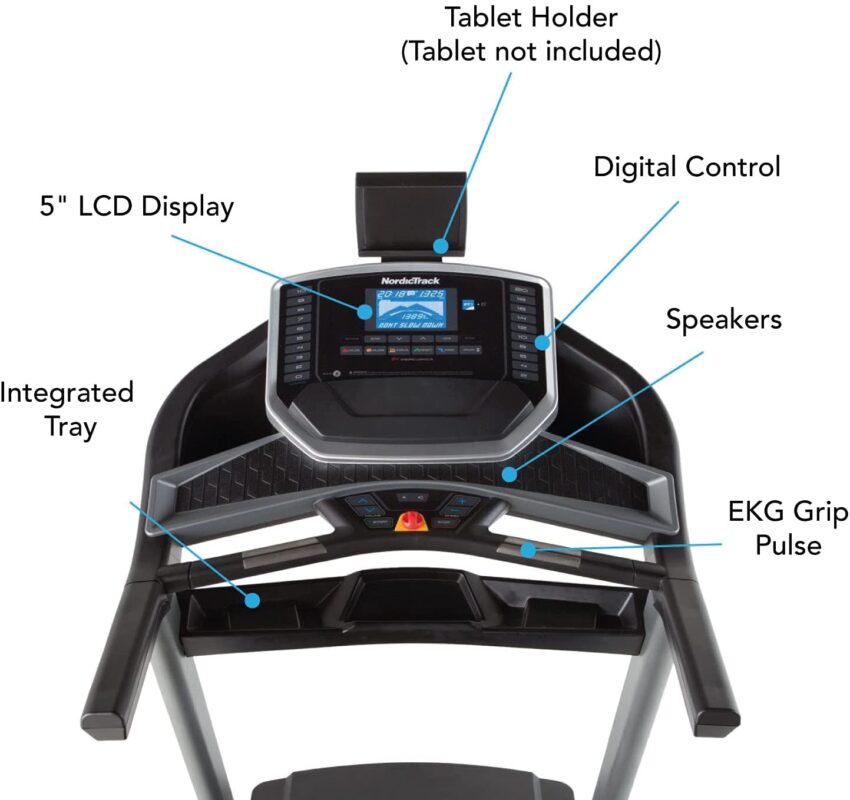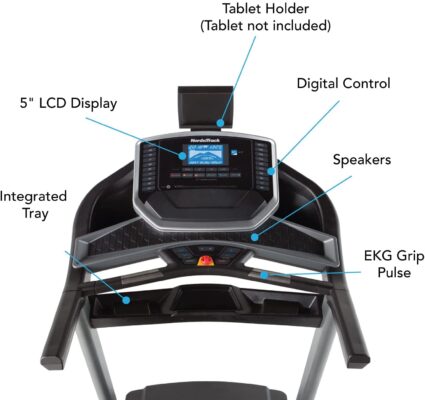 ---
About this item
Bring your own iFit equipment and use our machines for a full-body workout at home. 6-month iFit Family membership included; access live, studio, and global workouts ( £175 value)
2.5 CHP SMART-Response motor for efficient running and cardio training; On-demand iFit workouts accessible to your equipment via a 5.0-inch Bluetooth Smart Enabled LCD Display with easy stats recording
0-18 km/h Digital QuickSpeed control; 0-10% Digital Fast Incline Control; Your iFit trainer automatically adjusts your speed and incline to match the demands of the trainer and correspond to real-world terrain.
EasyLift Assist and an Innovative SpaceSaver design with a foldable after-run treadmill allow you to store your machine compactly; 51 x 140 cm tread belt for leg and elbow room; Cushioning Deck
Dual Speakers, Integrated accessory tray / tablet holder, 135 kg max user capacity
---
FEATURES
Features Of The Nordictrack S20i Treadmill
Your house is the perfect environment for the Nordictrack S20i Treadmill and personalized training.
The NordicTrack S20i smart treadmill includes a six-month Family iFit membership* (included), which allows you to stream live and on-demand workouts led by your world-class personal trainers directly to your tablet or smartphone. With a Bluetooth smart connection, link your device to your treadmill, and your iFit Trainers will automatically alter your speed and incline to match the demands of your workouts.
*iFit experience shown. WIFI and Internet required. Credit/debit card required for activation. After the included 6-month Family iFit membership, iFit auto-renews for a fee unless cancelled in advance.
5" LCD Display
This easy-to-read display tracks your speed (mapped), estimated calorie expenditure, and more. With the iFit app, you'll be able to view additional information about your workouts on all iFit-compatible equipment.
SMART-Response Motor
The Nordictrack S20i Treadmill model is powered by a powerful and efficient motor that's designed to work flawlessly. Unlike typical treadmill motors, this drive system is more resistant to overheating owing to its self-cooling technology.
Folding SpaceSaver Design
The Space Saver folding design and EasyLift™ Assist design on this machine allows you to quickly fold up your treadmill deck after each usage and move it out of the way.
Automatic Trainer Control
The iFit Trainers read your data and feedback from your smartphone to adjust the speed and incline of each activity in real-time so that it more closely mimics actual-world conditions.
---
6-month Family iFit Membership Included*
Download the iFit app on your tablet or smartphone (not included) and connect it to your treadmill to watch live and on-demand workouts performed by world-class instructors who automatically adjust your speed and incline.
Total-Body Training
Jump off your treadmill and join your iFit Trainers in high-intensity cross-training to get you moving and feeling fantastic.
Get Out and Explore
Follow your favorite iFit Trainers as they complete breathtaking Global Workouts on location all around the world. Your speed and gradient are automatically adjusted to reflect real-world conditions.
Studio Classes Come Home
Studio Classes live and on-demand from the world's top iFit Trainers who automatically adjust your speed and incline to optimize each activity.
Automatic Trainer Control
Your iFit Trainers will automatically change your speed and incline in Live Workouts, Studio Classes, and Global Workouts to optimize your workout and reflect actual-world terrain.
Warranty
Treadmill – Lifetime frame, 10-year motor (parts only), 2 years parts and labour warranty
NordicTrack products are covered by limited warranties. Warranties are non-transferable and only apply to the equipment's original owner.
NordicTrack does not cover warranty for non-home use (including but not limited to commercial, professional, rental or institutional settings).
*Warranty may be subject to change without notice and may differ between retailers – please check carefully before making a purchase.
---
---
Overall Verdict For the Nordictrack S20i Treadmill
Review
The Nordictrack S20i Treadmill is one of the most cost-effective treadmills available on the market. The S20i does not have any fancy or expensive features, but it offers great value for money. This machine will last you up to 10 years with proper care and maintenance. With this machine, you can expect to burn 500 calories in an hour of intense exercise which will be more than sufficient for most daily activities. The maximum user weight limit on the treadmill is 135 kg. You can use this machine every day if you want, even if you are training for a marathon, as long as your body allows it.
The deck cushioning helps disperse the impact caused by running and also helps prevent injuries when you run, but it must be used in combination with a wellness program and proper warm-ups and cool-downs. The deck will help absorb impact and shocks often related to hard surfaces such as concrete and reduce strain on your joints, muscles, bones and ligaments. This is the number one feature that will reduce your joint pain and soreness after you exercise.
The Nordictrack S20i Treadmill comes with a manual incline, which lets you set the treadmill at a constant incline to provide more of an impact on leg muscles. You can also manually adjust the speed so that it matches your training level. The speed limit is 18 km/h, which means you can use this machine to run at a jogging or light-sprinting pace. There are two speakers that let you listen to music which can help keep your rhythm when training. The treadmill also has a built-in console that helps track your progress in real-time, so you can monitor how much weight you are losing or gaining. You can input your height, weight and age into the machine to determine calorie consumption levels.
There is an accessory tray built into the treadmill. This tray can be useful for holding small items like your phone or water bottle during your workout session. If you want to hook up a tablet device to the machine, then you should consider buying one that has Bluetooth capability.
The Nordictrack S20i Treadmill gives you great value for money, but it is not for everyone. This treadmill will give you more than enough features needed to lose weight and get in shape at home without spending too much on expensive equipment.
Motivation and improvement using the iFit membership are easy. Each personal trainer or any of the instructors in the videos are motivating and the option to select running in different places around the world gives each run its own particular interest.
If when starting a workout you find it too easy/hard then you can easily change the incline/speed and the workout adjusts accordingly.
I've been training with iFit now for a few months but have only just scratched the surface of what it offers – certainly a great addition to an already great Nordictrack S20i treadmill.
To summarise, I am very impressed with this treadmill and more so the app. The best advice is to get one ordered and give it go – the iFit is free for the first 6 months / 12 months depending on your package so what have you to to lose except those additional pounds (you could also put your gym membership on hold whilst you try maybe?)
---
More about the iFit monthly membership
---
---
More Info @ :
https://www.nordictrack.co.uk/ifit
Prices:
1 Year Subscription – £129
2 Year Subscription – £199
3 Year Subscription – £349
IFIT FREQUENTLY ASKED QUESTIONS
CAN I STILL USE MY TREADMILL, ELLIPTICAL, BIKE, FUSION OR ROWER IF I DON'T RENEW MY IFIT SUBSCRIPTION?
If you don't renew your membership, you will only be able to access a certain number of iFit exercises. You can always use your treadmill in manual mode, whether it's a treadmill, elliptical, bike, fusion or rower.
HOW DO I BEGIN A WORKOUT ON MY MACHINE IF MY IFIT SUBSCRIPTION HAS EXPIRED?
To begin a manual exercise, simply push the Start button on your machine. You'll be able to manually adjust your settings, and an oval racetrack will appear on your screen as you work out.
HOW DO I CANCEL MY IFIT MEMBERSHIP?
To cancel your subscription, follow these steps:
Log in to your account at iFit.com.
Hover over your name in the top right corner, then click Settings.
On the left side, click Membership Plan.
Scroll to the bottom, then click End Benefits.
Click Continue to End Benefits until the Confirm Your Membership Cancellation pops up, then click End Membership.
NOTE: If you purchased your subscription through the App Store or Google Play, you'll need to cancel it through your phone settings.
HOW CAN I GUARANTEE THAT I WON'T BE CHARGED FOR ANOTHER YEARLY SUBSCRIPTION WHEN MY FREE 1-YEAR TRIAL EXPIRES?
There are a few things you can do:
Make sure iFit emails don't end up in your spam folder. You'll receive a reminder email 30 days before your subscription renews on its own.
Cancel your subscription at any time by disabling it in your account settings. Your existing membership will continue until its original expiration date, but it won't renew.
If you'd like us to remove your credit card information from your account, which would prevent any automatic transaction from being processed, please contact us by email or phone.
WHY DO I HAVE TO TYPE IN MY CREDIT CARD NUMBER BEFORE USING IFIT, EVEN THOUGH IT WAS INCLUDED WITH MY MACHINE?
You won't be charged anything right away because there's nothing to charge you for. For renewal purposes, iFit need your credit card information, so they'll have a payment method on file when your subscription renews. Because your iFit payment data is not shared with your NordicTrack purchase, it isn't necessary to inform Nordic directly.
General Nordictrack FAQs
Is the NordicTrack treadmill worth it?
The NordicTrack S20i is a great treadmill for its price. The best thing about it is the iFIT technology. When combined with iTunes, you can download guided workouts from experts and athletes onto your iPod or MP3 player and use them as built-in workouts on the treadmill. This works really well for beginners who do not know where to start.
What are the best NordicTrack treadmills?
Any Nordictrack Treadmill is great but it depends on your budget, available workout area and standard of running as to what is the best fit for you. Make sure you review thoroughly and make your decision according to what suits you and your situation best.
How much are Nordic treadmills?
Prices vary from treadmill to treadmill. In general, the larger, the greater the max speed, the more hi-tech and the more digital quick controls and training programmes the treadmill has – the more it costs.
How heavy is a NordicTrack treadmill?
NordicTrack treadmills weigh as little as 44 lbs and as much as 280lbs.
Affiliate Disclosure
In compliance with the FTC guidelines, please assume the following about all links, posts, photos and other material on this website:
Any/all of the links on this website are affiliate links of which GymFreakz receives a small commission from sales of certain items, but the price is the same for you.
www.gymfreakz.com is a participant in the Amazon Services LLC Associates Program, an affiliate advertising program designed to provide a means for sites to earn advertising fees by advertising and linking to Amazon.com & Amazon.co.uk. Pages on this site may include links to Amazon and its affiliate sites on which the owner of this website will make a referral commission.