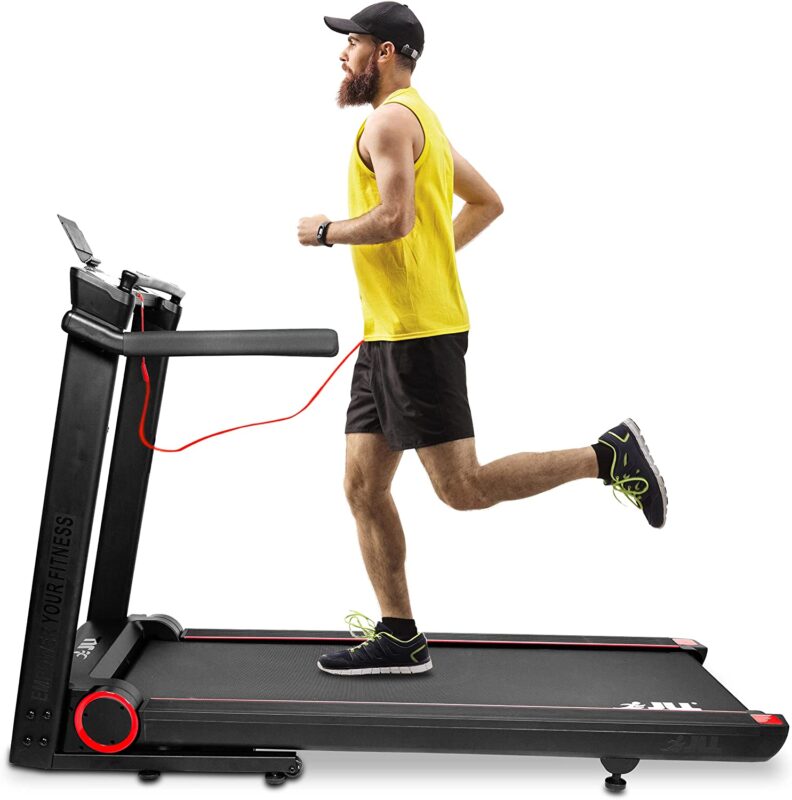 Fitness Equipment Review
Introduction
The JLL T550 Digital Folding Treadmill is a top-of-the-line piece of fitness equipment that has earned its way into homes and gyms around the world. Its sleek modern design makes it just as at home in your bedroom as it would be in a large gym setting.
With so many features to choose from, we took the time to break all the technology down and figure out exactly what each of these features means for you, the consumer. From its ability to be used as a folding treadmill, its maximum user weight, high powered speakers, Bluetooth wireless connection, peak power to the motor warranty and exercise program and treadmill program guide we'll cover it all.
So read on and we'll look at the performance aspects as well as all the specifics about the appearance and usability of this JLL treadmill.
Disclaimer – This website contains affiliate links. If you find the information useful and click on a product link and make a purchase, a small commission will be earned by GymFreakz and we appreciate your support.
---
JLL T550 Digital Folding Treadmill Key Specifications
Motor: DC Continuous Power 2.5 HP (1800W), Peak Power 4.5 HP (3350W)
Speed Range: 0.3 – 18 km/h = 0.18 – 11.2 mph
Running Area: 156 cm (length) x 51 cm (width)
Running Programs: 30
20 Level Incline
Maximum User Weight: 150 kg / 23.6 St / 330 lb.
Entertainment: High Powered Speakers & Bluetooth® Connectivity.
Pulse Function: Pulse Plates and Heart Rate Band Included
App Connectivity: Kinomap, Zwift and Fitshow
Warranty: 2 years on parts/labour warranty and 5 years on the motor. Lifetime guarantee on the frame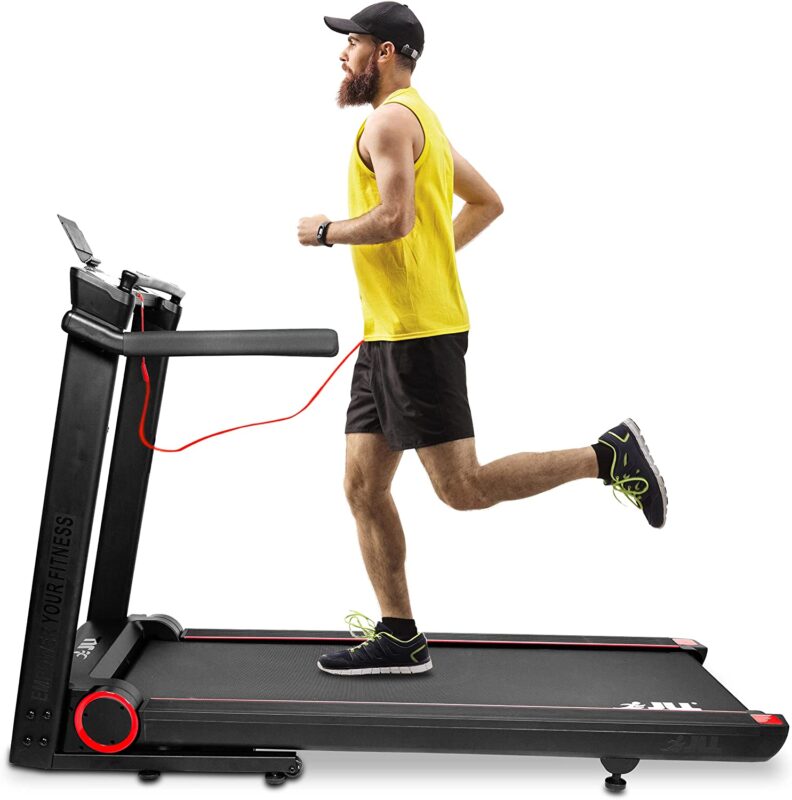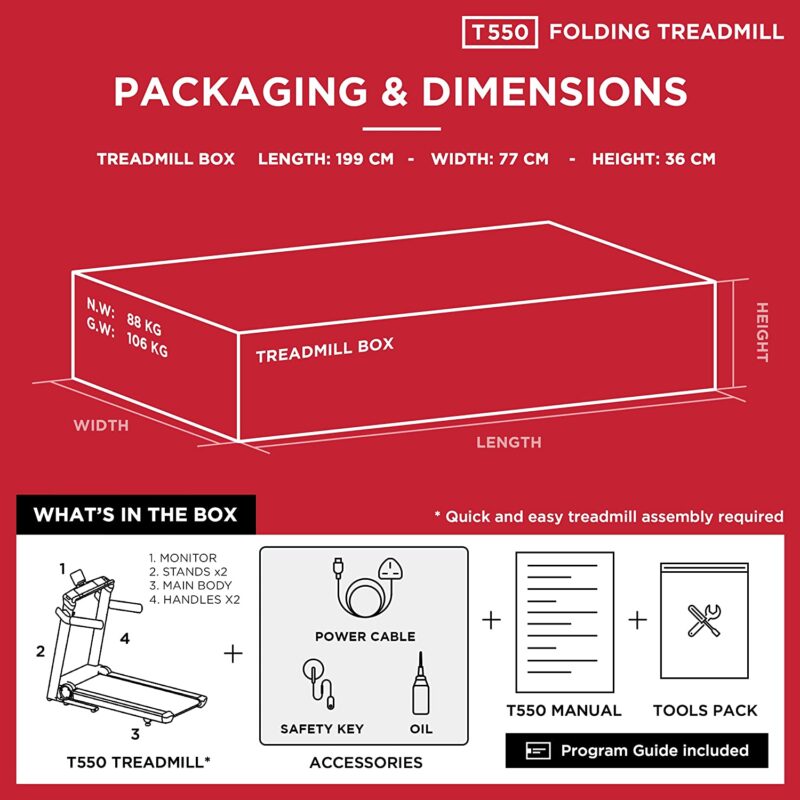 ---
FEATURES
20 Level Incline
20 level auto-incline allows you to exercise more and lose weight faster while also increasing your fat calorie burn by four times if you walk. The handrails include a variety of incline settings that may be changed with the incline buttons.
PLEASE NOTE: This machine has an initial gradient of 1 degree
Advanced Cushioning System
With the internal cushion deck, you can make the most of your comfort and minimize the harm on your joints. The cushioned system absorbs the shock from your workout so you may train harder and longer while being more secure running on the board. Competes well with other commercial running machines in this price bracket.
Pulse Sensors
The treadmill's console is equipped with pulse sensors in front of it.
App Connectivity
To link to Zwift, Kinomap, and Fitshow App, simply connect your device to the treadmill. This means you may participate in other runners' races from all over the world, track your workout statistics, and even join in on live broadcasts from around the world.
Entertainment
With high powered speakers
Use the Bluetooth wireless connection to keep yourself inspired with your favorite music. Get rid of your earbuds for powerful sound from the high-powered speakers. To watch movies, series, or participate in in-app workouts, simply place your device on the tablet holder of your fitness equipment.
Pause Function
When pressed, the STOP button will temporarily halt your workout. You may also restart it from where you left off after pressing and holding the START button for five seconds. This is ideal for emergencies or taking a rest; you may stop your exercise at any time by pressing the STOP button once, then continue where you left off once you've recovered.
---
PROGRAMS
You'll never be stuck for workouts ideas with the 30 programs to choose from. Perfect for a range of training alternatives.
30 Running Programs
Choose from a selection of running programs and treadmill speed; walking, HIITs, time trials, heart rate programs, and more depending on the demands of any runner.
Heart Rate Program
The motorized treadmill will maintain your planned heart rate by changing the running speed automatically.
---
WARRANTY
This fitness equipment machine will need to be serviced on a regular basis in order for it to function at its peak. The amount of time between required maintenance is determined by where the product is stored and how often the treadmill is used. This should be done every six weeks.
The instructions for performing the maintenance may be found on the JLL support center or in the booklet that comes with the product.
Treadmill Frame: Lifetime Warranty
Motor: 5 Years Warranty
Parts and Labour: 2 Years Warranty
PLEASE NOTE: When you first put your treadmill together, double-check the running belt!
This involves cleaning and lubricating your fitness equipment machine, as well as performing preventative maintenance on it. This is essential to the long-term functioning of your machine and for it to run at its peak power when required. The relevant details may be found in your owner's handbook.
*Warranty may be subject to change without notice and may differ between retailers – please check carefully before making a purchase.
---
---
Overall Verdict For the JLL T550 Folding Treadmill
So is the JLL T550 Folding Treadmill Right for You?
The JLL T550 is one of the great folding treadmills for runners who require stability and quality and it has an abundance of features that are sure to satisfy any runner's needs.
Whether you are taking your first steps into running or looking to replace an old treadmill, this model is very user-friendly and can be easily adjusted to meet your needs.
Visible updates make this JLL treadmill model very attractive, and the treadmill is fairly priced for its abilities.
The JLL T550 treadmill has limited transportability in comparison with other models, but it can still be moved in short distances using the built-in wheels. This makes it a suitable choice for runners who do not need to travel with their equipment often.
This treadmill is very stable and durable and the motor has a powerful performance that can support even the heaviest runners with a more than adequate maximum user weight.
Overall I can't recommend this treadmill enough (as with all JLL treadmills from their fitness equipment range) and it's a solid investment for all running abilities.
>>Check out our list of the best treadmills under £1000<<
---
---
FAQs
Is This A Good Maximum User Weight?
As far as treadmills go the maximum user weight of 150 kg is normally more than adequate.
What Does the Term DC Continuous Power Mean?
DC continuous power is the amount of electricity that a treadmill's motor can deliver continuously without overheating.
JLL Fitness Ltd Engineer:
A JLL Fitness Ltd Engineer can help clients choose the right treadmill by assessing their individual needs and preferences. They are also able to provide prompt and efficient service for any issues that may arise with a client's treadmill.
What is a Digital Micro Computer Controller?
A digital microcomputer controller is the electronic system that monitors speed, time, distance and calories for a treadmill. It is programmed with information on variable speeds and programmes to ensure its user has the best workout experience possible.
>>This features on our "Best Treadmill For Tall Runners UK roundup" and list of best treadmills for beginners.<<
Affiliate Disclosure
In compliance with the FTC guidelines, please assume the following about all links, posts, photos and other material on this website:
Any/all of the links on this website are affiliate links of which GymFreakz receives a small commission from sales of certain items, but the price is the same for you.
www.gymfreakz.com is a participant in the Amazon Services LLC Associates Program, an affiliate advertising program designed to provide a means for sites to earn advertising fees by advertising and linking to Amazon.com & Amazon.co.uk. Pages on this site may include links to Amazon and its affiliate sites on which the owner of this website will make a referral commission.