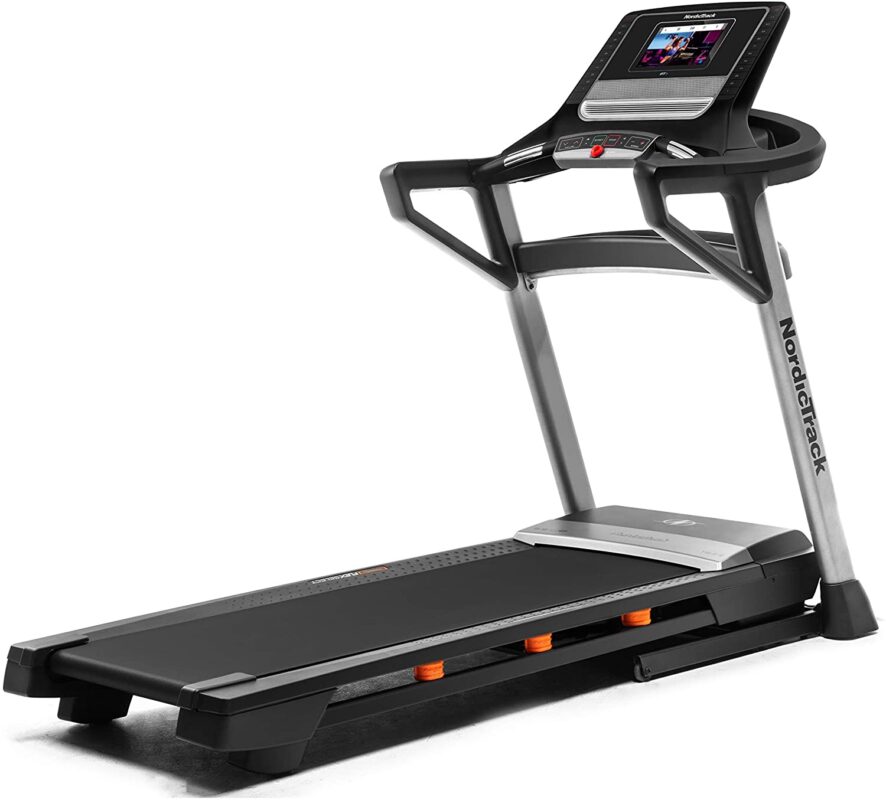 Fitness Equipment – The Nordictrack T 7.5 S Treadmill Review
Introduction
The Nordictrack T 7.5 S Treadmill is a great home treadmill with a running area / treadmill belt of 152cm x 51cm that can be used by both novices and veterans.
It has a 7″ LCD screen, Bluetooth connectivity, iFit training programs, fast max speed, and a 12% incline, which is better than the other treadmills competition in most aspects. It essentially covers everything a runner needs from a treadmill and more.
The Nordictrack T 7.5 S treadmill comes with a cushioned running deck in the package, as well as solid Bluetooth speakers and holder areas for phone/tablet/drink, making it an excellent option for anybody who wants to work out at any time.
The Nordictrack T 7.5 S treadmill offers a wide range of features and benefits that you may take advantage of to help you stay active whilst in training or even recovering from an injury or surgery. We'll go through the details of the Nordictrack T 7.5 S's features, as well as its specifications and potential drawbacks, to help you decide if it's a good choice for you.
Disclaimer – This website contains affiliate links. If you find the information useful and click on a product link and make a purchase, a small commission will be earned by GymFreakz and we appreciate your support.
---
Nordictrack T 7.5S Treadmill Key Specification
Brand: Nordictrack
Colour: Black / grey
Material: Plastic, Metallic fiber
Item dimensions: L = 1.87m x W = 0.91 m x H = 1.51 m
Power source: Electrical cable
Item weight: 116 Kilograms
Maximum weight recommendation: 125 Kilograms
Maximum horsepower: 3 Horsepower
Maximum speed: 22 kmph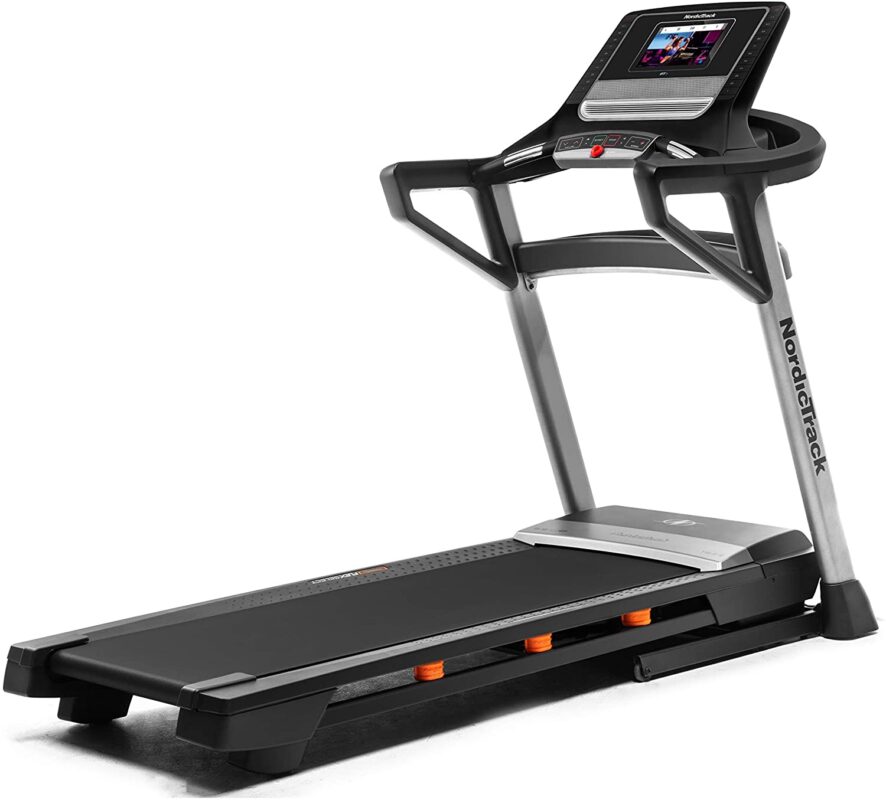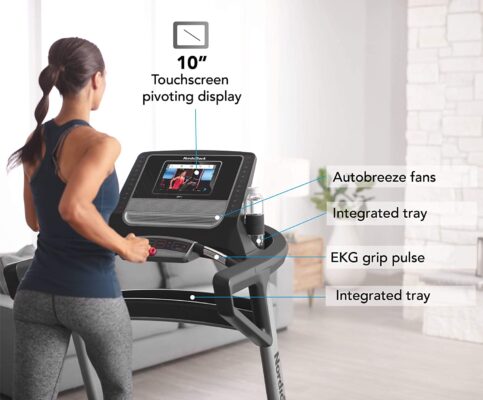 ---
About this item
Push yourself to the limit with a 3.0 HP motor that can reach 0-22 miles per hour and 0-12 per cent slope for an effective workout
Customize your training: a running area of 51 x 152 cm intended for longer strides and great for walking or jogging
Flex Select Cushioning is the most recent technology in nordic walking. It reduces the impact of vibrations on your joints by 15 per cent when compared to jogging on the road. To save space, fold and extend your treadmill as needed.
It's simple to operate, with a single-touch control panel that allows you to alter the machine's speed and inclination with a single touch. Users may weigh up to 125 kg.
The 9.7-inch touch screen, a year's membership to iFit, and over 1000 videos with instructors and customized exercises, giving live interactive training (contact information on the user's manual)
---
FEATURES
Features Of The Nordictrack T 7.5S Treadmill and What The Machine Includes
7″ Interactive HD Touchscreen
TOTAL BODY EXPERIENCEOur iFIT exercise sessions will work your entire body while providing comprehensive workout information through a wide range of activities. From high-intensity studio workouts to spectacular runs in Peru's mountains, our iFIT fitness experiences will tone and strengthen your whole physique while giving you complete access to thorough training statistics.
Elite Personal Trainers Motivate
LIVE Controls allow our world-class trainers to automatically adjust your speed and incline in real time for a superior workout, providing an ever-growing library of on-demand exercises.
LIVE INTERACTIVE TRAINING
TRAIN WITH THE BEST PERSONAL TRAINERS
INSPIRE YOURSELF, RUN AND SEE THE WORLD
Endless Training Options
Goodbye to tedious exercise routines. Our world-class trainers provide limitless variation, with studio sessions to worldwide exercises and even cross-training alternatives like yoga and boot camps.
---
Work Out Smarter with NordicTrack
16,000+ ON-DEMAND WORKOUTS
Stream your favorite fitness videos to your living room at any time of day or night.
WORLD-CLASS TRAINERS
Our skilled personal trainers engage and inspire you through amazing exercises in your very own home.
LIVE INTERACTIVE TRAINING
Excellent results and knowing your trainer keeps track of your pace and inclination will give you the assurance you need to succeed.
NEW DAILY WORKOUTS
Try something new with programs ranging from strong cardio and fat-burning to toning and strength training.
GOOGLE MAPS™
You can go and do it. With our revolutionary Google Maps™ workout technology, you may work out anywhere in the world.
STAT TRACKING
Real-time performance measurement is ideal for keeping you motivated and engaged.
MULTIPLE USERS & EQUIPMENT
Create as many as 4 profiles with a single membership, allowing the entire family to use it on various devices.
MEMBERSHIP PERKS
Personalized lifestyle counseling will help you live a healthy life.
LIVE Interactions™
You're more likely to stick with a routine if it's tailored to your individual needs. Check out iFIT's personal coaching services, which offer personalized workouts that are specifically created for you and adjusted based on your exact fitness level.
FlexSelect™ Cushioning
Our own dampening technology allows you to utilize dampeners to soften the impact on your joints or replicate a real road-running experience with a single turn.
CUSHION WITH MINIMAL IMPACT
INCREDIBLE ROAD-RUNNING EXPERIENCE
SMART-Response Drive System
The 3.0 CHP DurXTM Commercial Plus Motor is made to push you through your most demanding, fastest routines to keep you constantly challenged.
3.0 CHP DURX™ MOTOR
VIBRATION REDUCTION
SELF-COOLING MOTOR
---
Performance Specs
TECHNOLOGY
Includes 1 Year iFit Family Membership
iFit Integrated
7″ HD Touch Screen Display
Two 2" Bluetooth Digitally Amplified Speakers
EKG Handgrips
COMFORT
FlexSelect™ Cushioning
51 x 152 cm Treadmill Belt
Workout Fan / AutoBreeze™
Onetouch™ Control System
SpaceSaver® Designed using EasyLift™ Assist
Balanced Non-Flex Rollers – 1.9" Precision
ENGINEERING
3.0 CHP (Motor)
0% to 12% (Digital Incline)
0 to 22 km/h (Speed)
CONVENIENCE
187L x 91W x 151H cm – Assembled Dimensions
110L x 91W x 178H cm – Folded Dimensions
213L x 83W x 41H cm – Boxed Dimensions
96kg – Product Weight
116kg – Boxed Weight
125kg Max User Weight
Warranty Coverage – Lifetime Frame Warranty, 10-year Motor Warranty, 2-Year Parts & Labour upon warranty registration within 28 days of purchase.
*Warranty may be subject to change without notice and may differ between retailers – please check carefully before making a purchase.
---
---
Overall Verdict For the Nordictrack T 7.5S Treadmill
Review
The Nordictrack T 7.5 S Treadmill is a high-quality treadmill that is highly dependable, which of course is standard practice with NordicTrack.
After assembling the NordicTrack T 7.5 S, which took about an hour to complete, I was pretty impressed with the design of the treadmill. As far as treadmills go, it is an aesthetically pleasing piece of equipment that would suit home decors of all kinds. The NordicTrack T 7.5 S Treadmill had a sleek look with its silver and black colour scheme.
The next thing I noticed about the treadmill was its extremely sturdy frame. The NordicTrack has a steel frame construction and weighs in at 96kg so there is very little chance of it toppling over. Furthermore, the running deck is extra-long measuring in at 152cm (60 inches), which makes running on the machine much more comfortable and safe. What's more, the walking belt is made of high-quality material that is strong and durable enough to handle fast speeds for walking or jogging up to 12kph.
The NordicTrack T 7.5 S Treadmill includes calorie goal (fat burning), heart rate control (customised speed/incline), body mass index (weight loss), custom, manual, fitness test and quick start. I have to admit that having the fat burning option is highly motivating as you're able to guage how many calories you're burning during your workout along with sticking to a heart rate zone goal at the same time.
The treadmill console has an easy-to-use LCD screen that displays all the workout information you would need. The console allows you to easily navigate through different workout options (time/distance/calories burned) and you have easy control over your incline range or speed for high energy studio sessions via the buttons going up each side.
So get ready to wave that workout boredom goodbye with its global workouts, varied workout intensity, personal iFit coach and much much more…and all at an affordable price tag.
---
More about the iFit monthly membership
---
---
More Info @ :
https://www.nordictrack.co.uk/ifit
Prices:
1 Year Subscription – £129
2 Year Subscription – £199
3 Year Subscription – £349
IFIT FREQUENTLY ASKED QUESTIONS
CAN I STILL USE MY TREADMILL, ELLIPTICAL, BIKE, FUSION OR ROWER IF I DON'T RENEW MY IFIT SUBSCRIPTION?
If you don't renew your membership, you will only be able to access a certain number of iFit exercises. You can always use your treadmill in manual mode, whether it's a treadmill, elliptical, bike, fusion or rower.
HOW DO I BEGIN A WORKOUT ON MY MACHINE IF MY IFIT SUBSCRIPTION HAS EXPIRED?
To begin a manual exercise, simply push the Start button on your machine. You'll be able to manually adjust your settings, and an oval racetrack will appear on your screen as you work out.
HOW DO I CANCEL MY IFIT MEMBERSHIP?
To cancel your subscription, follow these steps:
1. Log in to your account at iFit.com.
2. Hover over your name in the top right corner, then click Settings.
3. On the left side, click Membership Plan.
4. Scroll to the bottom, then click End Benefits.
5. Click Continue to End Benefits until the Confirm Your Membership Cancellation pops up, then click End Membership.
NOTE: If you purchased your subscription through the App Store or Google Play, you'll need to cancel it through your phone settings.
HOW CAN I GUARANTEE THAT I WON'T BE CHARGED FOR ANOTHER YEARLY SUBSCRIPTION WHEN MY FREE 1-YEAR TRIAL EXPIRES?
There are a few things you can do:
1. Make sure iFit emails don't end up in your spam folder. You'll receive a reminder email 30 days before your subscription renews on its own.
2. Cancel your subscription at any time by disabling it in your account settings. Your existing membership will continue until its original expiration date, but it won't renew.
3. If you'd like us to remove your credit card information from your account, which would prevent any automatic transaction from being processed, please contact us by email or phone.
WHY DO I HAVE TO TYPE IN MY CREDIT CARD NUMBER BEFORE USING IFIT, EVEN THOUGH IT WAS INCLUDED WITH MY MACHINE?
You won't be charged anything right away because there's nothing to charge you for. For renewal purposes, iFit need your credit card information, so they'll have a payment method on file when your subscription renews. Because your iFit payment data is not shared with your NordicTrack purchase, it isn't necessary to inform Nordic directly.
---
General Nordictrack FAQs
Is the NordicTrack treadmill worth it?
The NordicTrack T 7.5 S is a great and affordable treadmill offering a great workout every time with, fantastic high-quality features such as great daily workouts, fast max speed, world class coaches, varied incline range / live incline control, instructor digitally adjusts and even cross-training options. The best thing about it is the iFIT technology. When combined with iTunes, you can download guided workouts from experts and athletes onto your iPod or MP3 player and use them as built-in workouts on the treadmill. This works really well for beginners who want a plan for their fitness goals, who want that calorie burn but who don't know where to start. Let the elite personal trainers motivate by selecting a high energy workout, with in-depth workout stats, stunning google maps all at the tips of your interactive hd touchscreen
What's the best NordicTrack treadmill?
All the Nordictracks are great and are guaranteed to get a good treadmill review but it depends on your budget, available workout area and standard of running as to what is the right treadmill for you. Make sure you review thoroughly multiple machines and make your decision according to what suits you and your situation best.
How much are Nordic treadmills?
Prices vary from treadmill to treadmill. In general the larger, faster, more hi-tech – the more they cost.
How heavy is a NordicTrack treadmill?
NordicTrack treadmills weigh as little as 44 lbs and as much as 280lbs.
Affiliate Disclosure
In compliance with the FTC guidelines, please assume the following about all links, posts, photos and other material on this website:
Any/all of the links on this website are affiliate links of which GymFreakz receives a small commission from sales of certain items, but the price is the same for you.
www.gymfreakz.com is a participant in the Amazon Services LLC Associates Program, an affiliate advertising program designed to provide a means for sites to earn advertising fees by advertising and linking to Amazon.com & Amazon.co.uk. Pages on this site may include links to Amazon and its affiliate sites on which the owner of this website will make a referral commission.