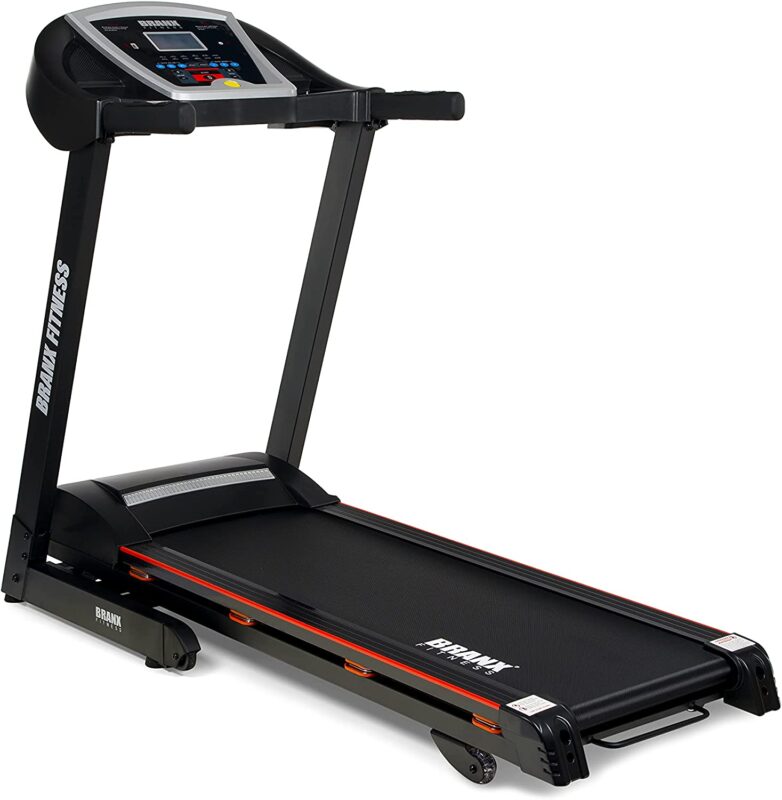 Introduction
When it comes to fitness equipment, Branx Fitness is an absolute master of it. They have both commercial treadmill and home treadmill models available in the market today. However, their foldable "StartRun" Treadmill is one of the most affordable treadmills that will be a great addition to your home gym.
Though a budget running machine, it ticks all the boxes to assist you in crushing your fitness goals while maintaining a folding and compact design.
To save you time and effort, I took the initiative to break down all of its mouth-watering features that will attract you the most. Like other models of Branx Fitness treadmill, Start Run is a versatile and commercial quality treadmill.
This means that for the price of a regular-mid range treadmill, you will get a top-quality running machine perfect for commercial gym and home users.
With this limited edition treadmill, Branx Fitness actually lures fitness enthusiasts into buying this running machine without digging deep into their pockets.
It is a fascinating piece of fitness equipment, so make sure that you read till the end as I break down the amazing features of this technology for you.
Disclaimer – This website contains affiliate links. If you find the information useful and click on a product link and make a purchase, a small commission will be earned by GymFreakz and we appreciate your support.
---
Branx Fitness Foldable StartRun Treadmill Key Specification:
Speed Range: 0-16.5km/h = 0-10.2mph
Motor: 3 CHP- 5 HP peak motor
Running Area: 120cm (Length) x 42cm (Width)
16 Level Auto Incline
12 Built-in Programs
Soft Drop System
BMI Feature
1.8mm running belt thickness
Maximum User Weight: 125 KG
Entertainment: 5.5 inch LCD Display, Built-in speaker, BlueTooth Wireless Technology
Warranty: 2 years on parts &labour and 5 years on motor and frame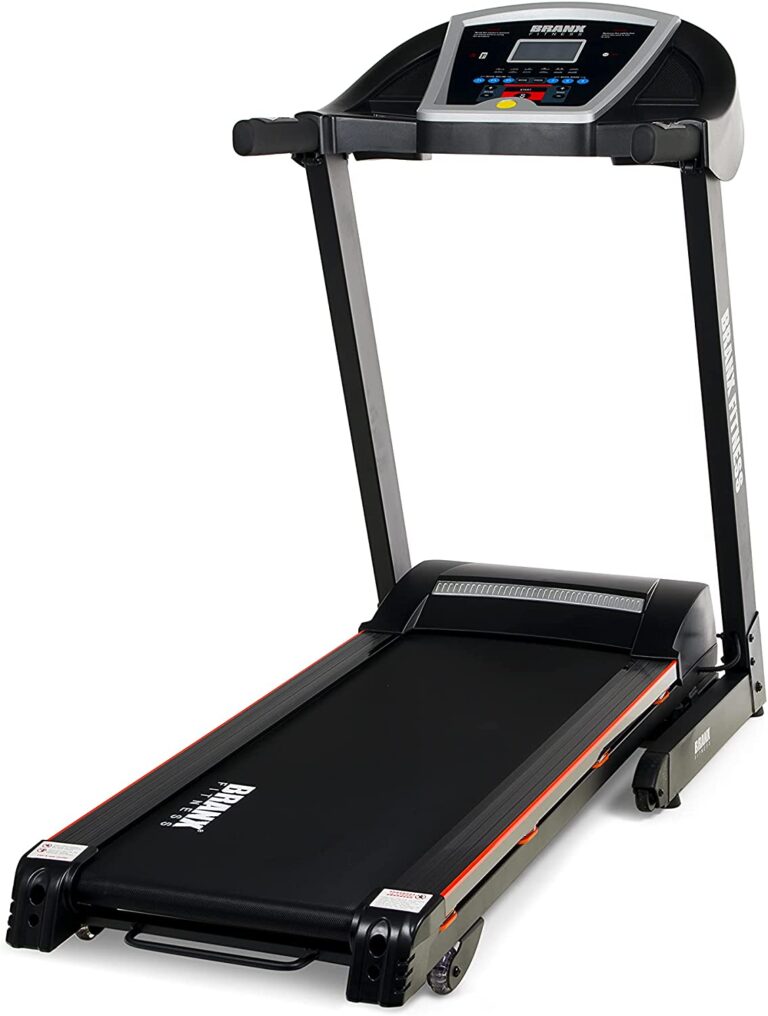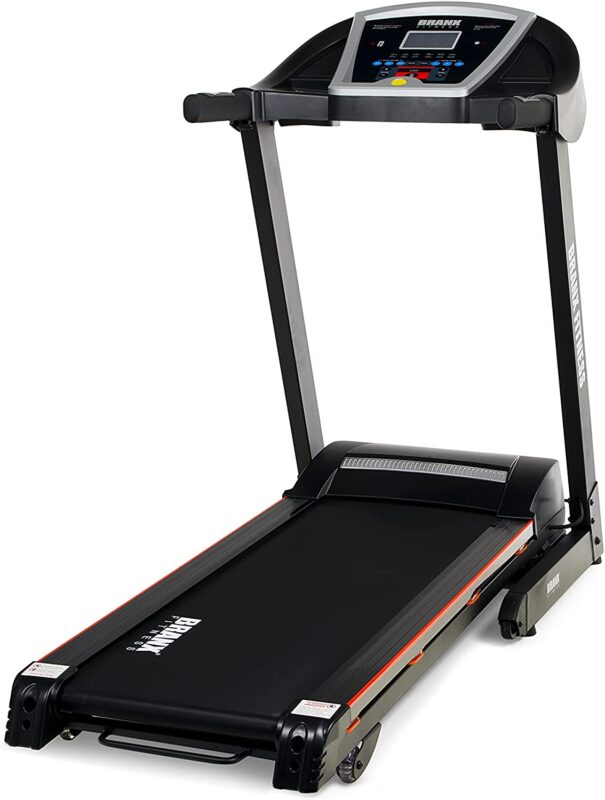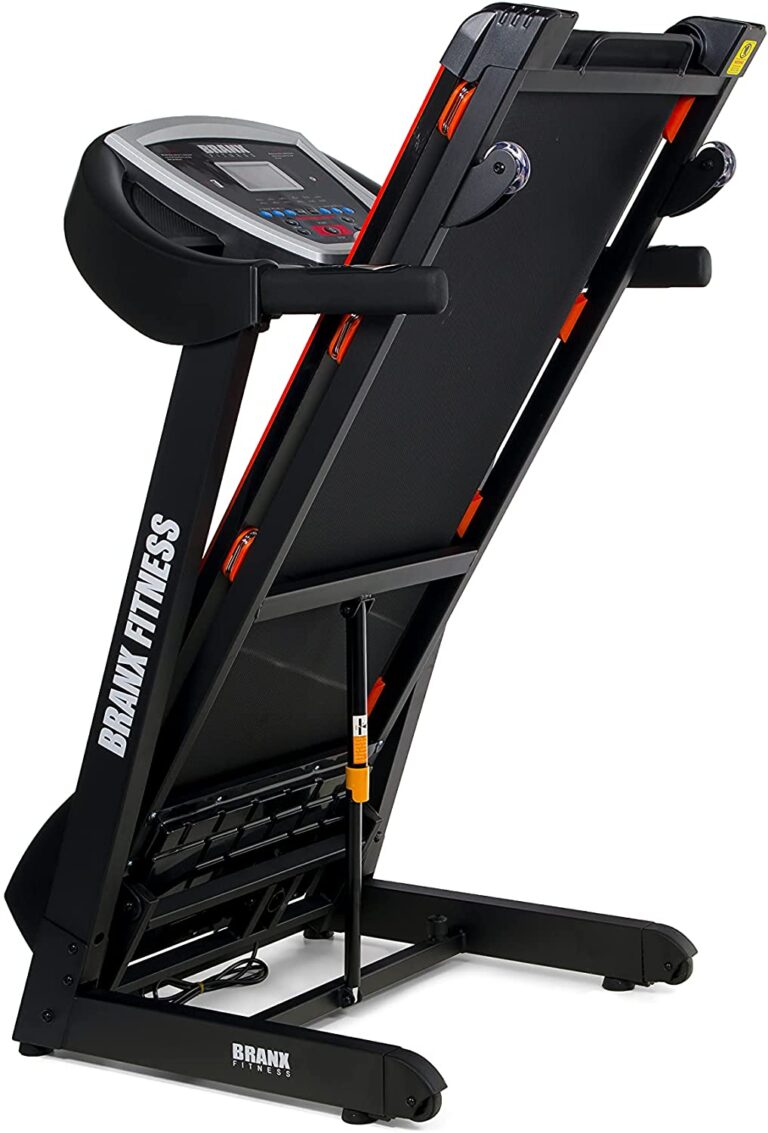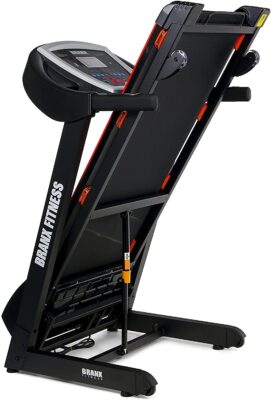 ---
FEATURES
Automatic Incline:
The 16 levels extended auto incline capacity allows you to do more vigorous exercise to activate different muscle groups and lose weight faster. This feature helps to cater for individuals with different fitness levels. It also integrates hand pulse sensors that can help you monitor your heart rate.
12 Built-in Programs:
It offers you 12 built-in programs as well as incline buttons and handlebar speed controls, which allows you to personalize your workout. Besides, with a 5.5 inches LCD display, you can keep a track of time, speed, distance, and calories.
Advanced Absorption System:
Branx Fitness incorporated an 8-Point Running Deck Absorption System in this foldable treadmill. Compared to concrete and asphalt surfaces when running outdoors, this feature helps in absorbing more of a runner's impact. It adapts to your style of running and in the long run, it helps in protecting your joints from harm.
Anti-Skid Running Belt:
This is another attractive feature that ensures an optimal running experience for different users. The anti-skid running belt dampens the shock and makes running more comfortable.
Front and Rear Rollers:
Branx Fitness promises a comfortable and secure running user experience in all its treadmills. Therefore, they have upgraded the front and rear rollers in size for this treadmill to ensure maximum stability and a connected user experience.
Soft Drop System:
Branx Fitness treadmills are all about convenience and optimal user experience. The Start Run treadmill slow drop mechanism ensures that the machine drops slowly and safely to the floor. Simply tap the kick zone in the strut and it will drop all by itself.
The Start Run treadmill has a very nice and easy to use touch screen console. You can easily navigate between different programs and use the mode button to set goals for yourself. For example; you want to burn 100 calories or run for 10 minutes, so when you reach the target, the machine will stop automatically.
In addition, there is a magnetic safety key that can stop the treadmill immediately to avoid accidents. Though not as useful as the pause button.
It also features a plasma cooling fan but it needs a boost
---
Warranty:
To keep the fitness equipment machine in top-notch quality, it will need regular servicing. How often it requires maintenance totally depends on how you use it and where you store it. Ideally, after every six weeks, the treadmill should be serviced.
Treadmill Frame and Motor: 5 years warranty
Parts and Labour: 2 years warranty
Start Run definitely distinguishes itself from its other treadmills when it comes to warranty.
*Warranty may be subject to change without notice and may differ between retailers – please check carefully before making a purchase.
---
Performance Specs
TECHNOLOGY
Includes 1 Year iFit Family Membership
iFit Integrated
7″ HD Touch Screen Display
Two 2" Bluetooth Digitally Amplified Speakers
EKG Handgrips
COMFORT
FlexSelect™ Cushioning
51 x 152 cm Treadmill Belt
Workout Fan / AutoBreeze™
Onetouch™ Control System
SpaceSaver® Designed using EasyLift™ Assist
Balanced Non-Flex Rollers – 1.9" Precision
ENGINEERING
3.0 CHP (Motor)
0% to 12% (Digital Incline)
0 to 22 km/h (Speed)
CONVENIENCE
187L x 91W x 151H cm – Assembled Dimensions
110L x 91W x 178H cm – Folded Dimensions
213L x 83W x 41H cm – Boxed Dimensions
96kg – Product Weight
116kg – Boxed Weight
125kg Max User Weight
Warranty Coverage – Lifetime Frame Warranty, 10-year Motor Warranty, 2-Year Parts & Labour upon warranty registration within 28 days of purchase.
---
---
Overall Verdict
Review
There are a lot of things to love about this treadmill as well as a few aspects where it needs improvement. In this section, I have shared my thoughts on the best and worst parts of this treadmill. Let get started
What I liked about the Start Run
Assembly and Delivery:
One of the main reasons Branx Fitness treadmills grab a tonne of positive user reviews is because it comes pre-assembled. This is a huge bonus considering its weight and saves you from the hassle of doing it yourself.
Only main parts which are easy to screw in are left for you, hence assembling a treadmill is easier than ever. Besides, due to the soft drop system, you don't have to hold the weight of running the deck as it unfolds.
Another reason to love Branx Treadmill is the express delivery. Usually, when you purchase the treadmill, you can expect the delivery within 2-5 business days.
Powerful Motor:
It was so refreshing to find a portable treadmill that has 16 km/h high-speed and falls within the budget. Many other treadmills have a maximum speed range of 9 to 10 km/h and cost much more.
With the Start Run treadmill, you can have real run experience and do not have to confine yourself to slow jog or walk. Besides, with 0-16 max incline levels, you can carry interval training sessions.
Noise Level:
Nobody likes noisy machines, it only ruins the user experience. Thankfully, all Branx Fitness treadmills are quiet. While running, you will only hear the sound of your footsteps. This means you can enjoy your favourite music or watch TV without any squeaking or screeching.
Customer Support
Not just me, but you will find most users satisfied with the stellar customer service of Branx Fitness. When you are spending money, it is always good to have after-sales care ensuring product reliability.
Excellent Weight Limit and Running Deck Size
The 125 kg maximum weight capacity and large running area make the Start Run treadmill much more versatile and accessible. I really like how this treadmill adapts to your style of running and caters needs accordingly. So while running, I can be fully confident about my strides and able to perform my workout with full control.
>>Want more lightweight treadmill options? Click here!<<
Budget-Friendly:
Start Run treadmill is not just budget-friendly in terms of the price range but also saves you money on a costly gym membership. If you do not like the gym environment, you can always bring the gym treadmill home. It's a great alternative and can motivate you to work out even more.
Easy-to Understand Manual:
The manual you get with Start Run is definitely something I must appreciate. The instruction manual is one aspect that many manufacturers do not give much importance to. However, it is an important aspect to understand how the machine works and its setup.
Since we all talk about the first impressions, I believe, for users, it's the manual that creates the first impression about the machine. And with Branx Fitness, it's the best I have seen.
---
Things That Could Have Been Better:
No Pause Function:
Unfortunately, only Branx Elite Runner Pro comes with a pause function while other models do not include it. Though a small function, it can bring a lot of convenience by allowing you to resume the workout when you stop the machine.
Inbuilt-Programs are not saved:
This is something that really annoys me. Any changes to the Start Run's setting are not stored. This means that every time you workout, the preset is reset.
Speakers and fan need improvement:
This is a common problem in most treadmills. Whether it is Branx Elite Runner Pro or other models, the speakers' output is on the low side. If they could use more power, it will enhance the overall user experience. Besides, the plasma cooling fan can be a little more efficient, as it seems ineffective when you are really hot.
To conclude, the Start Run treadmill really impressed me. Yes, it needs minor adjustment but the positives clearly outweigh the negatives. It can outshine most commercial treadmills with the features it packs in.
This is an ideal fitness equipment machine if you want a high-performance treadmill. When you look at the features, build quality and other aspects, Start Run is really worth investing in. And since it's a Branx Fitness' treadmill, there are no doubts about the product quality and you will have maximum value for money.
>>This features on our "Best Treadmill For Garage Gym roundup" here.<<
---
---
FAQs
Who will this treadmill ideally suit?
People Looking To Get Fit:
The Start Run treadmill is an ideal option for all people looking to improve their fitness level and health or who want to lose weight.
It has a maximum speed of 16 km/h which is less than its preceding models like elite runner pro, but it's enough for running. The treadmill has a maximum user weight capacity of 125 kg and has enough length for a larger stride.
People Looking To Protect Their Joints:
Most treadmills do not have excellent shock absorption ability. Fortunately, Branx Fitness Start Run offers a great solution to keep your joints protected from harm. The 2-ply, 1.8mm thick running belt covers a high-grade spring system and MDF deck which dampens noise and offers added comfort.
Tall Runners:
You can find multiple portable treadmills in the same price range as the Branx treadmill. However when you compare the power and convenience for larger users, Start Run stands out.
Its powerful motor enables high-intensity workouts and is spacious enough to accommodate users with a longer stride.
People Short On Space:
Start Run comes with a compact and foldable design. So if you are short on space, this foldable treadmill will solve your problem. Once you are done exercising, fold the machine for easy storage.
Moreover, it is an ideal alternative to Branx Fitness Foldable Elite Runner if you are low on budget and want a foldable treadmill.
---
What's the distance measurement on the Start Run treadmill?
All Branx Treadmills use metric measurement (Km/h). Besides, you cannot convert to imperial measurement (MPH). You can monitor the distance and speed of your workout session on the LCD.
If you wish to see the measurement in miles, you can download a separate converter for it.
---
How noisy is this treadmill?
Fortunately, there is no noise at all due to the upgraded running belt quality. The german made springs and MDF running deck dampen the noise and shock.
---
Can this treadmill be linked with apps?
No, you cannot connect any apps with this treadmill directly because it is not Wi-Fi enabled. However, you can connect the audio source due to the Bluetooth connectivity to listen to music or podcasts while you work out.
---
How easy is it to move around this treadmill?
Well, it depends on the width of your doors. However, before moving it around, make sure to convert the treadmill to the storage position same as when it was delivered to you. Moreover, remember to lock the wheel pin tightly when folded to avoid any harm. Also, if you can get the help of another person, you will not have any issue moving around this treadmill.
---
Can I change the angle of the incline while using the treadmill?
Yes, you can do it in the same manner as you increase the speed (by using the buttons on the arms.)
---
Do you have any info on the Branx Elite Runner Pro Fitness Equipment?
Check out the reviews for the Branx Elite Runner Pro
Affiliate Disclosure
In compliance with the FTC guidelines, please assume the following about all links, posts, photos and other material on this website:
Any/all of the links on this website are affiliate links of which GymFreakz receives a small commission from sales of certain items, but the price is the same for you.
www.gymfreakz.com is a participant in the Amazon Services LLC Associates Program, an affiliate advertising program designed to provide a means for sites to earn advertising fees by advertising and linking to Amazon.com & Amazon.co.uk. Pages on this site may include links to Amazon and its affiliate sites on which the owner of this website will make a referral commission.