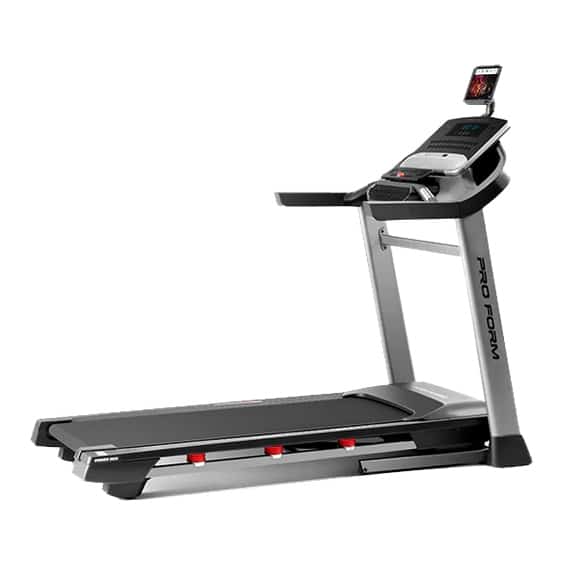 ---
---
Introduction to the ProForm Power 995i Folding Treadmill
The obsession over ProForm treadmills in the fitness industry is justified by every means. The right combination of features with user convenience is what makes it the best gym equipment. ProForm offers a wide range of incline/decline range with a powerful motor, durable design, and multiple training options. What else do you need to tone your muscles effectively?
The Proform Power 955i folding is one of the best folding treadmills which gives you the ever-growing workout library via an iFit subscription. It has unlimited programs designed to get the most out of your workout that tone muscle endurance effectively. It is the perfect equipment for fitness enthusiasts who want to bring the gym into the home to enjoy indoor workouts. Whether it's blazing hot or foggy outside it makes your workout comfortable with the help of its CoolAire workout fan.
It also features a drive system of 3.0CHP with 2.5" precision non-flex rollers that prevent the treadmill from shaking. And with an extra-long tread belt, you can have upper-body extra elbowroom so that you can have comfortable strides. In short, the Proform Power 995i folding treadmill is the perfect game-changer to be added to your workout routine.
Disclaimer – This website contains affiliate links. If you find the information useful and click on a product link and make a purchase, a small commission will be earned by GymFreakz and we appreciate your support.
---
---
Proform Power 955i Folding Treadmill Specifications
Dimension: 169H x 91W x 201D
Dimension (folded): 182H x 91W x 101D
Running surface: 51 x 152cm
Belt size: 20" x 60"
Maximum speed: 0-22km/h
Max user weight: 135kgs
30 built in workout programs
3.0HP Mach Z motor
Easy to assemble
Heart rate monitor
2" built-in speakers
Space-saving design
Transportation wheels
0-12% incline
Proshox cushioning 
6" LED display
Bluetooth connectivity 
iFit enabled
CoolAire workout fan
2.5" non-flex rollers
Easy lift assist
Certified personal trainers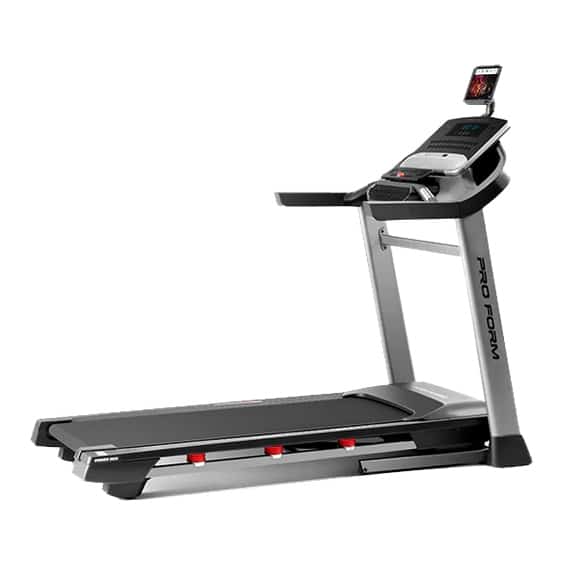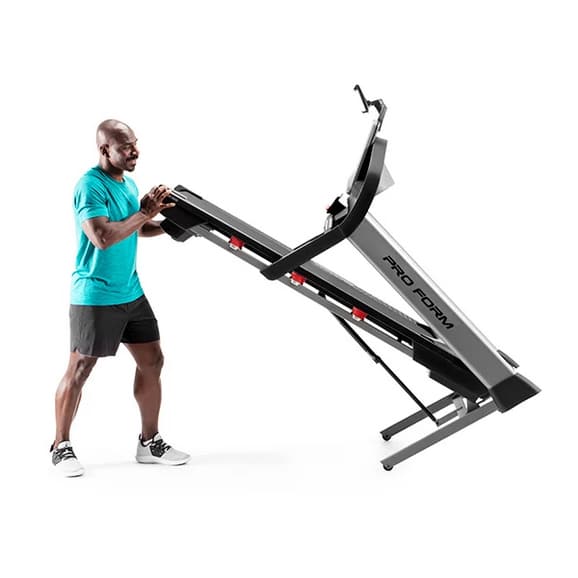 ---
FEATURES
Proshox Cushioning System
The cushioning system is one of the important aspects of the treadmill padding as it reveals the right amount of support. Proform uses the best cushioning in its models that best suits its requirement. The Power 995i uses the Proshox cushioning which is an air-based absorption system that gives the best comfort of all. It gives a quick response to every movement making it comfortable to move no matter what the speed is.
The mechanism of the Proshox cushioning is designed to keep the muscle engaged throughout the workout. It will respond to the changing elevation of the deck with every step and reduce the impact on the joints. One of the best parts of ProForm treadmills is that it allows the user to work out longer and recover faster. It allows a comfortable walk or run giving less stress to your joints, hips, knees, and ankles.
3.0HP Mach Z Motor
Proform Power 995i folding treadmill comes with a continuous horsepower motor of 3.0HP along with 2.5" precision non-flex rollers. It is perfect for joggers and walkers as it allows a maximum speed of 0-22km/h(12MPH). The perfect speed to push your limits and get the most out of your workout.
It features the self-cooling Z motor which is best suited for cardio training and other intense workouts at home. As it is a continuous horsepower, you don't have to worry about the motor pausing in between the adjustments to catch up. The ProForm Power 995i is ideal for both light and intense workouts based on their fitness requirement. Many people look for a running machine that allows more than 6MPH so that they can tone their muscles effectively.
Moreover, when the speed is combined with the automatic incline adjustability it helps in effective incline training. Power 995i provides an optimal performance so that you can challenge yourself with vigorous workouts. This feature is also helpful when it comes to burning more calories as it gives instant control via its two-speed settings. You can also customise your training with a motor delivering smooth compatible power to the full range of interval training.
Incline/Decline Range
It comes with a digital quick incline control of 0-12% incline level which is a game-changer for incline training. This aspect adds resistance to the workout and helps in burning 5x more calories and increasing the muscle tone. ProForm offers automatic incline adjustability in its treadmills which is one of the convenient features. It allows you to change the incline whether you are walking or running to make your workout more challenging.
This is the best way for challenging uphill routes as you can condition your body accordingly. It helps in increasing the muscle tone effectively and adds variety to your daily routine. This will keep the user engaged as they dont want to follow the same routine and challenge their body throughout.
Also, it gives the upper body comfortable elbowroom as it comes with a large running deck. It comes with both preloaded workouts and subscription content so that you can use it to influence future fitness plans.
Large Running Surface
The Proform Power 995i comes with an extra-long 20" x 60" non-stretch 1-ply commercial tread belt. It is a perfect choice for tall runners as they need longer strides to work out comfortably. It gives the best in-home workout experience because of its roomy deck size and full running stride.
The tread belt comes with metallic fibres that are woven into the belt to scatter static buildup. To ensure its durability, the belt has been tested for one million cycles that are double the user weight. The best part of the ProForm tread belt is that it is compatible for all athletes to stretch out their stride easily.
The 1-ply tread belt is thicker and requires less maintenance as compared to others. Not just that but it helps in giving a quiet and more stable workout experience. In short, the deck size gives your legs plenty of room to move along with comfortable elbow room. It is designed to give the best workout for your legs on a treadmill. And the 2.5" non-flex precision machined and balanced rollers help in giving a stable workout.
---
Warranty 
Frame: 5 years
Parts and labour: 2 years on parts and 1 year on labour
*Warranty may be subject to change without notice and may differ between retailers – please check carefully before making a purchase.
---
---
Overall Verdict:
If you're looking for a treadmill that gives more advanced user interactivity then the Power 995i is the perfect option! The ProForm Power 955i folding treadmill combines technical excellence and ease of use to give the best gym equipment. Having such features for an indoor workout is like bringing the gym to your home.
It comes with a self-cooling Mach Z motor with a continuous horsepower of 3.0HP which cools the internals. And its precision rollers will help you in giving a stable and smooth workout experience while preventing the risk of injuries. It gives on-demand fitness with certified personal trainers by its iFit subscription so that you can have a virtual outdoor experience.
Its perfect space-saving design comes with two transportation wheels so that you can move it from room to room. The Power 995i also has other transportation integrated features like a tablet holder so that you can enjoy your favourite routine. Its convenient digital quick controls allow you to monitor your progress and stay focused on your session.
The 30 pre-installed workouts are what keep you engaged throughout the session without getting bored. The auto incline adjustability is the treadmill game changer that allows you to adjust the incline level accordingly. And the perfect Proshox cushioning system will help in reducing the impact to your joints up to 28%. Lastly, its easy-lift assist function allows the user for hassle-free folding and extra mobility. In short, whether you are a newbie or an elite runner the Proform Power 995i is the perfect strong machine to begin enhancing your fitness habit.
---
---
What I liked about the ProForm Power 995i Folding Treadmill?
30 PreProgrammed Workouts
The Power 995i comes with amazing pre-installed workouts led by certified professional trainers. It is iFit enabled that allows you to choose your favourite routine so that you can enjoy a completely personalized experience. They are able to adjust your incline level, and speed to add resistance to your workout according to your muscle toning.
The iFit technology is the best way to connect you and your ProForm machine to online interactive training tools. An ideal way to track your progress, plan your workouts without leaving your living space for your fitness habit anymore. iFit allows you to be a part of an enthusiast fitness community that not only motivates you but supports your fitness goals.
Moreover, you can also enjoy iFit Live compatibility where you can download additional workouts and customised training programs. It also lets you compete in treadmill races via Facebook where you virtually run using projected routes with google maps. You can also connect a tablet to your machine with the help of a smart cardio equipment application and enjoy an unlimited fitness library.
The ProForm comes with a CoolAire fan to help you finish your workout in comfort. It has built-in ventilation to provide a pleasant breeze when needed. It has four power levels that allow you to effortlessly modify from low to high. Climate control is an important consideration when using gym equipment at home, and ProForm is the best to trust with it.
Easy lift assist is one of the best aspects of the ProForm treadmills which gives it a space-saving design. The Power 995i folding treadmill is best for those who are short on space and want to make use of their space in a convenient way.
You can easily store the treadmill when not in use as it is easy to lift and moveable via its transportation wheels. It can easily move from room to room which also makes the Power 995i treadmill ideal for the home environment. It totally rocked the fitness industry with the combination of features it uses just like a built-in powerful shock. It is designed to easily lift the deck with an easy push.
The Power 955i treadmill comes with an exceptional EKG grip pulse. It is best known for providing accurate pulse readings so that you can perform goal-oriented workouts easily. There are built-in hand-grip sensors in the handlebars that detect your heart rate within seconds at any point of your session. It is one of the effective ways to improve aerobic endurance, lose weight, etc.
This is one of the interesting features of the new ProForm Power 995i treadmill that comes with an iPod compatible music port. All you need to do is just plug in your iPod or MP3 player into its built-in sound system. You can also create your raving workout playlist to have the perfect workout session. With its iPod-compatible Bluetooth audio, you can have the best fitness experience of a hands-free workout.
---
Things That Could Have Been Better:
The display size of the treadmill is 6" which is not suitable for people with short vision. However, with the right use of features, it could have been better if the display size is enhanced.
---
FAQ's 
Does ProForm give reliable customer service?
Yes, it is reliable when it comes to customer satisfaction. It keeps its online chat open and responds very quickly. Keep this in mind, as the representatives are motivated by the commission which makes them a little pushy to get you to make a purchase.
Is the treadmill durable?
ProForm built their treadmills with the finest quality parts and motor without compromising on its durability.
Who may suit this treadmill?
The treadmill is best suited for users up to 6ft as it features a large running area that gives your legs plenty of room. Also, it depends upon how long the stride is as every user has a different running style.
---
Affiliate Disclosure
In compliance with the FTC guidelines, please assume the following about all links, posts, photos and other material on this website:
Any/all of the links on this website are affiliate links of which GymFreakz receives a small commission from sales of certain items, but the price is the same for you.
www.gymfreakz.com is a participant in the Amazon Services LLC Associates Program, an affiliate advertising program designed to provide a means for sites to earn advertising fees by advertising and linking to Amazon.com & Amazon.co.uk. Pages on this site may include links to Amazon and its affiliate sites on which the owner of this website will make a referral commission.