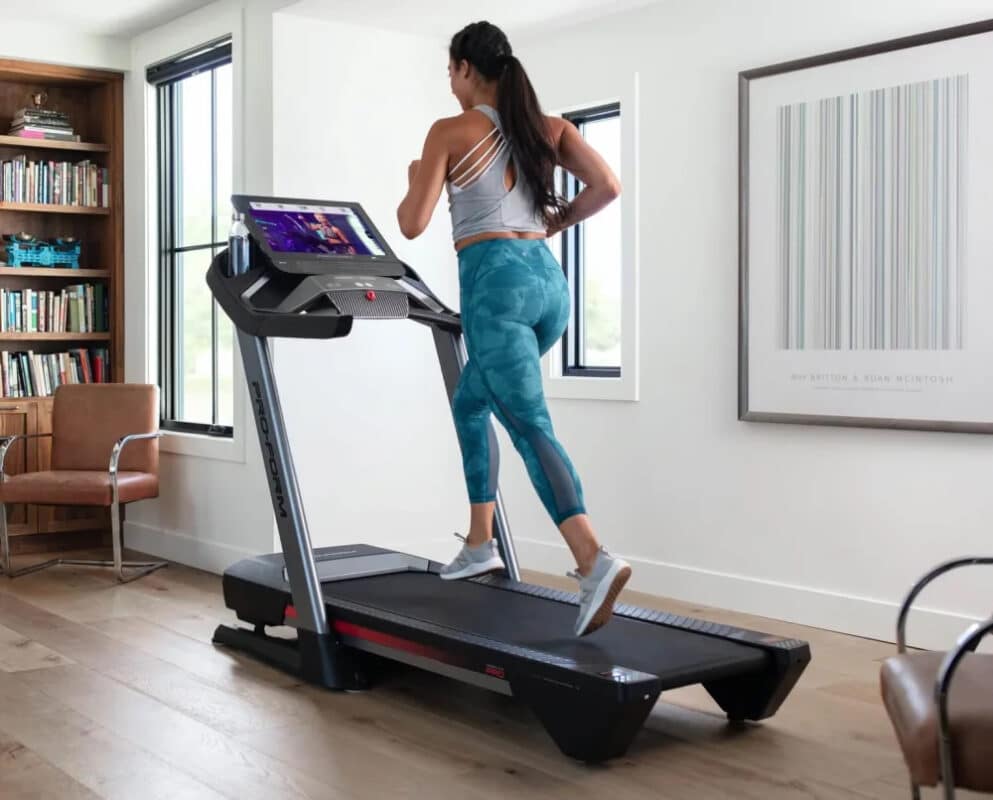 ---
---
Introduction to the ProForm Pro 9000 Folding Treadmill
Are you looking for a treadmill that provides you with sheer power, innovative features, and optimal comfort? Look no further. The Proform Pro 9000 Folding treadmill is an absolute beast that perfectly caters to the fitness needs of all sorts of users.
It is a hybrid commercial home treadmill that doesn't compromise on power at all. The treadmill can fold flat which allows users to create more floor space when not using it.
The treadmill is super sturdy and provides the user with all the updated features. From the high contrast touchscreen at the top to the cushioned treadmill deck, you can find little to no faults. What comes as a great advantage alongside these features is the excellent pricing that makes it best for bringing home.
Compared to other treadmills in the same price range, the Proform Pro 9000 folding treadmill stands out in all aspects. The treadmill is also not heavy, unlike other Proform models we have reviewed. The best is that you can choose from the selection of 62 programs. Amazing, isn't it? So continue reading as we break down more of its incredible features for you.
Disclaimer – This website contains affiliate links. If you find the information useful and click on a product link and make a purchase, a small commission will be earned by GymFreakz and we appreciate your support.
---
---
ProForm Pro 9000 folding treadmill specifications:
Motor Size: 3.25 CHP
Dimensions: H151 x W89 x D196cm
Folded dimensions: H176 x W89 x D114cm
Running Deck: 51 x 152cm
Incline Range: -3% to 12%
Max Speed: 0-22 KM/H
Max weight capacity: 136kg
Built-in programs: 62
Targeted Muscle Area: Total body
Display Type: LCD
Entertainment: 22" Smart HD Touchscreen, built-in speakers
Reading(s) Displayed: Calories burned, Distance, Elapsed time, Other
Transportation Wheels: Yes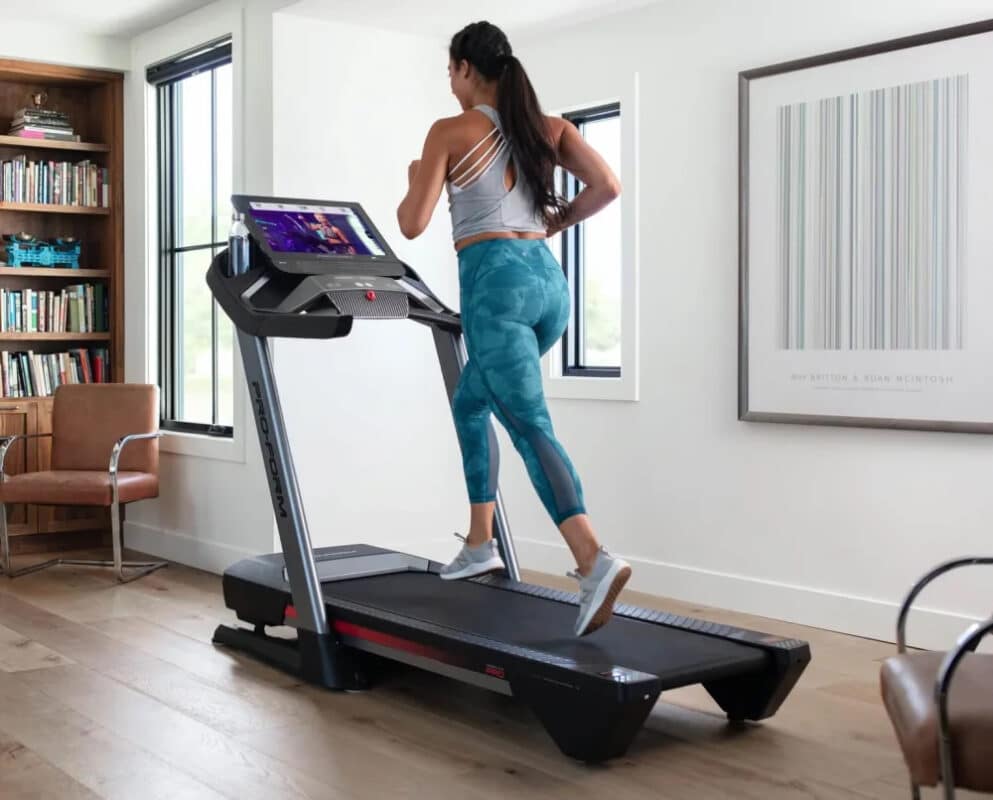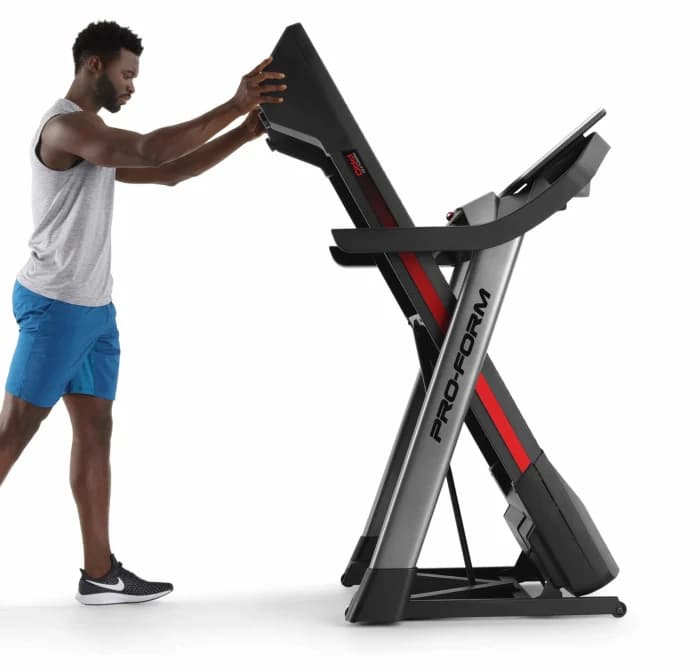 ---
FEATURES
ReBound Pro Cushioning:
The ReBound cushioning system of ProForm Pro 9000 is designed to give a balanced toe-off. It helps in protecting your knees and joints by reducing the impact on them. It has the adjustable and most advanced cushioning system that allows the user to adjust the firmness and softness of the deck. Also, it will help the user in working out longer and recover faster as compared to other cushioning systems.
It comes with a roomy deck size of 51 x 152cm that makes your workout more comfortable. It is best suited to tall runners who look for long strides as its spacious belt allows you to stretch out your strides easily.
The side rails of this treadmill come with a sturdy black plastic that gives a balanced width for stepping off the belt. It has gone through multiple testing zones at double the user weight which makes it reliable.
In short, the Rebound Pro cushioning system is one of the best aspects of the Pro 9000 to ensure the treadmill's top quality.
Smart HD Touchscreen:
You can have interactive personal training sessions by constantly checking your workout stats on the smart HD touchscreen. Both speed and incline buttons are located beneath the 22-inch screen and are within quick reach of the user. It allows the user to monitor their workout and read their mileage, distance, calories burned easily. And with energetic studio workouts to cross-training, there are vast options available to explore on the 22-inch smart screen.
In this updated Proform 9000 treadmill, you can tilt the display and adjust it according to your height, so every member can use it hassle-free. Also, one of the greatest advantages of this HD touch screen is that it is completely waterproof, so you do not have to worry about getting some sweat on it accidentally.
Built-In Workout Programs And Vast Ifit Library:
What could be more facilitating than getting a number of elite trainers workout sessions at home? The ProForm 9000 comes with versatile iFit compatibility along with 62 pre-loaded workout programs. iFit is best known for its professional training programs and shock experience personal training. With this aspect, you can easily perform goal-oriented workouts and tone your muscles more effectively.
The training sessions on ProForm Pro 9000 folding treadmill are super engaging and effective as several certified personal trainers help you reach your on-demand fitness. It lets the trainer automatically control your incline and speed according to the requirement of muscle endurance.
These professional trainers make sure you enjoy interactive training, scenic locations while having indoor workouts. Adding to this, your expert personal trainers lead you to a healthy routine and influence future fitness plans so that you don't have to worry about your fitness habit anymore.
Moreover, its integration with Google maps allows the user to virtually use the machine while running across various terrains. It is one of the interesting features of iFit compatibility that keeps the user engaged without getting bored of the same routine. In short, iFit membership is the best way to experience personal training in the comfort of your own home. Countless studio classes and outdoor workouts led by professional trainers will motivate you to have the most of your workout.
3.25HP Mach Z Motor
You can enjoy the speed from 0 to 22kph on the Proform Pro 9000 treadmill with just the flip of buttons. Even at the highest speed and incline, the treadmill remains to be pretty stable and firm. If you are a serious runner or a professional athlete, then the Proform Pro 9000 treadmill is the best choice for you.
The motor drives at a speed of 3.25 continuous horsepower (CHP) which is super unique when you look for home-purpose treadmills. The heavy power continuous motor drives the tread belt up to a maximum of 22kph which is more powerful than the demand of the customers. Not just that, the commercial Mach Z motor is best known for its self-cooling feature which gives more effective cardio training.
It comes with an incline range of 15% which is the best way to add resistance to your workout and burn more calories. The combination of speed and incline level in this treadmill is the best way to experience intense workout sessions.
With such a strong motor, the running belt of the treadmill has a wide footprint that supports your run and provides comfortable elbow room so you can have an uninterrupted hands-free workout. In such a price range, ProForm Pro 9000 folding treadmill is a game-changer in the market.
---
Warranty
Parts and Labour: 2-year warranty
Frame: 5-year warranty
*Warranty may be subject to change without notice and may differ between retailers – please check carefully before making a purchase.
---
---
Overall Verdict:
The price range of the ProForm Pro 9000 treadmill assures the level of quality that is not often found in high priced machines. We might critique a number of qualities found in other treadmills, but we have to agree that it is super difficult to find a good treadmill in such a price range. It offers great features at a decent price which makes it one of the best amongst home treadmills.
The folding feature of the product allows the user to conveniently fold the treadmill and create space when the product is not in use. There are 62 pre-programmed workout programs present in the Pro 9000 treadmill which allows you to enjoy a complete home gym. With beginner, intermediate and advanced levels there are several fitness tips that the user can follow according to their needs. 
The HD 22" touchscreen present right in front of you acts as a connected fitness tracking check which displays your calorie burn, time, distance, treadmill's speed, and incline/decline range. This way you can adjust the intensity instantly within just one tap. Not only this but once connected to the Wi-Fi, you can follow iFit trainers guidance shown to you without any hindrance and continue a healthy workout. On top of that, the iFit trainers automatically adjust the treadmill to tone your muscle strength effectively.
To turn your toughest workouts into entertainment sessions, there are 2-inch dual speakers present at the bottom of the ProForm Pro 9000 console. These speakers deliver a super crisp sound and cover a good sound range so the users can hear the classes perfectly. You can plug into the integrated speakers, put on your favourite songs and spend time jogging in a healthy and fun way.
And with the iFit family membership, you can enjoy strength training studio classes at home. It doesn't even matter if you are 'matching', wearing the same workout clothes (as there's no one to judge ;-), hop onto the machine and make most of your fitness routine.
>>Check out our list of best treadmills with screens here<<
---
---
What I Like About The Proform Pro 9000 Folding Treadmill
When you visit the website to purchase the ProForm Pro treadmill you will be offered a couple of options to choose from. If you think that putting up the machine together would be a difficult task for you, you can always choose to add a maintenance plan alongside in-home delivery.
However, you might face some difficulties choosing the white-glove assembly service due to the Covid-19 but there is always an option for room of choice delivery. If this is not suitable for you then the best they can do is to drop the curbside as close to your house as you want.
If you are wanting to assemble the Proform Pro 900 treadmills yourself then it is hardly a 10-minute task that requires two people at a minimum. The front wheels of the treadmill are installed but the rear wheels need to be attached so moving the deck around the room can be easier.
Despite the powerful motor, the treadmill offers you a quiet in-home experience. But, don't expect a treadmill to be completely silent. Sometimes the footsteps create some sound, but that does not act as a disturbance. In the ProForm Pro 9000 treadmill, the footsteps are dampened due to the extra cushioning feature present on the running belt, making it more peaceful.
---
Things That Could Have Been Better
Return policy or customer service:
Even though the product comes with a 30-day return policy, the process might be delayed. Since there is worldwide shipping going on round the clock, you may have to wait for a long time to get an official response. If you somehow don't like the treadmill for whatever reason, you can return it but the restocking fee and shipping cost will be deducted.
The product comes with an external workout fan that operates when the user becomes sweaty after continuous workouts. However, some users who are heavy sweaters don't find these fans to be pretty useful. Whereas other users use these fans to catch a good breath while having a tough run.
---
FAQ's
Is the Proform 9000 worth it?
Thanks to the power full motor, automatic incline feature, challenging uphill routes and warranty registration card, the ProForm Pro 9000 treadmill is definitely worth it. The treadmill tracks your performance, provides an excellent incline range to realistically match the terrain and allow effective body toning workouts.
Is ProForm 9000 quiet?
Amidst the weight and horsepower of the motor, the cushioning features dampen the footsteps of the user to produce little noise while working out. Therefore, the Proform Pro 9000 treadmill is super quiet and peaceful.
Can you watch Netflix on Proform Pro 9000 folding treadmill?
Unfortunately not. ProForm Pro 9000 treadmill has blocked all the streaming channels just so that users only have access to iFit.
Is the Proform treadmill worth it?
Proform Treadmill has taken the fitness industry by storm due to the incredible features it offers to its users.iFit integration allows on-demand Global and Studio Class Workouts, allowing users to optimally utilize their training session. Besides, iFit trainers lead your studio classes while you can also subscribe for emails providing fitness tips. You are going to enjoy heart-pumping cardio workouts.
---
Affiliate Disclosure
In compliance with the FTC guidelines, please assume the following about all links, posts, photos and other material on this website:
Any/all of the links on this website are affiliate links of which GymFreakz receives a small commission from sales of certain items, but the price is the same for you.
www.gymfreakz.com is a participant in the Amazon Services LLC Associates Program, an affiliate advertising program designed to provide a means for sites to earn advertising fees by advertising and linking to Amazon.com & Amazon.co.uk. Pages on this site may include links to Amazon and its affiliate sites on which the owner of this website will make a referral commission.