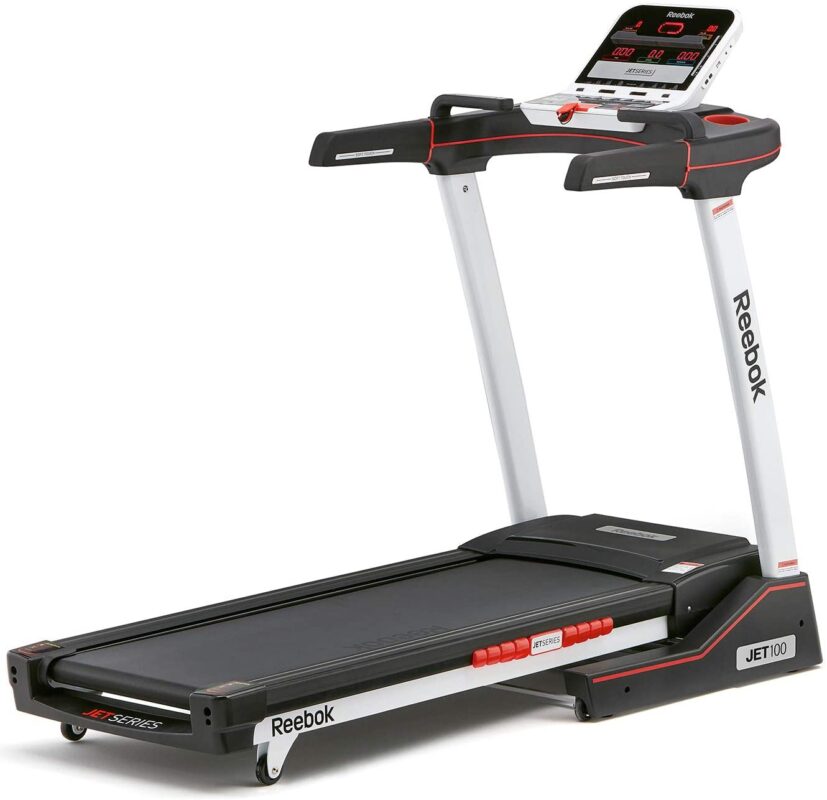 Introduction
The Reebok Jet 100 Treadmill is a high quality running machine for home use. The build quality is exceptional with a steel base frame coated with a corrosion-resistant powder finish, ensuring optimal durability. Unlike other treadmills in the same category, Reebok Jet 100 is not just affordable but also has all the features you get with expensive treadmills. 
It can be a great addition to your home gym and will assist you to perform a variety of workouts. Though it does not have a very powerful motor, it can provide you with a decent level of advanced functionality.
One of the most attractive things about this treadmill is its intuitive console. It is easy to navigate and you get access to a wide range of amenities like built-in speakers, MP3, cooling fan and much more. These features can help power you through your fitness routine and offer you a more comfortable run on this running machine.
With a maximum speed range of 16 KPH (10 MPH), you can do both medium and high-intensity training. Besides, the maximum user weight limit of 110KG makes this treadmill suitable for multiple runners and based on many other user reviews, most users seem more than pleased with their purchases of the Reebok Jet 100 Treadmill.
Disclaimer – This website contains affiliate links. If you find the information useful and click on a product link and make a purchase, a small commission will be earned by GymFreakz and we appreciate your support.
---
Reebok Jet 100 Treadmill Key Specification
Motor: 2.0 HP
Speed Range: 0-16 KPH = 10 MPH
Tread Belt: 130 x 43 cm (51″ x 17″)
Maximum User Weight: 110KG
Console: 5 window LED + profile chart, MP3 input with 5w speakers
Incline Level: 12 Level Electronic Incline
Integrated cooling fan
Integrated hand pulse sensors
Includes Deck Cushioning
SoftDrop hydraulic folding
24 Built-in Workout Programs
Auto-stop safety key
Built-in transport wheels
Extras: Two Bottle Holders, Mobile Holder, USB Charging Port,
Assembled weight: 76.2 kg (168 lbs)
Warranty: Lifetime Frame Warranty, 10-year Motor Warranty, 2-Year Labour Warranty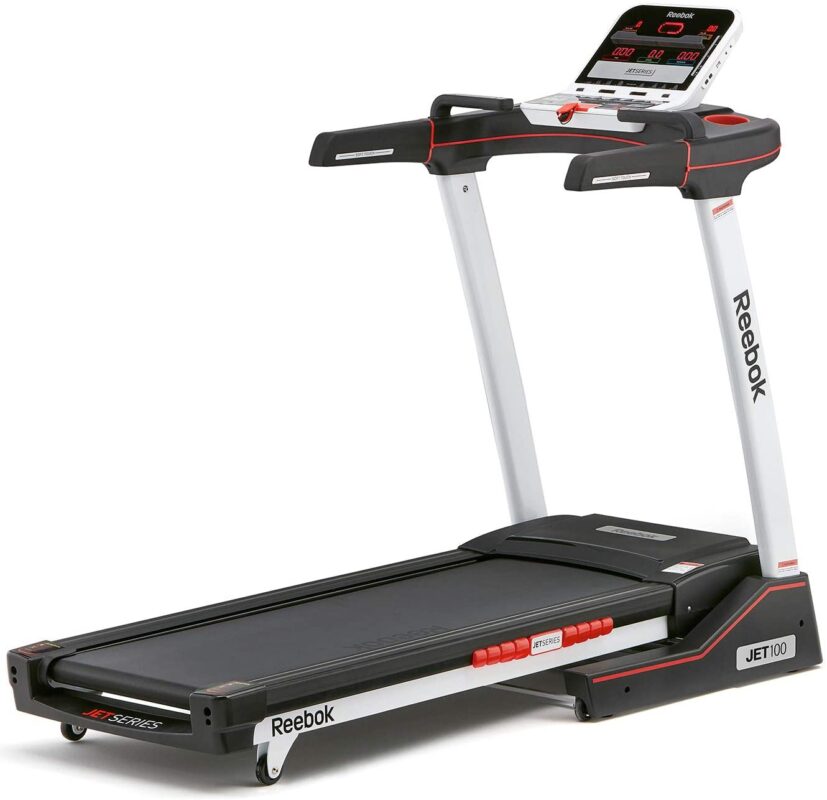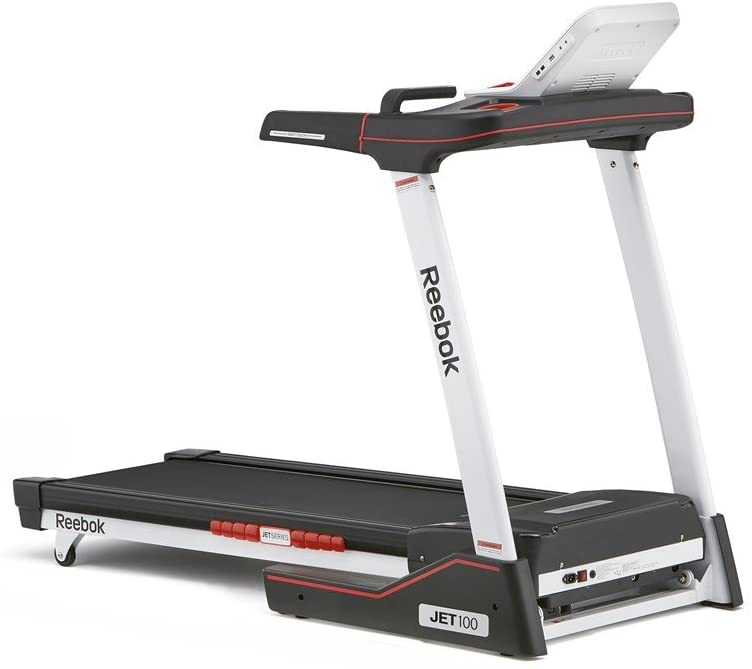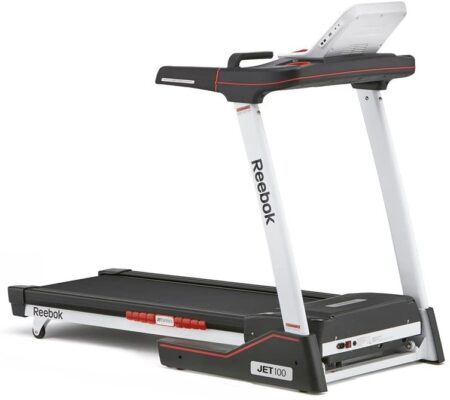 ---
FEATURES
Motor:
The Reebok Jet 100 Treadmill comes with a 2.0 HP motor which is not extremely powerful, but good enough to offer excellent traction. However, with a constant running time of less than 2 hours, it may not be an ideal option for individuals planning to run a marathon.
The motor provides you with a maximum speed of 16KPH, which allows you to do interval training with great efficiency and the best part about this motor is that it consumes less power since it is a primary motor, thus, you save money on electricity bills as well.
Frame and Running Deck:
The Reebok Jet 100 comes with a very durable and sturdy frame. Moreover, the steel base features a corrosion-resistant powder finish, for added durability. The overall construction of the machine is pretty heavy. It weighs around 76.2 kg (168 lbs) and can easily support users up to 110 KG.
Despite heavy construction, you will not have much problem with its transport and handling once it is assembled fully. It features a transport wheel which makes it easy for you to relocate this treadmill.
You can get a 130 x 43 cm (51″ x 17″) running surface with the Reebok Jet 100 Treadmill. This may fall short for tall runners over 6'2″-6'3″ and they might have to shorten their stride when running at full speed. However, it is an excellent cardio trainer for walking or light jogging.
Another great thing about the running deck is that it features a non-slip and stretch-resistant belt. Plus, it also includes a set of precision-machined crowned rollers for optimal grip.
Not just that, the industrial-grade, sealed ball bearings offer smooth motion and added durability to withstand wear and tear for years.
Cushioning System
When you talk about cushioning systems, Reebok Jet 100 Treadmill integrates a unique air motion technology. This caters to your comfort and ensures you have a smooth running experience.
Besides, cushioning air pods in the treadmill's belt transfers air to adapt to the user's foot strike. Also, the two concealed shock absorption elements on the rear part of the treadmill help in providing a bit of boost for each foot push.
These features are particularly useful for people who have any sports-related injuries. The cushioning absorbs the impact and the air channels reduce the ground reaction force. Therefore, they will no longer need to deal with work-related joint pain.
Incline Settings
The electronic incline system in the Jet 100 treadmill provides you with a variety of workout options to include in your daily fitness routine. The treadmill supports 12 levels of incline and adjusts automatically for the preset programs that involve incline.
The treadmill also includes gradual adjustment and quick-adjustment keys on the console, which makes it easy for you to switch between different levels of incline.
You also need to know that when you set the incline at maximum, the front part of the treadmill is elevated by several inches. So make sure that you have kept the treadmill in a room with a ceiling that exceeds your own height.
Console
The LED-based console is large and easy to operate. It tracks time, speed, distance, calories, incline, and pulse. Another attractive thing about it is that it provides both standard and metric units for speed and distance.
You can also access 24 preset workout programs designed by Reebok master trainers through the console. For each workout program, the speed, belt and deck inline adjust automatically. These preset workout programs are viable when you want to perform goal-oriented workouts.
In addition, the treadmill console also includes many other amenities which include a cooling fan, speakers, tablet holder and bottle holder. The speakers are Bluetooth enabled and also compatible with most MP3 players so you can enjoy your favourite motivational tracks while working out.
Another excellent addition to this console is the USB port. It enables a USB connection and also allows you to charge your mobile phone with it. For gym equipment, this is a pretty decent console screen and can help you enhance your overall workout experience.
Reebok Fitness App
Reebok Jet 100 Treadmill is compatible with the Reebok Fitness app that lets you track progress and train all over the world with real-world running routes. People who hate repetitive workouts or get easily bored can use this app to motivate themselves to work out daily.
It adjusts automatically the incline and resistance settings to match the real-life geography of your chosen route. Hence, the Reebok Jet 100 users will have extensive workout options to achieve their fitness goals and challenge themselves.
Assembly And Maintenance
Those of you who find it challenging to assemble items will be very happy to know that this treadmill comes 90% pre-assembled. A lot of users mentioned in their reviews that it took them less than half an hour to put this fitness equipment together.
For further assistance, it includes a very easy to follow instructional manual and all the tools to complete the assembly. However, you will still need an extra set of hands when assembling the item due to its large weight. Though moving it around gets very easy with transport wheels.
Concerning maintenance, you must check the treadmill for loose bolts and parts regularly and if necessary re-tighten them too. Ensure regular lubrication of the tread belt and keep it clean from dirt. This way, you can keep the treadmill in good condition for a long time and it'll grow with you.
---
Warranty
Frame: Lifetime Warranty
Motor: 10-year warranty
Parts and labour: 2-year warranty
You can always contact customer support for any kind of information or help. Besides, the return policy allows you to return the Reebok Jet 100 Treadmill within 30 days of delivery, providing that it's in the same condition as was delivered to you.
*Warranty may be subject to change without notice and may differ between retailers – please check carefully before making a purchase.
---
Overall Verdict:
When you start to explore the treadmill, the available options are extensive. Ideally, Reebok Jet 100 Treadmill is best suitable for people who need a decent level of advanced functioning and do not care about the fancy features.
Compared to other treadmills in the same budget category, you will notice that Rebook Jet 100 offers better functionality. The 24 built-in programs and the fitness App enable versatile adaptations for you.
Moreover, it ticks all the essential functions like safety, durability, entertainment, etc. For domestic use, this treadmill is definitely worth buying and many user reviews also suggest the same.
Check out other cheap foldable treadmills
---
What I liked about the Reebok Jet 100 Treadmill
The Reebok Jet 100 has a number of features that helps in ensuring optimal comfort for users. Firstly, the couple of handlebars are a good addition that helps you maintain a good grip in different positions. With proper positioning and grip, you can be fully confident while running and feel more at ease on this running machine.
Secondly, cushioning technology is one of the major components of this treadmill. Essentially, it helps in reducing the impact by adapting to the user's foot strike. This is great news for people who are suffering from joint pain, arthritis or any other sports-related injury in general.
Many treadmills often lack the necessary safety features which put the user at great risk. However, the Reebok Jet 100 treadmill comes with all standard safety features.
You can attach the safety key to your clothes while running so that the key pulls out automatically out of the socket and stops the treadmill if you should fall.
The high level of cushioning is also an important safety feature as it helps reduce the risk of injury.
Workout Programs and Fitness App Compatibility:
Another reason to love this treadmill is the availability of a wide range of workout programs. The fitness app enables you to perform goal-oriented training and prevent yourself from over-training.
You can choose from the selection of 24 fitness programs designed by Reebok master trainers. Using these programs, you can challenge yourself and explore your fitness boundaries. These programs can take you from a gentle jog to a mountainous hill climb.
Simply download and sync Reebok Fitness App with your treadmill and you can enjoy training on real-world running routes. This is one of my favourite features of this treadmill.
I can train at my favourite destinations and the treadmill will automatically adjust the incline to match the real-life geography. Amazing, isn't it?
Incline and Decline Options:
Reebok Jet 100 treadmill features an automatic incline system that you can adjust from the console. It provides you with 12 incline options that you can set according to your fitness level.
If you want to prepare yourself for big hill-climbing, then the incline system will assist you effectively. Besides, it allows you to change the incline from two different positions, which is another excellent feature to have.
As I mentioned earlier, this treadmill will grow with you. So as your fitness and performance improve, you can increase the level of incline for a more challenging fitness routine.
---
Things That Could Have Been Better:
The most common complaint of most users about this treadmill is that the cooling fan is not powerful enough. This means the fan lacks the power to keep you cool while you are in the middle of vigorous training.
In fact, many users mentioned they use a different fan option to keep them comfortable during workouts. Hence, this is one aspect where Jet 100 needs improvement.
Although the overall warranties are amazing, the process to get those warranties can be difficult and cause frustration. A lot of users highlighted this issue and it needs to be improved.
---
---
FAQ's
Does the Reebok Jet 100 Treadmill have Bluetooth?
Yes, this Reebok Jet 100 Treadmill has Bluetooth. The console is Bluetooth enabled so that you can connect with your mobile phone. However, there is another model of the Reebok Jet 100 that is not Bluetooth enabled, so be careful when you make the purchase.
How long do Reebok treadmills last?
When you look at the 10 years warranty for the motor and 2 years for the parts, you can expect the machines to last over 10 years. If you maintain proper lubrication and cleanliness, perhaps it will last even longer.
How do I lubricate my Reebok treadmill?
The lubrication process differs for each treadmill. For example, new treadmills are recommended to be lubricated under the treadmill belt. For some treadmills, you don't need to lose the running belt to add lubricant. Simply, lift the side of the belt and spray under the treadmill belt. While for others, the belt needs to be loosened before using lubricant.
Does this treadmill come with a floor protection mat?
No, you will need to buy it separately.
---
Affiliate Disclosure
In compliance with the FTC guidelines, please assume the following about all links, posts, photos and other material on this website:
Any/all of the links on this website are affiliate links of which GymFreakz receives a small commission from sales of certain items, but the price is the same for you.
www.gymfreakz.com is a participant in the Amazon Services LLC Associates Program, an affiliate advertising program designed to provide a means for sites to earn advertising fees by advertising and linking to Amazon.com & Amazon.co.uk. Pages on this site may include links to Amazon and its affiliate sites on which the owner of this website will make a referral commission.