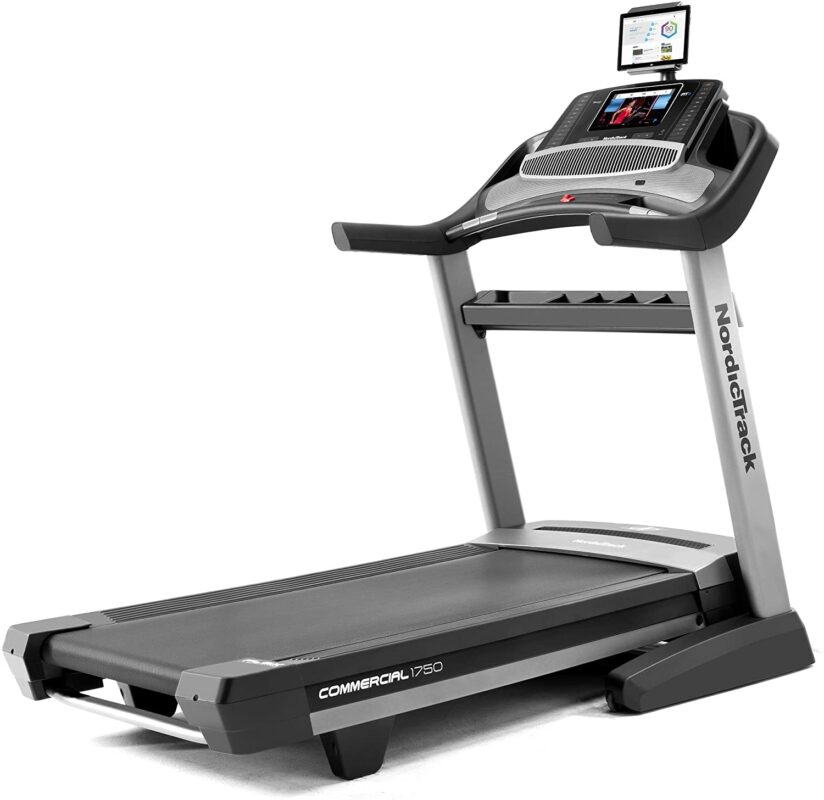 Introduction
If you are looking for a folding treadmill for home use then the Nordictrack Commercial 1750 treadmill can be an ideal option for you. It is one of the highest-rated treadmills by Nordictrack that offers you interactive training through iFit Coach.
Though Commercial 1750 is an entry-level treadmill in NordicTrack's Commercial Series, it is equipped with the right combination of features. Novice runners will enjoy greatly levelling up their fitness game on the treadmill, while advanced runners can perform interval training sessions as well.
It features a 10 inches large touchscreen that offers you real-time workout tracking. and with a decent amount of workout programs, you get the opportunity to make your training sessions a bit more exciting and avoid repetitive moments. Besides, the build quality is exceptional and the motor is also quite powerful for a home treadmill.
Want to hear the best part? The Nordictrack Commercial 1750 was provided with a handful of minor upgrades in 2021, so it's a relatively new treadmill in the treadmill industry. There are a lot of more exciting features this treadmill has to offer and you don't want to miss them. So continue reading my Nordictrack Commercial 1750 review and I will take you on tour to discover its amazing features. Let's begin with the specifications first.
Disclaimer – This website contains affiliate links. If you find the information useful and click on a product link and make a purchase, a small commission will be earned by GymFreakz and we appreciate your support.
---
Nordictrack commercial 1750 treadmill Key Specification
Motor: 3.75 CHP
Speed Range: 0-22km/h = 0-13.5mph
Tread Belt: 152cm (length) x 55cm (width)
Maximum User Weight: 135KG
Incline Level: -3% Digital Decline – 15% Digital Incline *
iFIT Integrated allowing access to personal trainers
10″ HD Touch Screen Display
Bluetooth Compatible Dual 3-Inch Speakers
Heart Rate: EKG Grip Pulse and wireless heart rate monitoring capability
Dual AutoBreeze™ Workout Fans
Faster Dual 2.4 GHz & 5 GHz WiFi Connectivity
Automatic Trainer Control
Warranty: Lifetime Frame Warranty, 10-year Motor Warranty, 2-Year Parts & Labour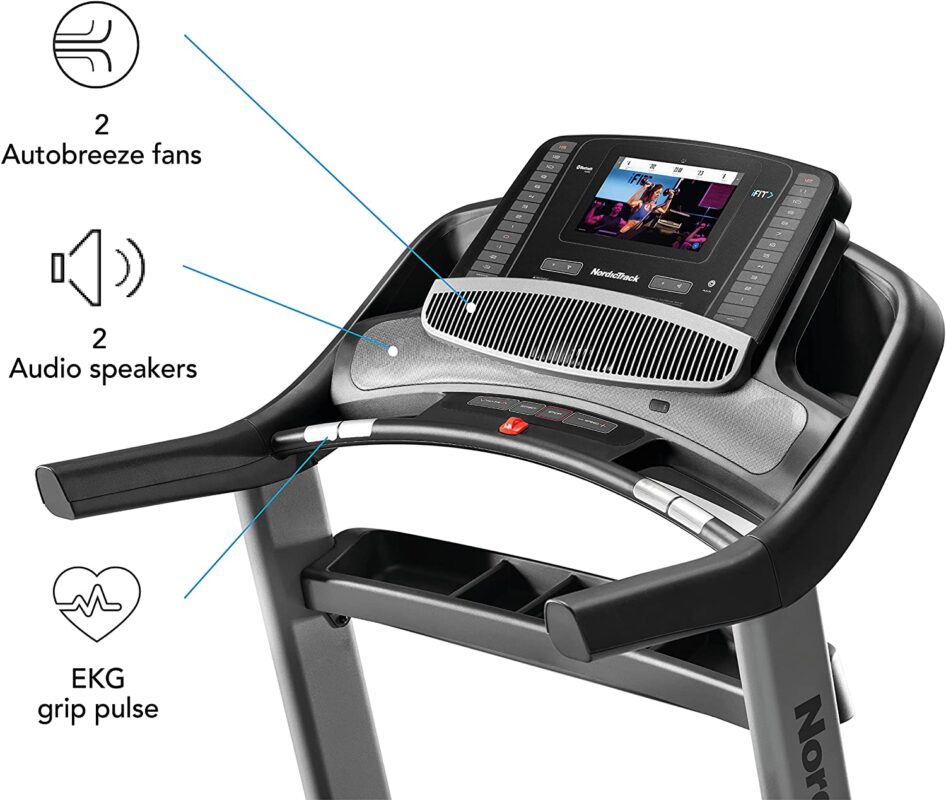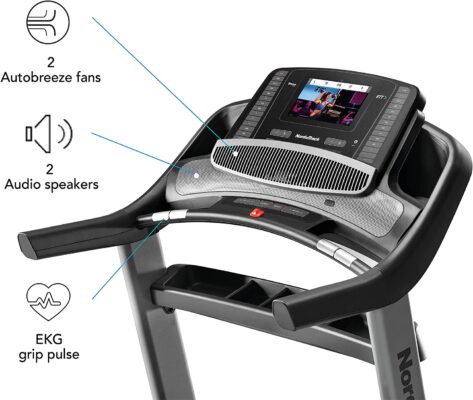 ---
FEATURES
3.75 CHP Motor / Mechanical Power:
The fact that the Nordictrack Commercial 1750 comes with a powerful motor of 3.75 CHP, yet allows quiet and smooth operation is one of the best parts about it. It is not just powerful but self-cooling as well. Even after extensive use, it won't overheat. This means whether you want to do long-distance running or smooth interval training, this treadmill will provide you with optimal assistance.
Robust Frame:
Reliability and durability are one of the most important factors for any home fitness equipment. You want them to last longer and help you achieve your fitness goals. Thankfully, the Nordictrack Commercial 1750 treadmill is one of the sturdier treadmills and built to last.
For added durability, the running platform's base is constructed of steel. It also features a hydraulic system that allows you to descend the deck gently down onto the floor. The 29″ steel feet remain extended at the base of the handrail to ensure maximum stability.
Intuitive 10″ Smart HD TouchScreen:
Easy to access and a large touch screen panel is a must in all fitness equipment. It helps in keeping a track of your workout stats and performing goal-oriented workouts. The Nordictrack Commercial 1750 touch screen panel allows you to watch videos and images in high resolution. Moreover, it pivots up and down so that you can adjust it according to your convenience.
Since iFit is a major component of this treadmill, the 10″ large screen makes it easy to watch videos of live workouts, interact with the iFit community or try out different workout programs.
Treadmill Deck With Runners Flex™ Cushioning:
The Nordictrack Commercial 1750 treadmill deck comprises various components, so let's discuss each one of them individually.
Runners Flex™ Cushioning: It is an important feature that helps in reducing foot impact by almost 30%. During high-impact exercise, there are chances of injuries and impact, so this feature offers incredible value in this case. Those who already have any sports-related injury should feel confident running on this treadmill's cushioned deck. Based on my experience, I felt a great difference running on the Nordictrack Commercial 1750 compared with outdoors running. Besides, this cushioning mechanism can be turned on and off as well based on your preference. However, it is better to keep it turned on to avoid fatigue, reduce impact and enhance comfort.
Size: The Nordictrack Commercial 1750 treadmill can easily accommodate most runners. With a 60 inches long and 22 inches wide running area, the tall runners won't have to shorten their stride length forcefully.
Rollers and Walking Belt: You get a balanced and comfortable runner surface with large balanced non-flex rollers and a 2-ply belt.
Functionality:
The Nordictrack Commercial 1750 treadmill is designed to offer users the utmost functionality and provide maximum value for their money. It provides you with some incredible speed and inclines options to ensure some great workout sessions for you.
It comes with a +15% incline to -3% decline which is an attractive feature that you will barely find in any commercial-grade treadmill. The -3% decline is an added bonus, especially, when you don't want to burden your legs or are training for downhill competition.
This incline variability allows you to adapt to versatile training options and can be a significant boost to help you achieve your fitness goals. This is a must-have for elite trainers and the motor can steadily readjust the incline while the user is running on the treadmill.
---
Entertainment:
One of the major updates the Nordictrack Commercial 1750 treadmill got in 2021 is that now it can sync with wireless BlueTooth headphones. Essentially, now you connect your Bluetooth headphones to your treadmill and easily listen to the instructions of your iFit coach or personal trainer.
Moreover, the Bluetooth speakers also got an upgrade. Now, you will have optimal volume even when you are running fast.
---
iFit Membership:
The Nordictrack Commercial 1750 treadmill comes with a 1-year iFit family membership with up to 5 profiles. Essentially, iFit is an online database of trainers and classes. The variety it offers is overwhelming, pictures are of the highest quality and the iFit trainers are amazing.
iFit Workouts:
The iFit app is updated frequently and provides a lot of amazing options to make your workouts more exciting.
Live Workouts / Classes: You can now take live classes throughout the day from world-class trainers. You can join four or more classes per day through the iFit app. Not only can you enjoy running and walking routes but also take classes for yoga, strength training or stretching, all of which add to your calorie burn. It is a great opportunity for you to do both tread and off-tread exercises with iFit trainers and then afterwards assess your workout reviews.
Interactive Personal Training: To kill the monotony, the iFit family membership offers users outdoor runs in exotic places which are updated regularly. Recently, I took a hiking series through the mountains of Nepal and it was absolutely breathtaking. You can always expect an excellent iFit experience and it uses Google Maps to adjust inclines according to real-life geography.
---
Warranty
Frame: Lifetime Warranty
Motor: 10-year warranty
Parts and labour: 2-year warranty
Remember these warranties do not cover commercial and are only for domestic use. Overall, the warranties are great and much better than other treadmills in the same price range. 
*Warranty may be subject to change without notice and may differ between retailers – please check carefully before making a purchase.
---
Overall Verdict:
Nordictrack Commercial 1750 treadmill is the highest quality folding treadmill that caters to both novice and elite runners' fitness levels and is great for ordinary household use. Though Commercial 1750 was already NordicTrack's highest-rated treadmill out of its entire family, it just got even better after 2021 updates.
It has a variety of built-in workouts to allow interval training. For beginners, easy workout programs are a great advantage or they can also manually adjust speed and incline for strength training, more calorie burns, build stamina and achieve their desired physique.
Even with all these amazing features, there are still a few aspects where the Nordictrack Commercial 1750 treadmill needs improvement.
In this section, I will try to give you a final insight into this running machine, so that you can make your purchase decision.
---
What I liked about the Nordictrack Commercial 1750:
Workout Programs / World Class Trainers:
The Nordictrack Commercial 1750 treadmill features dozens of workout options that are viable for training the entire body. In addition, there are unlimited iFit Coach programs that you can download. These workout programs enable you to do personalized training and prevent you from overtraining.
Overall, there are 50 built-in programs and the best thing about them is that certified personal trainers have designed them. There are four categories: speed training, calorie burn, interval training and heart rate control. You can choose from these categories and it's then very easy for you to take on goal-oriented workouts.
However, among the available options, I really like iFit Coach workouts. You can virtually tour the world using these programs, and since it uses Google Maps for real-life geography, the running experience gets even more exciting.
You can always choose to experience a new destination whenever you train. It will keep you motivated to train every day and outperform your old stats.
Besides that, you can choose from the selection of programs that are arranged by difficulty level to explore your boundaries and challenge yourself. You also get exercise recommendations from the iFit coach app that complement your fitness goals.
iFit membership is truly a great deal and you will never get bored exercising on the Nordictrack Commercial 1750 treadmill. Above all, iFit Family Membership renders this treadmill ideal for multiple runners.
Incline and Decline Options:
In any treadmill, it is vital to have incline and decline options to ramp up your workout. Thankfully, the Nordictrack Commercial 1750 treadmill offers a 15% incline as well as a -3% decline. These features can significantly improve your muscle strength, metabolic rate and overall fitness level.
As mentioned earlier, the machine uses Google Maps for real-life geography, so the incline and decline will adjust automatically to the terrain during workouts. This will make you feel that you are actually present in that location.
EasyLift™ Assist Technology / Folding Treadmill
Another amazing feature of this cardio trainer is that it actually folds up. It features EasyLift™ Assist Technology, which makes it very easy to lift and store upright when not in use to give you more floor space. This is an important feature, particularly if you are short on space.
Noise Level / Quiet Drive Incline Tech:
I tried running the Nordictrack Commercial 1750 at various settings to check the noise level. Initially, I conducted a speed test running at a fast pace only with fans and speakers turned off. Surprisingly, the noise produced while running was not overly loud despite increased foot cadence.
Then I tried running with the fan on high. There was more noise compared to when the fan was off. However, due to the fan integrated into the console, one can barely differentiate if it is on low or high.
I also noticed a great difference in noise when I was running on decline than on incline. Though, most of the noise is dampened due to the cushioning in the deck, so your workout is not disturbed by the sounds that inhibit the overall experience.
You get a variety of cushioning preferences on the Nordictrack Commercial 1750 treadmill, which is another attractive feature. You can turn on/off the cushioning depending on how you want to train. This is a great feature especially when you want to train for certain competitions.
For Example, you want to prepare for the road race, so you can turn off the cushioning to mimic the outdoor conditions.
However, you also need to know that turning off the cushioning will put 30% more impact on your joints, which can increase the risk of injury.
---
Things That Could Have Been Better:
I would not say the customer service is too bad, but it is definitely not the best. Based on many user reviews, Nordictrack's customer service may be slow or often disappointing. Not a deal-breaker, but if Nordictrack can improve it, the overall experience will be enhanced even more.
Often treadmills are easy to assemble and many of them come pre-assembled. I was fine assembling the Nordictrack Commercial, assisted by a colleague, however, a lot of users reported that the assembly process can be a bit clumsy. You will need an extra hand to move and assemble the machine.
---
---
FAQ's
Is the NordicTrack 1750 worth it?
The NordicTrack 1750 is one of the best folding treadmills and the cheapest basic model option in the NordicTrack's Commercial Series. It has all the luxurious options to satisfy both novice and elite runners needs, especially if you sign up for the iFit family membership deal. So if you're after a nice walk or a full-on iFit experience workout to really get that heart rate going in preparation for a Boston Marathon the Nordictrack Commercial 1750 covers all bases.
Can I watch TV on NordicTrack 1750?
Though NordicTrack 1750 does not include a TV, you can always stream studio sessions with personal trainers and also Google Map routes on its 10″ smart HD touchscreen.
How much does the NordicTrack Commercial 1750 folding treadmill weigh?
The NordicTrack Commercial 1750 folding treadmill weighs around 145 kg. It has a maximum user weight capacity of 135 KG so is often best suited to a ground floor room location.
Can you use the NordicTrack 1750 without iFit membership?
Yes, it totally depends on your preference whether you want to use the NordicTrack 1750 with or without (manual mode) your iFit coach. However, using the treadmill without iFit will prevent you from experiencing different workout programs. It lets you travel destinations all around the world and adjusts incline and decline settings accordingly using Google Maps.
Is it set up so that family membership auto-renews?
Yes, after your initial free membership, your family membership auto-renews.
---
Affiliate Disclosure
In compliance with the FTC guidelines, please assume the following about all links, posts, photos and other material on this website:
Any/all of the links on this website are affiliate links of which GymFreakz receives a small commission from sales of certain items, but the price is the same for you.
www.gymfreakz.com is a participant in the Amazon Services LLC Associates Program, an affiliate advertising program designed to provide a means for sites to earn advertising fees by advertising and linking to Amazon.com & Amazon.co.uk. Pages on this site may include links to Amazon and its affiliate sites on which the owner of this website will make a referral commission.