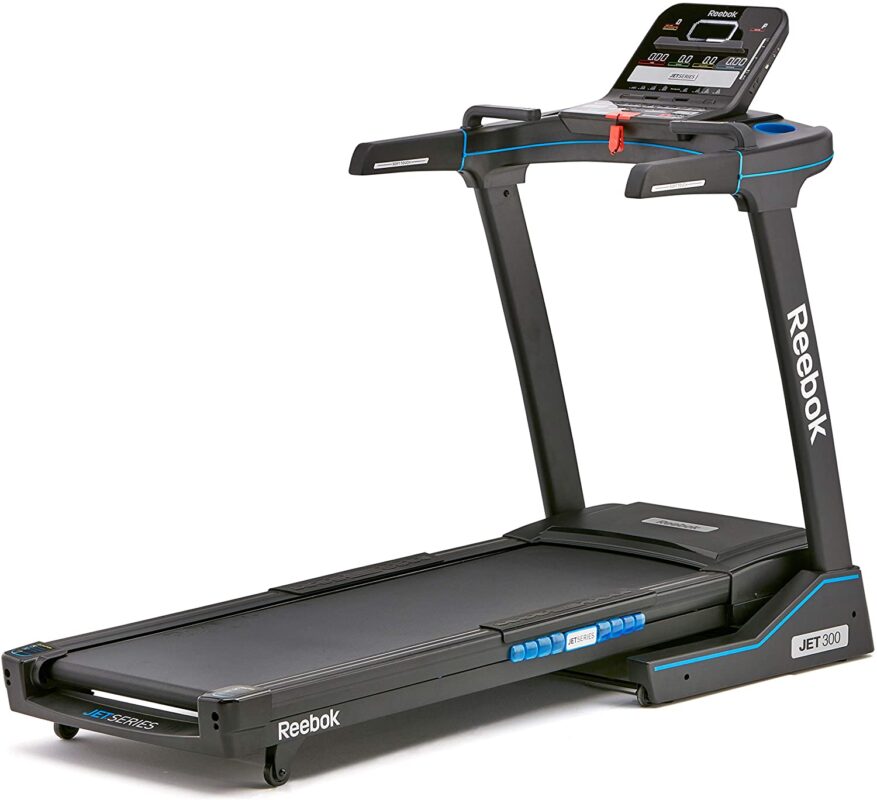 ---
Introduction
A treadmill is the best way for fitness enthusiasts to channel their energy in an effective way. It not only helps in losing weight and burning fat but applies less stress to your joints than running outdoors.
The Reebok Jet 300 Treadmill is one of the most popular treadmills on the market and introduces a number of add-on digital features that make your running even more enjoyable. It is designed to serve a wide range of preferences and fitness levels and along with fitness, it offers you excellent amenities to entertain yourself like Netflix and Spotify integration.
The treadmill has a very sturdy construction and is also easy to assemble. It has a dynamic console with feedback which is a great way to track your progress and the incline feature on the treadmill helps in avoiding additional stress on the joints and burning more calories.
And guess what? The Jet 300 Treadmill comes with 15 levels of incline along with 20 kph speed.
Not just that, but its built-in speakers and MP3 connectivity make your cardio session even more interesting. This is just an overview of the treadmill so read on and let's explore what other functionality this incredible treadmill has to offer to you.
Disclaimer – This website contains affiliate links. If you find the information useful and click on a product link and make a purchase, a small commission will be earned by GymFreakz and we appreciate your support.
---
Reebok Jet 300 Series Bluetooth Treadmill key specification
Motor: 2.5 HP
Maximum speed: 20 kph
Incline Level: 15 power incline levels
Maximum user weight capacity: 140 kg
24 preset workouts along with body fat tests
3 user-defined and 3 target programs
Air motion cushioning
6 window LED along with profile chart
SoftDrop hydraulic folding
Built-in transport wheels
Auto-stop safety key
Quick speed and incline keys
Integrated hand pulse sensors
Mobile holder
Dual bottle holder
Integrated cooling fan
MP3 input with 5w speakers
USB charging port
Running area: 150 x 51 cm
Folded dimension : 124 x 86 x 163 cm
Setup: 192 x 86 x 143.5 cm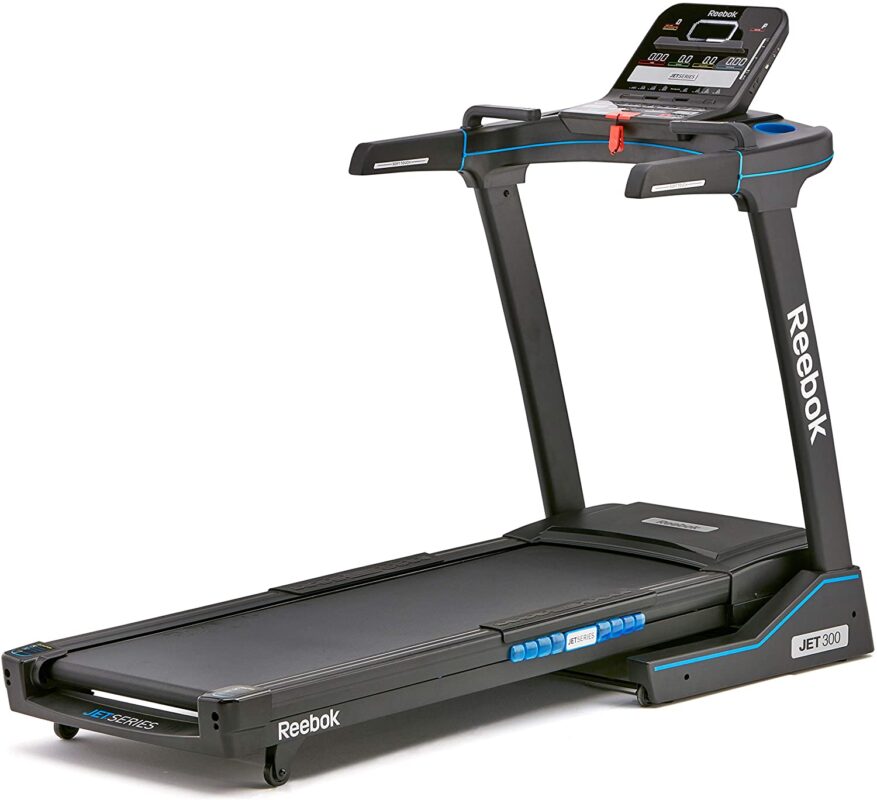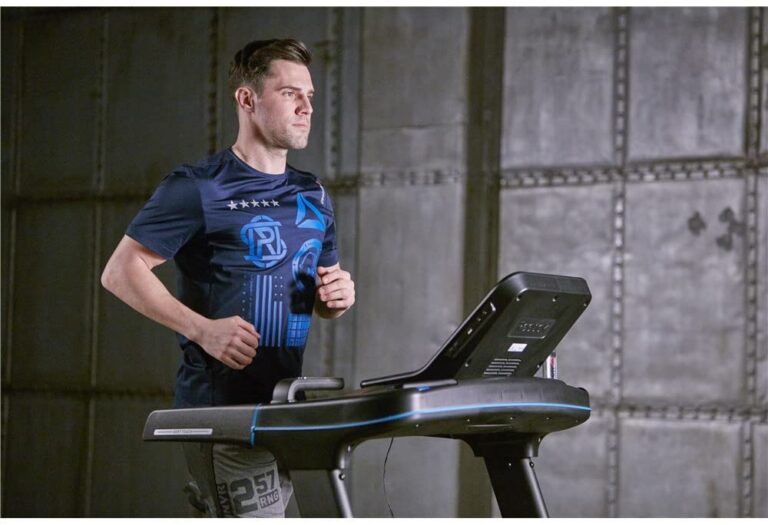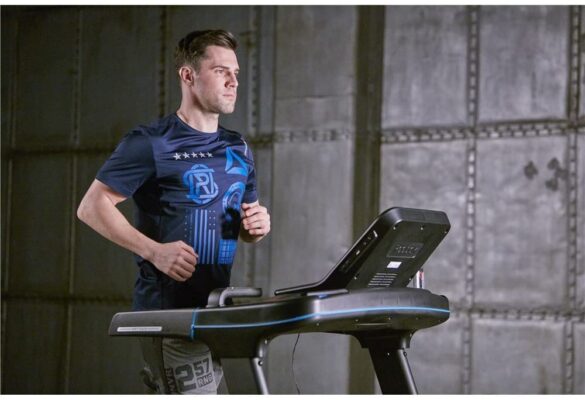 ---
FEATURES
2.5 HP Motor:
The Reebok Jet 300 is powered by a 2.5 HP motor which offers you enough power for medium-high intensity training. It has a max speed of 20 kph and features 15 levels of electronic incline. For a home treadmill, these features are amazing and they cater to users with different preferences and fitness levels.
So whether you want to do light jogging or fast pace running, the Jet 300 Treadmill will offer optimal assistance. Besides, running on a treadmill is more effective than running outdoors, it puts less stress on your joints and reduces the risk of injury.
Another amazing thing about this motor is that it produces low noise while operating. It's a great feature especially for people who live in an apartment as well as people who simply hate loud, continuous motor sounds whilst they're working out.
Air Motion Technology
The Reebok Jet 300 incorporates signature air motion technology that reacts to each foot strike. This feature helps in transferring air between the cushioning pods to offer support when needed and allows the user to have a smoother running experience.
The air motion cushioning system is designed to reduce the impact of your foot strike over multiple air-filled pockets. This enhances the running experience as the running deck is designed especially for that.
This type of technology in a treadmill is designed to create an undercurrent to cushion and enhance the toe-off. It helps in encouraging proper form and improving the running efficacy of the running machine.
24 Pre-programmed Workouts
The Reebok Jet 300 Treadmill features 24 different workout programs to keep you motivated. These programs are designed to offer you versatility and you can also enjoy masterclasses with world-class trainers.
It will help you to make your workout session more efficient and make it easy to achieve your goals. Using these programs, you can switch from gentle jogging to hard mountainous hill climb in just a few seconds.
The Jet 300 also has 10 customized programs for fat burning, hill training, long-distance stability, cardio training, etc. You can also use quick keys for your convenience. They will help you switch easily to faster or slower running by pressing the speed or incline buttons.
Reebok Fitness App And Kinomap Compatible
What I like about The Reebok Jet 300 is that it is a Bluetooth-enabled model which makes it compatible with the Reebok Fitness App. This will help the user to track the progress of the workout session by using a phone while running virtually. It uses Google Street View and Kinomap integration that allows you to train with thousands of real-world routes.
The best part about the Kinomap is that it will let you train indoors and adjust the incline level automatically to match real-life geography. This means you can get a real experience of what it would feel like if you were climbing the mountains of Nepal.
Unbelievable really, isn't it?
Large Running Deck
The treadmill features a very large running deck of 150x 51 cm that lets tall runners run with their natural stride without forcefully shortening it. It will help ingrain fast running form for your legs and give a sense of safety when you feel tired.
The running deck of the treadmill is sturdy enough to cater to a max user weight of 140 kg and has been tested rigorously so that you can be confident while running on this treadmill.
Reebok has followed the theme of versatility with the Jet 300 Treadmill and this large running deck is another example of it. Hence, if there are multiple users using Jet 300, it will perfectly cater to all their preferences.
Storage
The Jet 300 Treadmill can be folded when not in use to save space. It features a soft drop folding mechanism that helps in folding the heavy treadmill easily.
This mechanism is also useful when unfolding and ensures added safety.
Additional Features
Reebok Jet also features some additional amenities like Bluetooth integration that allows you to connect your phone with the Reebok Fitness app and bring innovation to your workout. Using this app, you can track your progress as well as perform goal-oriented workouts.
It also has a USB port that you can use for charging your mobile phone. You can also keep yourself motivated during a workout by listening to your favorite music via MP3 input.
---
Warranty
Treadmill frame: Lifetime Warranty
Motor: 10-year Cover
Parts and labor: 2-year Warranty
In case you have any problem or want to know some details about the treadmill, you can always contact customer support.
*Warranty may be subject to change without notice and may differ between retailers – please check carefully before making a purchase.
---
Overall Verdict:
Overall, the Reebok Jet 300 Treadmill is an incredible piece of fitness equipment. If you are wanting to do cardio at home then the Jet 300 Treadmill is an ideal option for you as it can be an instrumental part of your workout studio due to it is power and effectiveness. The Reebok Jet 300 Treadmill is one of the best running machines that is loaded with features to cater to multiple runners.
Both amateurs and advanced runners will find this treadmill safe, and comfortable. Moreover, it is suitable for all tall runners as well. A solid running area deck with signature air motion technology and a foldable mechanism. What else do you need?
However, like every other machine, there are a few negatives of this machine too. It is built to deliver a powerful and comfortable workout, but the Bluetooth capability is somewhat limited.
The pricing is also a little higher but when you look at the additional functionality of the treadmill you will feel it's worth spending the extra money.
In addition, the Reebok Jet 300 Treadmill also features amazing sound quality built-in speakers. It might not be a major feature, but a lot of the others available have very bad quality sound systems. So it's only fair that we appreciate Reebok for it just a bit.
---
What do I like About The Reebok Jet 300 Treadmill?
The treadmill comes with a 7 window LED display that gives the treadmill a very appealing look. Its onboard console highlights the key performance statistics as you start training. To keep the user motivated, the MP3 input and built-in speakers keep them engaged allowing them to make the most out of their workout.
Besides, with fitness app integration, users have plenty of workout options to choose from. For users like me who hate doing the same workout every day, this feature is a great bonus.
The Jet Treadmill also features integrated hand pulse sensors that can easily detect your heart rate while running. This feature is helpful in optimizing your training for better workout efficiency and improved performance.
The treadmill is fitted with an adjustable cooling fan that keeps you cool throughout the workout session. As they say, the fan makes a big difference to workout sessions as it keeps you comfortable and cool during vigorous workout sessions. Hence, the more comfortable you are while running the more likely you are to meet your fitness goals.
The treadmill also features an auto-stop safety system for any uncertainty. It cuts off the power automatically if the magnetic cord is removed from the console.
Simply, attach the key to your clothes during the workout and in case you fall, the key will pull out automatically and the machine gets stopped.
The Reebok Jet consists of 15 levels of incline whether you are running on a top speed or lower to adjust the intensity. The incline settings are accessed conveniently with the help of shortcut keys on the handlebars according to the workout.
It's an incredible feature, especially for beginners. They can train on the lowest resistance and gradually train on a high level as their fitness level increases.
---
Things That Could Have Been Better
As it is a heavy treadmill the box weight is also heavy which can cause issues in delivery. It is better to note before buying the treadmill that the weight of the box is 100kg. That's because it is 95% already assembled which makes it heavier than other treadmills so just be aware.
---
---
FAQ's
Does the Reebok Jet 300 Treadmill have Bluetooth?
Yes, the Reebok Jet 300 is a Bluetooth-enabled model that is compatible with the Reebok fitness app that allows you to track progress via your phone. It is a very interesting feature that can be used while running virtually through Google Street View.
How long do Reebok treadmills last?
The majority of the Reebok treadmills have a warranty of 10 years for the motor and 2 years for the parts. This means that this treadmill is cost-effective and lasts for a long duration. A pretty good investment!
How do I lubricate my Reebok treadmill?
New treadmills are recommended to be lubricated under the treadmill belt only. For such treadmills, you don't need to loosen the running belt to add lubricant. Lift the side of the belt and spray lubricant suggested by Reebok under the belt.
How many times should you lubricate the Reebok treadmill?
To prevent the running belt from sticking or stopping, make sure to lubricate the deck every 8-10 weeks.
How do you reset a Reebok 300 Jet Treadmill?
It is very easy to reset a Reebok 300 by locating the power switch. It is near the power cord on the frame, just press the power reset button. Wait for minutes before you begin exercising on the machine.
Where should I keep my treadmill?
As the Reebok Jet 300 Treadmill is designed for home use only, you must not keep it elsewhere like garages, sheds, or outdoors. The warranty covers only domestic use, so you might lose it as well if used otherwise. Make sure to keep it away from dust and moisture.
What are third party sellers?
Third-party sellers are the people who sell on Amazon. They often buy their products from a company or sometimes a wholesale distributor and then ship them to Amazon's warehouses where they then put them up for sale. Since they're not employed by Amazon, they don't have access to the same supply as Amazon itself does. This means that there is no guarantee that the product will be in stock even though Amazon itself may be selling it. The seller will then send you a message letting you know that they don't have the item in stock and ask if you would like to wait for them to get more or cancel your order.
What is a verified purchase?
A verified purchase is a review that you can tell has been left by an actual customer because they have included some proof of purchase. This is usually some type of picture of the item they bought, but it can also be something like a receipt or some other documentation. While this doesn't necessarily mean that the review will be good more often than not it does increase the chances of you getting an honest opinion about the product.
What is a credit broker?
A credit broker or a debt broker is someone who will help you reestablish your credit. One of the ways that this can be done is through a balance transfer which transfers all of your high-interest credit card debts onto one new card with a lower interest rate. Doing this allows you to pay off your old cards while avoiding interest payments on your new card. Once you've done that, you can then work on paying off the new balance.
---
Affiliate Disclosure
In compliance with the FTC guidelines, please assume the following about all links, posts, photos and other material on this website:
Any/all of the links on this website are affiliate links of which GymFreakz receives a small commission from sales of certain items, but the price is the same for you.
www.gymfreakz.com is a participant in the Amazon Services LLC Associates Program, an affiliate advertising program designed to provide a means for sites to earn advertising fees by advertising and linking to Amazon.com & Amazon.co.uk. Pages on this site may include links to Amazon and its affiliate sites on which the owner of this website will make a referral commission.