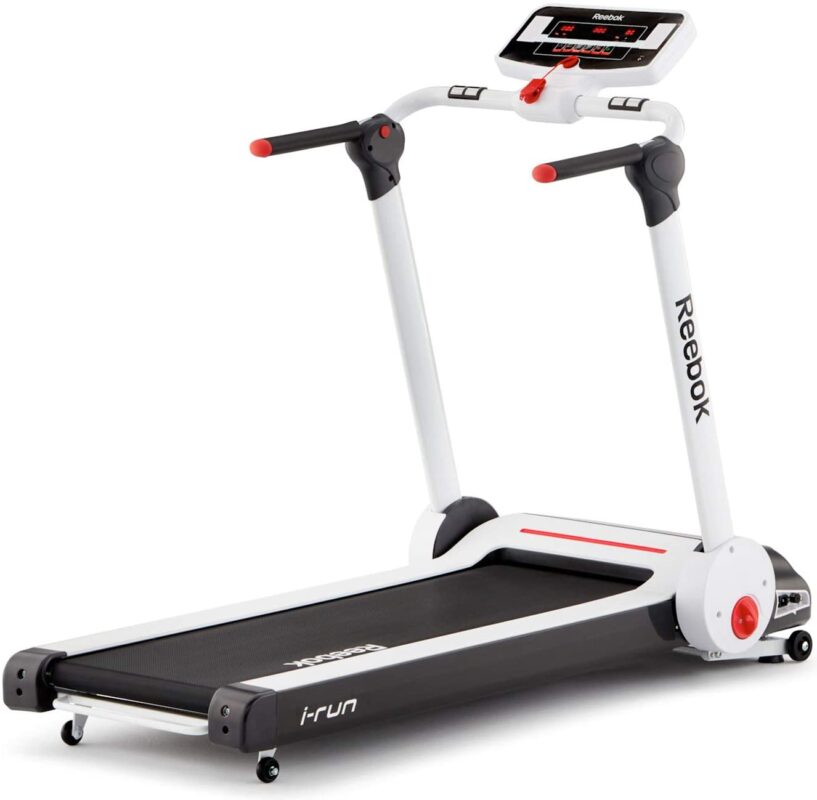 Introduction
A treadmill is the best way for fitness enthusiasts to navigate their energy in an effective way. It not only helps in losing weight and burning fat but also brings more ease to your joints than running outdoors. Their cushioned surface gives you a lower impact workout, offering effective training when running outdoors is not an option anymore.
If you are in search of a jogging friendly treadmill, then this is the best option for you! A perfect minimal setup with an innovative folding mechanism to reduce 'taking up too much room' when needed. An ideal pick for beginner or intermediate runners to fulfil their basic fitness goals.
The Reebok i-Run 3 is designed to adapt to the environment which means you can fold the treadmill if you are short on room. One of the key features of the i-Run is that it comes fully assembled in the box as it is a third-generation model. It was the first treadmill on the market that came with a fully fold-flat design and subsequently became a best seller.
Reebok is a brand that provides you with one of the best compact design treadmills without compromising on performance and the Reebok i-Run 3 excels by offering a wide range of features that help in improving fitness levels. A 1.5 hp motor with a top speed of 13kph makes it an ideal choice for running longer at a lower intensity.
---
Reebok i-Run 3 Specification
Motor: 1.5 HP
Max speed: 13 KPH
Adjustable screen angle
3 window LED display
Built-in transport wheels
Integrated hand pulse sensors
12 pre-workouts + body fat
2 manual incline levels
Auto-stop safety key
Ultra-compact folding design
Arrives fully assembled
8 piece elastomer cushioning
MP3 input with 3w speakers
3 user-defined and 3 HRC programs
Running area : 120 x 41 cm
Setup: 160 x 80.5 x 136 cm
Folded dimension: 160 x 80.5 x 28 cm
Max user weight: 100 kg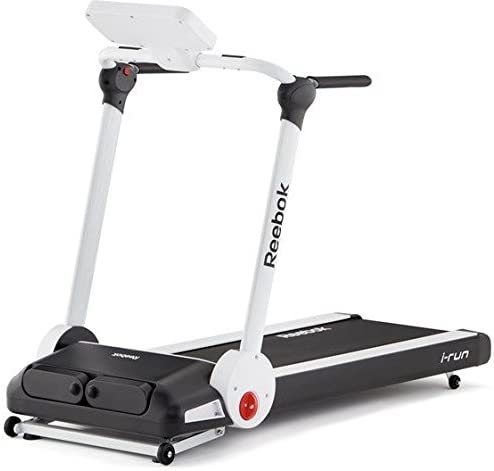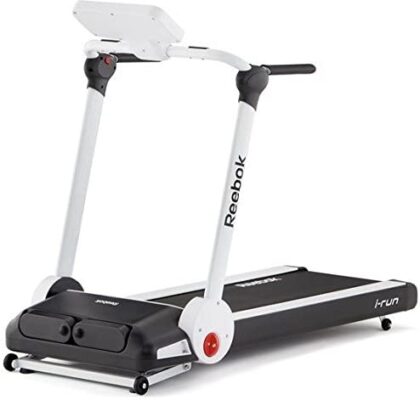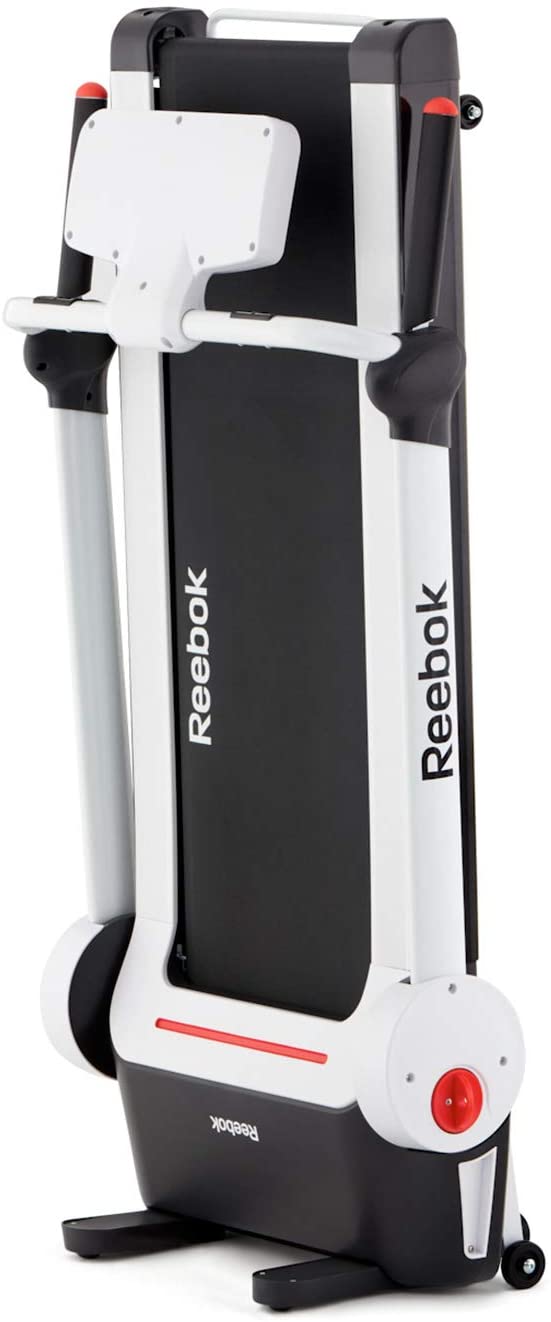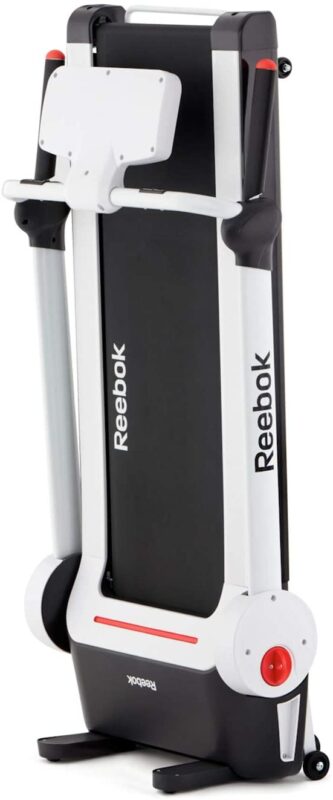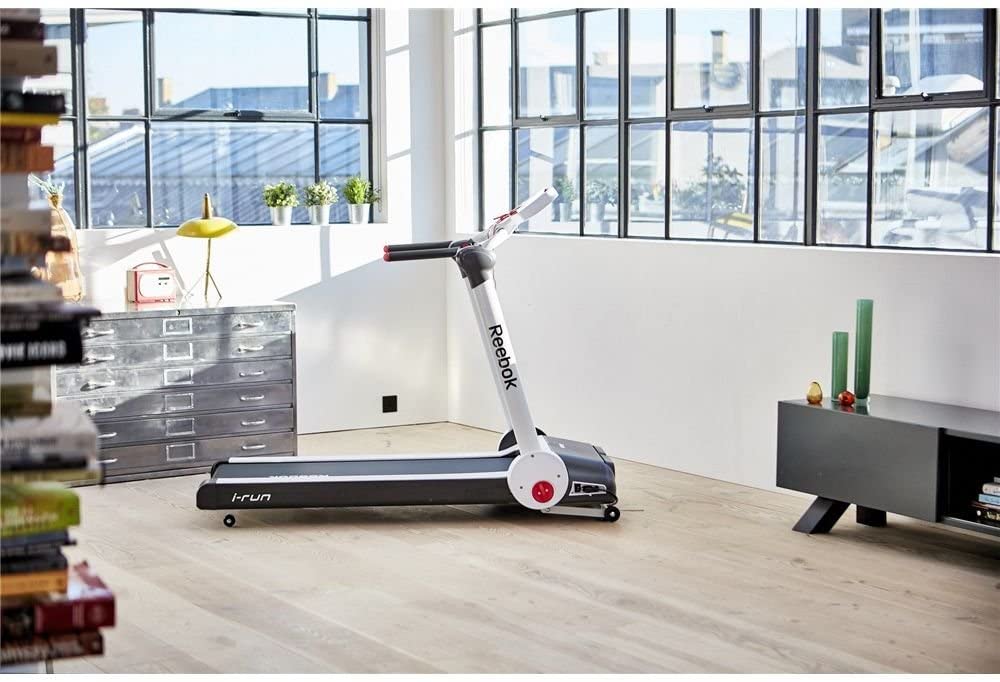 ---
FEATURES
Setup And Delivery Offers A Solid Performance
The i-Run offers 3 solid performances with its 1.5hp motor. It is one of the lightest models that we have reviewed so far in the Reebok treadmill series. Even when fully assembled it weighs only 62kgs, making it lighter than most treadmills in this category. This is one of the best-selling factors of the Reebok i-Run 3, all you need to do is unbox, unfold and go! The setup is ready within no time, saving you energy and hassle.
8-Piece Elastomer Cushioning
The Reebok i-Run 3 features an amazing 8 piece elastomer cushioning to give the right amount of support while running. The treadmill's deck softens the blow of each footstep with its 2 manual incline levels reducing the risk of injury. It is specially designed for intermediate runners to help them in different levels of workout training. It gives a more comfortable run, reduces the noise, and helps in decreasing the impact on joints.
Size and Design:
Since the Reebok i-Run is a compact treadmill, it has better overall dimensions compared to other models. Not to mention, the running machine is foldable and features transport wheels which makes it very easy to store and move around. Here are the dimensions of this treadmill in various positions:
Assembled Dimensions: (L x W x H) 160 x 80.4 x 136mm
Folded Dimensions: (L x W x H) 160 x 80 x 28mm
12 Pre-set Workouts / i Run Console
The treadmill features 12 pre-workout along with 3 target programs. The i-Run designed this feature along with an i-run console to enable versatile adaption and allow you to track your progress. The i-console brings live performance statistics in order to have effective home cardio.
It also includes hand pulse sensors for optimal heart rate training. The treadmill also has the 3 heart rate monitor and a body fat tester mode that you can use to perform goal-oriented workouts. In addition, it provides other details like distance travelled, calories burned, time, and speed.
Built-in Speakers
The Reebok i-Run 3 features MP3 input with built-in speakers. The onboard console keeps the user entertained whilst training so you can enjoy your favourite workout playlists with the integrated speakers at studio-level sound quality. It is the best way to keep the user motivated throughout their workout session. What can be better than this? Your workout is so much more fun with your favourite music on!
Fully Assembled
The fact that the Reebok Treadmill is delivered fully assembled is one of the best-selling factors. All you need to do is just unbox and unfold the treadmill and go! It is an ultra-compact treadmill that is ready to use within minutes. Simply remove the cardboard, flip out the main display console and raise the handle to begin.
Folding Mechanism Ensures The i Run To Be A Verified Purchase
The folding mechanism of this treadmill is quite innovative compared to other treadmills in this category and is a huge plus in a running machine. The treadmill can be folded flat when needed so that the console and handles are in line with the running track. This aspect makes it apartment-friendly or ideal for those short on room. You can fold it in both straight and flat positions making it an ideal room-saving treadmill.
---
Warranty
Treadmill frame: 25 years
Motor: 10-year Warranty
Parts and labour: 2-year Warranty and 2 years computer warranty
In case you have any problems or want to know more details about the treadmill, you can always contact customer support.
*Warranty may be subject to change without notice and may differ between retailers – please check carefully before making a purchase.
---
Overall Verdict:
If you are interested in a small and quiet treadmill then this is a great option for you! This Reebok i-Run 3 is a perfect choice for beginners looking to start their fitness journey at home. It has all the basic features along with user feedback so that you can monitor your performance.
Along with the lightweight but sturdy construction, this treadmill offers optimal functionality, especially for beginners. It is suitable for small rooms as it comes with an innovative folding mechanism to save floor area when not in use. The i-Run 3 also features elastomer cushioning in which the treadmill's deck softens the blow of each stride with a manual incline setting.
It comes 100% built so that the assembly is not an issue. Just simply unpack, unfold and go! Any runner would love to have the Reebok i-Run but even more so if you're a beginner. It allows comfortable running along with low impact on the joints as it absorbs each foot strike. Grasp the pulse sensors on the treadmill's handlebar for optimal heart rate training. With the 1.5hp motor along with the 13kph of top speed, you have everything you need to burn more calories with effective workouts.
Overall, it is a decent running machine with adequate functionality to let runners have medium to high-intensity training and maintain their health.
**This treadmill is also suitable for elderly runners as featured on our "Treadmill For Elderly UK" roundup.
---
What do I like About The Reebok i-Run 3?
The treadmill comes with a 1.5hp motor that is enough for an average user. The i-Run offers a solid performance with a top-end speed of 13 kph which is faster than most people's jogging speed. This will help the user for real fat loss to be achieved as you are running for a longer duration. The deck consists of 2 manual incline levels to rise up your runs.
The treadmill features a twist-lock mechanism that folds the running machine with ease. This feature can be helpful post-workout when you are tired as it allows you to easily fold the machine and store it.
Unlike other treadmills, the i-Run comes with an auto safety key that allows the user to stop the treadmill immediately. The purpose of the feature is to provide the user with an emergency stop in case of uncertainty. All you need to do is attach the cord to your body while running. It enables the treadmill to perform an emergency stop once the key is out of its place.
Reebok has always backed its treadmills with excellent warranties. With 25 years on the frame and 10 years on the motor, the treadmill is made to last. It shows that Reebok does not compromise on product reliability and strives to offer its customer the utmost value.
While you may spend extra money on this treadmill, you get good quality and a machine that is well-made and that matters the most. On any day, I will always choose this over a cheaper, more wobbly treadmill.
Hand pulse sensors are a viable addition to any treadmill. They let you monitor your heart rate so that you can track within your optimal heart rate range. This feature is especially useful for people who have high blood pressure but who want to continue their workouts safely.
Often treadmills have a foldable design but they still are very large even when folded. Luckily, this is not the case with the i-Run 3 treadmill. The treadmill is designed specially to adapt to your environment with its ultra-compact design. The i-Run 3 profile folds both straight and flat making it an effective choice for home cardio training.
---
Things That Could Have Been Better
Even though it comes with a manual incline adjustment system, the number of incline levels can be increased. At the moment, it only offers 2 incline adjustment options that might not be enough for advanced trainers.
Compact treadmills are good when it comes to saving room but they may not have a large enough running area for taller runners. This type of treadmill is good for beginners but maybe not for a dedicated runner. A treadmill with a small running track requires more concentration to ensure that you don't step off the surfaces so it might force taller runners to shorten their stride.
---
---
FAQ's
How long does the Reebok treadmill last?
With a 25 years warranty for the frame and 10 years for the motor, you can expect this treadmill to last a long time – a pretty good investment.
How do I lubricate my Reebok treadmill?
New treadmills are recommended to be lubricated under the treadmill belt only. For such treadmills, you don't need to loosen the running belt to add lubricant. Lift the side of the belt and spray lubricant suggested by Reebok under the belt.
How many times should you lubricate the Reebok treadmill?
To prevent the running belt from sticking or stopping, make sure to lubricate the deck every 8-10 weeks.
Who should buy the Reebok i-Run 3?
If you do not have enough space to store workout equipment, then you should consider buying this foldable treadmill. It is an ideal solution to your space problem due to its foldable design. Besides, you won't have any issue moving it around since it has four transportation wheels.
People Looking To Get Fit:
The i-Run 3 is an ideal option for all people looking to improve their fitness level and health or those who simply want to lose some pounds.
What is the max speed and user weight?
It has a maximum speed of 13 km/h which is enough to allow you fast pace running and with a maximum weight capacity of 100 kg, this treadmill is suitable for multiple runners.
Is maintenance required for the Reebok treadmill?
Yes, everything needs maintenance if you are willing to use it for a long duration without unnecessary hassle. According to the professional review site, the belt of the treadmill needs to be lubricated after every 12-15 hours of use. Use the recommended lubricant to avoid any uncertainty and wipe the treadmill deck with a dry cloth.
Should I unplug the treadmill after every use?
It is better to always turn off your treadmill after every use as it can result in a power surge protector to trip. Also, it can cause a power cut-off while the treadmill is not in use.
---
Affiliate Disclosure
In compliance with the FTC guidelines, please assume the following about all links, posts, photos and other material on this website:
Any/all of the links on this website are affiliate links of which GymFreakz receives a small commission from sales of certain items, but the price is the same for you.
www.gymfreakz.com is a participant in the Amazon Services LLC Associates Program, an affiliate advertising program designed to provide a means for sites to earn advertising fees by advertising and linking to Amazon.com & Amazon.co.uk. Pages on this site may include links to Amazon and its affiliate sites on which the owner of this website will make a referral commission.