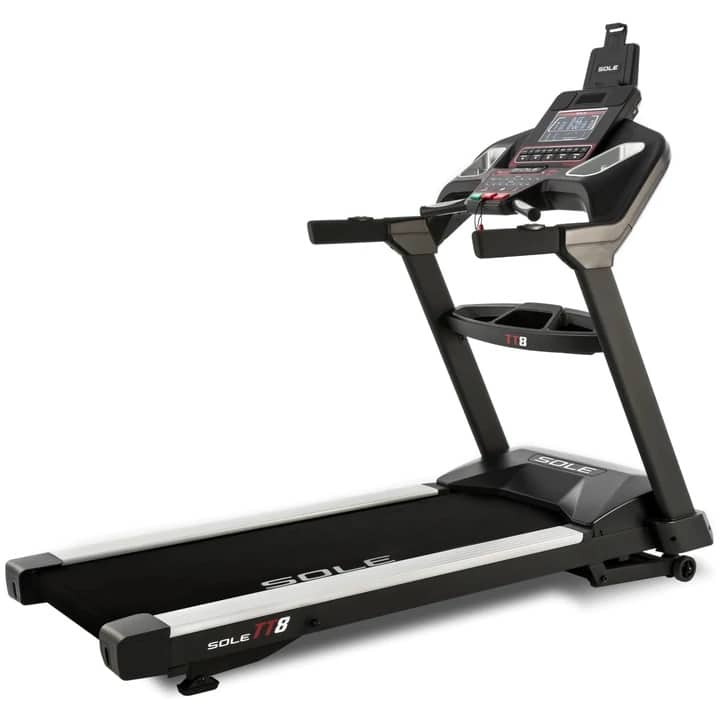 ---
---
Introduction to the Sole TT8 Light Commercial Treadmill
If you are a serious runner looking for a light commercial experience at your home gym, then it could just be that Sole Fitness has designed the TT8 Treadmill to meet all your needs. This treadmill has been stylishly redesigned and improved to keep you running and healthy, equipped with modern technology and impressive features, read on to find out more.
The Sole Fitness TT8 enhances your fitness performance with a high-power motor, nylon deck, flex cushioning, heart-pounding speed, high inclines, and an impressive range of programs. This treadmill really does have everything you are looking for in light commercial and home fitness equipment.
Sole Treadmills provide fitness solutions to people of all shapes and sizes, and this Sole fitness equipment is, without doubt, one of the finest treadmills by the manufacturers to date. It is affordable and provides a gym-like experience at home. Its sturdy metallic look goes with all kinds of anterior settings and maintenance charges are near zero. With its high functionality and effective programs, you can tone your body and stay fit throughout the year. All this through multiple workout programs that are designed by keeping in mind the needs of active runners.
As with all our products on the site, we have closely reviewed this treadmill and were incredibly impressed with the range of amazing features it provides at an affordable range.
Let's dig a little deeper to give you the full review…
Disclaimer – This website contains affiliate links. If you find the information useful and click on a product link and make a purchase, a small commission will be earned by GymFreakz and we appreciate your support.
---
Specifications
Brand: Sole Fitness
Model: TT8 Light Commercial Treadmill
Motor: 4.0 CHP DC Motor
Size L x 195.2cm W x 94cm H x 144-168cm ( 77″ x 37″ x 57-66″) Height varies due to adjustable tablet holder
Maximum Speed: 13.7mph (22km/h)
Minimum Speed: 0.5mph (1km/h)
Decline: 6 Levels
Incline Range: -6 – 15
Product Weight: 147kg
Maximum User Weight: 23.5 Stone (150kg)
Deck Width: 56cm x 152.4cm (22″ x 60″)
Built-in Programs: 8
Custom Programs: 2
Cooling Fan: Yes
USB Charging Point: Yes
Integrated Fit Test: Yes
Chest Strap Included: Yes
Bluetooth Audio Integration: Yes
Integrated Tablet Holder: Yes
Phone Holder: Yes
Kinomap Integration: Yes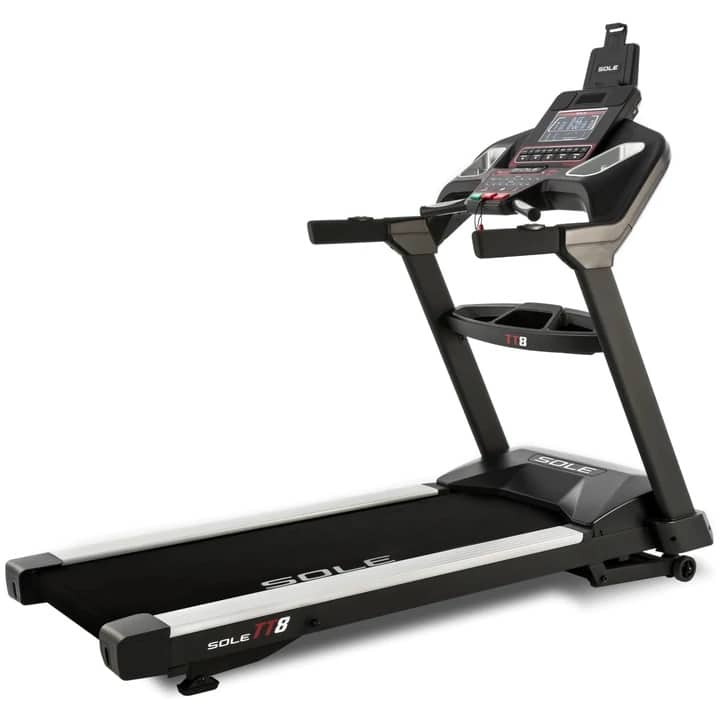 ---
KEY FEATURES
Commercial Quality Built:
Sole Fitness commercial-level machines like the TT8 Treadmill have a sturdy appearance and are built with high-quality electrical and mechanical parts. the Sole TT8 Treadmill is an engineering marvel, as the new enhanced model has a smooth, static-free running surface and with its practical design makes it a great choice for your home and small gym setups. The motor is equipped with a high-end motor of 4CPH, which keep your workouts uninterrupted. In terms of quality, the T88 is definitely one of the best pieces of gym equipment on the market.
Sole App:
The Sole Fitness app is your fitness trainer and track recorder. The TT8 supports the Bluetooth Sole App, which allows you to connect to other fitness apps, track your performance data and also allows you to download and transfer it from one device to another. The data is readily available and sorted for the runner before each use.
The app is designed so that you can stay connected to the world of fitness, and with an ever-growing range of various fitness options from all across the globe, you can reach your fitness goals faster.
Cushion Flex Whisper Deck:
Most treadmills by Sole come with a Whisper Flex Deck Cushioning and as such, the TT8 light commercial treadmill also has a high-end cushioning system that reduces joint strain and aids in a smooth ride. With this cushioning in place, it allows the treadmill to be suitable for all levels and all ages. (Joint and bone health is a priority by Sole Fitness).
---
Warranty
The Sole TT8 commercial treadmill comes with a lifetime warranty on the frame, deck and motor. This home and light commercial warranty are industry-leading. Moreover, the treadmill also has a five years warranty on electrical and mechanical parts. Sole Fitness also provides a two-year in-home labour warranty for all UK residents. The warranty periods may vary from one location to another. The above-mentioned warranties are for people living in the UK.
*Warranty may be subject to change without notice and may differ between retailers – please check carefully before making a purchase.
---
Pros and Cons
Multiple Workouts and Data Tracking:
The Sole Fitness TT8 never fails to impress you with a wide range of built-in and custom programs. These programs are designed to improve workout progress. Also, these programs target a wide range of runners, the custom programs allow complete freedom of workout so you can create your workout plan with preferred speed and incline settings.
Not only that, but the Sole TT8 Light Commercial Treadmill also tracks your training data to compare your progress. Additionally, workout progress can be shared with different apps and devices for convenience. The training provided by the Sole TT8 is up there among the best among its competitors and, as it is exclusive for all Sole runners, has no real match. At this stage, I should also mention that the workout display includes pulse and heart rate, and for heart rate monitoring, the Sole Fitness TT8 has a heart rate chest belt.
The Sole TT8 treadmill offers a wide range of inclines, speeds, and declines. The decline rate of the treadmill is from -6 to 0, from where it offers a 15% incline. You can change the inclines from the preset buttons on the console to manually change to the preferred incline. The treadmill has a minimum speed of 0.5mph for all workouts and a maximum speed up to 13.7mph.
Convenient Features:
The Sole TT8 Light Commercial Treadmill provides extreme comfort and feasibility for the runner. It has a large console equipped with an additional accessory holder for your iPad or phone, not to mention, of course, dual cup holders for your drinks and essentials. The convenient tablet holder is positioned on the console in such a way that you can easily connect your device to the USB charging port. The LCD has a large bright blue graphic display and displays calories, speed, incline, distance, and time.
Other convenient features include Bluetooth audio speakers for you to play your favourite tunes during workouts, as well as the sound system installed in this Sole treadmill, which is of high range and quality. It has a loud, clear sound with various volume control keys. Also, Bluetooth compatibility allows you to connect to various fitness apps, like Apple Health, Kinomap App, FitBit, and Sole Fitness App.
Wide Deck:
The twenty-two-inch wide deck of the TT8 Light Commercial Treadmill provides a generous running surface for serious runners, providing freedom of movement. People like to have plenty of room whilst running to make arm movements and to not feel closed in with their running stride. Rest assured, you have more than enough with the Sole TT8 Treadmill.
Non-Folding Treadmill:
We love the wide deck of the TT8 Light Commercial Treadmill, but it needs dedicated workout space. Since the treadmill is non-folding, it requires space to operate and use. People living in small houses or people owning small gym setups could therefore find its size a problem.
---
Overall Verdict:
The Sole TT8 Light Commercial Treadmill is one of the best pieces of gym equipment for home and light commercial use. The stylish and sturdy design, practical features, wide jogging surface, multiple inclines, decline functions, 13.7mph top speed, and high-quality whisper deck makes it a great choice for your workout space. The product is compatible with people of all sizes and shapes with numerous workout options. If you have a dedicated space to install this marvellously designed product, then I see no reason to wait any further.
---
---
FAQ's
How can I get finance while buying Sole TT8 Light Commercial Treadmill?
While buying the Sole Fitness TT8, choose the monthly payments option and fill out the application form online. The form will ask you to submit your authentic id and financial stats with documentation. Once the form is submitted, you might be financed according to the eligibility criteria.
Does Sole TT8 Light Commercial Treadmill measure heart rate and pulse?
The Sole Fitness TT8 measures your pulse and heart rate. The treadmill is equipped with EKG grip pulse monitors and a heart rate monitoring belt to keep your heart rate in an optimal range.
Does Sole Fitness have Bluetooth speakers?
The Sole TT8 has Bluetooth speakers along with an integrated audio jack.
---
Affiliate Disclosure
In compliance with the FTC guidelines, please assume the following about all links, posts, photos and other material on this website:
Any/all of the links on this website are affiliate links of which GymFreakz receives a small commission from sales of certain items, but the price is the same for you.
www.gymfreakz.com is a participant in the Amazon Services LLC Associates Program, an affiliate advertising program designed to provide a means for sites to earn advertising fees by advertising and linking to Amazon.com & Amazon.co.uk. Pages on this site may include links to Amazon and its affiliate sites on which the owner of this website will make a referral commission.