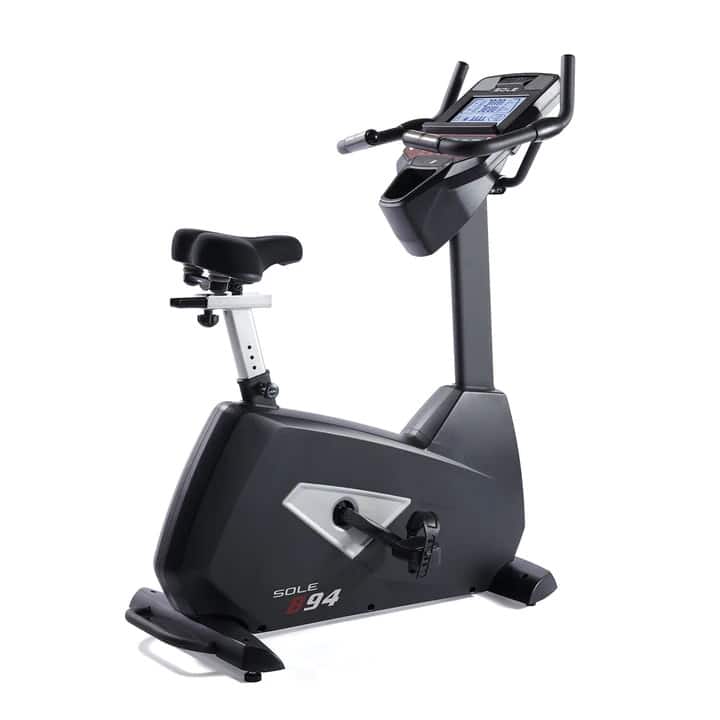 ---
---
Introduction to the Sole B94 Upright Exercise Bike From The Upright Range
Let's think about the foundations of a building for a second. In order to build something, something beautiful or something functional, we need to make sure the foundations are solid. But it's not just about making sure they're sturdy and well built – we need to make sure those foundations have been designed in a smart and forward-thinking way.
The world of bikes is no different. It's all well and good having innovative components like exercise-integrated Bluetooth speakers or a convenient USB charging point, but if the foundations aren't built with integrity, then our fitness lifestyles won't be either. Having a strong frame, durable materials and precise weight-based engineering is exactly what companies should be doing in order to build up, in the right ways, for you.
Sole Fitness are renowned for robust and resistant builds. Their bikes are of special note here. Which is exactly why we're going to be focussing on the Sole Fitness B94 upright bike for today. Exercise bikes, and exercise equipment like this in general, have a great focus on life span and resistance to wear and degradation. Yes, this is obviously a good thing for your equipment quality, but it's also great for your wallet too.
At a brilliant price, the Sole B94 upright bike doesn't just stop at durability, its console and wider features are worth noting, too. After all, having the right foundations is an essential first step, but it's what you build on top that people are going to really notice. Without further waiting, let's break down why one of my favourite Sole Fitness machines could soon be yours too.
Let's take a spin.
Disclaimer – This website contains affiliate links. If you find the information useful and click on a product link and make a purchase, a small commission will be earned by GymFreakz and we appreciate your support.
---
Specifications
Power Source DC12V/1.5A
Eddy Current Brake
9 kg Flywheel
Crank Length 165mm (6.5″)
Max User Weight 21.5 Stone (136 kg)
Size L x 123cm W x 58cm H x 152cm (48.4″ x 22.8″ x 59.8″)
Product Weight 58 kg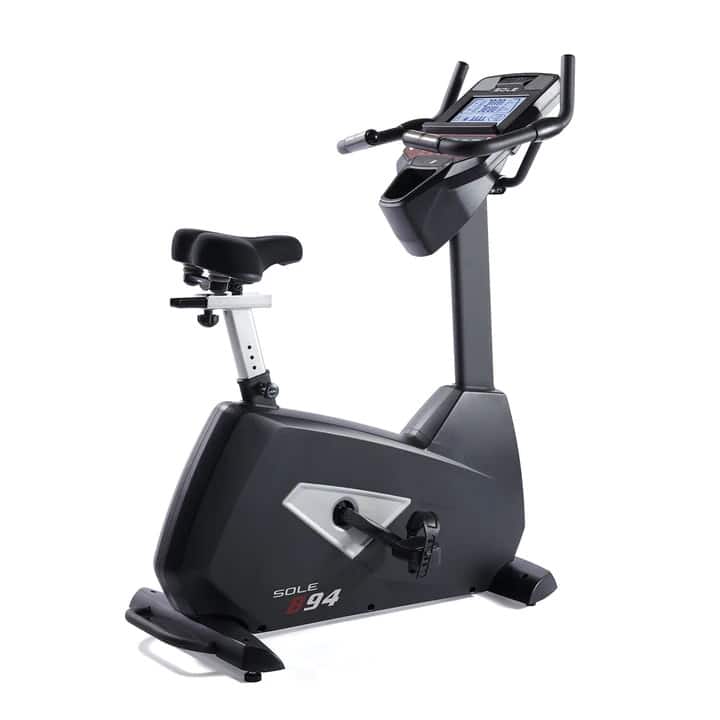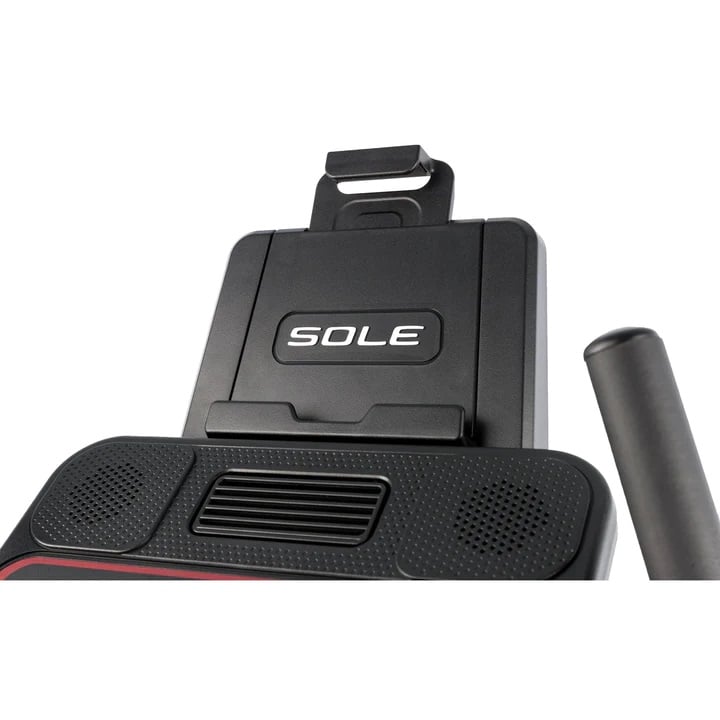 ---
KEY FEATURES
1-20 Resistance levels
Foot pedals with 2 degree inward slope
9kg Flywheel
Crank Length 165mm (6.5″)
Console 9″ LCD Display
Cooling fan
Integrated Bluetooth Speakers
MP3/Apple connectivity
USB Charging
Tablet/Smartphone Holder
Multi-Position Hand Grips
Bluetooth compatible
Water bottle holder
Contact heart rate monitoring
Telemetric heart rate monitoring, chest strap compatible
Max User Weight 21.5 Stone (136 kg)
Size L x 123cm W x 58cm H x 152cm (48.4″ x 22.8″ x 59.8″)
---
Warranty
Warranty: 5 Years parts, 3 years labour, and 10 years drive motors. Home use only.
*Warranty may be subject to change without notice and may differ between retailers – please check carefully before making a purchase.
---
Pros and Cons
---
Overall Verdict:
It's hard to keep the conversation light with heavy-duty machines like this. With a 9Kg flywheel, reasonable user weight and a hard-hitting look, it's safe to say this is a big machine for serious riders. But don't let that put you off. Your workout routines will only benefit from the option to workout harder, and through being able to use smart devices whilst working out, and use the USB charging convenient tablet devices, then you still have the option of a comfortable but challenging workout.
I do want to stress that Sole Fitness themselves have declared that comfort is a massive part of their design. While this machine is heavy in nature, all high-quality cardiovascular equipment has to have an element of comfort, and the B94 ticks all of those boxes.
I also loved the balance between heavy and light. Let me explain. The heavy-duty steel components are used with precision. They're also used in conjunction with a lightweight frame design, namely through well-engineered tubing and aluminium shrouds. In short, this fine balance results in a sturdy machine that can still be easily moved if needed. Indoor cardio exercises can be difficult when it's in the same room every day. While the Bluetooth audio speakers and integrated tablet holder make things a lot easier, you're still a person, and we can all get cabin fever. I cherish being able to move my equipment around, so if you're like me, then the Sole B94 is a solid choice in this regard.
To conclude, it might not have the most space-saving design, but it will save you money, time and hassle. It's a solid machine, and I like to work out heavy anyway, so I feel like this thing is designed for people like me. If you like light rides, though, then really don't write this off. Comfort has clearly been considered. The padded seat and ergonomically designed pedals ensure you'll ride comfortably, whether you want to push it or not.
---
---
What I Liked About This Exercise Bike
One thing we haven't touched on yet is the console. In order to monitor whether this machine is right for you, it's always best that we break down the… well, monitor. The 9″ LCD display is well built, clear and easy to use. But what's exciting here is that it allows you to play around with open software to design your own programmes. This opens up other exciting routes to pursue, letting you learn more about what you could like in the fitness world rather than restricting you to familiar workouts and quite possibly draining your interest.
Other convenient features like the tablet holder, water bottle holder, USB charging port and Bluetooth audio integration remind me that this machine holds more than engineering. For me, having ease of use is vital. I was running on a treadmill last week, and the water bottle holder was so badly designed that I was worried it would fall out. This is bad. And in my opinion, this is very bad. I want to be able to focus on my fitness without the worry of extra things going wrong. It's distracting and draining and affects my workout routine. Thankfully, the Sole Fitness B94 upright bike couldn't be easier. A definite box tick for me.
One last thing I want to touch on here is data tracking and monitoring. This machine let's you take track data, even with integrated devices, to get the most out of your analysis. And if you're the type to disregard data tracking analyses, then I'd encourage you to rethink – I could be working out hard… in all the wrong ways for my progression. In other words, you shouldn't be doing 100 push-ups, you should be doing a few sets of chest presses; your time is invaluable, and data tracking will ensure that you use it wisely.
Things That Could Have Been Better
I could praise this machine all day, but there are a few things I'd like to see improve. In my opinion, whether it's a new enhanced model or a classically built machine, self-levelling pedals should be a feature no matter what. I talked about ease of use, and the only thing missing here really is a self-levelling pedal component. Knowing where the pedals are every time I get on or off is super important. It cuts down potential injury, frustration and unnecessary time. We can all be in a rush, especially if we're working from home, and so features like this should never be underestimated.
The user-defined feature on the console was great, but the Sole Fitness App can be a little hit and miss. I found it to feel a little dated and somewhat… flat falling. The Sole App enables a guided workout routine, sure, but I can't escape the feeling that these are built as almost canon fodder – they're there to add value perceptually but aren't really going to make a real dent to your fitness life. That said, with all of the connection and integrated options, and the user-programmed workout option, I wasn't short of guidance and could certainly workout hard in any way I wanted to.
---
FAQ's
What is an adjustable gel seat?
An adjustable gel seat is what it says on the tin. Usually, with silica gel, a seat like this can be adjusted in terms of vertical and horizontal placement but also lets your natural riding position sit comfortably with a gel cushioning construction. Unlike hard and dead-set seats, gel can form around you, leaving you comfortable and worry-free.
Should I care if a company is to market wireless chest strap extras?
We see these straps all the time. They're definitely a good thing, and everything should be considered as far as price is concerned. If you love to get everything you can from a bike product, then it's always good to divvy up the pros and cons. A wireless chest strap is usually for heart monitoring purposes, and if a bike doesn't have these on the handlebars in the form of sensors then definitely consider this extra.
---
Affiliate Disclosure
In compliance with the FTC guidelines, please assume the following about all links, posts, photos and other material on this website:
Any/all of the links on this website are affiliate links of which GymFreakz receives a small commission from sales of certain items, but the price is the same for you.
www.gymfreakz.com is a participant in the Amazon Services LLC Associates Program, an affiliate advertising program designed to provide a means for sites to earn advertising fees by advertising and linking to Amazon.com & Amazon.co.uk. Pages on this site may include links to Amazon and its affiliate sites on which the owner of this website will make a referral commission.