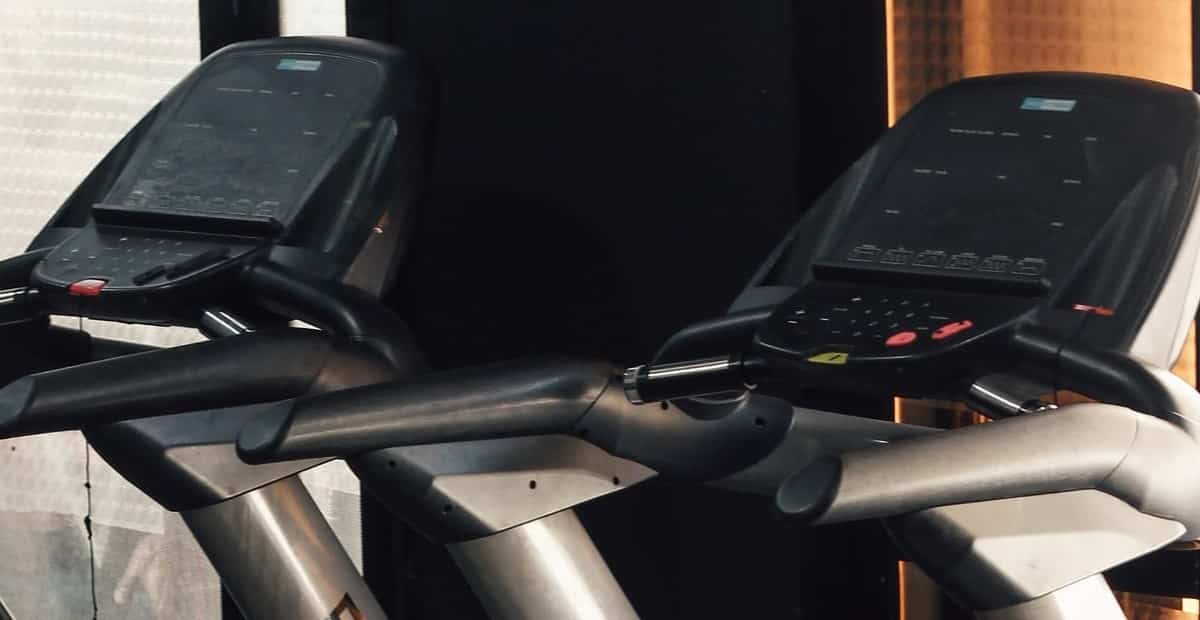 ---
---
Become your own trainer with training apps that will evolve your fitness routine.
Training apps can change everything. They can act as a guide, a foothold in your fitness regime. You may know a lot about fitness and running but any professional trainer knows that variation is a massive positive in the fitness world.
Thankfully, home treadmills allow you to integrate technology with entertainment features like Bluetooth connectivity, broadening your paths to becoming motivated and keeping fit. Most notably, apps give you a frame for your workouts, track data, and allow any given user to connect their fitness lifestyle to their machines.
When you activate these kinds of integrated apps, you're activating the next level in your training evolution, so let's get down to business and break down some of the best iFit-enabled treadmills to get you up and running in the best ways possible.
Disclaimer – This website contains affiliate links. If you find the information useful and click on a product link and make a purchase, a small commission will be earned by GymFreakz and we appreciate your support.
In A Rush?
| | Best Nordic- Track: | Best Curved: | Best Proform (for beginners): | Best JTX: | Best Proform (on a budget): |
| --- | --- | --- | --- | --- | --- |
| Brand | Nordictrack | Nohrd | Proform | JTX | ProForm |
| Model | Commercial X22i | Sprintbok Curved | Carbon TL | Sprint-7 Smart Edition | 205 CST |
| Photo | | | | | |
| Max. Speed | 22 kph | n/a | 16 kph | 20 kph | 16 kph |
| Max. Weight | 135 kg | 160 kg | 135 kg | 130 kg | 115 kg |
| Running Area | 55 cm x 152 cm | 160 cm x 45 cm | 51 cm x 140 cm | 145 cm x 51 cm | 41 cm x 127 cm |
| PRICE* | £2,999.00 | £5,295.00 | £799.00 | £1,079.00 | £599.00 |
| | | | | | |
| Check Prices | | | | | |
*Prices correct at the time of writing
---
Best Nordictrack For iFit (incline):
Nordictrack Commercial X22i Incline Trainer Treadmill (£2,999.00)
Key Features
4.0 CHP motor
0-40 per cent digital incline
0-6 per cent digital decline
0-22 km/h speed
22 inches full-color HD touch screen display
30-day iFit membership included
iFit integrated
Bluetooth-compatible dual 3-inch speakers.
2.5 inches roller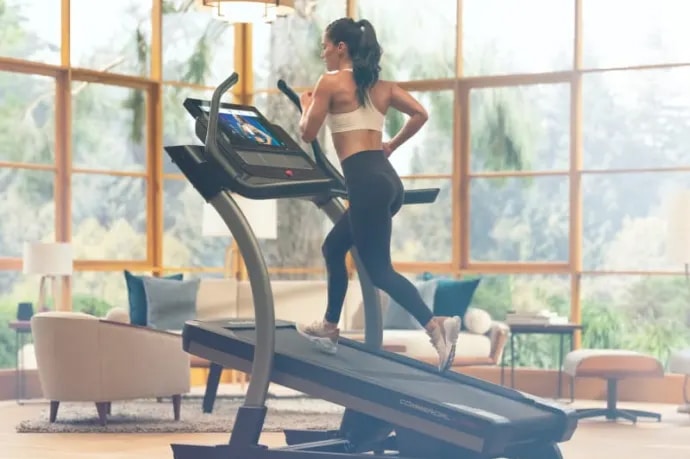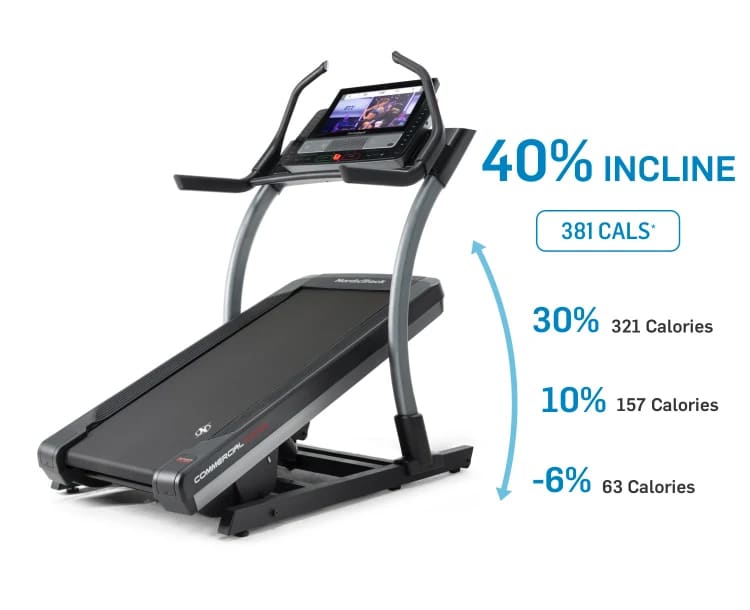 ---
Overview
The treadmill from Nordictrack has everything a great treadmill should have. From high power to serious incline and decline adjustments and great electronics, this machine has about everything.
From an amazing warranty to great incline settings, this machine is one of the best in this category. But not because of the two things I just mentioned – because of this ability to provide iFit workouts that help guide your workout routine and keep your body changing for good.
When you train using iFit treadmills, you'll notice that the variation is driving your routine. An iFit trainer can help run you through incline ranges, with pre-warnings on the changes, to really keep you on top of your game.
Most customers would agree that using an app is a good way to frame your regime, and so this machine really helps with that, especially when it comes to incline training through the iFit app.
This treadmill also offers good workouts and the steep incline, strong motor, extra-wide HD screen, and iFit customized training are what makes this treadmill stand out.
---
Best Curved Treadmill For iFit (curved):
Nohrd Sprintbok Treadmill (£5,295)
Key Features
Manual treadmill, no power source required
No speed limit
17.2" (43.6cm) high definition Touch Screen
Available in a variety of woods
Slats are made from Birch plywood and high-quality rubber for superb cushioning
Running surface 63" x 18' (160cm x 45cm)
Grease life high-quality bearings
Transport wheels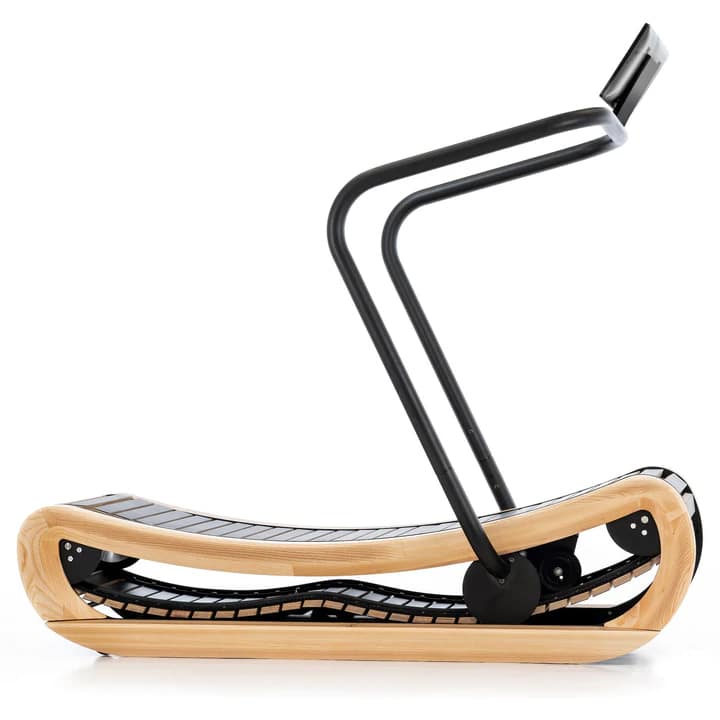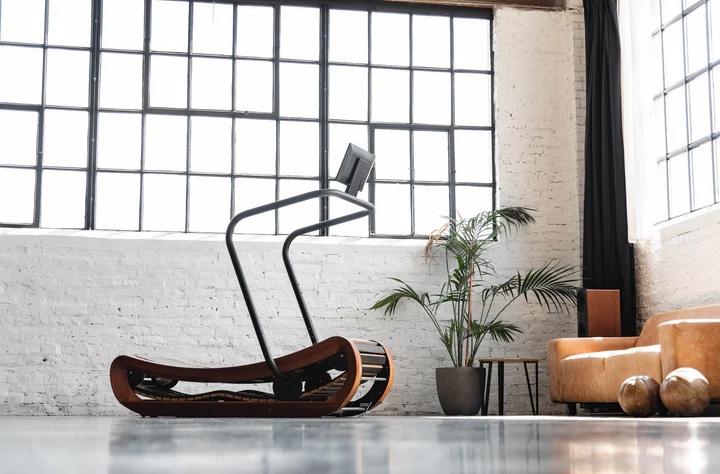 ---
Overview
I was once a customer of this machine but I didn't leave a review, so consider what you're reading as that review.
Having a curved treadmill for iFit purposes is an amazing way to lose weight, stay fit and keep up the running regime. The touch screen will make sure you're easily scanning crucial workout data and at very little cost. Curved treadmills often incorporate iFit into their products as manual specs can be fewer, not to mention the benefits of the app of course.
Most trainers will testify to the Sprintbok being a force to reckon with. Through having a unique design with tech incorporated this treadmill becomes a great addition for awesome workouts in a home gym made to impress.
---
Best Proform Treadmill For iFit (for beginners):
Proform Carbon TL Folding Treadmill (£799.00)
Key Features
iFit enabled includes 30-Day iFit family membership
5-inch high contrast multi-colour display
2.6 CHP motor
51 x 140 cm tread belt
Digital quick speed control speed: 0 – 16 kph
Digital Quick Incline control inclination 0% – 10%
ProShox cushioning is used
Precision-balanced 1.9-inch rollers
SpaceSaver Design
EasyLift assists in the folding deck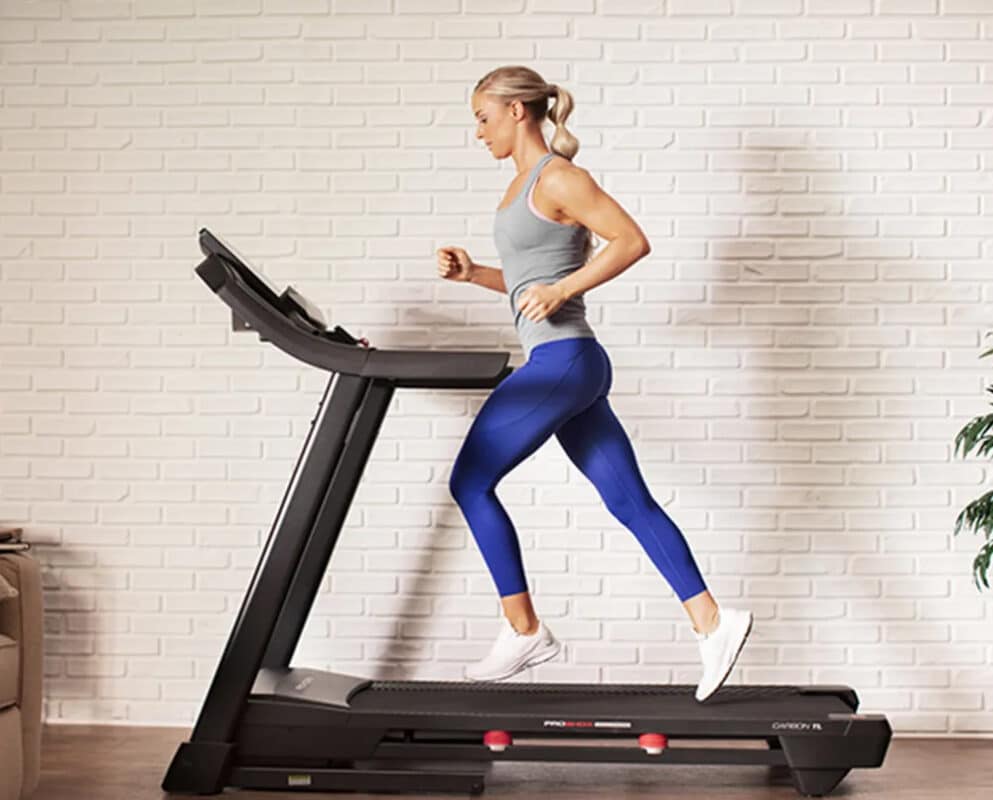 ---
Overview
The ProForm Carbon TL is a durable, low-maintenance, and renowned brand that offers plenty of features without burning up your cash. One of those main features is that with the app it becomes one of my favourite iFit treadmills.
To answer the question of, 'how can I find a good all-rounder that incorporates iFit workouts without spending a silly amount of money?' this machine does the job.
With a decent motor and durable build, you can take advantage of varied workouts, having purchased the iFit membership, and set your own pace with the customisable iFit app (available through your smartphone too).
Your understanding of treadmill and cardio fitness knowledge will only begin to take shape when you make the first move, and if you had to pick one from this list well, this is a great choice for most runners.
---
Best JTX Treadmill For iFit (affordable):
JTX Sprint-7 Smart Edition Treadmill (£1,079.00)
Key Features
Roller at the front = 2.4″ / Roller at the rear = 2.6″
Cushionstep Deck is a 145 x 51cm deck with a cushioned top.
Max speed of 20kph.
12% Incline
Suspension: 8-point shock system
Displays time, pulse rate, speed, incline, distance and calories burned on computer console.
43 Workout Programs
Heart Rate Training: Using hand pulse sensors or a Polar chest strap (available separately)
DC motor with 3 horsepower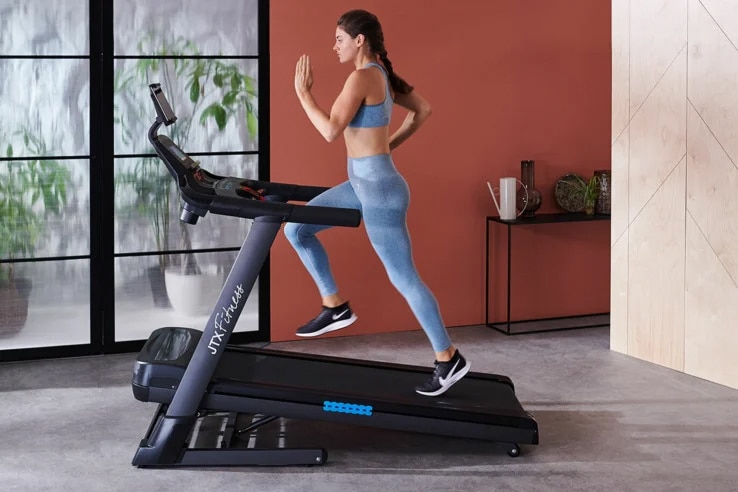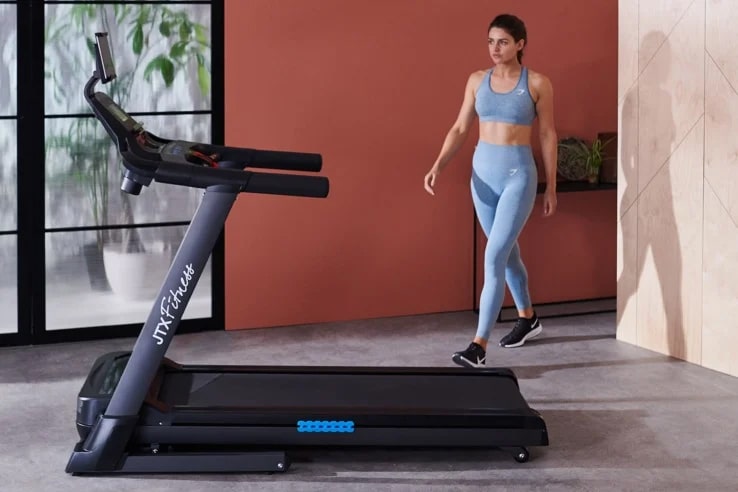 ---
Overview
If you think that tech incorporated machines and expensive treadmills are a given correlation then you'd be wrong. One of the greatest aspects of iFit trainers, by any account, is that, as long as you have internet to start, you can use iFit and change your fitness regime in an instance.
This running machine has great base features and for an amazing price, so it's only an improvement when iFit technology is added. Besides, with budget machines like this you're saving money on components and builds, but you're also saving money on that gym membership or coach you might have hired if this wasn't an option.
For peak performance, make sure to fully check out the iFit features while also weighing up how this machine can be used to maximise that iFit treadmill potential.
---
Best Proform Treadmill For iFit (on a budget):
ProForm 205 CST Folding Treadmill (£599.00)
Key Features
iFit enabled membership
1 large LCD Display
1.75 CHP2 Motor
41 x 127 cm Belt
0-16kph Digital
2 Position Adjustable Incline
ReBound pro-Cushioning
1.6″ Precision Balanced Rollers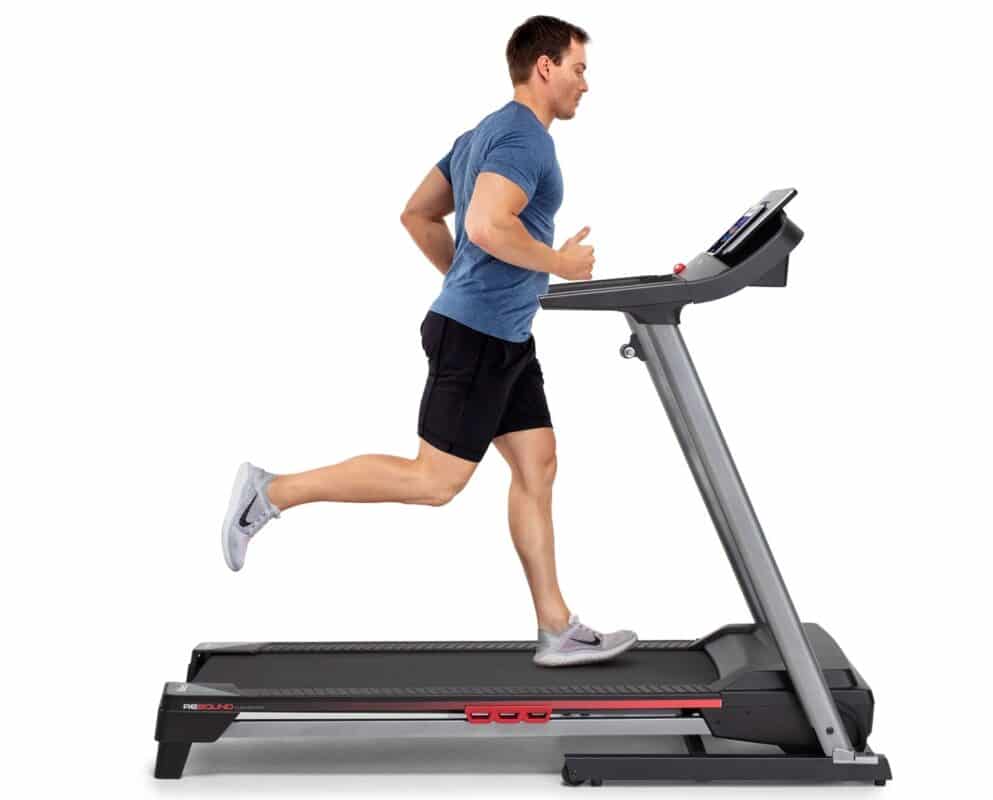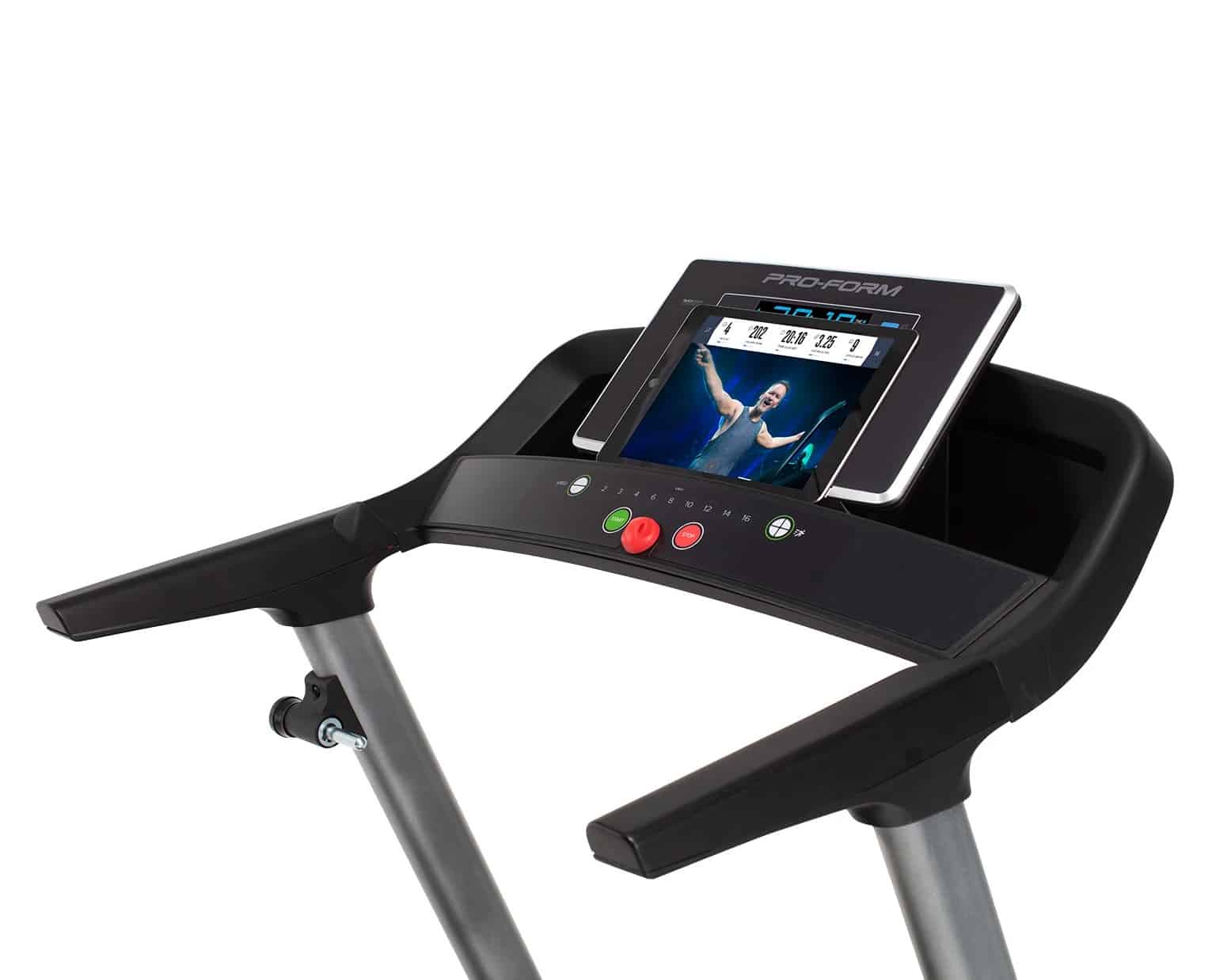 ---
Overview
This machine is certainly a treadmill on a budget. But for those of us where budget takes precedence (a lot of us…) then well I have to say I love this ProForm treadmill.
We're here to talk about how iFit workouts can change your routine for life, making it hard not to leave 5-star reviews on the app store. And the greatest thing about this – you don't need an incredible treadmill as iFit does so much of the guiding, recommending and training.
With a sturdy build and convenient design this ProForm is more than good enough to connect you to a better state of cardio fitness. And with the machine's incredible price and iFit's affordable cost then you don't even need to look for deals – it's inherently a budget-friendly treadmill that'll leave you smiling at the end of the day.
---
Conclusion
In conclusion, we have some amazing brands with some jaw-dropping features, but to focus on iFit memberships and fitness routines for a moment, we've found some great alternatives to varying up your workout without spending too much on gym memberships.
An iFit treadmill is well worth the purchase – it gives you so much out of one machine and, if you're on a budget, then so much out of one affordable machine. In my opinion, you should take this as a sign that your interest in alternative workouts, perhaps from home, is definitely the right move.
From exercise bikes to more obscure fitness equipment, an iFit membership is certainly worth considering. Get rid of your personal trainer and experience the iFit experience.
>> Why not take a look at more of our helpful treadmill buying guides here. <<
---
FAQ'S
Does an iFit experience really outdo studio classes? And will I automatically adjust if it is?
Well, both have benefits of their own, but one costs a hell of a lot more than the other and requires added time for journeying. You may miss a few things about your studio class, but when you realise the benefits of convenience and heightened training sessions I doubt you'll be asking questions like this anymore.
---
Affiliate Disclosure
In compliance with the FTC guidelines, please assume the following about all links, posts, photos and other material on this website:
Any/all of the links on this website are affiliate links of which GymFreakz receives a small commission from sales of certain items, but the price is the same for you.
www.gymfreakz.com is a participant in the Amazon Services LLC Associates Program, an affiliate advertising program designed to provide a means for sites to earn advertising fees by advertising and linking to Amazon.com & Amazon.co.uk. Pages on this site may include links to Amazon and its affiliate sites on which the owner of this website will make a referral commission.