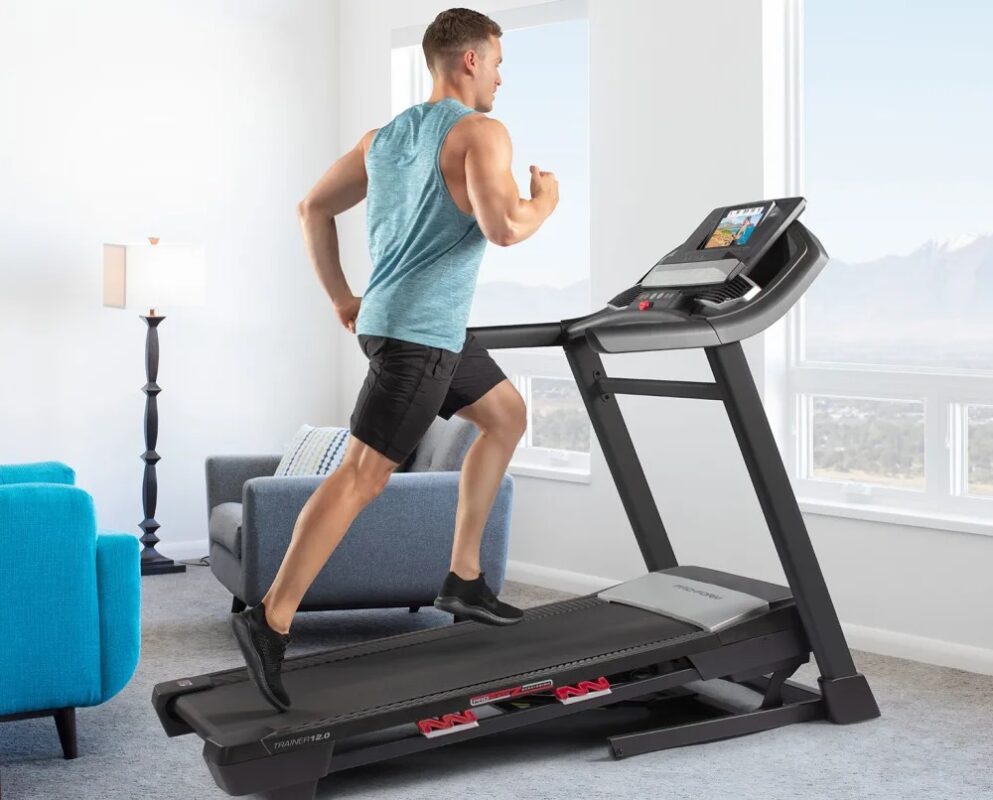 ---
---
Introduction to the ProForm Trainer 12.0 Folding Treadmill
The Proform Trainer 12.0 Folding Treadmill is a great way to get in shape at home. With its many features, such as in-home, trainer-led studio sessions with iFit's certified personal trainers, and the ability to automatically control the speed, incline, and decline to match workouts, you are sure to find a plan that is right for you. Plus, with the ever-growing library of exciting and motivating workouts, you will never get bored.
The benefits of using a treadmill on a weekly basis are many, from reducing stress and anxiety to improving your cardiovascular health. The Proform Trainer 12.0 Folding Treadmill is a great choice for people who are looking for a quality machine that will provide them with a great workout and is fast becoming well recognised in the fitness industry. This treadmill has a number of features that make it an attractive option for users, including an iFit-supported 10″ touch screen display, a digital QuickSpeed control, and a digital Quick Incline control.
If this already sounds like the kind of machine you've been looking for to add to your home gym, read on for our full review of the Proform Trainer 12.0 Folding Treadmill below.
Let's take a look at what more it has to offer.
Disclaimer – This website contains affiliate links. If you find the information useful and click on a product link and make a purchase, a small commission will be earned by GymFreakz and we appreciate your support.
---
---
Specifications
iFit Supported
30-Day iFit Family Membership Included
10″ Touchscreen Display in Full Color
3.0 CHP Motor
Tread Belt 51 x 140 cm
Digital QuickSpeed Control 0 – 20 KM/H
Digital Quick Incline Control ranging from 0% to 12%
Cushioning ProShox Z
EasyLift Assist and SpaceSaver Design
Workout Fan CoolAire
Built-in Tablet Shelf
Dual 2″ iPod Compatible Speakers
Weight Capacity of 135kg
Dimensions when assembled 189 cm L x 89 cm W x 163 cm H
Dimensions in Boxes 196 cm L x 81 cm W x 30 cm H
The boxed weight is 101kg.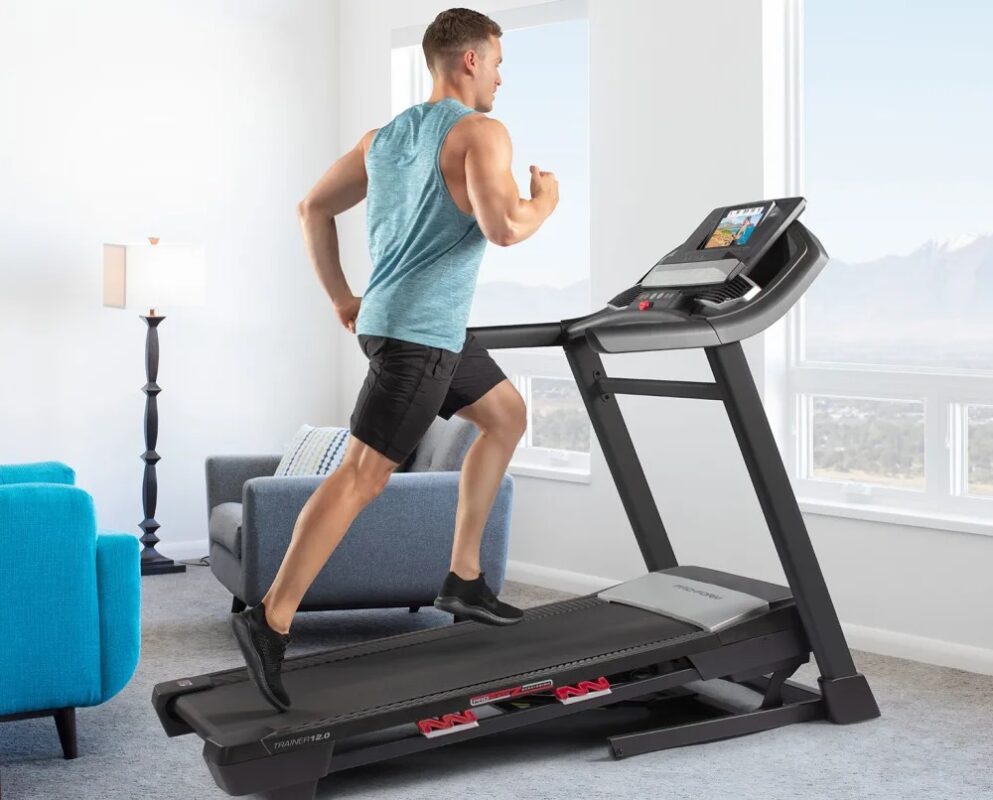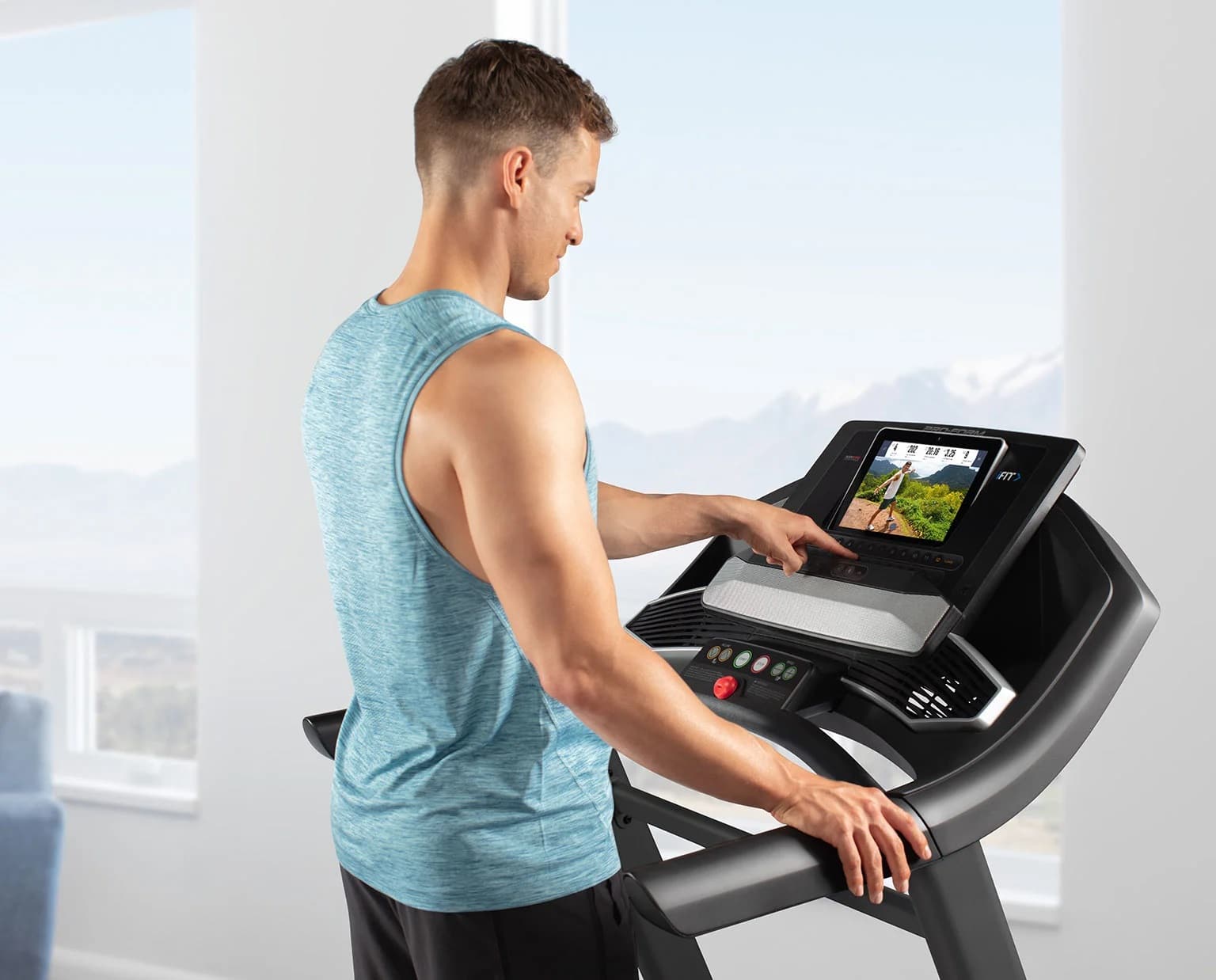 ---
KEY FEATURES
iFit enabled
The Trainer 12.0 treadmill has many features, one of which is that it is iFit enabled. This means that with an iFit Family membership, you can have a whole new workout experience, with unlimited workouts designed and ready to action at the touch of a button. Personal trainers will lead you in studio classes and take you all around the world, automatically controlling your treadmill's speed, incline, and decline.
All this gives you unique, hands-free workouts that will help you take your training to the next level.
30 days iFit membership
The Trainer 12.0 comes with a 30-day iFit membership for the whole family, which provides instant access to an extensive range of professional training programs. These are consistently being added to an ever-growing workout library of un-limited workout programs that will get you moving and sweating on and off your machine.
10″ Touchscreen Display
The Proform Trainer 12.0 Folding Treadmill has a 10" Full Colour Touchscreen Display that makes it easy to track your workout stats. With this display, you can stay in clear control of your workout and see all the important information you need.
3.0 CHP Motor
The 3.0 CHP motor will take you to the longest fitness routes. Smooth, strong, and long-lasting. This large-frame motor keeps you cool throughout the toughest workouts, generates a lot of energy for a smooth, powerful feel, and offers a quiet in-home experience. This motor is designed for extended use and is made with high-quality components, as proven by the warranty.
Tread Belt
To make your in-home workout experience comfortable, ProForm designed a large deck so that you don't feel confined whether you walk, jog, or run. The 140 cm long tread belt enables you to expand your stride whilst the 51 cm running surface width allows for additional elbow room for your upper torso. To ensure the finest quality of their treadmills, Proform tests each tread belt for one million cycles, at double the user weight before releasing it for sale.
Digital QuickSpeed Control
It's comforting to know that you can run at 20 kph on this treadmill, even if not everybody can.
And the easy-push QuickSpeed buttons allow you to control your speed intensity instantly keeping you focused throughout your workout.
Digital Quick Incline Control
The ability to genuinely prepare your body for any slope or valley makes incline training the treadmill's game-changer. Both decline and incline adjustments on the Trainer 12.0 are motorized and automated. Take your overall training grade into the negative for the complete real-world experience.
You can be sure your legs are getting the best workout possible when you take a challenging workout on a treadmill with an automatic incline varying from 0% – 12%.
Cushioning ProShox Z
A comfortable workout is always a main priority. Every treadmill Proform produces comes with ProShox Z cushioning all around the deck. You will therefore experience a softer landing with each step while you walk, jog, or run. As such, you'll be able to experience longer workouts with less stress placed on your feet, ankles, knees, and hips.
With this technology you'll see a huge difference as it dampens your strides and lowers harmful impact forces, making it perfect for preserving your joints whilst taking on challenging workouts.
EasyLift Assist and SpaceSaver Design
Don't have lots of spare space at home? With the Trainer 12.0, Proform has created a space saver treadmill that folds up and is out of the way as soon you've finished your daily workout. Help lift the deck with a simple, easy push, with EasyLift™ Assist, utilising the built-in, powerful shock feature.
Now you don't have to give up your valuable living space for your fitness habits anymore.
Workout Fan CoolAire
From the minute you step onto the deck to the moment you're done, the integrated CoolAire fan keeps your workout comfortable. Climate control is one of the benefits of indoor exercise and you can choose from two-speed settings for instant control.
You'll feel comfortable during your indoor workouts whatever's going on outside, so whether it's pouring, cloudy, or blazing hot you'll be just fine in the safety of your own home.
Built-in Tablet Holder
Utilize your fitness time for multitasking time. The integrated tablet holder keeps your tablet secure and close to hand. Thanks to this built-in accessory tray, you can easily access all your necessities and all your training tools
Dual 2″ iPod Compatible Speakers
According to experts, we significantly change our speed to match the tempo of our music. In addition, it has been demonstrated that music lowers perceived exertion. A powerful sound system is therefore wonderful news and a great addition.
Weight Capacity of 135kg
The treadmill can support up to 135kg. This weight capacity was built with the entire family in mind.
Before launching Proform treadmills, they are tested for a million cycles at more than the user's weight to verify it is of the highest caliber.
Dimensions
Proform are aware of all your necessities in relation to a home gym. Therefore, this treadmill has been designed with a 189 L x 89 W x 163 H cm footprint. The dimensions are reduced when folded, giving you back your living space when your exercise is completed each day.
---
Warranty
2-year parts
Labour guarantee
5-year motor components warranty,
Lifetime frame warranty are all included with the Proform Trainer 12.0 Treadmill
*Warranty may be subject to change without notice and may differ between retailers – please check carefully before making a purchase.
---
Pros and Cons
---
Overall Verdict:
The Proform 12 Treadmill is a high-quality machine that offers a range of features, such as incline and decline, HD touchscreen, and communication with qualified trainers. It has a weight capacity of 135 kg and a footprint of 189L x 89W x 163H cm, making it perfect for larger families. The treadmill also includes a folding option, making it easy to store away when not in use.
However, the price is perhaps on the higher end for treadmills and the warranty is not as comprehensive as some of the other options on the market?
With all that said, I still personally love this product! It's easy to use and has a lot of great features. I would recommend it to anyone looking for a high-quality treadmill, especially those wanting to 'share it' with other family members or friends.
---
---
What I Liked About This Product
This treadmill includes a folding option that makes it simple to fold and store
Even after prolonged usage, its motor remains cool due to its high-quality
Easy access to online trainers to give you instructions as you workout
One-click is all it takes to operate the Proform Trainer 12.0 treadmill if you want to get started straight away. Just press start
What I Did Not Like About The Product
The price is perhaps on the higher end for treadmills in this bracket.
The treadmill is large and even though foldable, may not be suitable for smaller homes or apartments.
---
FAQ's
How long is the lifespan of a ProForm treadmill?
The typical lifespan of a treadmill, according to the makers, is around 10 years. However, you may extend the life of your treadmill if you maintain it correctly and lube the belt frequently.
Is daily use of a treadmill okay?
Once you become acclimated to walking on a treadmill, you can do it every day of the week. To lower health risks, walking briskly for 30 to 60 minutes on most days of the week is advised, or 150 to 300 minutes overall.
Do treadmills need to be maintained?
Treadmills need to be maintained in order to function properly and last a long time. You should vacuum the walking belt regularly and lube the belt at least once a year. You should also check the condition of the deck, rollers, and motor regularly.
Is a mat necessary for a treadmill?
The carpet won't be harmed by your treadmill any more than it would be by other large pieces of furniture. Use a treadmill mat to help with airflow under the machine and to help keep dirt, dust, and carpet fibers out of the treadmill.
How do I prevent getting bored on a treadmill and it not being a fitness habit anymore?
The best way to avoid getting bored on a treadmill is to change up your routine often. You can do this by varying your speed, incline, or duration. You can also try using a treadmill desk or watching TV while you walk. Walking with a friend or listening to music can also help make the time pass more quickly. However, with the Proform 12, this is all taken care of via the iFit app – the treadmill game changer.
---
Affiliate Disclosure
In compliance with the FTC guidelines, please assume the following about all links, posts, photos and other material on this website:
Any/all of the links on this website are affiliate links of which GymFreakz receives a small commission from sales of certain items, but the price is the same for you.
www.gymfreakz.com is a participant in the Amazon Services LLC Associates Program, an affiliate advertising program designed to provide a means for sites to earn advertising fees by advertising and linking to Amazon.com & Amazon.co.uk. Pages on this site may include links to Amazon and its affiliate sites on which the owner of this website will make a referral commission.