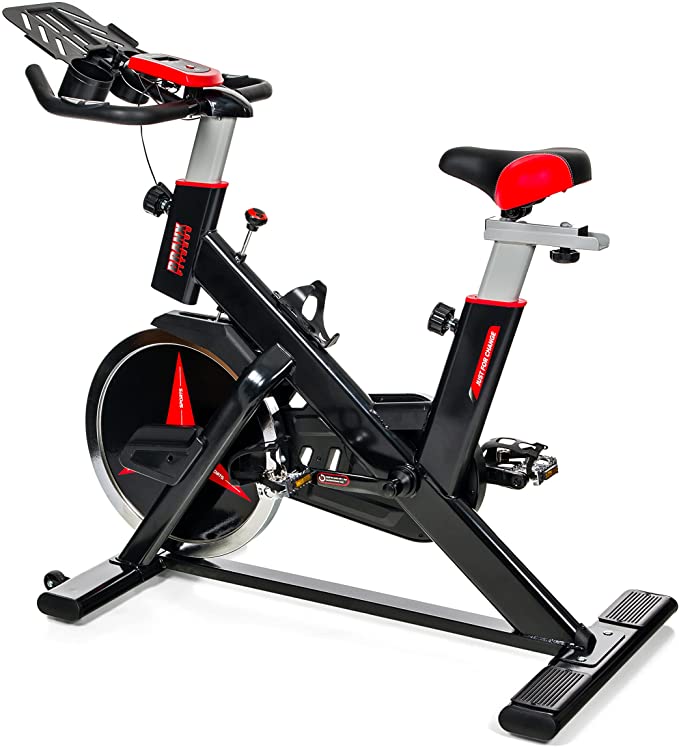 ---
---
Introduction to the Branx Fitness Revolution i-Rev1 Indoor Exercise Bike
Branx Fitness is an industry leader when it comes to producing premium quality fitness equipment for home gyms. Whether you need a treadmill or an indoor exercise bike, Branx Fitness withstand its exemplary reputation of providing the customers with the best.
In this article, we will bring you a comprehensive review of the Revolution i-Rev1 Indoor Exercise Bike. This bike would assist you in crushing your fitness goals from the comfort of your home.
Revolution i-Rev1 Indoor Exercise Bike integrates some exciting features such as a 7 function readout monitor that will make it convenient for you to track your progress. Before we jump to the review, let's first take a look at this exercise bike's specifications.
Disclaimer – This website contains affiliate links. If you find the information useful and click on a product link and make a purchase, a small commission will be earned by GymFreakz and we appreciate your support.
---
Specifications
Dimensions: 105 L x 49 W x 115 H cm
Bike's Weight: 52 kg
Max Weight Capacity: 150 kg
Heart rate sensors
Adjustable seat and handlebar
Water bottle holder
iPad holder
Multifunctional display
Transport wheels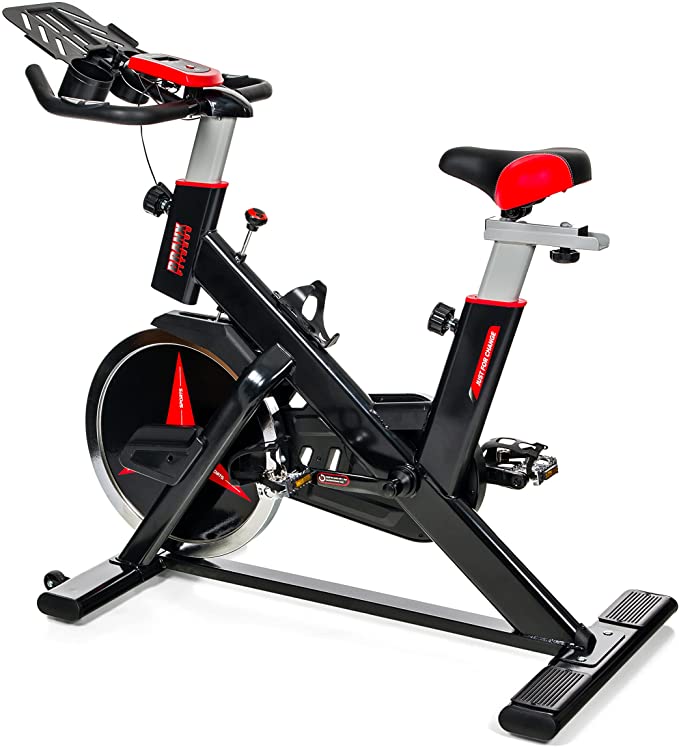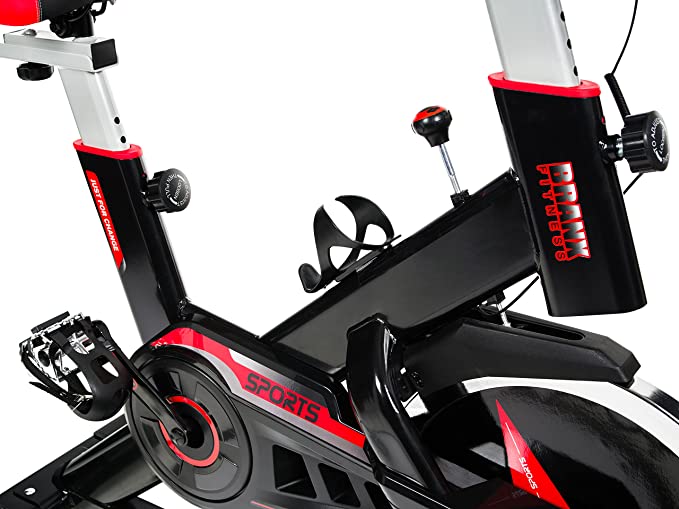 ---
KEY FEATURES
Excellent Quality Construction
When buying fitness equipment, you want it to last long because you are investing your hard-earned money into it. How long it will last depends on how well it is built.
Thankfully, Revolution i-Rev1 Indoor Exercise Bike comes with a durable and robust frame made of alloy steel. The strong frame is not only for durability, but it also ensures better stability while you are exercising. It provides you with better performance for a longer period and you get to continue your workout routine without facing any issues.
Heavy-Duty Flywheel
The flywheel is one of the essential components of an exercise bike that will directly influence your workout experience. While lighter flywheels are easier to get going, you won't be able to enjoy a smooth and comfortable ride as a heavier flywheel would provide.
Luckily, Branx Fitness uses a 22kg flywheel that ensures an optimal workout experience by maintaining a smooth and steady cadence. Incorporating the flywheel of this weight makes Revolution i-Rev1 Indoor Exercise Bike a versatile option.
How? Well, it caters to the fitness needs of people who have just started indoor cycling and the experienced individuals. Commercial fitness bikes also use the flywheel within the same weight range, but they are much more expensive.
Intuitive Display
As mentioned earlier, you get a 7 function readout monitor with this exercise bike to check various details. It tracks your speed, distance, calories burned, pulse and odometer. The "scan" is another useful feature that allows you to check your speed, distance and calories together. It displays each function for around 6 seconds. This function is really useful to track your progress in one go.
User-Friendly Design
Revolution i-Rev1 Indoor Exercise Bike is designed in a way that anyone who is using it does not feel any discomfort. It comes with an adjustable seat and handlebar which makes it a perfect option if you have multiple users at home. All of them can adjust it according to their comfort for a productive workout session.
Another attractive thing about Revolution i-Rev1 Indoor Exercise Bike is its quiet operation. Many exercise bikes that use similar technologies produce a lot of sounds when you work out on them. It gets annoying especially if you work out in the morning and don't want to disturb other family members.
Extras
Revolution i-Rev1 has some added features for convenience such as a bottle and iPad holder. Staying hydrated is always essential when working out. Or else you won't be able to yield the results that you wanted. Having a water bottle in your comfort keeps you focused on your workout as you don't have to leave the bike to hydrate yourself.
The iPad holder might be the best feature for people who like watching training tutorials while working out.
---
Warranty
Branx Fitness offers 2 years parts and labour warranty for Revolution i-Rev1 Indoor Exercise Bike.
*Warranty may be subject to change without notice and may differ between retailers – please check carefully before making a purchase.
---
Pros and Cons
---
Overall Verdict:
Comparing the Revolution i-Rev1 Indoor Exercise Bike to its competitors, I must mention that the i-Rev1 definitely stands out. There are a lot of options in the market that are much more expensive than the i-Rev1 and miss certain features like an adjustable seat or handlebar.
While i-Rev1 does an excellent job in various aspects, it does have some lackings. Firstly, the bottle holder is placed in a very inconvenient position – right beneath the tension controller. Hence, you struggle a little to reach the water bottle. A user also reported this issue. Also, the bike design limits it to users below 6 ft: people taller than that might not be very happy using it.
However, this is not a deal-breaker. When you look at the features Branx Fitness is offering you in this exercise bike and at such a reasonable price, you can ignore small inconveniences. Overall, I believe Revolution i-Rev1 is an excellent investment if you don't want the fitness equipment to dig too deep into your pockets while you still get some incredible features to enjoy.
---
---
What I Liked About This Exercise Bike
Multifunctional Display
I always perform goal-oriented workouts and need to frequently check the details to track my progress. i-Rev1 features a very intuitive display which makes it very easy to track your overall performance and plan for future workouts.
Warranty
Warranty always provides customers with peace of mind when they are investing in any product. Because they are susceptible to failure and you need to have a manufacturer's support to eliminate it. Branx Fitness offers 2 years parts and labour warranty with this exercise bike which is an incredible thing. Besides, people have always highly-rated Branx Fitness' customer service so you can always expect ideal assistance if you encounter an issue.
Things That Could Have Been Better
The efficiency of this exercise bike could be better if there is something for entertainment like built-in speakers or Bluetooth. The user is more likely to perform better when the workout includes their favourite song.
---
FAQ's
Who Should Buy This Exercise Bike / Fitness Equipment?
People Who Find It Hard To Go To The Gym
If you often find yourself procrastinating the thought of going to the gym, then bringing this exercise bike home is an ideal alternative for you. You will receive extensive health benefits both physical and mental if you regularly train on this bike. In addition to toning your body, it will promote better sleep, lower your stress levels, and enlighten your mood.
People Wanting To Lose Weight
Exercise Bikes are one of the most effective ways to lose weight and burn some unhealthy fat. You can burn more or less 600 calories by training on this exercise. It also depends on the intensity of the workout; the higher the intensity, the more calories you will burn.
How Long Should I Workout on an Exercise Bike?
You should ride at least 30 to 60 minutes 3 to 5 days a week on an exercise bike. A good way to start your workout is by peddling at a slow pace for 5-10 minutes and then gradually increasing your speed.
Is Biking Better Than Walking?
Biking is better than walking in terms of providing overall health benefits. While walking does exercise various parts of your body such as the lungs, legs, and heart, it can be a little harder for the knees, ankles and hips. Biking, on the other hand, offers extensive health benefits while being gentle on your knees, ankles and hips. Besides, if you are thinking of losing weight, cycling is a better option as it burns more calories.
General info regarding websites and facebook pages
What is meant by advertising and measurement services?
Advertising and measurement services are tools used to collect data about how you interact with a website. This data may be used to deliver targeted advertising or content as well as to measure the effectiveness of marketing campaigns.
A cookie is a small text file that is placed on your computer or mobile device when you visit a website. Cookies are widely used by website owners in order to make their websites work or to work more efficiently, as well as to provide reporting information.
The distinction between essential and optional cookies is made so that you can understand what kinds of cookies are used on websites. Essential cookies are required for a website to function and cannot be switched off in systems. They are usually only set in response to actions made by you that amount to a request for services, such as setting your privacy preferences, logging in or filling in forms.
Optional cookies help improve a website and deliver enhanced features and content. They may be set by the developer or by third party providers whose services have been added to the website pages. If you do not allow these cookies then some, or all, of these services may not function properly.
So it is possible to use a site with just essential cookies activated as opposed to both essential and optional cookies.
What is meant by improve facebook products?
When we suggest ways to improve our products, we're talking about making them better for everyone. Improved products are more useful, efficient and enjoyable to use. We're always looking for ways to make our products better, and feedback from users is a big part of that process.
information controls / how ads are shown to you.
Ads are based on factors like your interests, things you do online, and the type of device you use. You can control how we use this information to show you ads by visiting your ad settings. Keep in mind that even if you opt-out of seeing interest-based ads, you may still see other types of ads based on factors like your general location, the type of device you use and, in some cases, the websites you visit.
account preferences / what you see on Facebook
You can control the types of stories and ads you see in your News Feed by hiding, unfollowing or unliking things. You can also choose to see more stories from friends, Pages or Public Figures you've connected to.
improve content / what you see on Facebook
We're always working to improve the quality of our content. We use a combination of signals, like engagement and feedback from people who report stuff, to determine which posts, videos and Pages are most useful and relevant to you.
---
Affiliate Disclosure
In compliance with the FTC guidelines, please assume the following about all links, posts, photos and other material on this website:
Any/all of the links on this website are affiliate links of which GymFreakz receives a small commission from sales of certain items, but the price is the same for you.
www.gymfreakz.com is a participant in the Amazon Services LLC Associates Program, an affiliate advertising program designed to provide a means for sites to earn advertising fees by advertising and linking to Amazon.com & Amazon.co.uk. Pages on this site may include links to Amazon and its affiliate sites on which the owner of this website will make a referral commission.