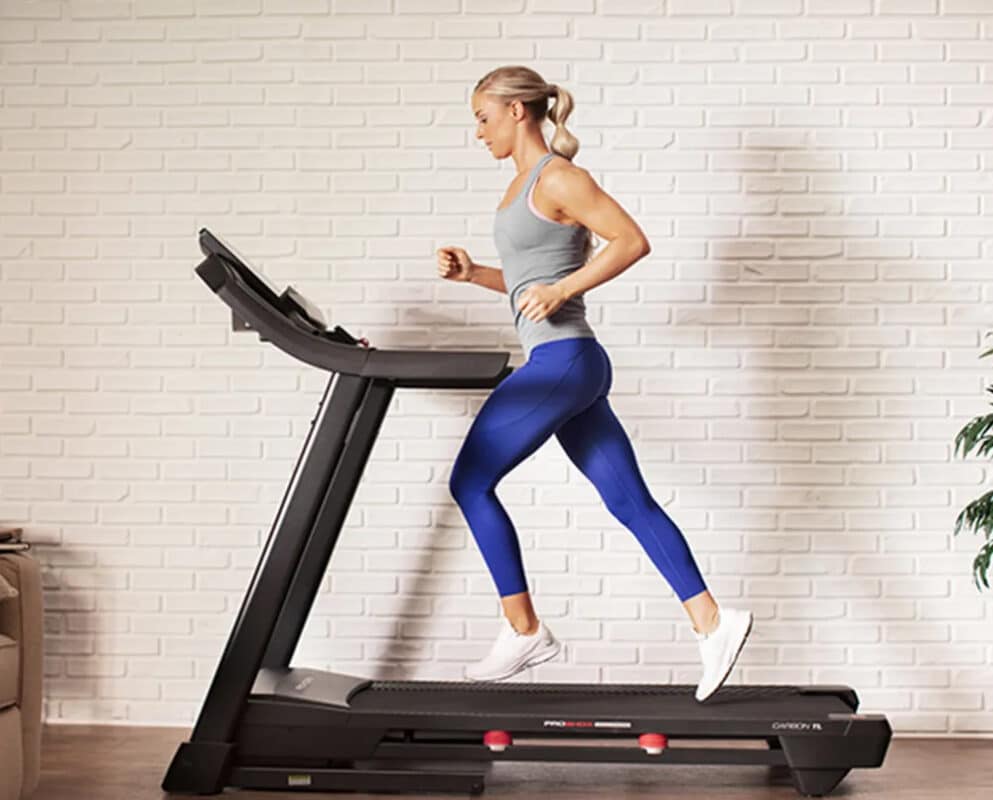 ---
---
Introduction to the ProForm Carbon TL Folding Treadmill
If you've been searching for the perfect treadmill for a while, you've probably come across ProForm, a brand known for its extensive line of workout equipment. ProForm's expertise has always been treadmills, with a wide range of machines available at various price points for both residential and business usage. The ProForm-series was launched as a low-cost line of lightweight, foldable home treadmills.
Travel the world while completing thousands of fun exercises whilst being firmly based in the comfort of your UK home. The iFit-enabled ProForm Carbon TL treadmill will keep you intrigued and inspired! With good reason, the ProForm Carbon TL treadmill made it onto our list of the best treadmills UK in 2022, so if you're searching for a long-lasting piece of walking or running equipment, this may well be it.
Overall, the ProForm Carbon TL treadmill is quite similar to the ProForm 505 CST, with just minor variations. It's the first and least sophisticated treadmill in the Carbon series, hence it's also the least expensive with lots of workout apps.
Let's take a deeper look at all this model has to offer to see whether it's the one for you.
Disclaimer – This website contains affiliate links. If you find the information useful and click on a product link and make a purchase, a small commission will be earned by GymFreakz and we appreciate your support.
---
---
Specifications
iFit enabled includes 30-Day iFit family membership
5-inch high contrast multi-colour display
2.6 CHP motor
51 x 140 cm tread belt
Digital quick speed control speed: 0 – 16 kph
Digital Quick Incline control inclination 0% – 10%
ProShox cushioning is used
Precision-balanced 1.9 inch rollers
SpaceSaver Design
EasyLift assists in the folding deck
Dual 2 inch Speakers for audio
135 kg max user weight
Product measurements are 190 x 90 x 146 cm
Weight of the product: 96 kg weight of the boxed product
Personal trainer
Adjustable incline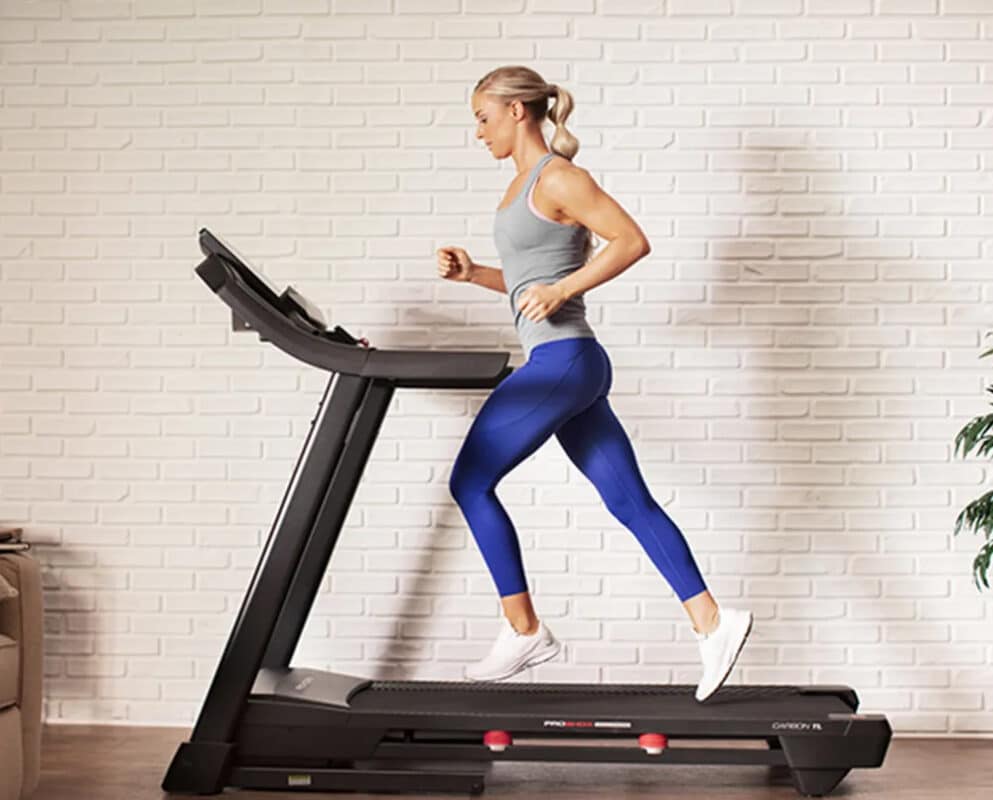 ---
Features
iFit Membership
If you've been seeking methods to pass the time on a treadmill, your quest is now over! an iFit Coach is a fitness software that offers immersive training with a variety of fun features. As if the application's hundreds of exercise videos weren't enough, it also features live personal trainers to guide you and virtual jogging locales to explore. You may also run marathons through Google maps, take on new challenges, calorie burn, and keep track of your exercise, diet, and sleep.
We like how the Proform Carbon TL doesn't allow the absence of an integrated iFit-ready screen to prevent it from providing this option. You may install the app on your device and pair it with the treadmill through Bluetooth. You don't have to pay for iFit membership for the first month but you may need to enter your credit card information for access. Aside from iFit, the treadmill has 20 built-in programs for extra workout diversity.
Screen
To be sure, the ProForm Carbon TL's 5-inch LCD is pretty ordinary perhaps even frustrating for those who like to focus on their coloured touchscreens. However, it's adequate for the price; treadmills with beautiful screens over their consoles aren't cheap, and you have to recognize that you're getting amazing value on this treadmill overall. This LCD shows your training progress such as time, distance, calories, pace, incline, and heart rate.
Heart Rate Monitor
In case you need to measure your heart rate, the Proform Carbon TL includes pulse sensors embedded into its handlebars giving you a readout on the LCD within seconds after holding them. This allows for goal-oriented training by keeping you in the proper heart rate zone, especially after high-intensity workouts.
Motor
Again, the motor on this one isn't the strongest, but it works well for light to moderate exercises. You can walk, jog, and even run gently on the ProForm Carbon TL machine without trouble. Still, we don't encourage going too fast all the time; if you require a treadmill for jogging or high-intensity training, stronger motor power is preferable.
Speed
Like most treadmills in its price range, the ProForm Carbon TL features a realistic speed of 16km per hour. You can easily increase or decrease the speed through digital quick speed control with one touch.
Incline
We believe inclination training to be the treadmill game changer since it allows you to realistically condition your body for those difficult uphill treks. Quick Incline Controls provide powered, automated inclination adjustment of up to 10%. When you exercise on a treadmill with an elevation, you know you're giving your legs the finest workout possible.
Cushioned tread belt
The ProForm Carbon TL's tread belt size should be adequate for all types of consumers to jog comfortably. Even our longest-legged team members had no trouble with the belt length. The ProShoxTM cushioning is another reason we suggest this treadmill. It's ideal for protecting your joints while working out, and you'll notice a difference as this technology dampens your strides and reduces damaging impact pressures.
Foldable Design
We know you like a clutter-free environment in your home. So this treadmill is designed so that it folds up and out of the way when you're through working out. It shook the fitness business, but we're just pleased you don't have to sacrifice your living space for your workout habit any longer.
If you dislike having large machines in your way, you'll like the ProForm Carbon TL's smart folding option. As a bonus, we included a feature that allows you to raise the deck with a single push. To free up floor space, just push the running deck vertically up against the console.
Run with comfort
With a 51 x 140 cm running area, you'll be able to train comfortably. Digital QuickSpeed Control allows you to change the speed from 0 to 16km per hour in seconds. The belt motion is smooth and stable thanks to 1.9-inch Precision-Balanced Rollers.
Speakers
A good sound system with twin 2-inch speakers and iPod and MP3 compatibility adds to the enjoyment of using the ProForm Carbon TL. There's also an accessory tray to keep your items close to reaching.
---
Warranty
The ProForm Carbon TL machine is covered by:
two-year parts and labour warranty
a five-year motor warranty parts only
a lifetime frame warranty when registered within 28 days of purchase.
*Warranty may be subject to change without notice and may differ between retailers – please check carefully before making a purchase.
---
Pros and Cons
---
Overall Verdict:
The ProForm Carbon TL is a durable, low-maintenance, and renowned brand that offers plenty of features without burning up your cash. It's nearly identical to the 505 CST, with minor modifications in motor power and console layout, as well as the removal of a workout fan. If you want to use your treadmill for walking or jogging, this model might be ideal.
The installation is simple; only a few items require the assistance of two individuals. Aside from that, the size is ideal, since it is not large. It is simple to switch on and off and works wonderfully (I've used it nearly every day for 45 minutes or more without issue). The incline and speed vary gradually. To activate, simply press the iFit button for 30 seconds; no need to visit the internet. It is not essential to submit any credit card info and neither should you feel the need to download the app if you don't want to.
The equipment contains 20 pre-programmed workouts, however, the user handbook does not specify which ones they are. If you are not a member of iFit, you must guess or scroll through them all, which is inconvenient if you want to vary your routines. Because these exercises are prone to change, they are not normally listed.
IFit is not required to utilise Proform Equipment; the essential operation of the equipment is therefore not jeopardized, and users may conduct exercises and operate all features accordingly without this. iFit is a voluntary paid membership program that offers increased benefits for ProForm equipment users after your introductory 30 days including iFIT membership ends.
---
---
What I Like About This Treadmill
Budget-friendly
This is an excellent treadmill with great quality for those on a tight budget. Whether you want to use this for walking jogging or running it has some great customer reviews and all the customers are satisfied with their product!
Foldable
When not in use, it folds up with an easy push and will be out of your way especially if you are short of space.
Built-in iFit app
The online fitness app, which syncs with the programs to manage inclination and speed, is also a significant advantage. The classes also keep you motivated. I guarantee if you take this option you'll be pleased with your purchase.
What I Didn't Like About This Treadmill
Not operational without iFit
The first thing you notice before the first use, your treadmill is presently locked and will not start until you visit iFit's website. This is easily bypassed, just a bit annoying.
Assembling
The assembling can look perplexing (from some reviews I've seen) although I had no issues.
---
FAQ's
How do you activate a ProForm Carbon TL treadmill?
Plug the treadmill into an electrical outlet and push the "On/Off" button near the power cable so that the "-" side is pressed in and the "o" side protrudes. As you walk onto the foot rails on each side of the treadmill belt, hold on to the treadmill's grips.
Is it necessary to have iFit Membership?
No, however with an iFit subscription, you'll get unrestricted access to all of the fantastic, trainer-led material on the platform. Exercises offer high-energy studio workouts as well as worldwide workout material, allowing you to obtain the greatest personal training in the comfort of your own home. If you don't want to use these capabilities, hold down the Bluetooth or iFit button for 30 seconds to disable iFit activation. This switches it to manual mode, where you may use the built-in workouts.
When a program stops, does the treadmill immediately stop, or does it take some time?
It does not come to a halt, but it does slow down.
Is this treadmill difficult to assemble?
We recommend that two individuals work together to put this treadmill together, which takes around an hour and a half to finish.
Can I use my phone to display something on the monitor?
The screen can only display footage from the iFit app and cannot be used to broadcast other content.
What is the Shipping Cost?
The shipping costs depend on location and the price of each product and are different for every product.
Can you give a quick review write -up?
The ProForm Carbon TL is a great choice for anyone looking for a durable, low-maintenance treadmill. It offers plenty of features without breaking the bank, and is nearly identical to the 505 CST model. The only major differences are in the motor power and console layout, as well as the removal of a workout fan. If you want to use your treadmill for walking or jogging, this model might be ideal.
---
Affiliate Disclosure
In compliance with the FTC guidelines, please assume the following about all links, posts, photos and other material on this website:
Any/all of the links on this website are affiliate links of which GymFreakz receives a small commission from sales of certain items, but the price is the same for you.
www.gymfreakz.com is a participant in the Amazon Services LLC Associates Program, an affiliate advertising program designed to provide a means for sites to earn advertising fees by advertising and linking to Amazon.com & Amazon.co.uk. Pages on this site may include links to Amazon and its affiliate sites on which the owner of this website will make a referral commission.