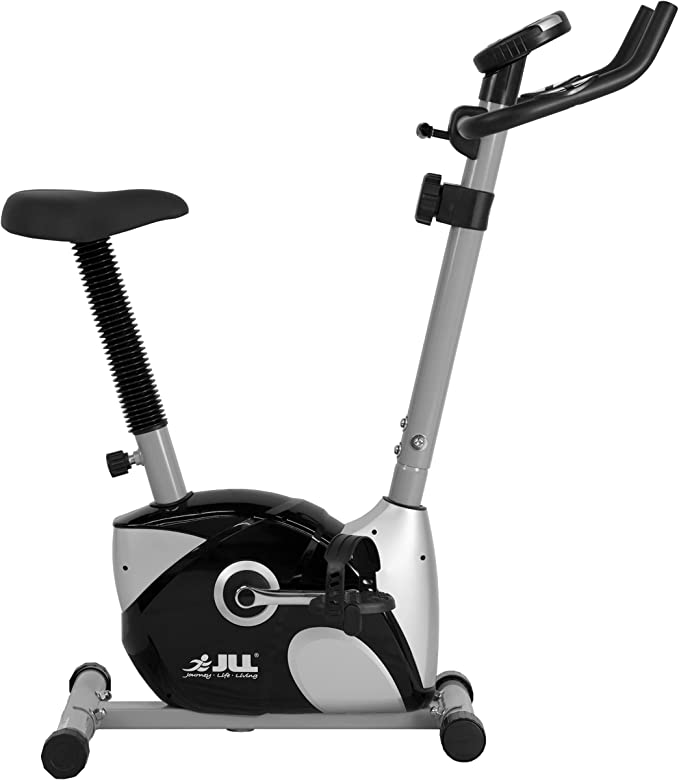 ---
---
Introduction to the JLL JF100 Home Exercise Bike
Finding an exercise bike for your home can be a tricky task due to the sheer number of available models. It can feel overwhelming trying to keep on top of all of the specifications and features when looking into a new upright exercise bike.
Adding new fitness equipment to your home, such as an indoor exercise bike, can be an excellent way to make working out part of your daily life. However, with so many models and features to consider, it can easily become a chore.
This post includes the main features, pros, cons, and our overall verdict about the JLL JF100 home exercise bike. By the end, you'll be left with a better sense of what this indoor cycling bike can offer you so that you can make a more informed decision about whether it's the right choice.
I liked how this bike is a great entry-level option for those of you who are looking to workout from home with a bike that's available at an affordable price and users have been surprised by the number of helpful features that are included. Considering the number of features that are included, this upright bike provides excellent value.
The magnetic resistance system comes with a 4 KG two-way flywheel which provides you with the resistance required to get a good workout. This resistance is also easily adjustable. Furthermore, the monitor that's included enables you to easily keep track of the calories burned, time, distance, and speed. Pulse setting and an odometer are also included which means that you're provided with vital data that you can use to keep track of your progress.
So, let's take a look at the JLL JF100 home exercise bike in more detail.
Disclaimer – This website contains affiliate links. If you find the information useful and click on a product link and make a purchase, a small commission will be earned by GymFreakz and we appreciate your support.
---
Specifications
Resistance – 10 levels of resistance with a magnetic system
Flywheel – 4 KG two-way design
Adjustable Seat – 7 height adjustment levels
Crank – detachable 3-piece system
Handlebars – 360-degree adjustability & comes with pulse sensors
Pedals – Strap adjustments with 5 options
Max user weight – 100 KG
Dimensions – 62cm x 51cm x 120cm
Monitor – Electronic LCD monitor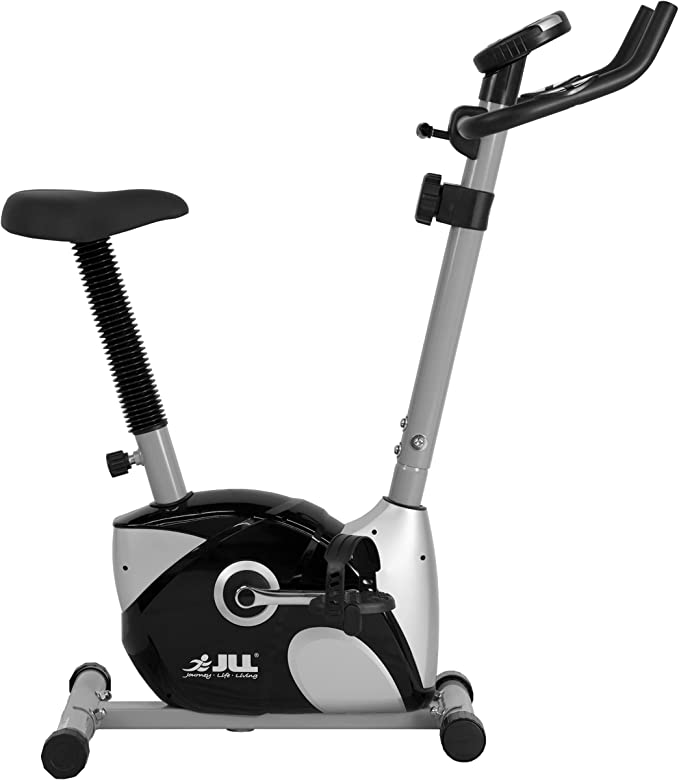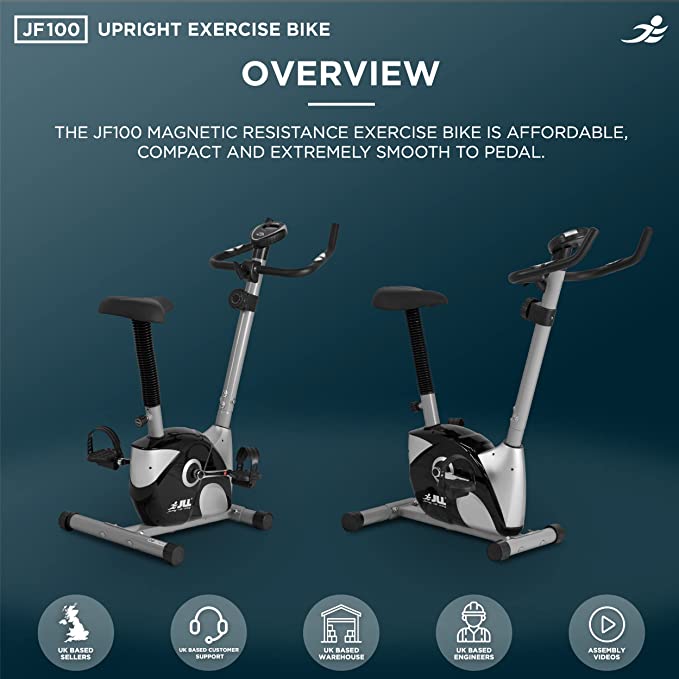 ---
KEY FEATURES
Comfort
Users have been liking how the seat has been created with padding in mind. It has also been made with a heart shape to provide you with a seat that feels natural and comfortable to sit on.
A common problem among exercise bikes often includes the seats feeling uncomfortable. The shape and padded elements that are included with this adjustable seat help to keep you comfortable for longer.
As a result, you can feel confident in being able to ride this bike for a couple of hours without feeling uncomfortable. This is a superb benefit when it comes to improving your stamina as you can stay focused and not have to worry about taking breaks due to discomfort.
In addition to this, 7 seat adjustments are included. This allows you to be specific when selecting the height of the seat. As a result, people of varying heights have been able to adjust the seat to a level that suits their height best.
Magnetic Resistance System
The resistance included with this bike works via a magnetic system which provides you with varying levels of difficulty. Users have been liking how smooth this system feels while riding. This is ideal for ensuring that you can cycle comfortably and stay focused on your workouts.
Furthermore, the magnetic resistance system works quietly to ensure that you can workout without creating any noise disturbances at home.
You're provided with 10 levels of magnetic resistance which means that you can choose the levels that challenge your specific level of fitness. Having 10 magnetic resistance levels also allows users of varying experience and fitness levels to use this bike to work towards their goals. This could include losing weight or improving your fitness.
Monitor
I liked how the electronic monitor that's included is easy to read. It provides you with all of the necessary details about your workouts to ensure that you can track your fitness with precision.
The monitor provides details that include the speed, distance, time, and calories burned. Moreover, you can see information about your pulse by holding onto the sensors that are fitted to the handlebars.
Being able to see all of this information on the monitor means that you can set specific goals with one or multiple of the available readings. For example, someone who is interested in losing weight could set a specific number for the calories that they want to burn each time they ride. On the other hand, someone who is trying to improve their fitness could look at the time, speed, or distance and try to beat their previous workouts.
Crank System
A 3-piece crank system has been fitted to the JLL JF100 home exercise bike which enables riders to have a smoother ride. It also makes it feel more like a real bike which can improve the overall experience. The crank system provides the bike with more smoothness while pedalling which can make it easier for you to stay focused on your workout.
Furthermore, this system adds a great level of durability to the bike. As a result, you can expect to ride smoothly with this bike for years.
Transport
Users have been liking how this bike can be easily transported. Despite the lack of a folding design, the JLL JF100 exercise bike has wheels attached to the end caps. As a result, you can lift one end of the bike up and push it around on the wheels when you need to transport it.
Adjustable Handlebars
The handlebars have been made with an impressive 360-degree rotating design. This means that users of varying heights can alter the handlebars to a position that feels right for them.
Having this level of adjustability with the handlebars means that you can ride with a better posture and cycle in a position that feels natural for you. These handlebars have also been fitted with hand pulse sensors.
You can hold onto these sensors while cycling and be provided with information about your pulse rate on the LCD monitor. This is a great, easy-to-use feature that helps you to keep track of your heart rate during your workouts. This can be useful when it comes to aiming to maintain a specific heart rate during exercise. It also provides you with valuable information about the intensity of your workouts.
Durability
The JF100 home exercise bike has been created with a sturdy design that was built with the intention of lasting users for years. Users have discussed how the bike feels sturdy during their intense workouts.
Therefore, you can feel assured about pedalling hard and fast and feeling steady with this bike. The reliability of this bike is a big factor to consider as it decreases the chances of problems and boosts the longevity that you can expect to receive.
Toe Cages
One of the most notable features of the JLL JF100 home exercise bike is the toe cage design. They've been made to allow you to place your feet within the pedals comfortably. However, they also ensure that you can pedal with stability and prevent slippages and injuries.
Users don't have to worry about their toes slipping off the pedals during more intense workouts. The cages help to keep your feet stable so that you can ride confidently and power through your workouts while minimizing injury.
Maintenance
If you were interested in using an exercise bike that doesn't require a lot of maintenance, the JLL JF100 could be a contender worth considering. Users find that the maintenance required is minimal, which means you can spend more time cycling and less time trying to fix problems.
One of the main reasons for the easy maintenance of this bike is the high-quality rubber material that has been used for the belt. The belt also doesn't need to be tightened or lubricated. This can save you a lot of time, hassle, and money on fixing or replacing the belt.
---
Warranty
12-month warranty from date of purchase
Lifetime frame warranty
5 years motor warranty
2 years labour & parts warranty
30-days money-back guarantee
The warranty for the JLL JF100 exercise bike is active from the date that you purchase it. Therefore, it's best to keep the receipt of this bike that includes the date of purchase. This warranty also states that the bike is only covered for domestic use.
You should also know that this warranty doesn't include the wear and tear that's expected after years of use. Furthermore, the warranty is only valid if the bike has been assembled correctly by following the instructions that are provided.
*Warranty may be subject to change without notice and may differ between retailers – please check carefully before making a purchase.
---
Pros and Cons
---
Overall Verdict:
The JLL JF100 was designed for people who are looking for an entry-level exercise bike. There are 10 levels of resistance which I found to be incredibly beneficial for allowing users to tailor the difficulty of their workouts to their goals.
Having said that, people who consider themselves to be more experienced cyclers may find that they need more resistance levels. This bike is ideal for people who are interesting in losing weight with an exercise bike from home that's simple and easy to use.
I was impressed with the 360-degree rotating handlebars and toe cage design. These are standout features due to how they enable riders to cycle comfortably and with stability.
Although, users who are over 6 feet tall have mentioned that the design of the bike doesn't feel comfortable to use. Therefore, if you're over 6 feet tall, you may want to consider another option that's more tailored for your height.
Overall, I found that this bike is best for newbies and people who are looking to lose weight without having to spend a fortune. Due to the nature of cycling, your overall fitness and muscle development can also be improved.
---
---
What I Liked About This Exercise Bike
The most outstanding elements of the JLL JF100 home exercise bike include the smooth magnetic resistance system, 360-degree rotating handlebars, and the overall sturdy design.
While riding the exercise bike, users have mentioned that the toe cages provide them with a great sense of stability which allows them to push through their workouts vigorously. The sturdy design of the steel frame also means that you can tackle workouts without worrying about the bike toppling over.
Being able to adjust the handlebars with such precision is fantastic for making sure that you can ride comfortably. The handlebar design, coupled with the padded seat, allows you to ride for long durations without discomfort.
I was also impressed with the non-slip pedals due to how they help you feel more stable while cycling. The adjustable seat height also means that you can ride with comfort.
Moreover, the 10 resistance levels allow you to have complete control over selecting the option that's most appropriate for your fitness goals. The magnetic resistance system feels smooth which makes the cycling experience more enjoyable.
The monitor provides you with all of the details about your workout that you need to know. The speed, distance, calories burned, and heart rate can all be seen while cycling. You can record these stats and use them to create goals to achieve and improve your fitness.
Things That Could Have Been Better
While I was impressed with what the JLL JF100 exercise bike has to offer for home riders, there were a few downsides that you should keep in mind.
Riders who are over 6 feet tall may struggle to ride comfortably with this bike. Despite the padded seat and adjustable handlebars, tall users have mentioned that the bike doesn't allow them to cycle with a good posture. Therefore, taller people may be better off looking for another home exercise bike with adjustable features that suit people who are over 6 feet tall.
In addition to this, the bike doesn't have any built-in holders for water bottles or mobile phones. If you're someone who likes to put their phone or tablet in the holder to watch or listen to entertainment while cycling, this could be a disappointing factor.
The bike also doesn't have a folding design which could be a major downside for some. If you were interested in using an exercise bike that allows you to fold it up and store it away to save space, this option may disappoint you. Having said that, the dimensions of the JLL JF100 provide a compact design and users with limited space have been able to cycle at home without taking up too much room.
---
FAQ's
Does the JLL JF100 exercise bike show speed & distance in mph?
This model only provides values of speed and distance in KPH. Therefore, users who want to know the values in mph would have to convert the numbers to get their speed and distance in mph.
How large is the display?
This model has a built-in monitor that's 2" x 1" large.
Can you transport the JLL JF100 exercise bike?
While the JLL JF100 bike doesn't include a folding design, wheels have been fitted which allow you to manoeuvre the upright bike around your home more easily. It's common for home exercise bikes to come with wheels as it allows you to move the bike around your home conveniently. Studio bikes often don't come with wheels as they're set up on the ground in fixed positions for cycling classes.
Additional Points
The JLL JF100 upright exercise bike can be used to effectively improve your fitness and drop weight from home. If you've been struggling to make your fitness a priority due to time constraints, using an exercise bike like the one I've discussed can be an excellent way to focus on your health and wellbeing.
Cycling with upright bikes is an effective way to tone muscles, develop fitness, and burn calories for weight loss all in one. Moreover, the YMCA carried out a study that found being active improved ratings of overall happiness and wellness. This healthy lifestyle change can be achieved with both indoor and outdoor bike riding.
The convenience of being able to cycle from home with exercise bikes means that you could be putting yourself in a better position to not only improve your physical well-being but also your mental wellbeing. Being able to jump on the bike for indoor exercise from home means that you could get quick workouts in before heading off to work or later in the evening when you get back. Convenience is one of the biggest draws to using exercise bikes from home.
I liked how the bike can be used by both intermediate and beginner cyclists. The range of included features allows you to use the bike to train and improve your fitness or burn calories and lose weight.
Furthermore, if you want to save money on time and money on gym memberships, the JLL JF100 could be a great piece of fitness equipment to consider. The affordability of this bike is a big bonus due to how it has also been created with a durable design to last you for years.
I've mentioned the few downsides that this upright bike comes with and you should bear those in mind while you make a final decision about this bike. In particular, tall riders may struggle to feel comfortable while riding.
However, the adjustable features, heart rate stats, resistance settings, comfort elements, and build quality are all factors that make the JLL fitness bike worthy to be a top contender for home exercise bikes that are in the affordable price range.
---
Affiliate Disclosure
In compliance with the FTC guidelines, please assume the following about all links, posts, photos and other material on this website:
Any/all of the links on this website are affiliate links of which GymFreakz receives a small commission from sales of certain items, but the price is the same for you.
www.gymfreakz.com is a participant in the Amazon Services LLC Associates Program, an affiliate advertising program designed to provide a means for sites to earn advertising fees by advertising and linking to Amazon.com & Amazon.co.uk. Pages on this site may include links to Amazon and its affiliate sites on which the owner of this website will make a referral commission.