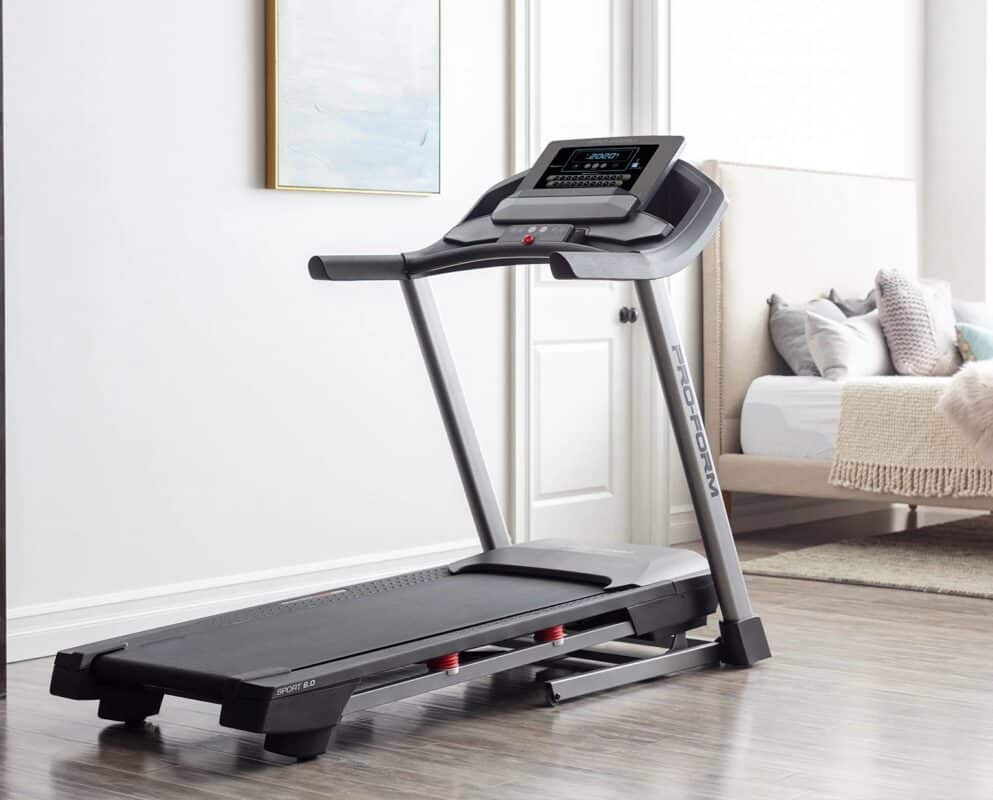 ---
---
Introduction to the ProForm Sport 6.0 Folding Treadmill
The treadmill is a popular piece of home fitness equipment because it delivers a simple, effective aerobic workout and as such is a fantastic place to start a new training regimen for many people regardless of fitness level.
ProForm is a well-known company recognized for producing high-quality products and as such, customers are generally pleased with the range of Proform treadmills as a whole and when compared to other high-quality treadmills, their pricing is more than reasonable.
The Proform Sport 6.0 Folding treadmill is a great treadmill with many features, including a 0 to 10% inclination range that allows users to train at varying adversity through interval training and simulates outdoor walking or running settings with automatic incline adjustability with a slow and steady workout.
The ProForm Sport 6.0 also features unlimited workout programs that keep you motivated as you work out. The Proform sport 6.0 is operated by a Smart Response 2.6 CHP motor, which provides steady, consistent energy throughout interval or endurance training sessions.
The impact of your speedwalks will be absorbed by its ProShox deck cushioning system, which will protect your joints and allow you a faster recovery time while providing a fun exercise every time you board. It's ideal for families that wish to keep on track. When you finish walking, the sleek and small design allows it to simply folded up. Your family has now enough space to be comfortable in a small living room.
Read on to find out more:
Disclaimer – This website contains affiliate links. If you find the information useful and click on a product link and make a purchase, a small commission will be earned by GymFreakz and we appreciate your support.
---
---
Specifications
Free iFit family membership for 30 days
5″ high contrast LED
iPod compatible speakers
0-10 % quick incline
Space saver design
Easy lift assistance
2.6 CHP motor
The tread belt is 51 x 140 cm
BLE chest belt compatible
Integrated tablet holder
The maximum user weight is 135 kg
Product dimensions are 185 x 89 x 146 cm
Dimensions 197 x 77 x 34 cm when boxed
Dimensions 103 x 89 x 164 cm when folded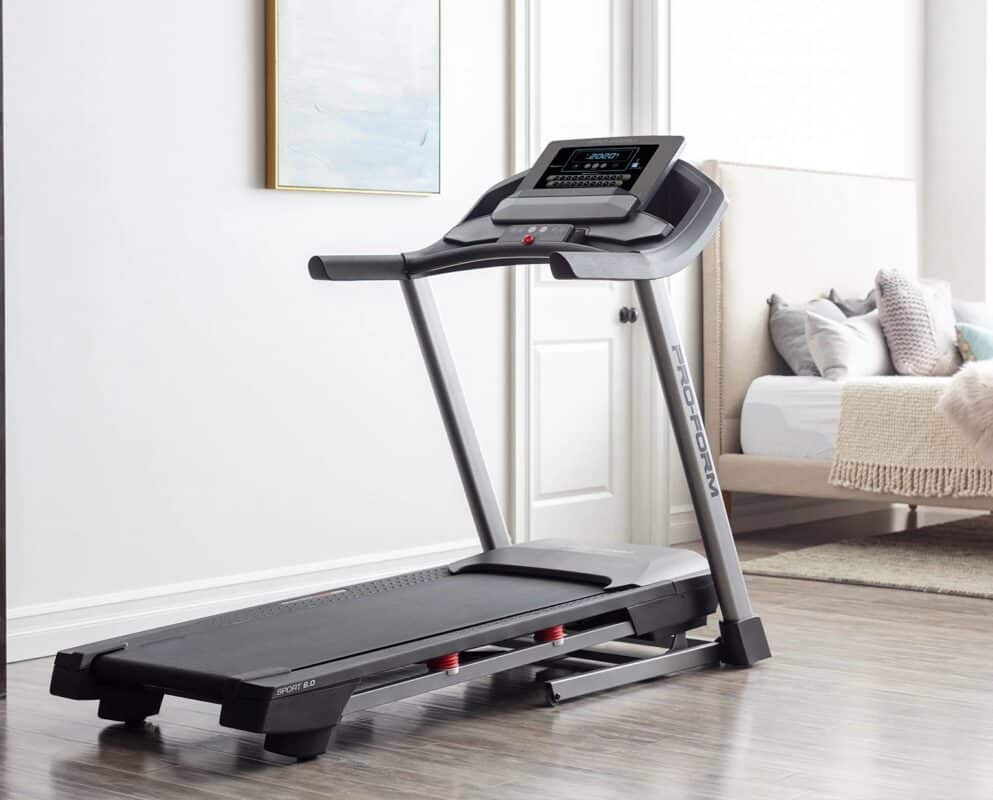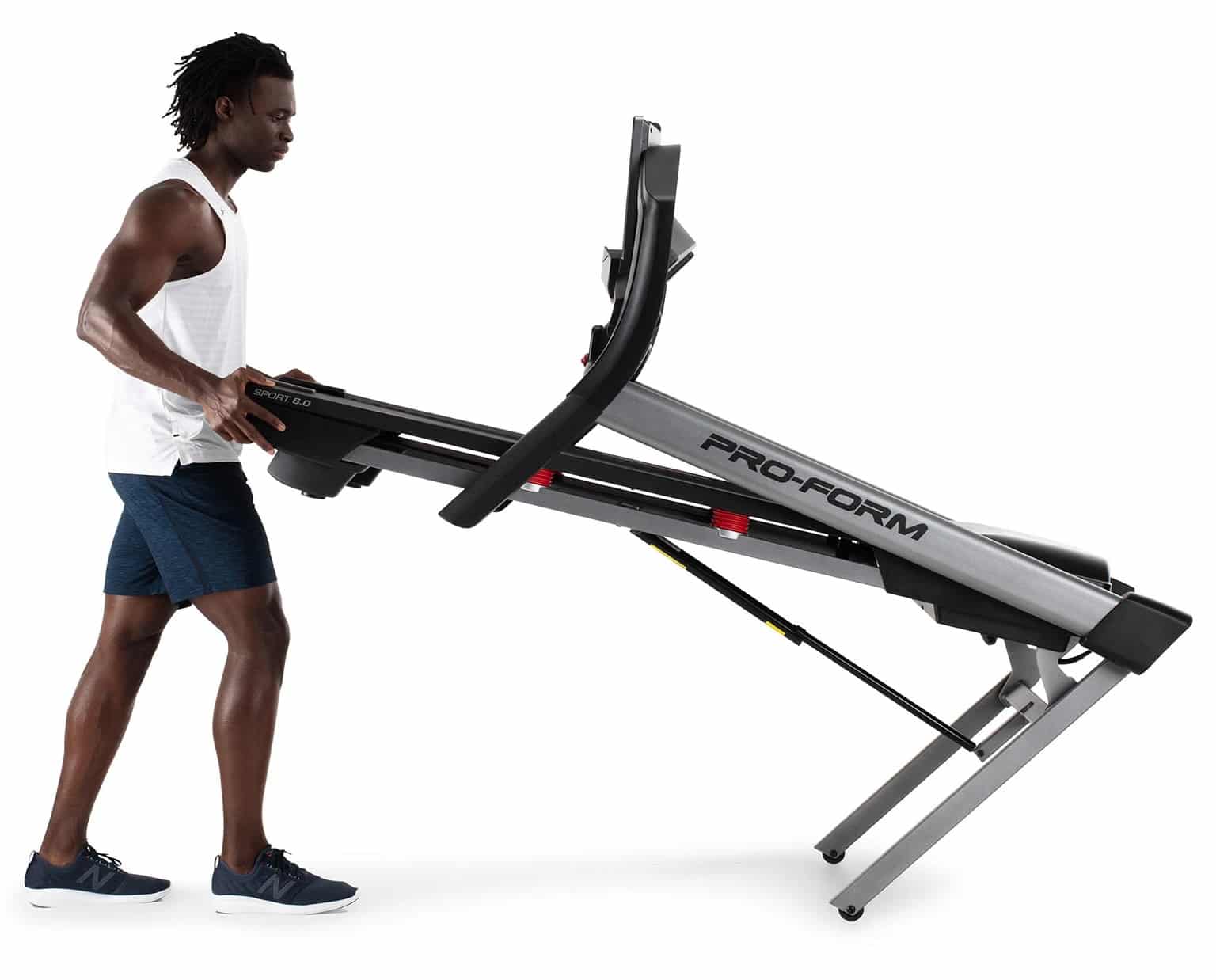 ---
KEY FEATURES
iFit enabled
The iFit-enabled Proform sports trainer 6.0 gives you instant access to a wide choice of worldwide workouts with an ever-growing workout library and all your training tools in one place. You may also run marathons, do challenging workouts focused on your health, and monitor your nutrition and exercise regimen.
iFit created the best workout experience in the world, which you can enjoy from the convenience of your home. You may now engage in incline training under the supervision of certified personal trainers.
Free iFit family membership
The Proform Sport 6.0 includes a 30-day iFit membership for the entire family. You can transform your home into a health and happiness hub by exploring virtual running places and immersive training routines with qualified personal trainers with unlimited workouts designed.
5″ high contrast LED
This easy-to-read 5″ high-contrast multicolour display will help you while you train. Not only you will have instant access to professional training programs, but you will also be able to monitor your workout stats. This LCD shows training progress information such as time, distance, calories, speed, and inclination.
iPod compatible speakers
Connect to a more powerful audio system! Music has been shown to reduce perceived exertion nd therefore a powerful sound system is always good news. Connecting your iPod to the built-in sound system will not only allow you to raise the volume but also boost your levels of enjoyment during your sessions.
0-10 % quick incline
We believe inclination training to be the treadmill game changer since it allows you to condition your body for rough uphill treks. The Sport 6.0 has motorized and automated inclination adjustment. When you exercise on a treadmill with an inclination, you give your legs the perfect workout possible. Take your grade into the negative for the entire range of instruction for the complete real-world experience.
Space saver design
Not many of us enjoy a crowded home environment. That is why Proform designed a space-saving treadmill that folds up and out of the way. You no longer have to give up your living space to pursue your fitness habits.
Easy lift-assist
Proform also included a strong shock that allows you to elevate the deck with a single push. Simply press the running deck vertically against the console to free up your floor space. You may now spend time in your living room with your family in comfort.
2.6 CHP motor
With the Proform sport 6.0 treadmill, you can run a marathon (if your legs will allow ;-). The powerful and long-lasting 2.6 CHP motor keeps cool even during the most challenging workouts, generates high levels of spin for a smooth feel, and ensures a quiet in-home experience. This motor is made with high-quality components and is ideal for heavy use.
Tread belt
To make your in-home workout experience convenient, ProForm built a spacious deck so you don't feel cramped when you walk, jog, or run. The 140 cm length and 51 cm breadth provide you with the most spacious and comfortable workout. Each tread belt was tested for one million cycles at double the user weight, to maintain high quality.
BLE chest belt compatible
Heart rate tracking allows you to keep track of your fitness improvement. You can effortlessly connect your BLE chest belt to your Proform sports treadmill to determine your heart rates as you work out.
Maximum User Weight Category
The Proform sport 6.0 treadmill was designed with the entire family in mind, having a weight capacity of up to 135 kg. Proform tests each treadmill at a weight greater than the user's weight before releasing it to assure the highest quality.
Dimensions
Proform is aware of all of your home gym requirements. As a result, when built, it measures 185 L x 89 W x 146 H cm. When folded, the dimensions are minimized, resulting in no inconvenience in your living area.
---
Warranty
Some ProForm devices have warranty upgrades available, but you must register your warranty within 28 days of purchase by filling out and returning the warranty card provided in the box.
ICON Health & Fitness Inc. warrants its goods to be free of faults in workmanship and materials under normal use and service conditions for 12 months from the date of purchase.
The Proform Sport 6.0 Treadmill comes with a:
2-year parts and labor warranty guarantee.
A 5-year motor components warranty.
A lifetime frame warranty.
*Warranty may be subject to change without notice and may differ between retailers – please check carefully before making a purchase.
---
Pros and Cons
---
Overall Verdict:
If you are a serious athlete who relies on a treadmill when outdoor conditions are poor, then the Proform Sport 6.0 Folding Treadmill is an excellent alternative and gives you no excuse for any break in your training schedule.
And as nobody wants to pay a lot of money for a treadmill, this sports treadmill has all the excellent characteristics that more than justify it's price. This is a valid reason as to why ProForm treadmills are among the most popular consumer treadmills available.
The ProForm Sport 6.0 Treadmill is an excellent choice. This treadmill includes a great maximum user weight capacity, maximum speed setting, and automatic incline and decline adjusting.
They are also less expensive than many competitors and designed to save space. The most significant aspect is the availability of financing options. You may buy a treadmill in 6 interest-free instalments.
Make three payments using a credit card without incurring any further costs. What more could someone ask for? Place your purchase for a Proform Sport 6.0 treadmill today to take advantage of this deal. All items purchased in the continental UK qualify for free delivery during the checkout procedure. If you choose standard delivery, your products will be carried into a ground floor room of your choice by two delivery members with clear, unrestricted access.
One of our delivery partners will contact you through text message or email with a reservation link that will allow you to arrange your delivery or phone call. You should expect your products to arrive within 5-10 working days after placing your purchase.
---
---
What I Liked About This Product
There are several workout regimens accessible and it's so easy to utilise iFit for a variety of sessions. Having your very own, online trainer is such great value.
You can connect the iPod to a powerful sound system using the audio connection to enjoy favourite playlists instantly.
This treadmill has a folding option that makes it simple to fold and store.
Because it is of good quality, its motor keeps cool even after a long workout.
This treadmill is great for people on a tight budget. A discount is currently available.
What I Did Not Like About The Product
By no means was I expecting a full-colour touch screen display on a treadmill at this budget, but the LCD screen seems somewhat modest.
When running I do like a fan, but appreciate the price has dictated its exclusion for this model.
Proform treadmill can be difficult to assemble on your own, especially if you live alone. You might consider spending extra to have it professionally installed in your house.
---
FAQ's
Is it possible to stream Netflix on the ProForm display?
No. On the new treadmills, Proform has disabled all streaming options. They want users to focus on being able to access iFit.
How much does an iFit membership cost?
It may decide by the plan and the billing frequency you pick. Three plans are available: a Yearly Family Plan for $396 per year (£330), a Monthly Family Plan for $39 per month (£33), and a Yearly Individual Plan for $180 per year (£150)
What is the lifespan of treadmill belts?
A 1-ply running belt will typically last 300-500 hours of operation, depending on how well it is maintained. For the average user, this equates to 3-5 years. A 2-ply belt will last 5-10 years longer.
How do I identify if my treadmill belt needs replacement?
Check for indications of the surface condition by running your hand over the underside and top. It might appear as discolouration or excessive smoothness. Most treadmill belt discolouration will seem dark, almost black. If certain parts are overly smooth, it might indicate that your treadmill belt needs replacement.
What is meant by watts led display?
The watts led display on the Proform Sport 6.0 Treadmill is a feature that allows you to see how much power your treadmill is using. This can be useful in terms of monitoring your workout and making sure that you are getting the most out of your machine.
Will owning a Sport 6.0 create a fitness habit anymore than by not owning one?
The Sport 6.0 is a great machine for helping you to establish a fitness habit, but it is not the only factor that will determine whether or not you become 'challenging workout focused' or if you stick with it. Creating a lasting fitness habit requires motivation, dedication, and consistently making time for exercise. However, having a quality treadmill like the Sport 6.0 can make working out more enjoyable and convenient, which may help increase your chances of success.
---
Affiliate Disclosure
In compliance with the FTC guidelines, please assume the following about all links, posts, photos and other material on this website:
Any/all of the links on this website are affiliate links of which GymFreakz receives a small commission from sales of certain items, but the price is the same for you.
www.gymfreakz.com is a participant in the Amazon Services LLC Associates Program, an affiliate advertising program designed to provide a means for sites to earn advertising fees by advertising and linking to Amazon.com & Amazon.co.uk. Pages on this site may include links to Amazon and its affiliate sites on which the owner of this website will make a referral commission.