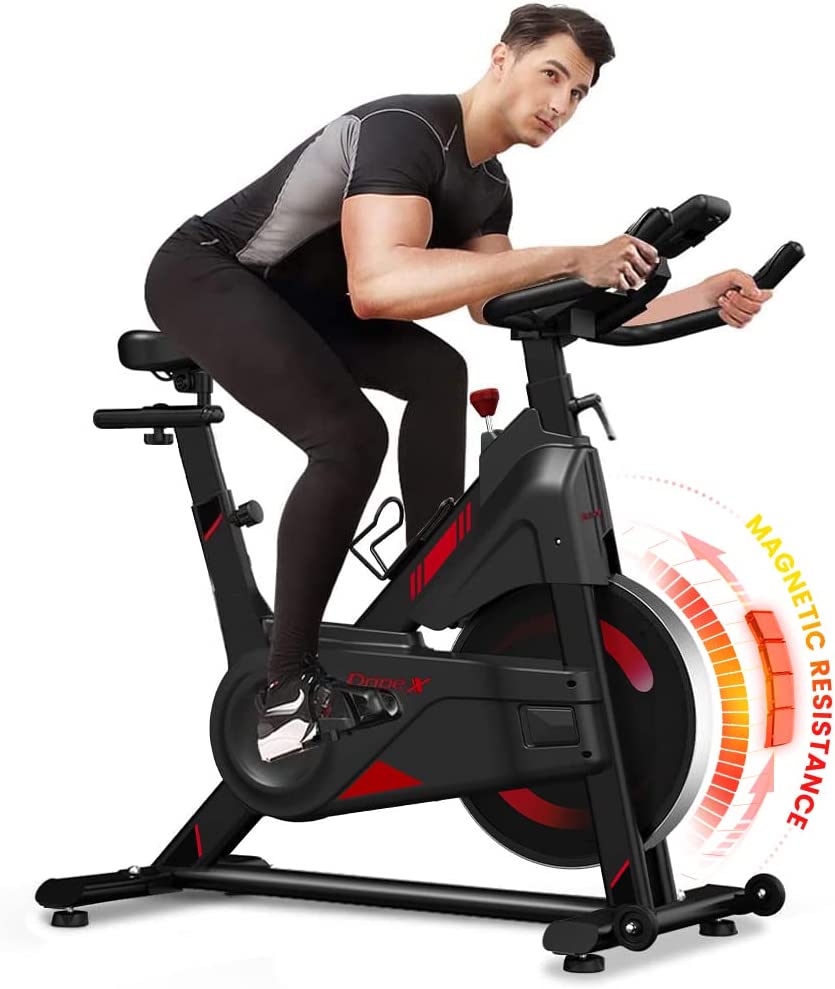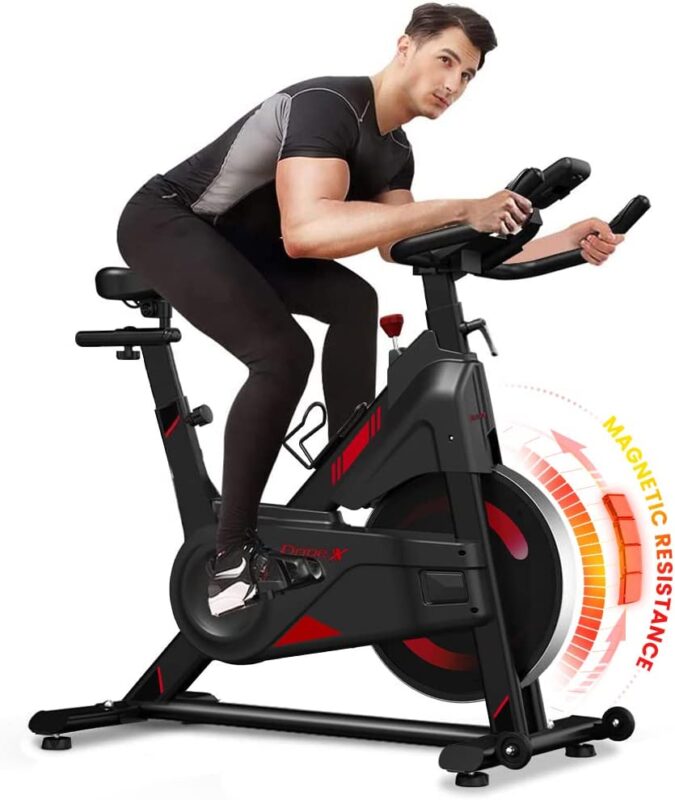 ---
---
Introduction to the Dripex Magnetic Resistance indoor exercise bike (2022 upgraded version)
Dripex has always been one of those brands that bring smart and innovative workout machinery to fitness enthusiasts. The Dripex Magnetic Resistance indoor exercise bike is no exception – a very nicely designed bike that could have been taken right out of a science-fiction movie.
As a quick overview, magnetic resistance indoor exercise bikes create tension against the flywheel using the magnets. The magnets move away from the flywheel when you decrease the pedal resistance allowing you to pedal easily.
With a heavy-duty steel frame, bidirectional resistance adjustment bar, support emergency brake and much more, the Dripex exercise bike is an exciting machine. Along with a smooth and quiet cycling experience, it has many other mouth-watering features to offer. So keep on reading as we bring you a comprehensive review of the Dripex magnetic resistance exercise bike (2022 upgraded version).
Disclaimer – This website contains affiliate links. If you find the information useful and click on a product link and make a purchase, a small commission will be earned by GymFreakz and we appreciate your support.
---
Specifications
Item Dimension: 101.5 L x 50.5 W x 104.5 H centimetres
Maximum Weight Capacity: 300 Pounds/135 KG
Material: High-Density Steel & Soft Foam
Transmission Mode: Belt Drive
Resistance Mode: Magnetic Resistance
Heavy-Duty Flywheel
Adjustable Handlebar
Large Air Permeable Seat
Multi-Function LCD Monitor
Phone Holder
Water Bottle Holder
Transportation Wheels
Pulse Sensor
Emergency Brake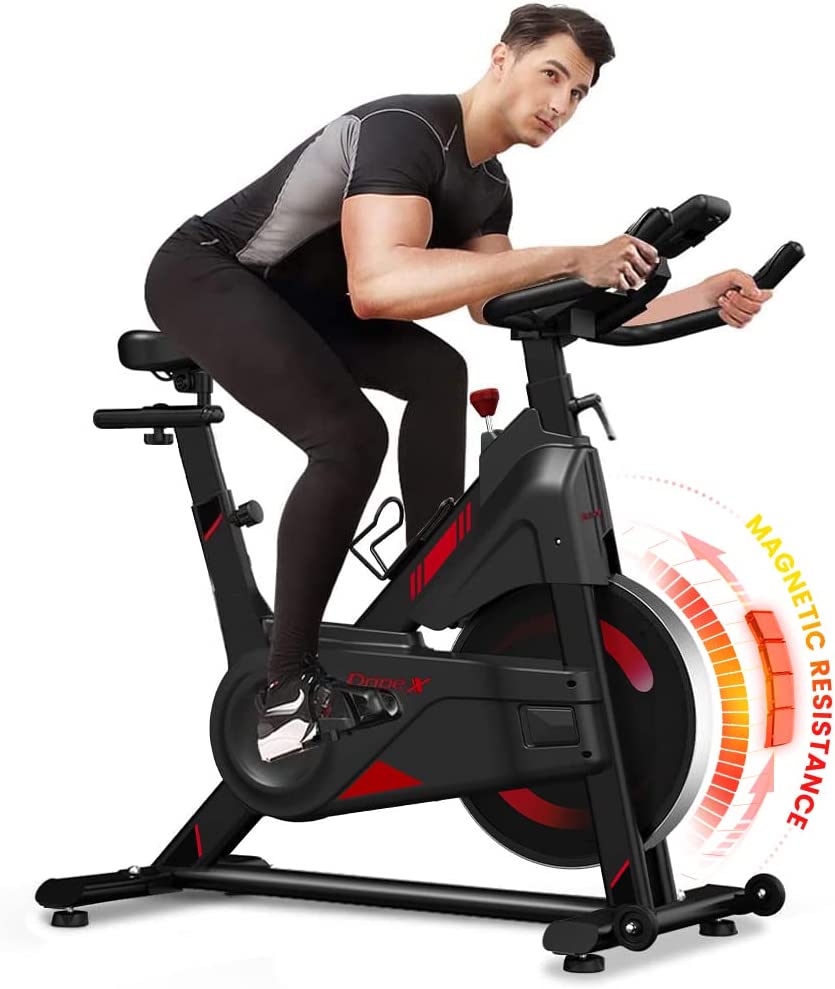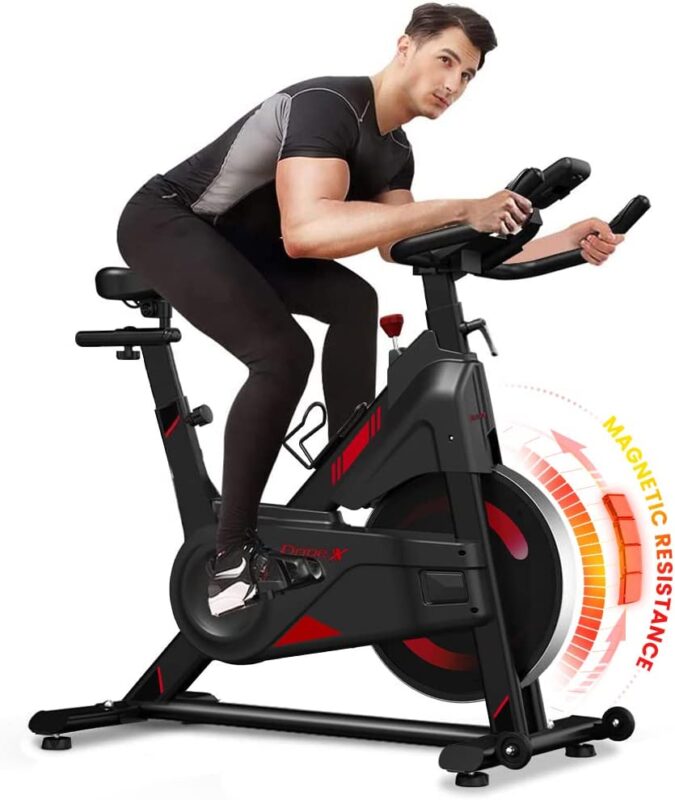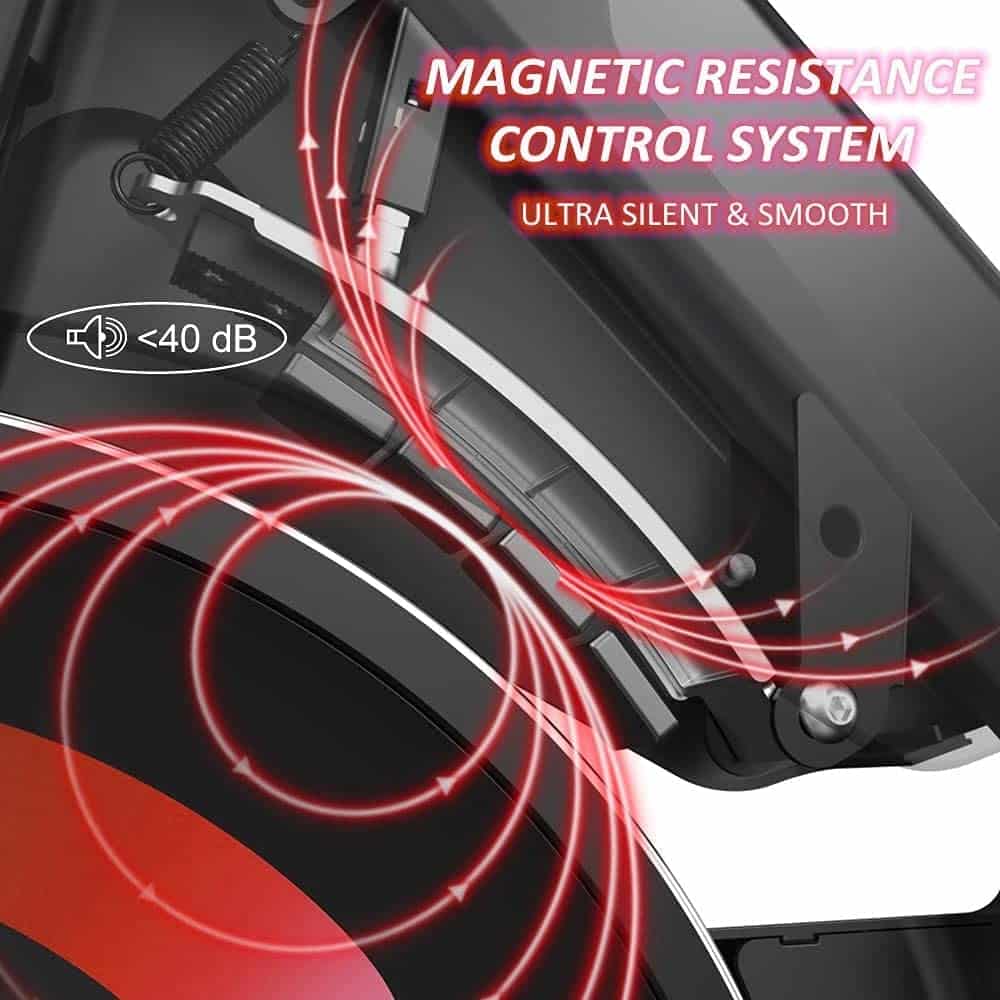 ---
KEY FEATURES
Heavy-Duty Steel Mainframe
Excellent build quality is one of the most significant factors in any fitness equipment. If an exercise bike is constructed poorly, it would not only be a waste of money but can be dangerous for the one using it.
Dripex has always strived to provide fitness enthusiasts with durable and sturdy fitness equipment. The magnetic resistance indoor exercise bike comes with a heavy-duty steel frame for maximum durability. The working mechanism also involves the triangle stability principle to ensure outstanding stability during workouts.
The heavy-duty steel frame provides the exercise bike with a maximum weight capacity of 300 lbs. It's an ideal weight capacity making the magnetic resistance indoor exercise bike suitable for users with different physiques.
Adjustable Handlebar and Seat
Dripex Magnetic Resistance indoor exercise bike is loaded with comfort features throughout. It integrates a large breathable seat that ensures optimum comfort and reduces fatigue during a workout. Not just that, the soft seat is adjustable up to 11 levels and can be moved forward or backward easily.
Want to know the best part? Even the handlebar of this exercise is adjustable up to 5 levels. Hence, it will perfectly cater to different individual's physics demands.
According to the manufacturer's description, the indoor exercise bike is suitable for users with heights varying between 4.9 feet to 6.1 feet. Using the adjustable bar and seat, you can set the height at different levels to get the perfect posture for the exercise. You can also use these adjustable components to bring variation to your workout and enjoy exercise.
Adjustable Magnetic Resistance
This bike integrates a 20lb flywheel that creates a smooth resistance as per your requirements. The magnetic resistance adjustment system makes this exercise bike suitable for both beginners as well as elite trainers. It targets various muscle groups and is exceptionally useful for improving overall fitness.
The bike also features an emergency brake to let the user stop the bike in a hurry easily. The bi-directional flywheel requires minimal to no maintenance, with no decrease in its performance.
Multi-Function LCD Monitor
An LCD monitor is an important aspect of exercise bikes that let you track your overall progress and provide other essential details. The Dripex magnetic resistance indoor exercise bike has a multifunctional LCD monitor that displays time, speed, distance, calories burned and pulse data. It also integrates a pulse sensor that tracks your heart rate. This feature is essentially useful if someone wants to work out while keeping their heart rate at an optimal level.
Maintaining the flow and momentum is crucial when you want to make the most out of your workout. This is where anti-slip pedals and adjustable belts come in handy. The pedals help you acquire a firm foot-grip and maintain optimal balance while pedalling. The caged shape of the pedals enhances the safety level and provides you with an extremely comfortable cycling experience.
Built-in Transportation Wheel
Having the convenience to move your exercise bike easily anywhere is a great deal. A lot of fitness equipment lack transportation wheels, hence they remain stranded in one place. Thankfully, the Dripex magnetic resistance indoor exercise bike does feature transportation wheels. You can easily move this bike wherever you want at home.
Bottle Holder and Phone Holder
Featuring bottle and phone holder further add to user comfort. You can keep your trusty favorite beverage by your side to hydrate during training and conveniently replenish energy. With the phone holder, users can keep their mobile devices near to watch training tutorials or to listen to music.
---
Warranty
The manufacturer does not mention any details about the warranty with this exercise bike. Many customers also raised their concerns over the issue.
*Warranty may be subject to change without notice and may differ between retailers – please check carefully before making a purchase.
---
Pros and Cons
---
Overall Verdict:
Dripex magnetic resistance indoor exercise bike is a versatile machine with a lot of exciting features to offer. It has got a modern, sci-fi look which may attract a lot of people. The build quality of the bike is also exceptional with a heavy-duty steel mainframe ensuring optimal stability. Users can solely focus on their workout without worrying about any risk of injury due to instability.
The bidirectional resistance system makes this Dripex bike suitable for a wide range of users with different fitness levels. Resistance can easily be adjusted to fit an individual's physics demands. Another attractive thing about this great bike is its super silent operation. It enables you to work out early morning at ease without disturbing other members at home.
Above all, you get adjustable handlebars and seat on this exercise bike. While the handlebar can be adjusted up to 5 levels, the large air-permeable seat is adjustable up to 11 levels. When you look at all of these amazing features, the Dripex bike seems like a steal at this price.
However, like every other thing in this world, this bike is also not all perfect. One of the major drawbacks is that there is no mention of a warranty neither on the product page nor the manual. In addition, you cannot view multiple stats at a time on this bike.
---
---
What I Liked About This Exercise Bike
Smooth and Quiet Cycling Experience
It's an important factor for me when buying a machine for home-gym that it does not produce a lot of sounds. Fortunately, the Dripex bike provided me with a great in-home workout experience with its ultra-silent operation. According to the manufacturer's description, this bike produces less than 40 dB of sound which is amazing.
Bidirectional Resistance Adjustment Bar
The bidirectional resistance system provides you with almost real-road riding feels. It is an effective feature when you want to do medium-high intensity training. Adjustable magnetic resistance in combination with a heavy-duty flywheel creates an excellent riding momentum. Once you learn to properly use these features, crushing your fitness goals becomes a fun and easy task.
I hate it when it takes me hours just to put anything together. To my surprise, the Dripex magnetic resistance indoor exercise bike was very easy to assemble. Not just me, many other verified buyers affirm this. It even has a rating of 4.6 when it comes to ease of assembly. So when you buy this bike, you won't have to go through the struggle of figuring out what goes where. It's a simple and hassle-free task.
Safely Holds Mobile Devices
While this exercise bike does not come with Bluetooth integration, having a mobile holder is still a good alternative if you like to listen to music during a workout. I cannot workout without playing my workout playlist. It helps me stay focused and concentrated on my workout.
Top tip: When I feel like I'm losing some motivation, my go-to song is Eminem's "Till I Collapse". It provides me with the much-needed boost to finish my training successfully. 😉
Conversely, many people like to listen to podcasts while working out. It's a great way to gain some valuable information. Hence, you can enjoy exercise and entertainment simultaneously.
The fitness machines in my home do not stay in one place. Therefore, it is important for me that any fitness equipment I buy should be easy to move around. The Dripex exercise bike perfectly caters to that requirement.
Things That Could Have Been Better
The display monitor on the Dripex magnetic resistance indoor exercise bike seems outdated, though it is multifunctional. It only shows the distance in miles and misses some useful features such as RPM and resistance level.
---
FAQ's
Is magnetic resistance better for exercise bike?
Magnetic resistance provides a better and stronger force making the workout more enjoyable. Compared to bikes with other resistance, magnetic resistance exercise bikes are quiet but they are more expensive. Moreover, it is easier to get your desired resistance on exercise bikes with magnetic resistance.
Is a magnetic bike better than belt?
Yes, a magnetic bike is not only better than a belt but also more technologically advanced. They are virtually silent and provide you with a more seamless ride. Moreover, they require little to no maintenance.
Can magnetic exercise bike help you lose weight?
Magnetic exercise bikes are an effective way to lose weight. They are efficient and help you burn a great amount of calories. Since cycling is a cardiovascular activity, it also offers you extensive health benefits such as strengthening various muscle groups, heart and lungs.
---
Affiliate Disclosure
In compliance with the FTC guidelines, please assume the following about all links, posts, photos and other material on this website:
Any/all of the links on this website are affiliate links of which GymFreakz receives a small commission from sales of certain items, but the price is the same for you.
www.gymfreakz.com is a participant in the Amazon Services LLC Associates Program, an affiliate advertising program designed to provide a means for sites to earn advertising fees by advertising and linking to Amazon.com & Amazon.co.uk. Pages on this site may include links to Amazon and its affiliate sites on which the owner of this website will make a referral commission.