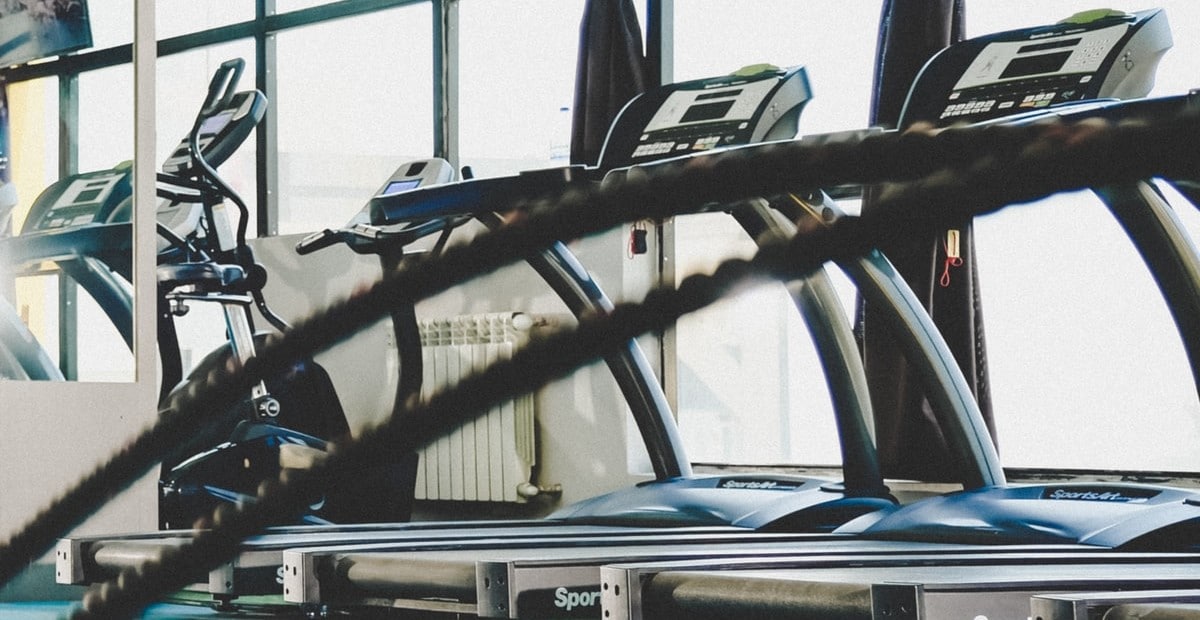 ---
---
The dos and don'ts of purchasing gym equipment – Treadmills
Let's break something down for a second.
It's a Saturday afternoon and you've gone into town to have a look at some gym equipment. You're not entirely sure what you want yet but you know you're after something cardio-based. You walk past a store and you're taken in by all the shiny workout gear.
As soon as you walk in, however, you're met with a flurry of confusing advertisements, selly words as shiny as the machines themselves, and a salesman who appears to say anything to get you to stay.
Buying a treadmill should take a considerable amount of thought. There are so many features unique to most models, and with different price points, varying additional features, and slight changes in heart rate monitoring, it's difficult to truly understand what makes a great treadmill.
This is why you're reading this – to avoid that salesman and know exactly what you want before you've even left the house.
Let's break down what to look for and how to buy a treadmill based on top-quality machines currently on the market.
Disclaimer – This website contains affiliate links. If you find the information useful and click on a product link and make a purchase, a small commission will be earned by GymFreakz and we appreciate your support.
In A Rush?
| | My Top Pick: | Best Top End: | Best Entry Level: | Best Curved: | Best For Under 1K: |
| --- | --- | --- | --- | --- | --- |
| Brand | Spirit | Life Fitness | Nordictrack | Nohrd | ProForm |
| Model | CT850 | Platinum Club Series | Elite 7.0 | Sprintbok Curved | Carbon T7 |
| Photo | | | | | |
| Max. Speed | 19 kph | 12 mph | 20 kph | n/a | 16 kph |
| Max. Weight | 204 kg | 181 kg | 125 kg | 160 kg | 135 kg |
| Running Area | 159 cm x 59 cm | 56 cm x 152 cm | 51 cm x 140 cm | 160 cm x 45 cm | 51 cm x 140 cm |
| PRICE* | £5,496.00 | £12,045.00 | £1,199.00 | £5,295.00 | £999.00 |
| | | | | | |
| Check Prices | | | | | |
*Prices correct at the time of writing
---
My Top Pick (for a home treadmill):
Spirit CT850 Treadmill (£ 5,496.00)
Key Features
Running Surface 60" x 22" (159cm x 59cm)
Speed 0.5-12 mph (0.8-19 km/h)
Incline 0-15%
Integrated Accessory Tray with Bottle Holder
Multi-ply Habasit ® Commercial Belt for Superior Belt Life
Hard Wax Deck
Electronic Package
10 Built-in Workout Programs
Quick Speed Incline and Decline Keys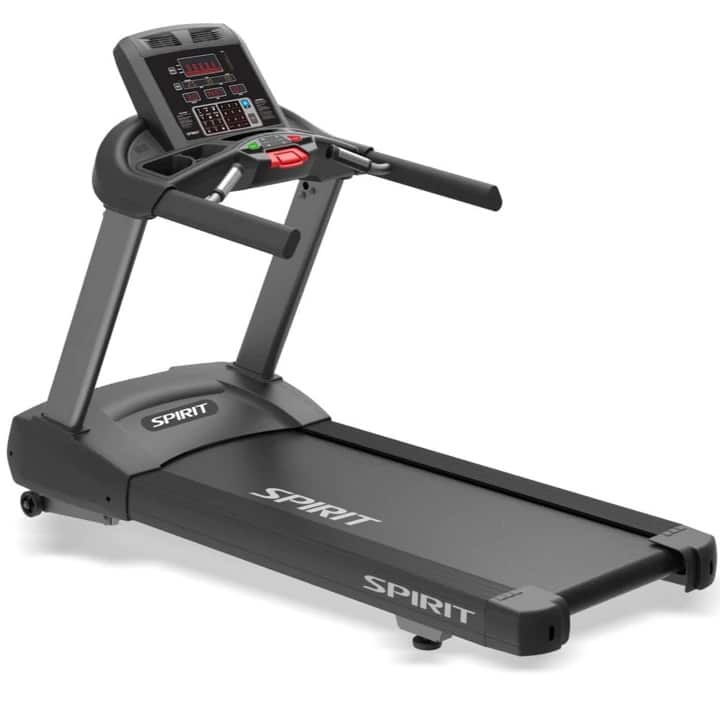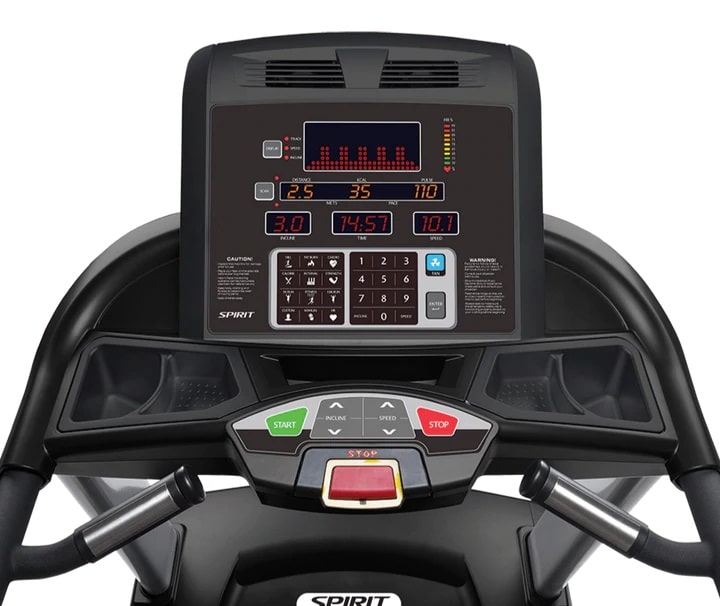 ---
Overview
The CT850 treadmill is an extremely heavy-duty machine. It's designed for commercial fitness applications, but in reality, it can help you to lose weight in any suitable environment. Heavy-duty treadmills like this are often passed off by home gym owners or home space runners. However, fitness equipment should always be considered by how it can help you, rather than what the initial selling point is.
The powerful 4.0HP motor is one of the reasons it's classified as heavy duty. Premium treadmills often come with powerful motors, and very simply, a powerful motor comes in handy now and down the road too; max speed is one of the biggest key treadmill features to look out for.
Whether you're sprinting in your workouts or interval training, the running belt and running deck need to be considered too, especially for powerful motors. We're looking for durable and reliable components, so, the faster you go, theoretically the quicker the wear of said components. Luckily, the CT850, unlike a cheaper treadmill for example, has well-built components made to last.
The control panel here is of note too. It's easy-to-read LED Display possesses accessible aspects, meaning that you can adjust incline settings during treadmill workouts without taking your eye off the game.
---
Best Top End Home Treadmill:
(if you have the room) (this is the best of the best of all treadmills!)
Life Fitness Platinum Club Series Treadmill with Discover SE3HD Console (fixed) £12,045.00
Key Features
Console: Discover SE3HD Console
Front Roller Lift Wheels and Rear Levelers: Yes
Maximum Speed: 12mph
Incline Range: 1-15%
Heart Rate Monitoring: Yes
Dimensions: 203 x 94 x 163 cm (lxwxh)
Running Area: 56 x 152 cm
Equipment Weight: 206 kg
Maximum User Weight: 181 kg
Shock Absorption System: FlexDeck Shock Absorption System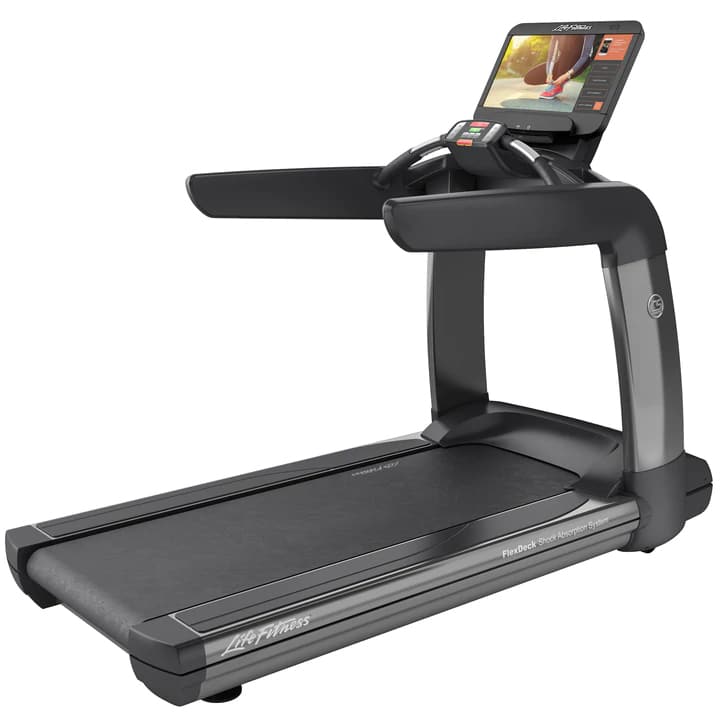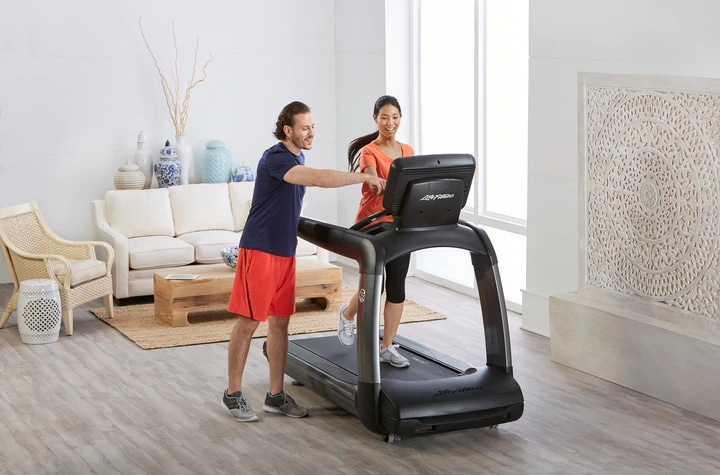 ---
Overview
This Life Fitness Platinum Club Series Treadmill with Discover SE3HD Console is a wise investment for light commercial and home gyms. But we're going to park motor specifications for this overview.
Its modern design and interactive features with experience and advanced training options, make this Life Fitness Treadmill premium quality workout equipment. With a range of connectivity and entertainment options, it makes working out at home a pleasant experience. And these features need to be considered with a quality treadmill like this. Most treadmills focus on the build, the type (folding treadmills/manual treadmill) and a few extras in there for added value. But with premium machines like this the extras features are a focal point of its price.
If compared to other similar treadmills in the market, Life Fitness Platinum Club Series beats them all in looks, quality, durability, modern technology, and connectivity. If you are an avid exerciser who likes to explore new workout options, the Discover SE3HD Console and you are a match.
This treadmill is on this list for its variation of features, workout options and its essential home system features.
Want to know more? Read our full review of the Life Fitness Platinum Club Series Treadmill here.
---
Best Entry Level Home Treadmill For Beginners / Intermediate Runners:
Nordictrack Elite 7.0 Treadmill (foldable) (£1,199.00)
Key Features
5-inch iFit LCD
30-Day iFit Family Membership Included
EKG Handgrips
Dual 2-Inch Speakers
Flex Select Cushioning
51 x 140 cm Tread Belt
2.75 CHP Motor
0 – 10% Incline
0 – 20 km/h Speed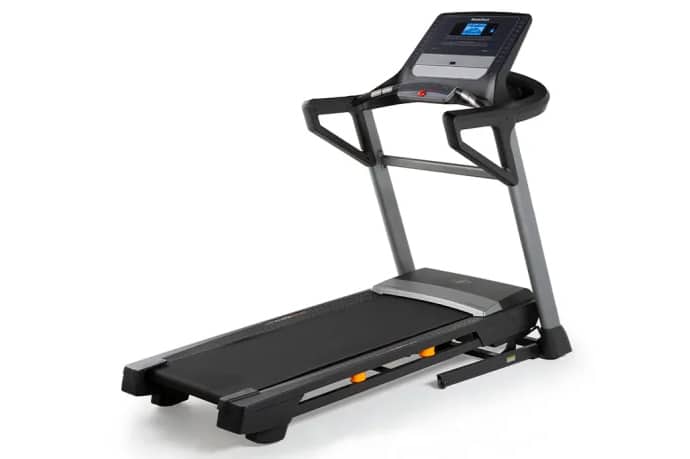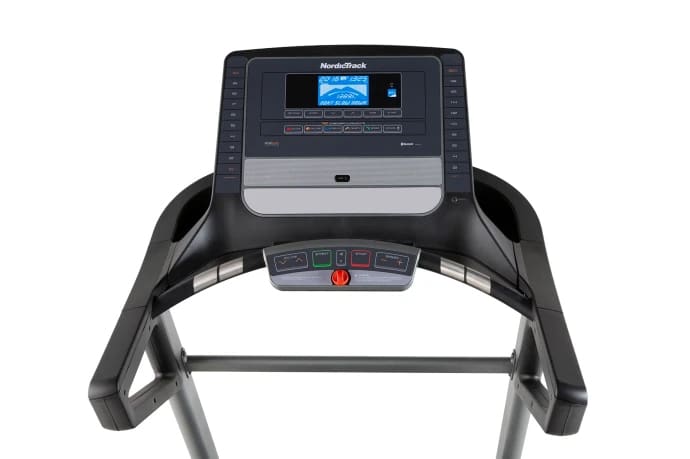 ---
Overview
The Nordictrack T7.0 is a great treadmill for its price and offers many features that you might not find in other treadmills at the same price. But we're focussing on the design for this one.
The space-saver design makes this machine ideal for small apartments or places where space is an issue. Most treadmills make it clear that they're either suited for a gym or a smaller space and unless you want to be moving these things around or redesigning the interior of your front room, it's important to pay attention to them.
Thankfully, the built-in transportation wheels and Easy Lift assist feature help with enabling convenient repositioning of this treadmill which definitely makes it stand out. And we've not even got into exercise tips yet…
This fitness equipment comes with a certified personal trainer/fitness specialist. It also has many other integrated features that you won't always find in cheaper treadmills. With a balanced non-flex roller you can now get a great workout in without worrying about injuries, making this a high-quality treadmill, no doubt.
Want to know more? Read our full review of the Nordictrack Elite 7.0 Treadmill here.
---
Best Curved (for 2022 home treadmill):
Nohrd Sprintbok Curved, Manual Treadmill £5295.00
Key Features
Manual treadmill, no power source required
No speed limit
17.2" (43.6cm) high definition Touch Screen
Available in a variety of woods
Slats are made from Birch plywood and high-quality rubber for superb cushioning
Running surface 63" x 18' (160cm x 45cm)
Grease life high-quality bearings
Transport wheels
Maximum user weight 25 stone (160kg)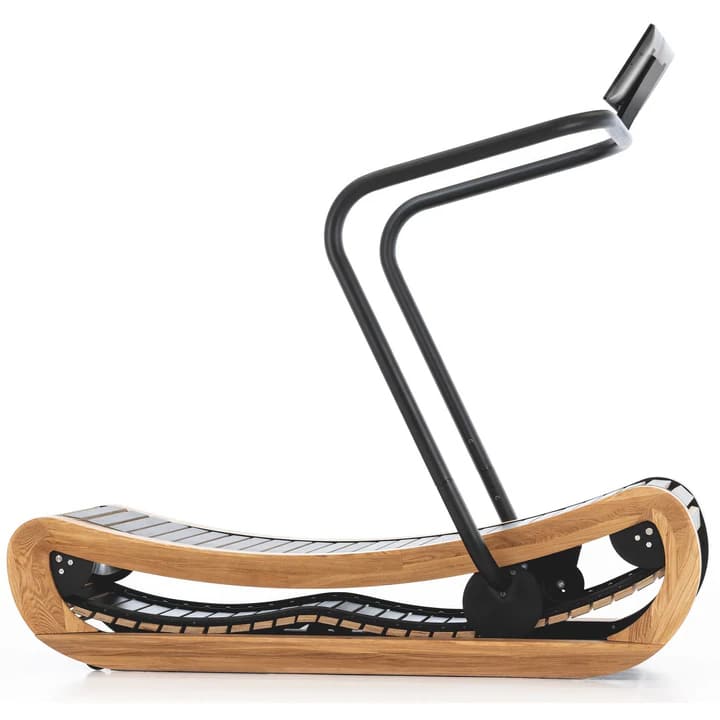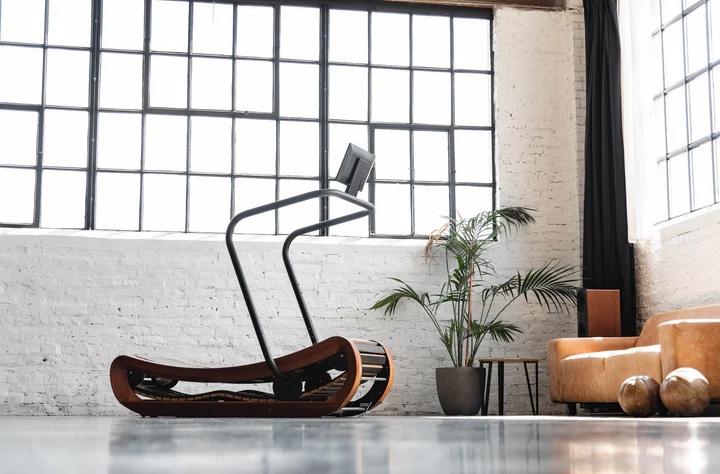 ---
Overview
The Sprintbok Treadmill is a wonderful manual treadmill with a great design. And whilst its features and functionality range from the quality of the treadmill's belt to how it helps to absorb shock, we're focussing on the manual aspects of this machine.
Like many-a-manual non-foldable treadmill, the Sprintbok is very well built. Because you're the runner, you're the motor too. You decide how many calories burned, how long your workout is and most notably how fast you go.
Manual machines have no motor included, so it's no surprise the running bed is built to last around 10 hours a day of use and remain stable at the same time… so don't worry if you're a larger person, this machine isn't breaking anytime soon.
Manual treadmills are a serious investment though – you do generally have to work harder, often manually adjust incline settings, and reach your fitness goals solo. But the app integration with preset workout programs will certainly help with that.
Want to know more? Read our full review of the Nohrd Sprintbok Curved Manual Treadmill here.
---
Best For Under 1K (best home treadmill for under £1000):
ProForm Carbon T7 Folding Treadmill (£999.00)
Key Features
2.75 CHP2 Motor
Tread Belt – 51 x 140 cm
0-16 kph Quick Speed Control
0% – 10% Digital Quick Incline Control
ISO Flex Cushioning for treadmill's belt
1.9″ Precision-Balanced
Folding Deck
CoolAire Fan
Dual 2″ Speakers
Weight Capacity – 135KG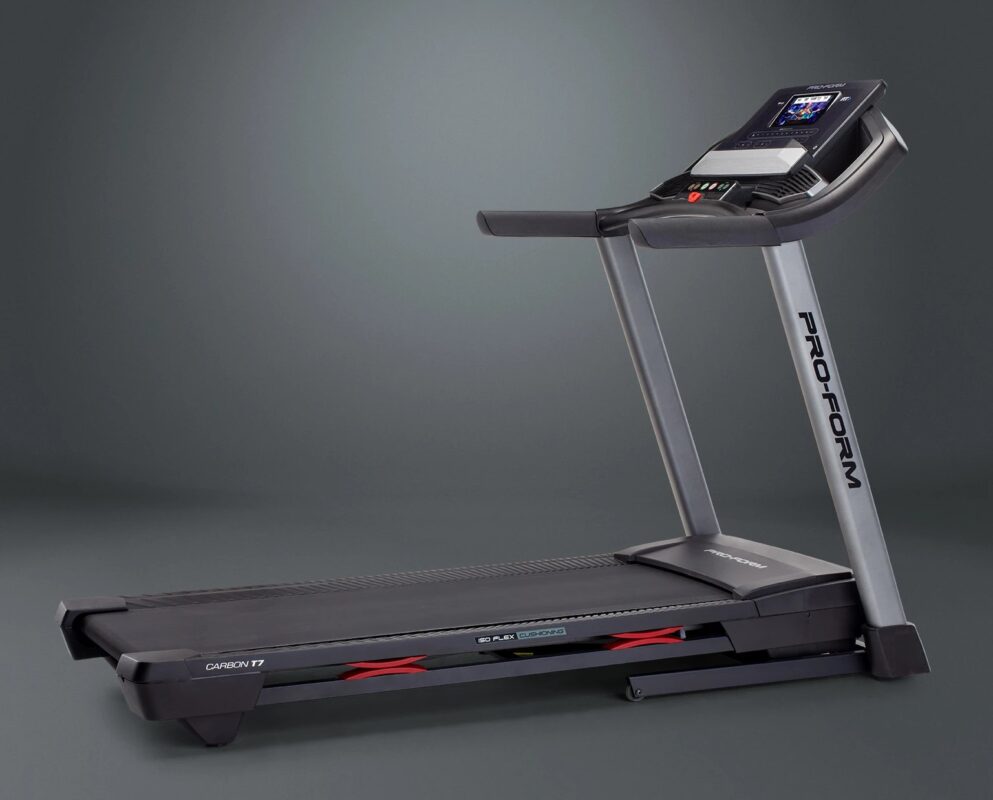 ---
Overview
From interactive training sessions to studio class workouts, the ProForm Carbon T7 Folding Treadmill can help you evolve your workout regime in an instant.
Treadmills like this are made for user variation and options, giving you the best range of potential workout styles. That's why this is on this list – to highlight how some running machines can help you to learn as well as burn calories.
And to accommodate for these variations, targeting different muscle groups and seeing how else you can lose calories, the comfortability provided by this machine is integral.
The roomy deck, shock absorption and ISO Flex Cushioning ensure that the varied training regimes will present little to no danger to you when trying them (certain routines may be new and simply, your body might not be used to them)
Want to know more? Read our full review of the Proform Carbon T7 Folding Treadmill here.
---
Conclusion
To conclude, I hope you've gained a better understanding of what it is that makes a treadmill belt… a belter, or a motor driving for. No treadmill is exactly the same, and even the smallest features can make all the difference when looking for that quality treadmill.
Again, you need to think about how much space you have, what kind of budget you're thinking, if you know you may need motivating through personalised training regimes, or that you know you want to sell it on in a few years time – all of these features factor into the highest-quality treadmill for you.
Now, next time you go to the shop and that salesman asks you questions, you may just have a set of your own to ask in return.
>> Why not take a look at more of our helpful round up's here. <<
---
FAQ'S
Should I go off of the key treadmill features alone?
You should always weigh up all the features available to a treadmill, they all factor into cost and you may be surprised by how much seemingly small features can make a difference.
What makes treadmill workouts so appealing, surely it's just running?
Treadmill workouts help guide you, motivate you, and offer variety beyond just running – there are many ways to use key treadmill features which means there are better or worse ways given your fitness goals.
---
Affiliate Disclosure
In compliance with the FTC guidelines, please assume the following about all links, posts, photos and other material on this website:
Any/all of the links on this website are affiliate links of which GymFreakz receives a small commission from sales of certain items, but the price is the same for you.
www.gymfreakz.com is a participant in the Amazon Services LLC Associates Program, an affiliate advertising program designed to provide a means for sites to earn advertising fees by advertising and linking to Amazon.com & Amazon.co.uk. Pages on this site may include links to Amazon and its affiliate sites on which the owner of this website will make a referral commission.