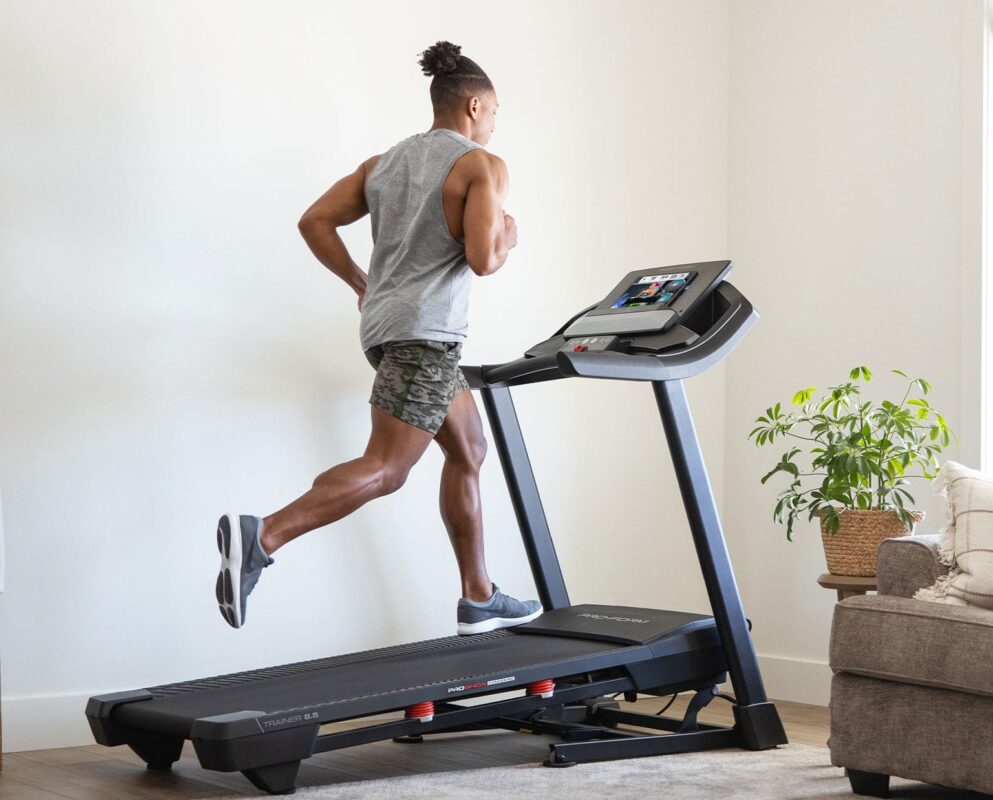 ---
---
Introduction to the ProForm Trainer 8.0 Folding Treadmill
If your fitness goals include remaining active all year, the Proform Trainer 8.0 Folding Treadmill is an excellent choice. Few treadmills in this price range provide as much variety and quality as the Proform Trainer 8.0. For light to moderate runners, this treadmill should last several years.
With the ProForm Trainer 8.0, you can get a terrific exercise at home utilizing professional-grade technology from iFit. Through iFit you can automatically adjust velocity and inclination to match your mood. The challenging workout focused on your ability to push yourself harder if you can!
You'll be able to sweat off while following along with an instructor who understands how difficult it may be for some individuals to find time away from their office job or hectic schedule. This treadmill has plenty of power, making it ideal for long walks or runs, and it can easily accommodate any fitness objectives you may have in mind. There is a high-contrast screen available, along with an iFit subscription included with this purchase. You may also listen to your favorite playlist while working out. The inbuilt tablet holder secures your device and keeps it within close reach.
It might be tough to find space for a home gym. The Trainer 8.0 treadmill allows you to fold the deck up and out of the way with a single push. Thanks to having these fantastic sports feature integrated right into the Trainer 8.0. Now it's never been simpler to get back into shape sooner where you will find all your training tools in one place.
If you're looking for a treadmill game-changer with easy repayment periods and have a clutter-free place that meets your fitness needs then the proform trainer 8.0 treadmill should be on your list!
Disclaimer – This website contains affiliate links. If you find the information useful and click on a product link and make a purchase, a small commission will be earned by GymFreakz and we appreciate your support.
---
---
Specifications
30-Day iFIT family membership included
Bluetooth enabled 5″ display with high contrast
51cm x 140 cm tread belt
2.6 CHP motor
EasyLift assist and foldable SpaceSaver design
Auxiliary Audio Port with Dual 2″ Speakers
Tablet holder integrated
300 lbs. weight capacity
74.41″ x 35.04″ x 64.17″ Product dimensions
Certified personal trainers
Professional training programs
Incline 0-10 %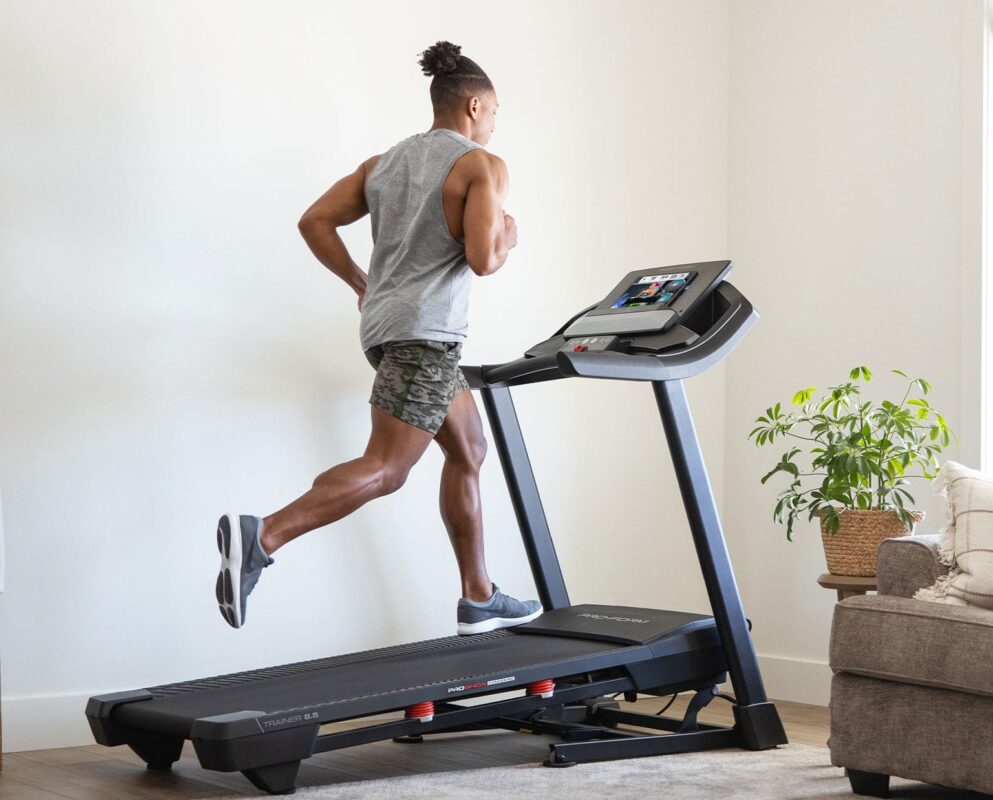 ---
KEY FEATURES
Bluetooth Smart Enabled: iFit Coach
How many of you have considered running in Barcelona? To make your imaginations come true, just hit the start button. Download a Google Maps route or set your trek. This iFit Coach Bluetooth Smart Enabled treadmill intelligently adjusts the inclination to simulate treks from north to south. Set your routines with endless workouts provided by professional personal trainers. This ever-expanding exercise collection includes routes that will take you from basic to marathoner.
A subscription is required. You may access your iFit account from a computer, tablet, or smartphone. Membership is required and sold separately. A 30-day family membership is free at first. Trademarks and trade names are the property of the owners. Google Maps is a registered trademark of Google, Inc. Syncing an iFit account from tablet to the machine is presently available only on Android and iOS devices. The tablet is not included, you can have your own.
5″ Multicolor High-Contrast Display
With an easy-to-read 5″ high-contrast multicolor display, you can stay in complete control and conveniently track your exercise. You can read all your workout stats and now you will get unlimited workouts!
Workouts on Board
We found out how to make your workout experience convenient and uncomplicated after years of hard effort and invention. When you step onto the deck of a ProForm treadmill, you instantly get access to expert training programs that are fully loaded and ready to use. You may now experience a difficult workout that is targeted at your objectives. You will get many types of workouts including indoor workouts and now include fitness habits in your routine to get to better shape in no time!
Heart Rate Pulse Sensor
Take advantage of real-time heart rate monitoring. These two hand-grip sensors are neatly integrated into the handlebars. You'll be able to observe your heart rate while training in a matter of seconds.
Mach Z 2.6 CHP Commercial Motor
Choose the motor that will take you to the long route. Smooth, strong, long-lasting and reliable. The Mach Z Commercial Motor keeps you cool during the most strenuous exercises, generates a lot of spin for a smooth, powerful sensation, and guarantees a quiet in-home experience. This motor is designed for severe duty and is manufactured with high-quality components that are backed by our lifetime motor guarantee.
Digital QuickSpeed Control 0 – 12 MPH
Although not everyone runs 12 miles per hour, it's great to know that this treadmill can do it. The Trainer 8.0 has a peak speed of 12 mph, thanks to a larger motor. With our in-home efficiency booster, you can run daily without consuming much power. The handy QuickSpeed buttons allow you to immediately modify your intensity to stay focused throughout your workout.
Quick Touch Controls for Speed and Incline
You can control your pace and inclination without looking down or letting go of the handlebars. The in-handle Quick Touch controls provide you with the flexibility you need with the easy push of a button. You can quickly go to top speed and manage in handle speed easily to get an in-home workout experience!
ProShox Cushioning Adjustment
One of our primary objectives is to give you a comfortable exercise. Every treadmill we sell has padding around the deck. When a result, every step you take as you walk, jog, or run will have a softer landing. You'll be able to enjoy a longer workout and faster recovery time with less stress on your feet, ankles, knees, and hips. It's one of the reasons people adore their ProForm treadmills. This fitness machine will give you a fitness experience convenient no matter where you are!
EasyLift Assist and SpaceSaver Design
We realize how much important is a fuss-free environment in your home. So we designed a treadmill that folds up and out of the way when you're through working out. It shook the fitness business, but we're pleased you don't have to sacrifice your living space for your workout habit anymore. As a bonus, we included a tremendous shock that allows you to raise the deck with a single push.
CoolAire Dual Tiltable Workout Fans
These two built-in CoolAire fans keep you cool from the time you step onto the deck until you step off. Choose from two-speed settings for immediate control, and direct them towards yourself. Because temperature control is one of the benefits of indoor training, even if it's pouring, cloudy, scorching hot, or a poor air quality outside, you'll be fine inside.
Tablet Holder Built-In
Make workout time a multitasking opportunity. This integrated tablet holder locks and the device shelf keeps your tablet safe and closes at hand, allowing you to access all of your training tools and entertainment necessities.
Auxiliary Audio Port
Connect to a better sound system. You may listen to your entertainment at a louder level. Thanks to the inbuilt audio auxiliary connector. With two 2-inch speakers, you'll be able to hear your music or movies more clearly. Experts have discovered that we change our speed to fit the tempo of our music. Furthermore, music has been shown to reduce training intensity. Now it's good to go.
Weight Capacity
The Trainer 8.0 treadmill was designed with the entire family in mind, accommodating up to 350 pounds of weight and measuring 74.41″ x 35.04″ x 64.17″ dimensions.
---
Warranty
We want to help you protect your investment. That is why we go above and beyond with our product warranties.
The Proform Trainer 8.0 folding treadmill is protected by:
two-year parts and labor guarantee,
a five-year motor warranty for components only,
and a lifetime frame warranty.
*Warranty may be subject to change without notice and may differ between retailers – please check carefully before making a purchase.
---
Pros and Cons
---
Overall Verdict:
The Proform Trainer 8.0 Folding Treadmill is an excellent choice for an entry-level model. The diversity of programs, as well as the particular advantages, really set it apart.
Furthermore, the peak speed and steepest gradient let you push yourself to the utmost. You may be a newbie right now, but this treadmill will quickly transform you into an accomplished trainee. Plus the lifetime warranty pertains gives you the freedom to get this treadmill changed or repaired whenever you want to! This treadmill is not everybody piece of cake and should think about it before buying it if you have enough space in your home for it. It's rather large when folded out, and some reviewers have commented that it's also quite hefty when in SpaceSaver mode, so keep that in mind.
However, if space isn't an issue in your house, the Proform Trainer 8.0 Treadmill is a good choice for your home gym. This treadmill might give you one of the toughest workouts with challenging uphill routes! You just press start and then leave it on the machine to get you through the workouts with some entertainment must-haves! If you want a treadmill that has amazing physical characteristics and a high weight capacity built with good user weight then proform trainer 8.0 treadmill might be the one you're looking for!
---
---
What I Liked About This Product
Built-in iFIT App
Several fitness routines are available. This facility can be used to work out in a variety of ways. There's a lot to discover with 32 built-in applications.
Built-in Tablet Holder
Space to store a tablet. The inbuilt tablet holder secures the device. You may multitask by doing some work or watching your favorite Netflix series right on the machine.
Powerful Speakers
A strong audio system. Simply connect your MP3 player using the audio auxiliary connector. You may then quickly listen to your fitness playlists.
What I Didn't Like About This Product
Bulky Body
This treadmill folds up when not in use, thanks to its SpaceSaver design. However, once fully done, it is rather large and may not fit in every living room. Particularly if you have little space in your home.
Tough to Assemble
This treadmill is difficult to assemble on your own, especially if you live alone. You might want to consider paying extra to have it assembled at your house by specialists.
---
FAQ's
How much does the ProForm trainer 8.0 treadmill weigh?
96 kgs
Are ProForm treadmills good for running and challenging workout focused?
Yes, the Proform trainer 8.0 treadmill can reach speeds of up to 12 miles per hour. Each treadmill may be adjusted from 3 to 12 percent. It will give you a comfortable workout with a strong motor with ample power.
How do you assemble a ProForm trainer 8.0 treadmill?
Gather one hex key, one adjustable or socket wrench, and a screwdriver before you begin. These tools are required to assemble your Proform trainer 8.0 treadmill. Remember that assembly requires two individuals. Power tools should not be used to assemble since they might cause harm. There is always an instruction manual in the box. Pay close attention to those.
Are ProForm Treadmills Made in the USA?
ICON Health & Fitness, a world-leading gym equipment company located in Utah, manufactures ProForm treadmills. Utah is on the western side of the United States.
---
Affiliate Disclosure
In compliance with the FTC guidelines, please assume the following about all links, posts, photos and other material on this website:
Any/all of the links on this website are affiliate links of which GymFreakz receives a small commission from sales of certain items, but the price is the same for you.
www.gymfreakz.com is a participant in the Amazon Services LLC Associates Program, an affiliate advertising program designed to provide a means for sites to earn advertising fees by advertising and linking to Amazon.com & Amazon.co.uk. Pages on this site may include links to Amazon and its affiliate sites on which the owner of this website will make a referral commission.