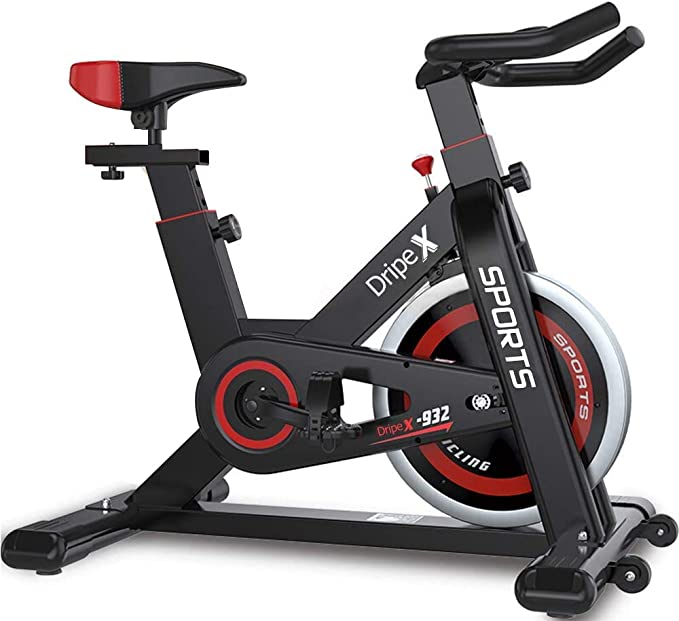 ---
---
Introduction to the Dripex upright exercise bike (indoor studio cycles) – 2020 version
Dripex has always strived to provide fitness enthusiasts with the best equipment to help them keep up with their fitness goals. The 2020 version of their upright exercise bike comes with the right combination of features that makes exercising more fun and effective.
Upright exercise bikes indoor studio cycles are the new fitness divas in the fitness industry and are best for small spaces. They are designed for fitness enthusiasts of all levels who won't compromise on their fitness goals. These bikes offer low-impact cardio while using a bigger range of muscles as compared to others. Upright bikes are not only comfortable but allow full-body workouts in a better way.
Since you are reading this article, you must be interested in Dripex's incredible upright exercise bike. So keep on reading as we break down this amazing technology for you.
Our review will give you full insight into what you can expect if you buy Dripex upright exercise bikes. Let's get started.
Disclaimer – This website contains affiliate links. If you find the information useful and click on a product link and make a purchase, a small commission will be earned by GymFreakz and we appreciate your support.
---
Specifications
Item Dimensions L x W x H: 102 x 52.5 x 102
Drive system: Belt
Resistance levels: 8
Maximum weight: 330 pounds
Dual cover protective design
Multipurpose LCD
Emergency stop button
Adjustable seat
Large bidirectional flywheel
Transportation wheels
Steel frame
Adjustable handlebars
Heart rate monitor
Battery-powered
Water bottle holder
High energy studio sessions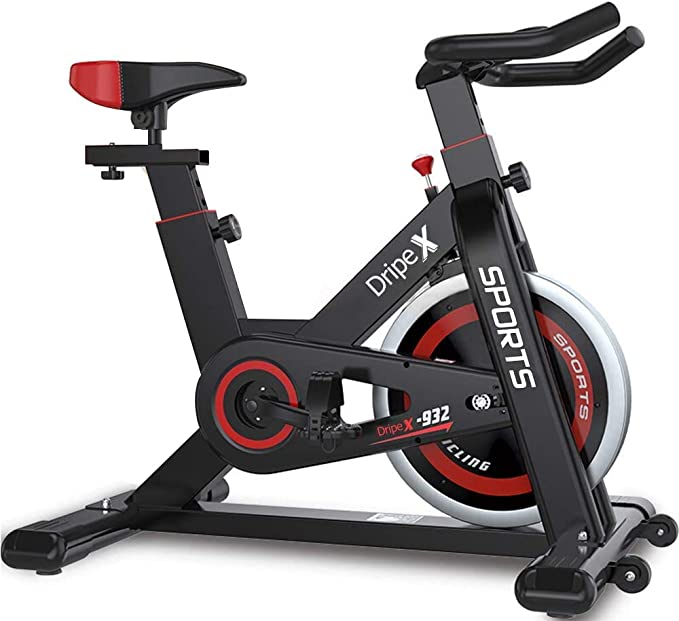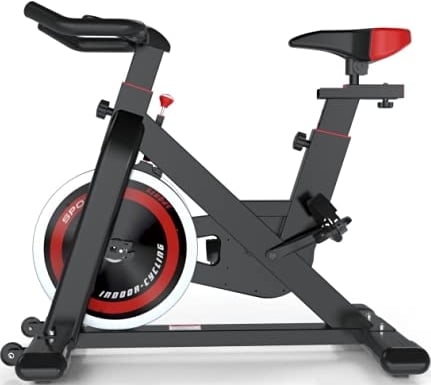 ---
KEY FEATURES
Adjustable Limitless Resistance
With various tension levels on exercise bikes, you are more likely to have an intense workout compared to treadmills. It is said to be the best way to burn more calories when the resistance levels are high. Dripex upright exercise bike offers infinite resistance levels to add variety and intensity to your workout.
It is the best way to train your muscles and build endurance effectively. More muscle fibres will activate muscle contraction as they will require more energy. It comes with a large bidirectional flywheel which gives you the momentum to perform different intense workout easily.
It is important to understand that adding the right resistance to your workout will help you achieve the best results. It will also help to maintain the stability and proper position of the exercise bike. With this, you can perform resistance training and build building strength in the right way.
The Dripex exercise bike allows you to adjust the resistance according to your need via an adjustable knob. Make sure not to add too much resistance as it may increase the risk of injuries during your ride.
Multifunctional LCD Display
It features a multifunctional LCD display that allows you to monitor real-time track and check your progress easily. It allows you to monitor exercise time, speed, calories burned, distance, and heart rate via hand pulse. This feature is helpful in performing goal-oriented workouts perfectly.
The digital monitor of the LCD displays your progress unlike any other which helps you to know your improvements. It comes with adjustable handlebars that give you the right position and perfect posture to ride it. You can easily adjust your exercise plan timely keeping the progress as your motivation to achieve your fitness goals.
The bike also includes a phone holder that allows you to follow your favourite fitness routines easily. This feature is helpful for an engaging exercise experience as elite trainers evaluate your workout. With a studio-quality training experience, the user will not only stay motivated but will be more engaged in achieving their goals.
Safe And Comfortable
The Dripex bike is perfect for a challenging exercise experience as it is not only performance effective but offers safety like no other. It comes with anti-slip pedals and adjustable toe gauges. This will keep your foot in the same position every time you jump on the bike without slipping. One of the common reasons for slipping is that the cable is stretched in most of the exercise bikes but Dripex won't allow that!
It comes with 8 levels adjustable seats and 6-level handlebars that easily fit different heights. This makes the exercise bike comfortable for any type of user and one of the best exercise bikes in this category. Stability is something that helps to keep the user engaged and more focused on their workout. Dripex designs versatile and high-quality equipment keeping the user convenience as their top priority.
Moreover, its front foot tube wheels are designed to move the bike easily. This feature is helpful for different exercise experiences be it intense workouts or serious cycling. The design of the Dripex bike ensures you can adjust the bike easily when needed and remain comfortable. This will also help the fitness enthusiasts who are more likely to have long riding workouts as it will keep them motivated without hurting their feet.
Super Smooth And Quiet Operation
It comes with an infinite resistance system and a belt drive system that gives an unbelievably smooth and almost silent ride. As mentioned earlier user convenience is Dripex's top priority and this feature actually reflects that. It's not only smooth to operate but with its comfortable seat with height adjustment, any type of user can have an incredible fitness experience.
It comes with a wool felt brake pad that makes the emergency stop brake timely and safe. This makes it convenient and safe while pressing the button to prevent any injury or uncertainty. It is perfect for low-impact cardio as it uses smooth movements to strengthen the bones and joints without pressuring them.
---
Warranty
Dripex offers a 1-year warranty with this bike.
*Warranty may be subject to change without notice and may differ between retailers – please check carefully before making a purchase.
---
Pros and Cons
---
Overall Verdict:
Dripex always has unique styles and approaches when it comes to fitness equipment. They offer the perfect equipment at the best price that is worth investing in. Upright bikes are the new fitness divas that captured the market more engagingly as soon as they were launched.
Dripex upright exercise bike is a studio version quality with a heart rate sensor, a large bidirectional flywheel, and much more. Its infinite resistance and belt drive system create an unbelievably smooth and silent ride. This feature is perfect for avoiding annoying neighbours as it won't disturb them. Also, as it is an indoor bike it comes with a compact design which is perfect for small spaces.
The instruction manual, installation tools, and bolts are also included for user convenience. It takes about 30 minutes for the assembly and it's good to go. It also has a multifunctional digital monitor that will real-time track and allows easy progress tracking. It helps to know your overall exercise progress by displaying hand pulse, distance, time, speed, and calories. This would allow you to perform goal-oriented workouts. Dripex upright exercise bike enables an incredible fitness experience where elite trainers elevate your workout easily.
Its left pedal needs to be screwed counter-clockwise as it is an important part of the assembly. Please don't forget to pay attention to pedal assembling as it may result in serious injuries. This will also help in feeling less inertia when you start pedalling.
The upright bike also has an adjustable seat for different users with a comfortable seat so the user can have maximum comfort. It also has a heavy bidirectional flywheel that gives more momentum as compared to others. This will help the user in performing challenging exercises easily without hurting their joints. In short, it is high-quality workout equipment that can fulfil a variety of fitness goals effectively.
---
---
What I Liked About This Exercise Bike
Adjustable and Leather Cycling Saddle
Dripex upright exercise bike indoor studio cycles have high perforating memory foam filling material in the seat cushion. This makes the saddle more comfortable, fully adjustable, and quick dry.
The seat is easy to adjust up and down, front and back just according to your height and weight. Also, it can be replaced if needed to use a different size bike saddle. It also has an anti-skid design with adjustable toe cages that provide an excellent riding experience.
Being a home exercise equipment it is very important to look for it to be durable and Dripex did a great job here. It is made of solid and dependable aluminium alloy which provides it with a longer lifespan. The hard spindles produce strong grips in an effective way that helps prevent a sudden detachment.
Moreover, it has multiple use handlebars that provide the user with different ways of exercise. This feature will help in keeping the perfect posture while riding without hurting your back. It also has a central armrest for added comfort and security.
Dripex upright bike also has an emergency stop brake as it is equipped with friction resistance. The brake pad can be applied to the flywheel to create resistance to make the flywheel harder to spin. It will make the workout more intense but its fast stop button ensures your safety like no other.
Relaxed Ergonomics Triangle Design
The triangle design of the Dripex bike makes it stronger, safer, and more stable. It makes this stationary bike one of the on-demand for achieving full-body fitness easier than ever.
It is equipped with a 14lb flywheel that allows you to adjust the resistance according to your needs. Dripex has also used high technology for the perfect training of main muscle groups. This will also help in improving the endurance and coordination of the muscles effectively.
It is an ideal pick for anyone looking for something with limited space and is easily movable. The Dripex bike is equipped with movable wheels that simply tilt and roll out for use or store it away. Moving the stationary bike with transportation wheels can be done effortlessly. The wheels are placed at the front of the unit so you don't need to lift heavy or muscle strain.
Things That Could Have Been Better
The only drawback of this exercise bike is that it has no option for converting the distance. It displays the distance in kilometres only which may be difficult for some users to reciprocate.
---
FAQ's
Is an upright bike a good workout?
Cycling is the best workout to get your heart pumping. It provides great low-impact cardio that will strengthen your legs and core muscles effectively. It can be used for both standing and sitting depending upon your preferences. The only downside of the upright bike is that it puts pressure on your hands and wrists.
What is the difference between a recumbent and an upright exercise bike? Which exercise bike is better?
Upright bikes are more of a standard road bikes where the pedals are below the centre of gravity. It allows you to lean over the handlebars while recumbent bikes in a more natural seated position. Upright bikes are more in demand as they give a full-body workout and burn more calories than a recumbent bike.
What is the ideal time to be spent on an upright exercise bike?
It is better to start off pedaling at a low intensity of 5-10 minutes then switch it gradually. However, 30 minutes is a perfect moderate time on a stationary bike as it will contribute to overall health. It will also help in building cardiovascular better and improve muscle endurance.
What to consider in a stationary bike?
The core features to be included in a stationary bike are,
Adjustable resistance
Digital display
Ease of use
Stability
Handlebar style
---
Affiliate Disclosure
In compliance with the FTC guidelines, please assume the following about all links, posts, photos and other material on this website:
Any/all of the links on this website are affiliate links of which GymFreakz receives a small commission from sales of certain items, but the price is the same for you.
www.gymfreakz.com is a participant in the Amazon Services LLC Associates Program, an affiliate advertising program designed to provide a means for sites to earn advertising fees by advertising and linking to Amazon.com & Amazon.co.uk. Pages on this site may include links to Amazon and its affiliate sites on which the owner of this website will make a referral commission.