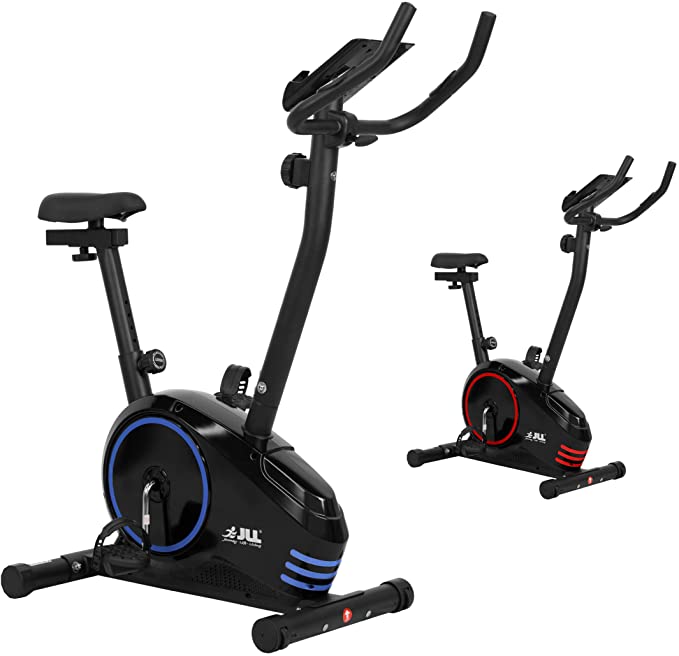 ---
---
Introduction to the JLL JF150 Upright Exercise Bike (in Blue or Red)
If you've been struggling to find a home exercise bike, you're not alone. With so many options and factors to consider, narrowing down your search can be difficult. However, after reading through this post of the JLL JF150 upright exercise bike, you'll be left with a clearer picture of what this upright exercise bike can offer you and whether it's the right piece of fitness equipment for your home.
One of the standout features of the JLL JF150 exercise bike is its sleek design that's available in blue or red. As a result, you can expect it to fit in with your home (as much as an indoor exercise bike can). In addition to this, the vast range of features that are included with this upright exercise bike is impressive.
For one, they've implemented a magnetic resistance system that works in combination with the high-quality rubber belt to provide you with a smooth riding experience. Users have also been liking how they can keep track of their workouts due to the available monitor.
This keeps track of your time, distance, calories burned, and even your heart rate. I liked how the handlebars have built-in heart rate sensors as it allows you to aim for a specific heart rate goal to maintain during your workouts.
So, let's take a look at more features that the JLL JF150 exercise bike has to offer.
Disclaimer – This website contains affiliate links. If you find the information useful and click on a product link and make a purchase, a small commission will be earned by GymFreakz and we appreciate your support.
---
Specifications
Resistance – 8 levels of magnetic resistance
Crank – Durable 3-piece crank system
Monitor – LCD monitor that tracks time, speed, distance, calories, and heart rate
Flywheel – Two-way 5 KG flywheel
Pedals – 5 strap adjustments available
Handlebars – Built-in pulse sensors and 360-degree adjustability
Seat – 7 seats height adjustment levels available
Transport – Wheels built-in
Maximum user weight – 100 KG
Maximum seat height – 98 cm
Minimum seat height – 77 cm
Dimensions – 95 cm x 49 cm x 132 cm
Item weight – 28 KG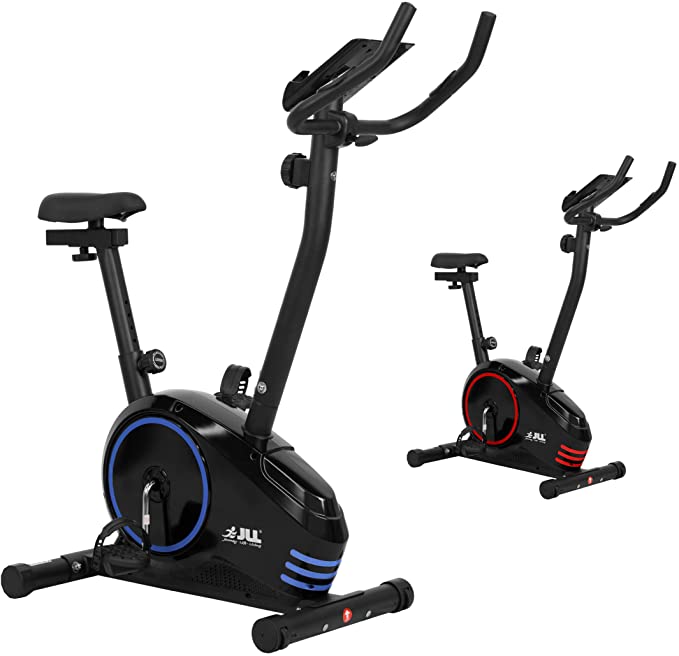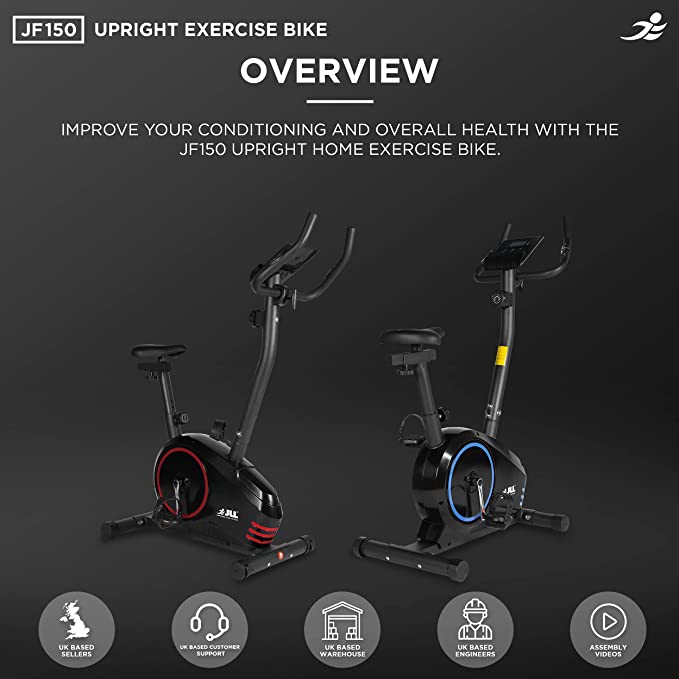 ---
KEY FEATURES
Belt Design
I was impressed with how the belt has been made with high-grade rubber materials. This rubber design works effectively to provide you with a smoother and quieter riding experience.
As a result, you can expect to cycle on this upright exercise bike at home without making too much noise. In addition to this, the rubber belt design requires minimal maintenance in comparison to bikes with chain-driven systems and fan-based resistance systems.
This means that you can spend more time cycling for a quieter and smoother workout and less time worrying about belt maintenance. Belt driven exercise bikes often provide more durability compared to a chain-driven bike.
Heart Rate Sensors
The handlebars are fitted with heart rate sensors that you can hold onto while cycling. You can then see your pulse rate on the LCD monitor which is an easy way for you to keep track of your heart rate during your workouts.
If you're looking to improve your physical fitness, knowing what your average pulse rate is for a workout can help allow you to make personal goals for your heart rate while cycling. This also provides you with a better idea about how intense your workouts are and whether you need to step it up.
Magnetic Resistance System
I liked how the magnetic resistance system that has been fitted to the JLL JF150 upright exercise bike allows you to ride smoothly and with precision. There are 8 levels of magnetic resistance which enables you to pick the resistance setting that's best for you and your fitness goals.
The resistance system works incredibly smoothly and it comes with a great level of precision while pedalling which can make the experience feel more like you're riding a real upright exercise bike for muscle toning and cardiovascular training. Users have also discussed how the resistance system operates quietly which could be beneficial if you're trying to workout from home without causing a lot of noise.
Monitor
The LCD monitor that has been fitted to the JLL JF150 upright exercise bike tracks your calories burned, speed, distance, time, and pulse rate. These are all incredibly useful stats that can help you target heart rates and understand where your current fitness levels are. You can then set goals to achieve each time you workout that is tailored to the areas you're trying to improve.
For example, cyclists who want to improve fitness can use the pulse rate readings to see their heart rate while working out. This gives them a more accurate way to track their heart rate so that they can work to improve it.
People who are interested in optimum fat loss can track the number of calories that they burn each workout which enables them to have a better grasp on the caloric deficit that they're in to drop weight.
Pedals
One of the areas of contention that I find while riding upright exercise bikes involves the pedals. Sometimes, exercise bikes don't come with enough adjustment levels which can leave the straps feeling either a little too loose or too tight.
I was happy to find that the JF150 exercise bike comes with five strap adjustment levels. As a result, you're able to adjust the straps to a tightness that feels comfortable. This is a simple factor that can enhance your riding experience as it means that you can pedal with intensity and for long periods whilst knowing that your feet are strapped in securely and comfortably.
Crank System
The crank system has three pieces and includes a detachable design. JLL has created this system to provide the upright bike with strength and durability. This has allowed users to feel stable while riding which can help you feel more assured during your more intense workouts.
Adjustable Handlebar Angle
Users have been liking how the handlebars have a 360-degree rotating feature. This means that you have complete control over how you can adjust the handlebars. Being able to have smooth and precise change with the handlebars on an exercise bike ensures that you can get yourself into the most comfortable riding position which is ideal for your posture.
It also means that you can expect to feel comfortable during longer, low-intensity workouts. People of varying heights have been able to adjust the handlebars to their specific height and find riding positions that feel best for them.
Tablet Holder
If you're someone who uses steady-state cardio as a way to burn calories, you may often use your mobile device or tablet for entertainment or to watch TV during your workouts. You may be glad to hear that the JF150 upright exercise bike comes with a device stand that you can use to hold your tablets or mobile devices.
I found this to be a super useful feature for times when I want to perform low-intensity workouts to burn calories. It can be a little boring compared to high-intensity workouts and being able to store a device in the holder while working out was great for keeping me entertained while I cycled.
Transport
Even though the JLL JF150 doesn't come with a folding design, users have found that the wheels that are fitted to the end caps are useful when it comes to transportation.
You can simply lift one end of the bike and roll it around to different rooms in your home on the wheels. This is a helpful feature that ensures you can have an easy time moving the bike around without too much hassle.
Durability
I liked how the frame used to construct this bike includes steel materials. This steel frame design provides the bike with a superb amount of stability and durability. The materials have been welded together which enables you to feel sturdy while cycling.
Users have discussed how they're able to perform high-intensity workouts while feeling stable. In addition to this, a durable coating has been applied to the welded steel construction. This works effectively to prevent the bike from wearing down too quickly.
---
Warranty
JLL Fitness LTD provides a 12-month warranty as standard with all of their fitness equipment, and that includes the JF150 upright exercise bike. In addition to this, they offer a 30-day money-back guarantee. You simply need to provide them with proof of purchase and the order number and the customer service team will help you to return the product and receive a refund.
Their warranty for the JF150 for domestic use also covers the following:
Lifetime frame warranty
5 years motor warranty
2 years labour and parts warranty
JLLs' warranty states that the cover isn't active for the general wear and tear of products. Furthermore, make sure to keep the receipt, delivery date, and order number of your exercise bike. They may require this information if you need to make use of what their warranty covers.
JLL Fitness LTD also will only cover the bike under their warranty terms if it has been assembled correctly by following the instructions that are included.
*Warranty may be subject to change without notice and may differ between retailers – please check carefully before making a purchase.
---
Pros and Cons
---
Overall Verdict:
JLL's JF150 is an excellent choice for people who are on a budget and looking for an affordable exercise bike that can help them lose weight and track their fitness.
It's worth noting that some users have mentioned how the resistance doesn't feel challenging enough. Therefore, more experienced cyclists may want to consider other options that come with more difficult resistance levels.
Having said that, the overall sleek design of this bike makes it look excellent for being placed in a home. Whilst there isn't a folding design, I liked how the JF150 comes with wheels that are attached to the end caps. As a result, you're able to have an easy time transporting the bike from room to room. This makes it an ideal choice worth considering when looking for an indoor cycling bike.
Users have also been impressed with the durable aspects of this upright exercise bike which means you can expect fewer issues to arise. One of the main features that improve the bike's durability is the rubber belt system. It works smoothly and requires minimal maintenance while operating effectively for years. The steel frame also boosts the sturdiness that the bike has to offer.
The pedals can be prone to making some noise, but they also come with five adjustment options that can help you to feel comfortable and secure while cycling. The readings on the monitor coupled with the pulse rate sensor provide you with everything you need to track your workouts and work towards your fitness goals. The addition of the device holder is a big plus for those of you who would like to stay entertained while cycling.
All in all, I feel confident in recommending this exercise bike for beginners and intermediate cyclists who want to lose weight and develop their fitness from home with a sleek-looking, affordable bike.
---
---
What I Liked About This Exercise Bike
The visually appealing design of the JLL Fitness LTD JF150 is the initial thing that caught my attention. I was pleased to find that the rest of the bike's features live up to its visual presentation. The magnetic resistance system is smooth and works well with the rubber belt to provide you with a smooth-riding experience and less maintenance. Being able to choose between the eight available resistance levels means that you can select the difficulty that's right for you and your fitness goals.
I was also impressed with how the handlebars have a 360-degree adjustability feature. This allows you to set the handlebars to the position that's best for your specific height. As a result, users have been able to ride this upright bike comfortably and with good posture.
The built-in pulse rate sensors are fantastic for giving you valuable information about your heart rate. This is useful for enabling you to track the intensity of your workouts so that you know when you've become stagnant and need to push to achieve your fitness goals.
Users have been making use of the LCD monitor due to how it can track time, distance, speed, and calories burned. This makes it an incredibly useful tool for tracking your progress and ensuring that you're actively working towards your fitness goals. This can be great to help you stay motivated for your workouts.
Furthermore, the bike's overall lifespan and stability is outstanding. You can expect to use this bike for years before any wear and tear begins to show up. Having a device holder built-in to the bike is also a handy feature for those of you who would like to stay entertained while exercising.
Things That Could Have Been Better
Whilst the JF150 has several superb features that make it great value for money, there are a couple of key downsides that you should also be aware of.
One of them involves the assembly process. Most users have discussed how assembling this bike while using the provided instructions is fairly easy. However, a few users have commented how the wiring process can be difficult and time-consuming.
In addition to this, a common complaint that I noticed cropping up involved the pedals being noisy. The pedals have a great adjustment feature, but it seems like after some use, the pedals can produce a noise that could become irritating for some.
---
FAQ's
Can you alter the tension of this upright exercise bike?
Yes, there's a tension knob located below the handlebars. You'll notice that it can be set between 0 and 10 which means you have plenty of options to choose the tension setting that works best for you. You can turn the knob to increase or decrease the tension.
How is the JF150 indoor cycling bike powered?
This model is powered by batteries.
Can you use JLL's JF150 exercise bike for high-intensity interval training?
Yes, absolutely. The overall sturdiness of this magnetic resistance exercise bike combined with the smooth belt and foot straps allow you to comfortably and securely partake in high-intensity interval training.
Additional Points
The JLL JF150 upright exercise bike is a fantastic choice that's worth considering for both beginners and intermediates. It comes with a range of features that ensure you're able to ride smoothly and stay focused on your fitness aspirations.
I liked how the JF150 upright exercise bike has been designed as it looks great in both blue and red. As a result, you don't have to be concerned about it looking completely out of place when setting it up in your home.
Using an indoor upright exercise bike, such as the one mentioned in this review, can be an effective way for busy people to workout from home. They provide you with an excellent sense of convenience which can make it easier for you to stay consistent with working out.
Using an upright exercise bike can be useful for people who find that gyms and cycling classes are too far away or too expensive. You can save time and money and workout from the comfort of your own home. Many people enjoy using their indoor bikes to workout before going to work in the mornings. However, it's also there, ready to be used in the evenings if that suits you better.
Cycling may also be a preferred form of cardiovascular exercise for people with knee joint problems. Studies have shown that cycling creates less impact on your joints which means people who are suffering from joint problems can still use exercise bikes to workout while also improving joint health and decreasing pain.
Not to mention, cycling with an upright exercise bike helps to tone muscles, reduce stress, and immune cells which is fantastic for your health and wellbeing.
JLL Fitness LTD has ensured to make the JF150 upright exercise bike affordable which is also a major point to consider. It has been packed with magnificent features and is available at a competitive price. While there are a few downsides to be wary of (including the pedals potentially making noise and tedious wiring), this upright exercise bike excels in durability, comfort, and smoothness.
---
Affiliate Disclosure
In compliance with the FTC guidelines, please assume the following about all links, posts, photos and other material on this website:
Any/all of the links on this website are affiliate links of which GymFreakz receives a small commission from sales of certain items, but the price is the same for you.
www.gymfreakz.com is a participant in the Amazon Services LLC Associates Program, an affiliate advertising program designed to provide a means for sites to earn advertising fees by advertising and linking to Amazon.com & Amazon.co.uk. Pages on this site may include links to Amazon and its affiliate sites on which the owner of this website will make a referral commission.