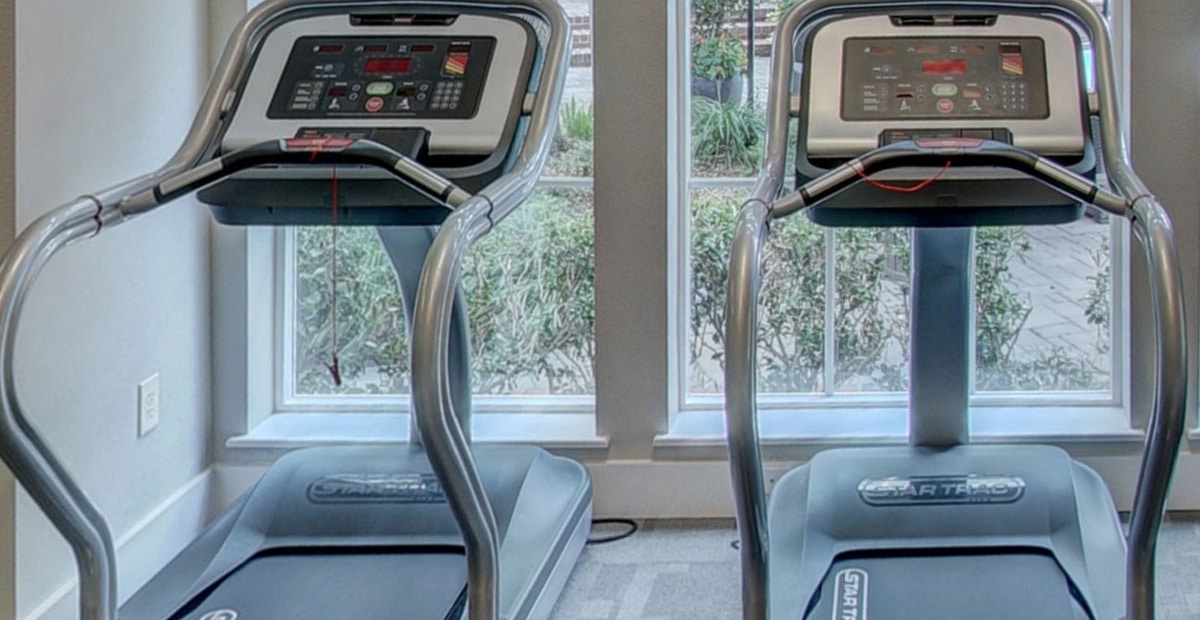 ---
---
Finding the best running machines for space-saving, movability, and small area integration.
Finding a suitable running machine can be a pain. There are almost too many factors to consider, often leaving us confused, and annoyed – stopping us in our tracks.
Now, transport those pain-staking weigh-ups to a smaller and more confined space and we have a whole new host of potential issues. Usually, components like the treadmill belt, adjustable speed range, incline range and other staple features are all we need to look for.
In apartment-sized spaces, we have to think a little differently. Things like transportation wheels, compact designs, quiet motors or safety features become far more important. And without detailing more features to be aware of, when we say the best apartment treadmill what were really looking for are the best quiet treadmills or perhaps the best compact treadmill.
So, without taking up too much space on this page let's see how you can save space in your apartment.
Disclaimer – This website contains affiliate links. If you find the information useful and click on a product link and make a purchase, a small commission will be earned by GymFreakz and we appreciate your support.
In A Rush?
| | My Top Pick: | Best Top End: | Best All-rounder: | Best Curved: | Best Under £500: |
| --- | --- | --- | --- | --- | --- |
| Brand | Nordictrack | Life Fitness | Horizon | Nohrd | JLL |
| Model | Elite 7.0 | F3 | Paragon X | Sprintbok Curved | S300 Digital |
| Photo | | | | | |
| Max. Speed | 20 kph | 16 kph | 20 kph | n/a | 16 kph |
| Max. Weight | 125 kg | 159 kg | 180 kg | 160 kg | 120 kg |
| Running Area | 51 cm x 140 cm | 55″ x 20″ | 56 cm x 153 cm | 160 cm x 45 cm | 123 cm x 41 cm |
| PRICE* | £1,199.00 | £2,995.00 | £1,999.99 | £5,295.00 | £499.99 |
| | | | | | |
| Check Prices | | | | | |
*Prices correct at the time of writing
---
My Top Pick:
Nordictrack Elite 7.0 Treadmill (£1199.00)
Key features
5 inch iFit LCD
30-Day iFit Family Membership Included
EKG Handgrips
Flex Select Cushioning
2.75 CHP Motor
0 – 20 km/h Speed
1.9″ Rollers
SpaceSaver Design
Easy Lift Assist
Product Weight 111kg
Assembled Dimensions – 201L x 91W x 151H cm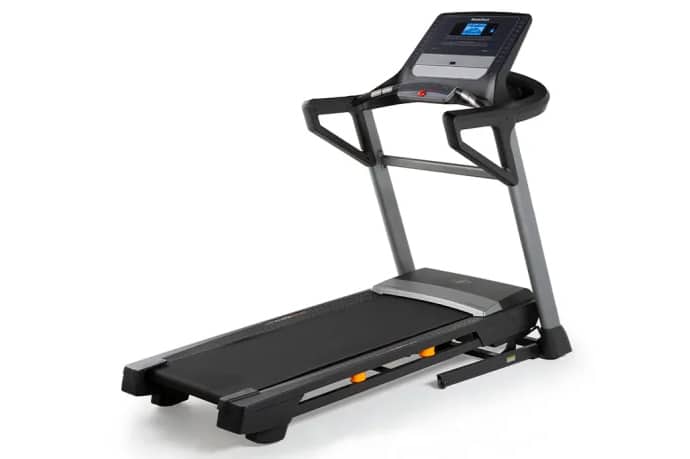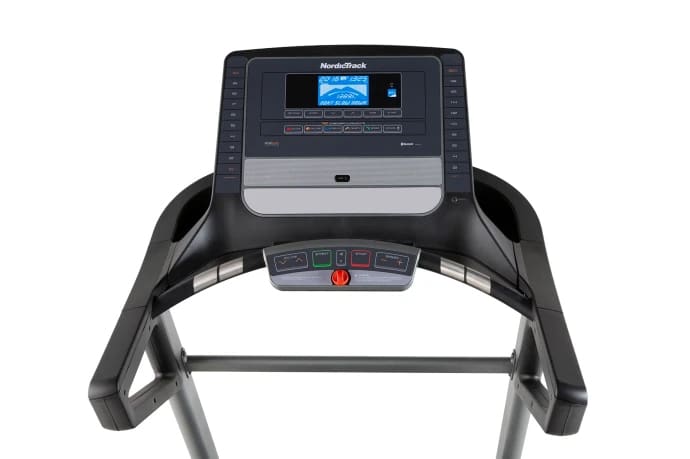 ---
Overview
The Nordictrack T7.0 is a great treadmill for its price and offers many features that you might not find in other treadmills at the same price.
But what exactly makes it a must-watch on the best treadmills for apartments list?
Well, firstly the motor is not the most powerful. But this isn't a con in the world of apartment treadmills, this is a pro. Generally, the more powerful the motor the louder the machine, and as part of finding a great apartment treadmill, you'll probably be conscious of finding the quietest treadmills too.
The appropriately quiet motor aside, the incline range is also pretty good and offers a challenge even to athletes, giving you more options in a potentially limited space. Speaking of space, the space-saver design makes this machine ideal for small apartments, which makes it a strong contender on the list of apartment treadmills.
The built-in transportation wheels and Easy Lift assist feature help with enabling convenient repositioning of this treadmill, and if you're like me and enjoy a reshuffle every now and again you'll find the compact design and transportation wheels essential in doing so.
Want to know more? Read our full review of the Nordictrack Elite 7.0 Treadmill here.
---
Best Top End (foldable):
Life Fitness F3 Folding Treadmill with Track Connect Console (£2995.00)
Key Features
Brand: Life Fitness
Model: F3 Folding with Track Connect Console
Top Speed: 10 mph
Incline Increment: 0.5 %
Mode: Folding
Dimensions: 78.5 in x 34.5 in x 58.5 in (lxwxh)
In-built workout options: 15
Equipment Weight: 120 kg
Maximum User Weight: 159 kg
Running Track Size: 55″ x 20″
Motor System: 3.0 HP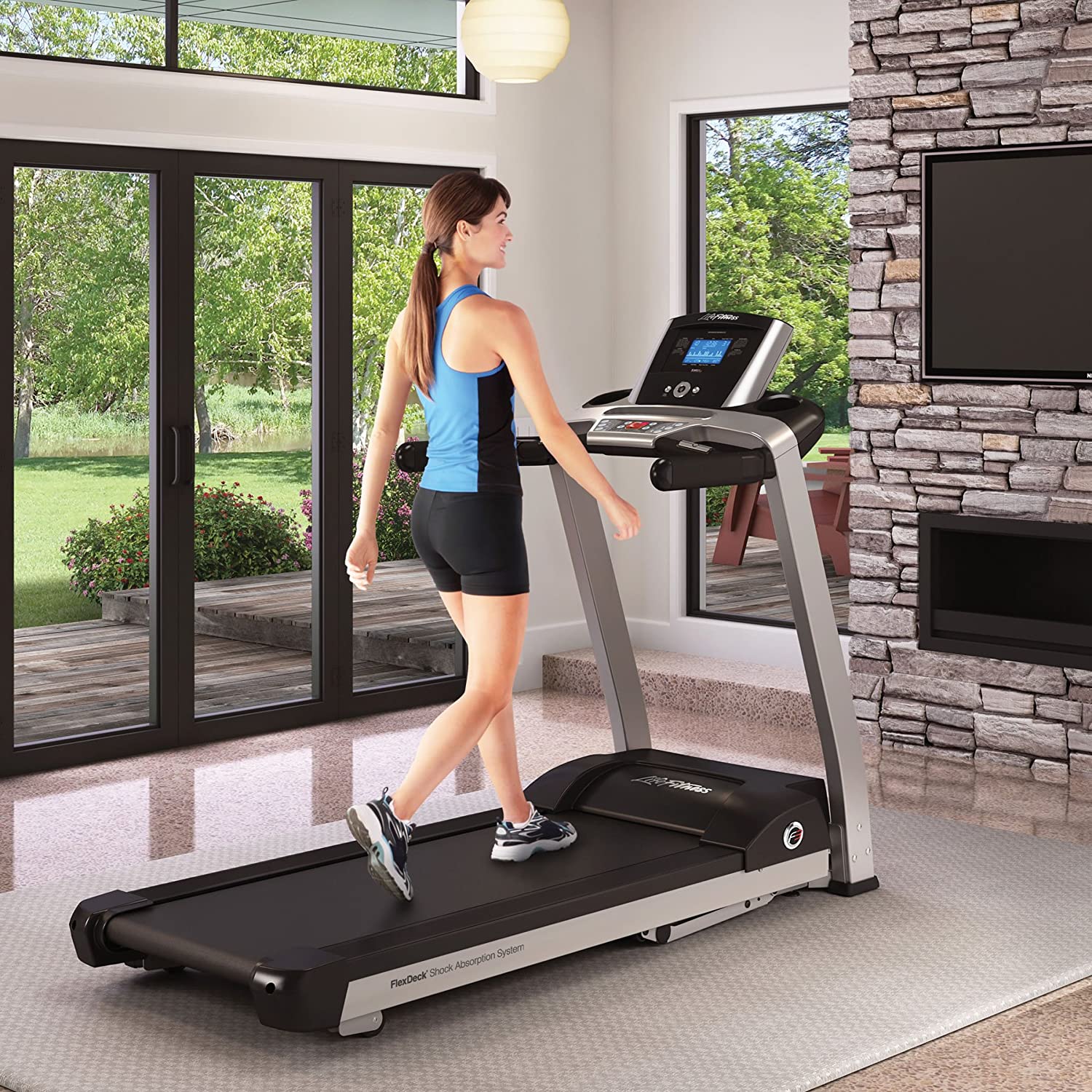 ---
Overview
This machine has all the features we need for a sturdy and safe home gym: good max user weight, LCD screen, a good maximum speed and, with it being a foldable treadmill, you can save space very easily. But what makes this my personal best treadmill, and what'll make it a great apartment treadmill, is the machine's use of technology
All in the space of your own home, you can have many luxuries found in a gym. For example, the Life Fitness F3 Folding Treadmill has a track connect console. Features of which allow for high-intensity, heart rate monitoring, flex a virtual trainer, incline range input keys, and various exercise options. Also, its high efficiency and use of convenient storage areas make the F3 treadmill superior to other ordinary treadmills and make it a high contender on this list.
The compact design doesn't mean it's weaker either. It has a welded steel frame so whether you're running or using it for a walking treadmill, it'll last a long time and save you money as a result.
Want to know more? Read our full review of the Life Fitness F3 Folding Treadmill here.
---
Best All-rounder (+ minimal noise):
Horizon Paragon X Folding Treadmill (£1999.99)
Key Features
Partial self-assembly required
It does not come with built-in speakers.
Console position is fixed.
Dimensions are height is 147 cm, width is 97cm and in diameter, it is 206 cm.
There are no downloadable contents on this treadmill.
You can monitor your heart rate via chest strap but it is not included in the treadmill.
You can also monitor your heart rate via hand sensors through handgrip pulse measurement.
Incline is 0 to 15 per cent.
This treadmill is made out of steel.
Maximum user weight allowed is 180 kilograms.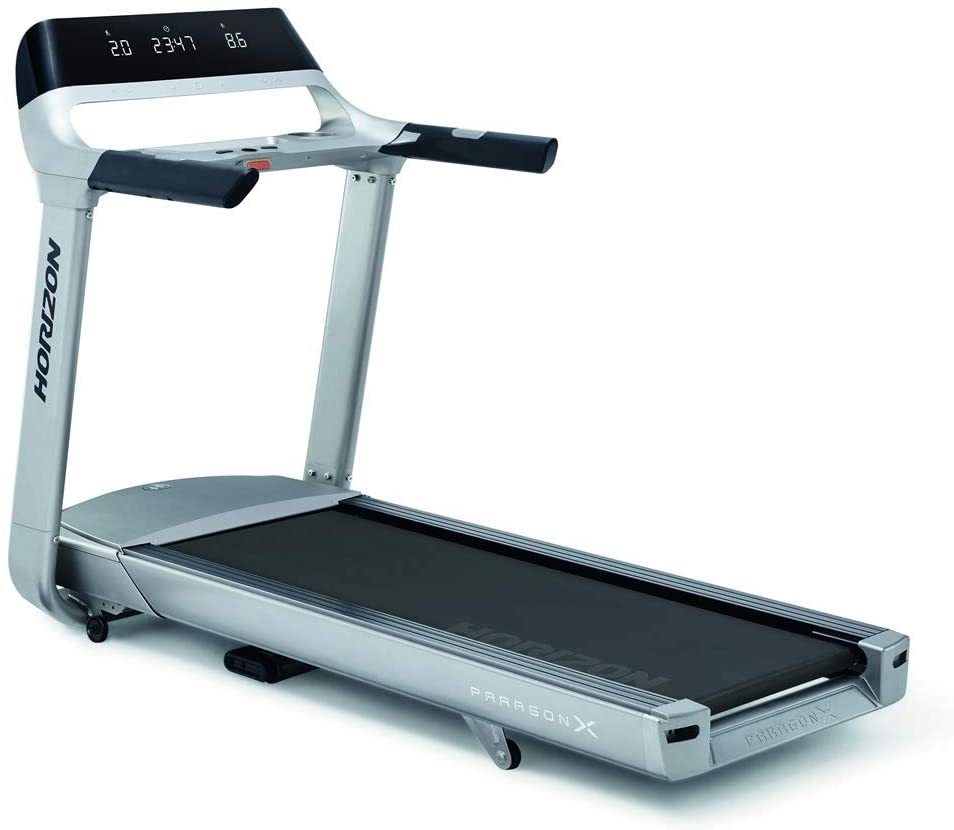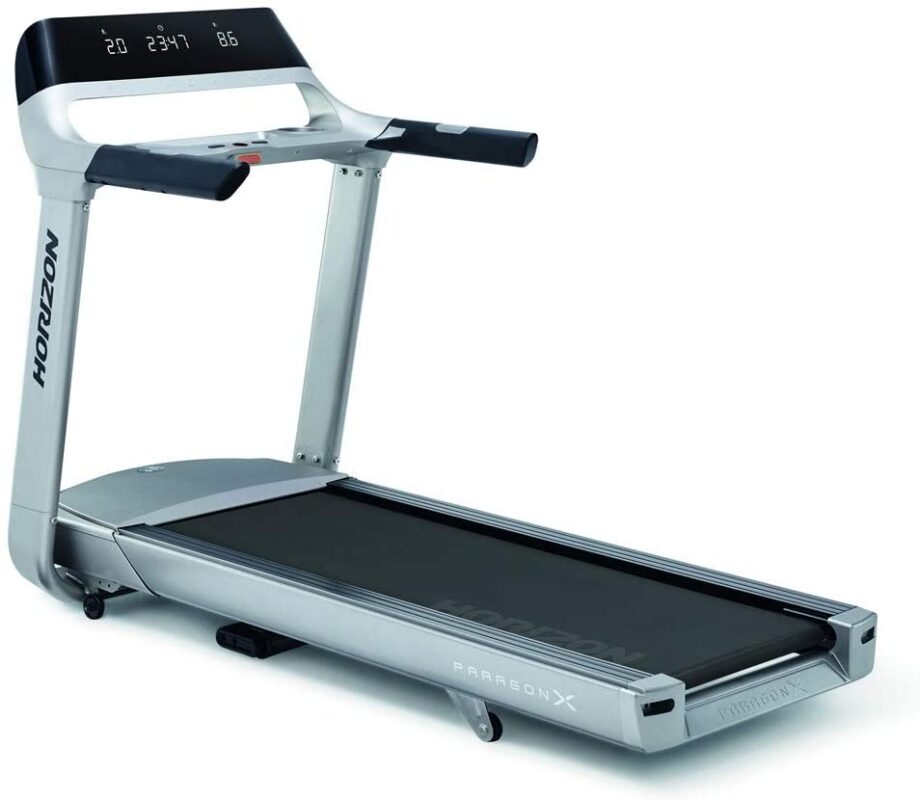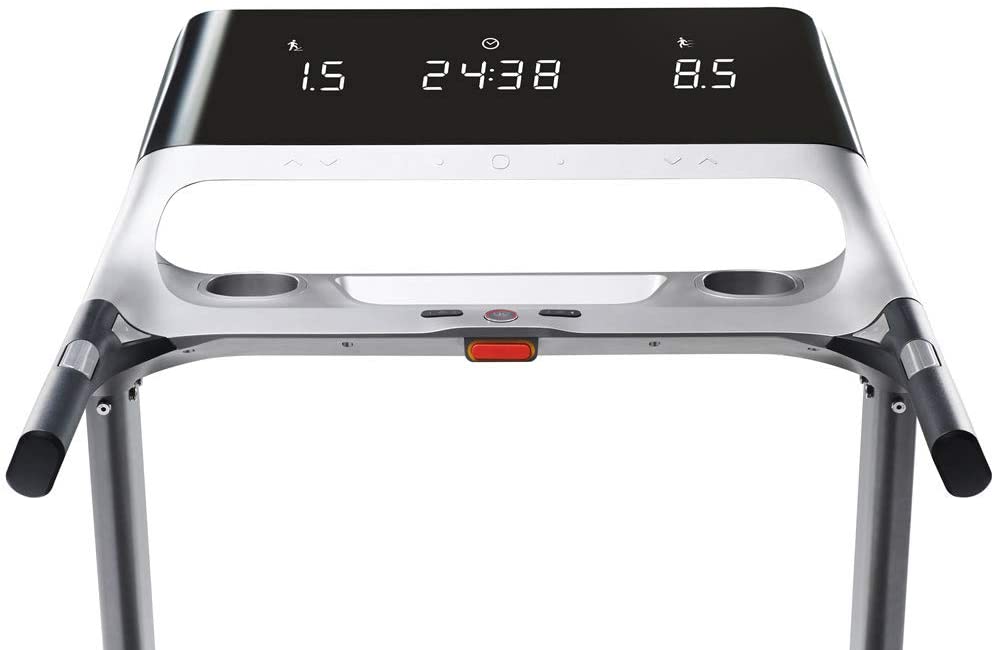 ---
Overview
This treadmill is on here for a reason. It's not just because it's up there with the best folding treadmills, or a high-ranking machine amidst compact treadmills, but because it's built well and offers a powerful running experience, all in the comforts of your own apartment.
Because it's powerful, it's important that it comes with a responsive air cushioning system that lets you enjoy your workout and makes sure that you don't get injured while doing so. The air cushioning beneath the deck inflates along with pre-programmed changes in speed and incline based on demanding exercise classes and also 10 real trail running experiences.
While workout programs are important, this treadmill comes with minimal technological function. You can't have downloadable content and a heart rate strap isn't included. But because the focus in the build its power more than makes up for it.
Want to know more? Read our full review of the Horizon Paragon X Folding Treadmill here.
---
Best Curved (make a feature of it):
Nohrd Sprintbok Curved, Manual Treadmill (£5295.00)
Key Features
Manual treadmill, no power source required
No speed limit
17.2" (43.6cm) high definition Touch Screen
Available in a variety of woods
Slats are made from Birch plywood and high-quality rubber for superb cushioning
Running surface 63" x 18' (160cm x 45cm)
Grease life high-quality bearings
Transport wheels
Maximum user weight 25 stone (160kg)
Size L x 175cm W x 86cm H x 160cm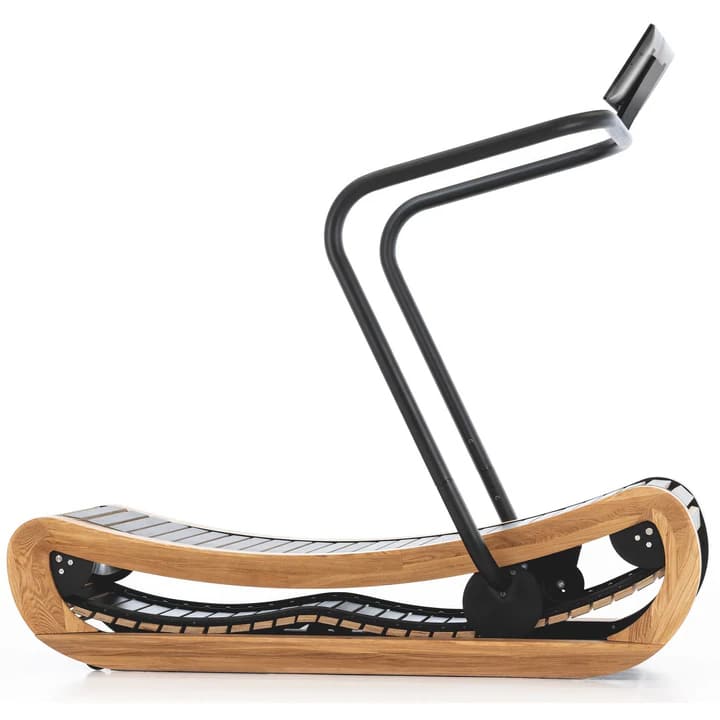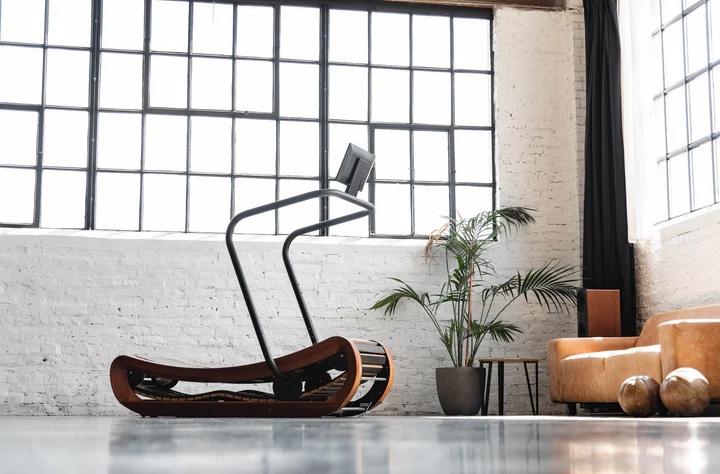 ---
Overview
If you've come to this site before then you'll have seen me talk about this machine… a lot. I love it. The self-powered motor makes me want to work hard, not because you need to in order to use it but because I know I'll benefit more as a result. The self-powered system in combination with its curved deck results in great potential for high-calorie burning and muscle group targeting.
However, it does mean that if you want the best quiet treadmills, this might not be the one. Yes, normal treadmills have motors that can be very loud but compared to a quiet motor this treadmill can sound quite clunky, because of the self-driven system.
That aside, I personally love how the machine looks. From my experience, despite it not necessarily being the best compact treadmill going, it certainly looks like one, and looks are important.
As a said, we're looking for more than just calories burned, good interval training options, whether it fits under affordable treadmills – our apartments demand a lightweight treadmill with a focus on how much space we're saving. And well, this machine fits the bill.
Want to know more? Read our full review of the Nohrd Sprintbok Curved Manual Treadmill here.
---
Best For Under £500 (foldable):
JLL S300 Digital Folding Treadmill (499.99)
Key Features
Motor: Peak power of 4.5 HP and continuous power of 2.5 HP
Speed: 0.3km/h – 16km/h / 0.18 mph – 10 mph
Running Deck Area: 123 cm (L) x 41 cm (W) / 48.4 inch (L) x 16.1 inch (W)
Programs: 15 (the 3 first programs can be reset to your own specification)
Incline Levels: From the floor to the running deck. Lowest = 19cm / Highest = 26cm
Max User Weight: 120kg / 18.8 St / 264 lb.
Display: LCD display shows speed, time, distance, calories burned and more plus good quality built-in speakers
Foldable? Yes
Warranty: 2 years on parts/labour warranty and 5 years on the motor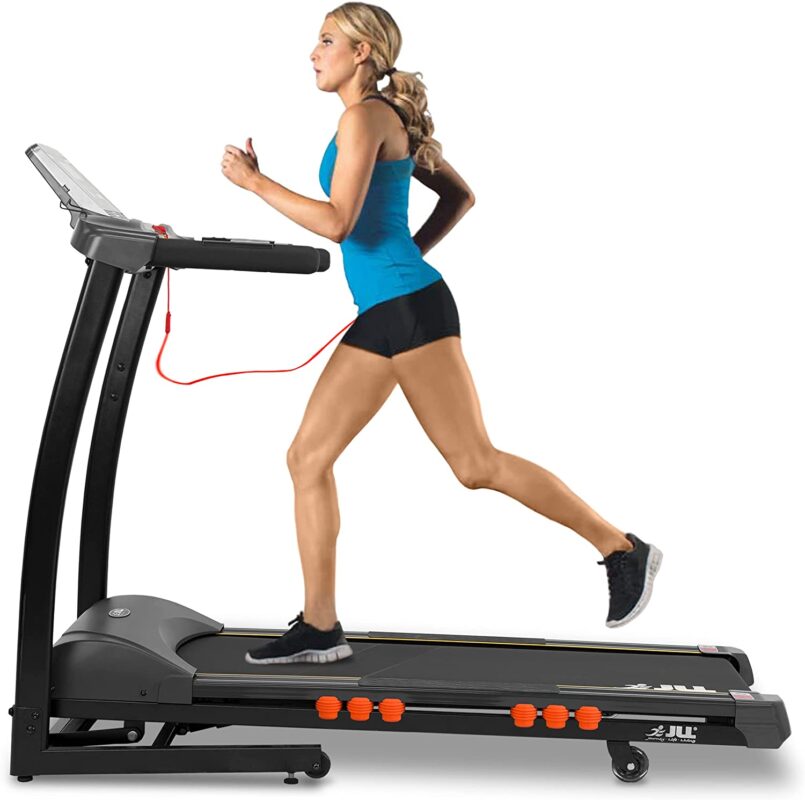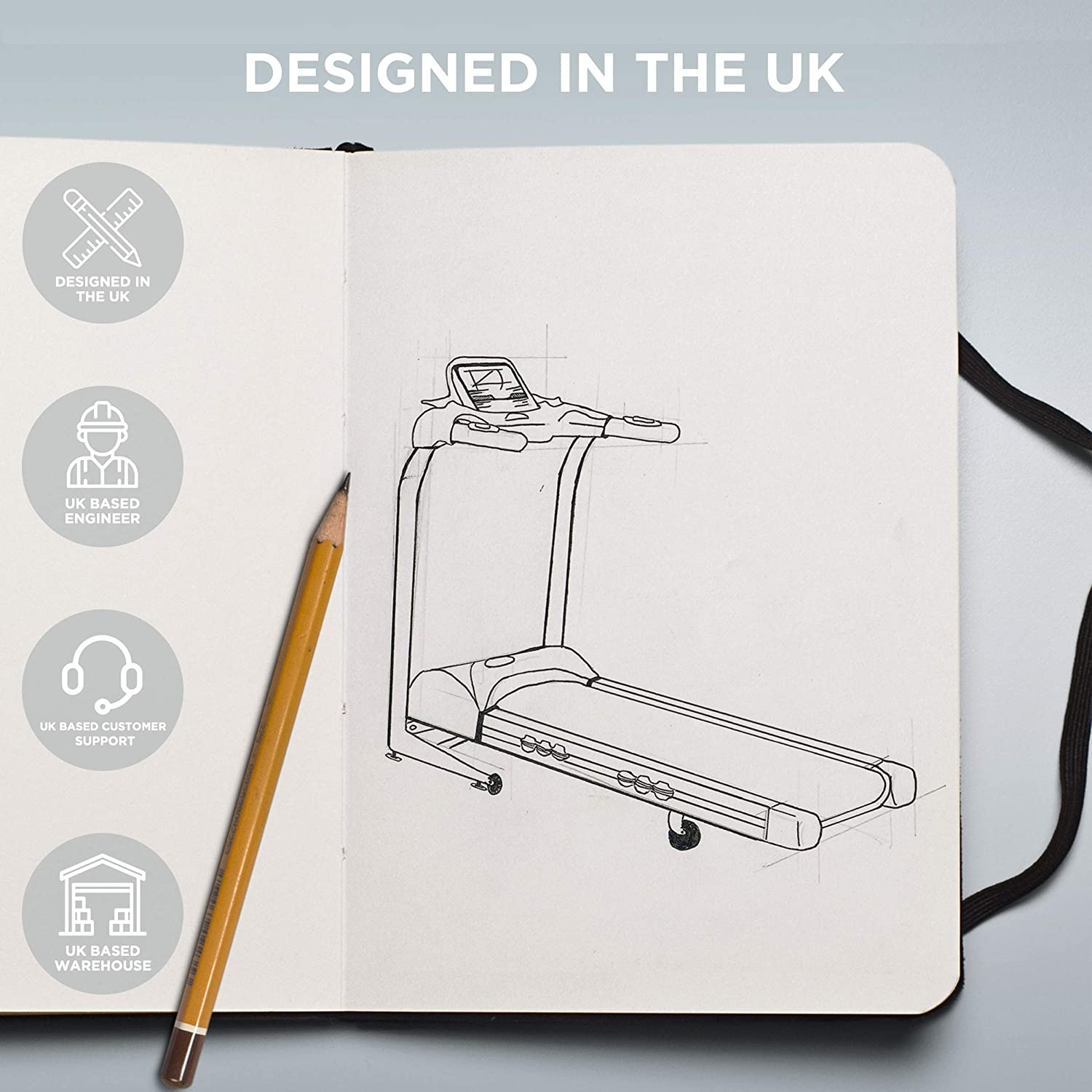 ---
Overview
Despite the heavier nature of this running machine, with a decent running deck and a powerful motor, the folding mechanism of this machine makes it a space-saving treadmill non the less.
It might not be the best quiet treadmill but, depending on your space, that doesn't need to be an issue. Think about it; if your new treadmill comes with a powerful motor, then you can work harder and be on the machine for less time, making the potentially noisy cardio workout a smaller issue.
However, with a higher intensity workout comes other problems. We can't just be looking for shiny features like an HD interactive touchscreen display or Bluetooth speakers… we need to make sure we're looking for treadmill safety, as well as being mindful of space.
The JLL S300 features a great shock absorption feature, as well as coming with a soft drop system, self-cooling technology, and a good warranty for if any of the above improbably fail to operate properly.
Your apartment needs to be a safe environment, even with low-intensity workouts. So, the most affordable treadmills aren't always going to accommodate your cardio training, even if accommodating your wallet seems tempting.
In summary, this machine gives you powerful options deeming it a great running treadmill, and its folding mechanism and soft drop system make it a great treadmill for the apartment, too.
Want to know more? Read our full review of the JLL S300 Digital Folding Treadmill here.
---
Conclusion
To round up this list I think we can say we have some pretty great machines here, many of which fall into the cheap treadmills category too.
So if you don't want to fork out for a gym membership, then you can save time, money, and space with these treadmills for apartments.
And, if we're looking out for the best quiet treadmills, then quiet treadmills have we found!
Less powerful motors, as well as the ability to use a self-powered one, control speed and therefore noise means you have those options too.
Maximum user weight/maximum weight capacity aside that is…
In addition, given the recent change to work at home, some of these can act as a desk treadmill too, meaning you can walk at work and never have to leave your apartment.
>> See More Helpful Treadmill Guides <<
---
FAQ'S
Folding treadmills vs a compact treadmill? Do I need a folding system if it's compact?
Well, folding makes a compact machine even better for space-saving, but it's not essential.
I would recommend one for an apartment space but personally, I think treadmills make for a great aesthetic feature in the house or apartment, so if you're like me then I'm more than happy to display my machine and remind myself I should be using it more!
Do Sunny health fitness produce compact treadmills?
Yes, the Sunny Health & Fitness SF-T7603 is a great example of one of their more compact treadmills. As are some of their manual treadmills too!
However, it didn't make the list on this occasion.
---
Affiliate Disclosure
In compliance with the FTC guidelines, please assume the following about all links, posts, photos and other material on this website:
Any/all of the links on this website are affiliate links of which GymFreakz receives a small commission from sales of certain items, but the price is the same for you.
www.gymfreakz.com is a participant in the Amazon Services LLC Associates Program, an affiliate advertising program designed to provide a means for sites to earn advertising fees by advertising and linking to Amazon.com & Amazon.co.uk. Pages on this site may include links to Amazon and its affiliate sites on which the owner of this website will make a referral commission.