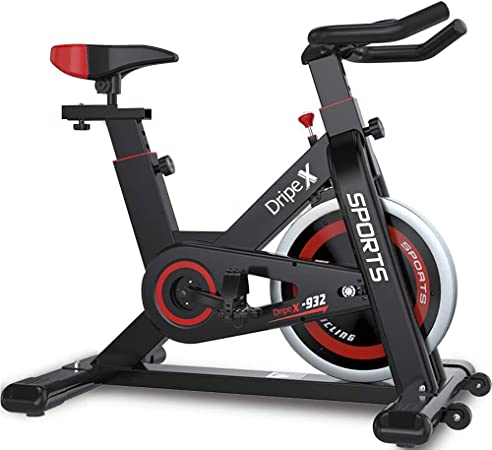 ---
---
Introduction to the Dripex upright exercise bike (indoor studio cycles)
Are you aiming to attain a perfectly toned body for maximum physical appeal? Dripex upright exercise bikes (indoor studio cycles) are going to help you out. Dripex upright exercise bikes always attract consumers due to a number of reasons. To begin with, these exercise bikes have a durable and sturdy construction that automatically suggests reliability, value-for-money, and high performance.
The design, framework and colour of this exercise bike give it a more gym-ready bike look than some boring at-home exercise equipment. The model is designed to withstand hard use and cater to the specific needs of users.
Dripex upright exercise bikes (indoor studio cycles) 9320 is a new model that comes with slight improvements to its predecessor. Excited to know about them? Great – as we are bringing you a comprehensive review of this exercise bike below.
We are going to discuss its features, settings and how it works. In the end, I will tell you what I liked and disliked about this bike so that there is no room for any doubt from your side.
Let's jump to our review now.
Disclaimer – This website contains affiliate links. If you find the information useful and click on a product link and make a purchase, a small commission will be earned by GymFreakz and we appreciate your support.
---
Specifications
Item Dimensions: 102 L x 52.5 W x 102 H
Item Weight: 28 Kgs
Maximum Weight: 330 pounds
Belt Drive System
Multi-functional LCD Display
Adjustable & Leather Cycling Saddle
Adjustable Anti-skid Cage Pedals
Large Bidirectional Flywheel
Emergency Stop Brake
Infinite resistance
Heart Rate Sensors
Front Foot Tube Wheels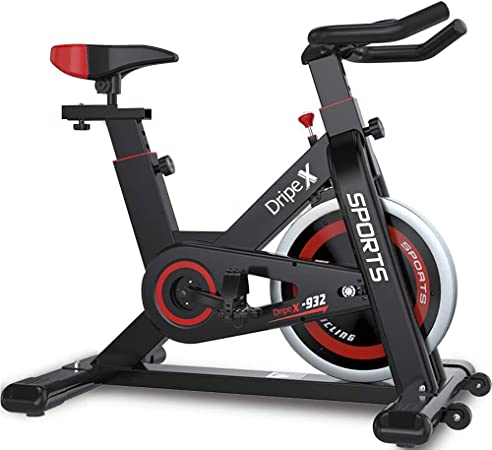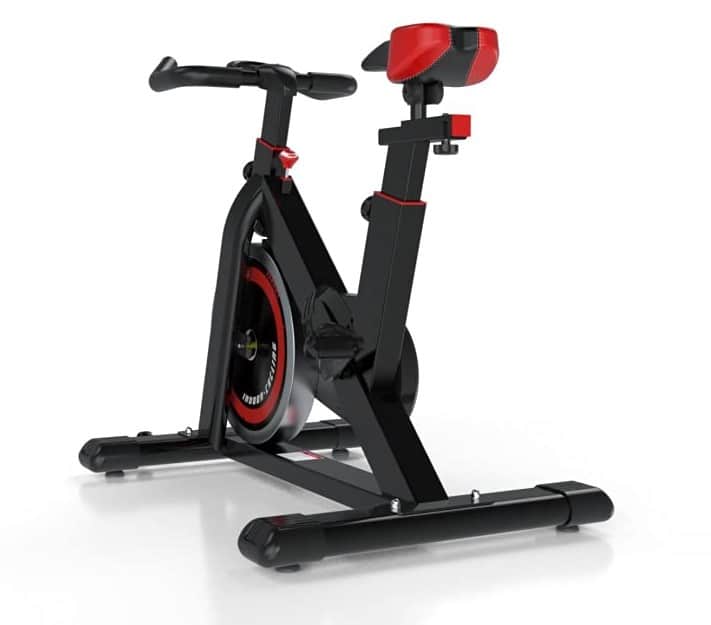 ---
KEY FEATURES
Adjustable and Leather Cycling Saddle
User comfort is the top priority of Dripex which is also reflected throughout this upright exercise bike (indoor studio cycles). Adjustable and leather cycling saddles ensure comfort and provide you with flexibility in workout positions. This protects you from injuries due to improper positioning and helps you get the most out of your workout sessions.
The bike seat cushion features a high-density perforating memory foam filling that curbs discomfort. You can easily adjust the seat in any position that compliments your height and weight.
…and if you feel the standard bike saddle is not offering the desired support, you can always replace it.
The multi-functional handlebar is a great feature for people who want to perform different intense workouts for a more challenging exercise experience.
You can easily adjust the handlebar to exercise at different postures. For added comfort, Dripex has provided a central armrest that gives you security as well.
Intuitive Digital Monitor
The pre-assembled exercise monitor real timely track your overall workout progress to perform goal-oriented workouts and avoid going overboard. The LCD displays hand pulse, time, speed, distance, and calories burned.
Consistently achieving your daily targets will keep you motivated to hop on the exercise bike daily. So make sure you are setting yourself achievable targets.
Limitless Resistance System
One of the best parts about Dripex upright exercise bikes (indoor studio cycles) 9320 is that it is limitless resistance-equipped. It is an important feature when you want to perform a different intense workout. The higher the resistance level, the more intense and vigorous your workout session will be.
On the other hand, the belt drive system create a quiet in-home workout experience. The silent ride is an excellent advantage for people who want to work out in the morning without disturbing other house members. Or if you have some easily annoyed neighbours, choose a Dripex exercise bicycle to save yourself from their annoying rants.
The emergency stop brake is another excellent inclusion that ensures optimal safety. You can also use it to create more resistance for yourself and burn more calories. It involves applying the brake pad to the flywheel which makes the spinning harder and you get a more challenging exercise experience.
The anti-slip pedal and adjustable toe cages are useful features that further add to your safety during a workout. It gives you optimal support when pedalling which helps you maintain your momentum throughout the training session.
Ergonomic and Durable Design
The Dripex upright exercise bikes (indoor studio cycles) 9320 is made of aluminium alloy, providing a sturdy frame. Due to it, this exercise bike has a maximum weight capacity of 330 lbs. This makes it suitable for multiple users and it perfectly caters to their fitness requirements.
It is high-quality workout equipment for your home gym that will assist you in achieving your fitness goals with ease.
It is always a hard struggle when you want to move fitness equipment from one room to another. But not with Dripex upright exercise bikes (indoor studio cycles). With convenient transport wheels, you can move your bike easily without any hassle. Dripex prioritizes user comfort and you must have already realized that reading the above-mentioned features.
---
Warranty
One-year warranty.
*Warranty may be subject to change without notice and may differ between retailers – please check carefully before making a purchase.
---
Pros and Cons
---
Overall Verdict:
As you can notice, the advantages this exercise bike offers clearly outweigh its drawbacks. Even when you compare it to other exercise bikes in the same category, Dripex upright exercise bikes (indoor studio cycles) will stand out.
The bike is equipped with numerous safety features to ensure a comfortable and safe workout experience. For instance, the anti-skid pedal will allow you to get a firm grip to exercise bikes stationary and have full control over your movements. It will prevent you from losing the momentum and hence you can outrightly focus on your workout.
On the other hand, features such as an adjustable handlebar and seat are one of the best things about this stationary exercise bike. It gives you the flexibility to work out in different positions with increased tension levels to tone various muscle groups. Besides, this feature is particularly more useful for homes where multiple users are going to work out on this machine. All individuals can adjust it according to their requirements and get an incredible fitness experience.
While there are so many good things about this exercise bike, there are also some aspects where it needs improvement. First of all, it should have an option to change the distance kilometres and miles; this would be very convenient for many users.
Secondly, the bike does not include a bottle or a tablet holder. This is another factor that would further add to the comfort of users. Especially for users like me who need to take a sip of water every few seconds while working out, a bottle holder becomes a necessity. Many people like to listen to music or watch training tutorials. Having a tablet holder on this bike would certainly come in handy for them.
To conclude, Dripex upright exercise bikes (indoor studio cycles) 9320 check most boxes of necessary features you can ask for. This studio-quality bike is exceptionally well built. It's the perfect equipment to add to your full-body fitness routine.
So put on your workout gear and trainers, hop onto the exercise bike and get started, crushing your fitness goals today!
---
---
What I Liked About This Exercise Bike
Loaded With Comfort and Safety Features
While working out, there is always a risk of injury. These risks can be mitigated to a great extent if you buy the right fitness equipment featuring safety features throughout.
The Dripex upright exercise bike (indoor studio cycle) is one such fitness machine that allows you to work out with full focus without worrying about any injury. It is loaded with safety and comfort features.
One of my favourite features is the anti-skid pedal. With my previous exercise bikes, I always faced the problem of my foot slipping out which would break my momentum. Thankfully, the Dripex upright exercise bike provided a great relief in this case.
The multifunctional LCD display comes in handy when you want to stick to your exercise plan and perform goal-oriented workouts. Irrespective of what fitness program you are following, you can hold yourself accountable if you have the correct detail of your overall progress.
Infinite Resistance System
The heavy bidirectional flywheel in combination with the infinite resistance system makes this exercise bike a perfect option for both intermediate and elite trainers. It is an ideal feature to explore your fitness level and challenge yourself with a more intense workout. Using these features, you can burn more calories and hone your physique.
Adjustable Handlebar and Seat
Exercise bikes with fixed handlebars and seats limit you to exercise in one position and follow the same routine. For people like me who simply despise monotony, love variation in a workout. The adjustable handlebar and seat offer the freedom to try out different variations. It is also useful when you want to hit different muscle groups.
Transportation wheels provide you with the luxury to move your fitness equipment from one place to another without muscle strain.
Things That Could Have Been Better
Though you get a one year warranty with this exercise bike, I think it's not sufficient considering the price tag. Not just that, many other products within the same price range come with a better warranty.
Backing your product with a longer warranty reflects that the manufacturer trusts its product and establishes its credibility.
However, this is not a deal-breaker considering we are getting so many mouth-watering features.
---
FAQ's
What is the difference between a studio bike and an upright bike?
A studio bike engages different muscle groups and lets you pedal while standing up. However, an upright bike is comparatively more comfortable to work out on. The upright bike also comes with more padding and safety features than a traditional studio bike. You can do intense workouts on both types of exercise bikes.
Are upright stationary bikes good for weight loss?
Upright stationary bikes are incredible for losing weight as they help you burn calories by targeting different muscle groups. It's an effective way to lose weight that delivers quick results. And it's an ideal piece of fitness equipment for people short on space.
How much time should I spend on an upright bike?
Ideally, 30 minutes is sufficient time to spend on a workout. In this period, you can easily perform different fitness routines and train different muscle groups. However, if you feel 30 minutes is not enough for your fitness level, you can always increase or decrease the time. It all depends on fitness level and preferences, so make sure you know exactly what is right for you.
---
Affiliate Disclosure
In compliance with the FTC guidelines, please assume the following about all links, posts, photos and other material on this website:
Any/all of the links on this website are affiliate links of which GymFreakz receives a small commission from sales of certain items, but the price is the same for you.
www.gymfreakz.com is a participant in the Amazon Services LLC Associates Program, an affiliate advertising program designed to provide a means for sites to earn advertising fees by advertising and linking to Amazon.com & Amazon.co.uk. Pages on this site may include links to Amazon and its affiliate sites on which the owner of this website will make a referral commission.